Neil Gaiman may have been right when he said to leave Philippine mythology to Filipino writers. A month after the buzz the American author created (for local writers and mythology alike), comes a comprehensive two-volume encyclopedia about folk beliefs and customs published by a university museum based in Cagayan de Oro.
Reshared more than two thousand times, the Xavier University Museo de Oro Facebook page is struggling to keep up with the demand for their recently rereleased Encyclopedia of Philippine Folk Beliefs and Customs Volumes 1 & 2.
The author of the book, Fr. Francisco Demetrio S.J. is also the man behind the Museo de Oro, which is believed to be the first folkloric museum in the country. Fr. Demetrio wrote extensively about the subject of Philippine folklore, myths, customs, and beliefs both in local and international publications. He was also head of the Philippine Folklife and Folklore Center, chairman of the Department of Folklore Studies, and studied in the University of California in Los Angeles for his doctorate degree, so we know he's the real deal.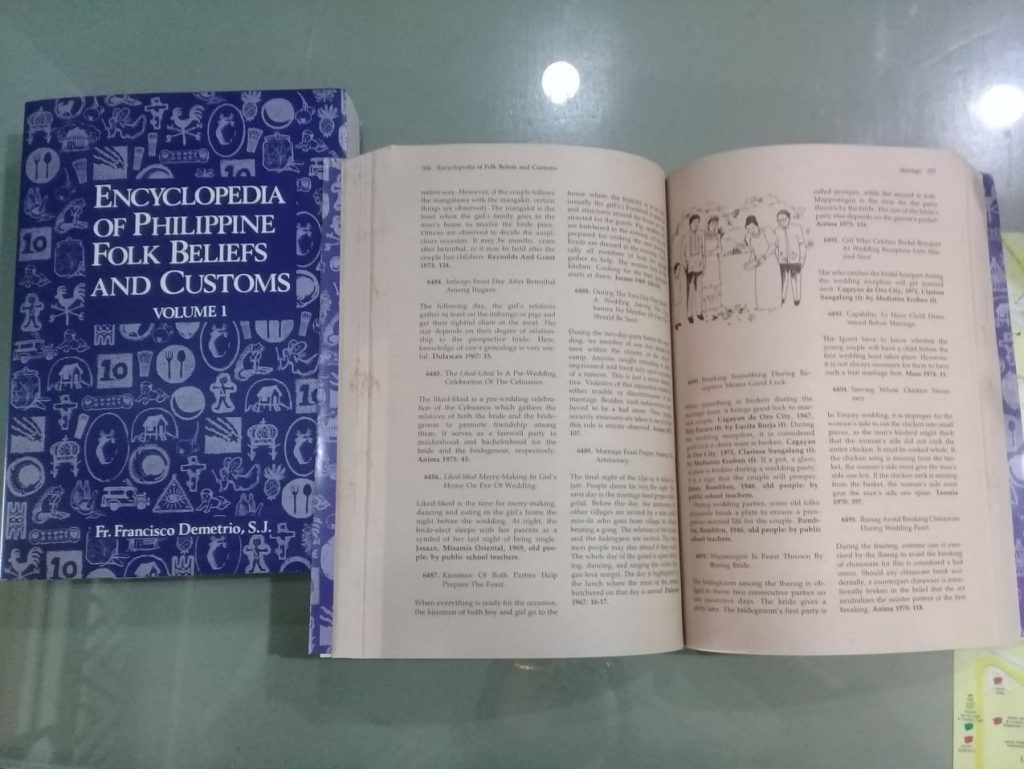 First published in 1991, the encyclopedia, a follow up on the 1970 work by the same author called the Dictionary of Philippine Folk Beliefs and Customs, is a revised and enlarged version of the latter. It has almost eight thousand entries spread throughout 25 chapters—from Amulets and Talismans, Aswangs and Witches, Engkantos and Spirits to Sacrifices and Rituals—with nearly a third of it from the original dictionary version.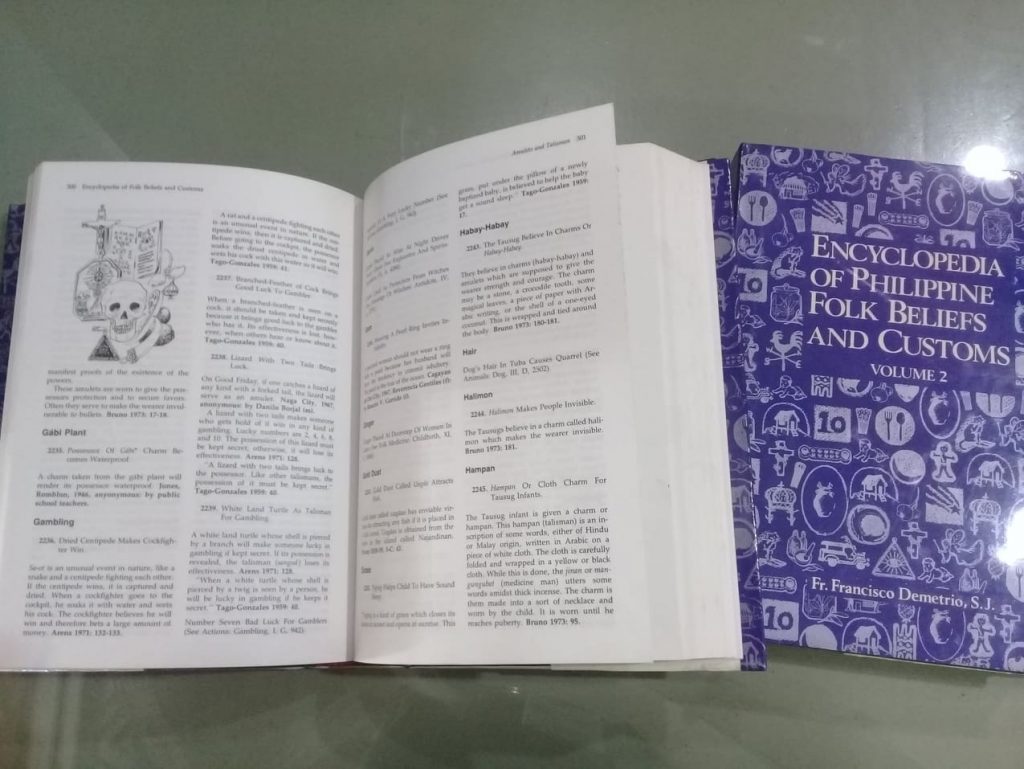 In a review by Ma. Luz C. Vilches published in the Philippine Studies Vol. 40, No. 1 in 1992, she notes that the encyclopedia seems to have rid of a chapter called "Miscellaneous" which previously appeared on the dictionary version, which entries she later found out to have been redistributed to other chapters.
According to a review by Peter Knecht on AsianEthnology.org, the Encyclopedia uses two kinds of sources: published reports or studies, and interviews or field data. He also points out that the sources used in the volumes are "virtually all were published before the mid-1970s, and contain, of course, material that is at least equally dated." He, however, lauds the material for its extensive research saying, "This does not disqualify the material, of course, but it does qualify the use of it and makes one wonder whether no significant data has surfaced during the past twenty years."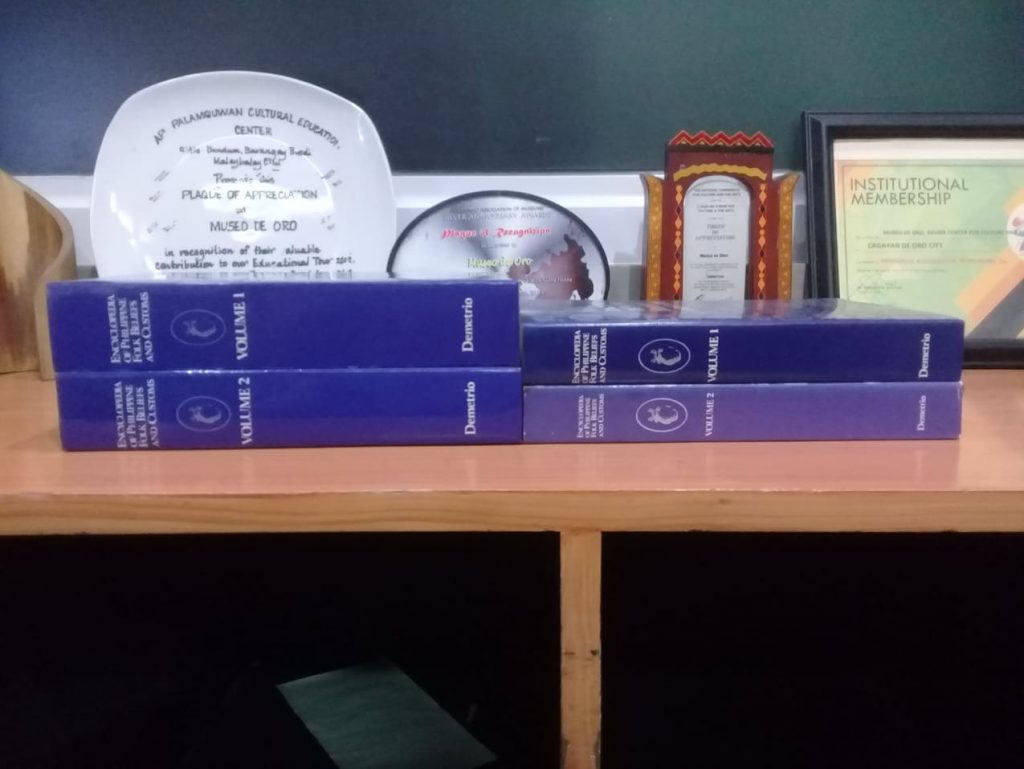 Each volume is available for P3,000 for the hardcover edition, and P600 for paperback copies. However, as of the moment, the museum can only accommodate orders on site, with limited copies to be shipped outside of CDO for those who are able to place their orders early.
Photos courtesy of The Aswang Project and the Xavier University Museum de Oro Facebook pages
Get more stories like this by subscribing to our weekly newsletter here.
Read more:
2019 summer reading essential: A PH folklore-inspired children's novel
This local T-shirt brand is raising awareness about indigenous peoples
These local tabletop games revisit popular culture, myths, and Baybayin
Read more by Christian San Jose:
10 unique book finds on Filipino cuisine at MIBF 2018
5 bridges in Metro Manila we're not crossing anytime soon
"Biodegradable" plastic is not the solution it is posing to be
Textiles from ASEAN region, 100% cotton weaves at HABI Fair 2018