A closer look at the history behind Catriona Gray's Miss Universe "national costume"
There's more to the parol and bodysuit than you can see
Dec 11, 2018
There are a lot of things we already know about the "LuzViMinda" or Luzon, Visayas, and Mindanao-themed "national costume" donned by Catriona Gray, the Philippines' bet to the 67th Miss Universe beauty pageant, last Monday night at the pageant's "National Costume Show."
In case you haven't heard of it, however, here's a quick rundown: Gray wore a massive parol piece backdrop on wheels to represent Luzon (something that has never been done before, according to Gray in a previous Facebook live), a "tattooed" bodysuit to represent the culture of indigenous Visayans, and a T'boli headpiece and brass accessories for Mindanao. These were all put together by local artists and fashion designers led by  Jearson Demavivas.
While we celebrate or criticize the ingenious pastiche, it's also important that we shed light on the roots of Gray's ensemble's cultural representations. Proper recognition is, after all, the main point why we want to represent such works and customs. Here's an analysis of the history behind her costume's parts:
The Visayan tattoos
Gray wore a bodysuit beaded and painted with intricate and complex patterns inspired by the tattoo designs of indigenous Cebuanos and Visayans, who are mostly warriors. They were dubbed as Pintados by the first Spaniards who arrived in the Philippines.
These tattoos were more than skin decorations to the indigenous tribes. They consider the inks on their bodies as their "principal clothing," according to the book "Barangay: Sixteenth Century Philippine Culture" by William Henry Scott. National Artist Virgilio Almario even wrote before that the tattoo process was known as the the Visayans' way of giving thanks for good harvest and victory from war.
Since the tattoos have been marked as a cause for celebration, the Pintados were given a festival of their own. Every June 9 since 1987, residents of Tacloban City in Leyte hold the Pintados Festival where tattooed men parades and dances. (Read: Your guide to the biggest Philippine festivals this 2018)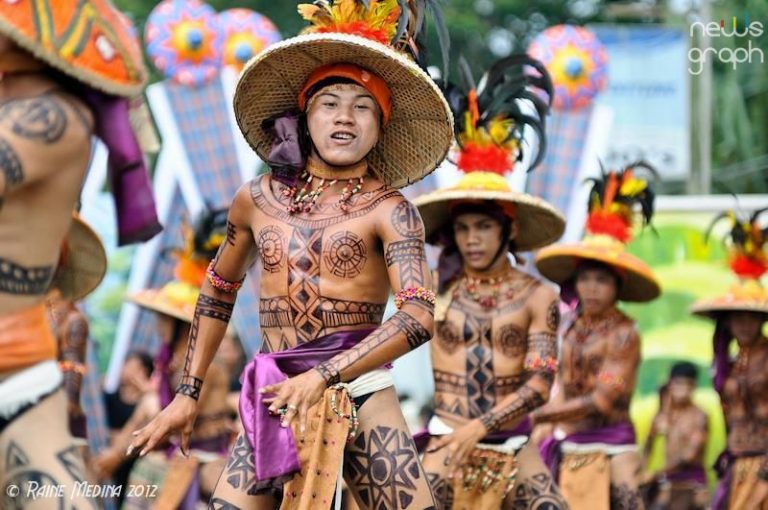 The headdress, handmade brass accessories, and boots
These (or the items these are made of) are all sourced from Mindanao.
The T'boli headdress Gray wore was a wooden comb decorated with colored glass beads or, in the words of the T'boli, the suwat lmimot. According this research by the National Council of Churches in the Philippines-People's Action for Cultural Ties, this "crown" on the T'boli woman's head come in several varieties: the suwat blakang which is made of bamboo, the suwat tembuku which is decorated with a mirror piece, the suwat lmimot Gray wore, and the suwat hanafak which is made of brass.
Brass is a widely used material for body ornaments used by the T'boli. They have brass rings, brass chains, brass bracelets, and even brass arrowheads. This probably explains why Gray sported primarily brass accessories.
For her shoes, they tapped Mindanaoan shoe designer Jojo Bragais to make knee-high boots with embroidered designs inspired by the different textile patterns from Mindanao's indigenous communities. Some of the textiles they featured were from tribes Inaul, Yakan, Maranao, B'laan, Bagobo, Tausug, and T'nalak.
The gigantic parol back piece
Like what I said earlier, this is something you can't miss. It's filled with massive paintings by parol makers and three fine arts graduates from the University of Santo Tomas. The mural at the back was actually inspired by the painting technique of National Artist Carlos "Botong" Francisco.
But no matter how massive this parol is, there is still a high possibility that most people weren't able to see the designs on its edge. Accenting Gray's brass accessories is an outline of gold brass fashion designer Mak Tumang made. According to Demavivas, the outline is inspired by "designs from the Philippine Baroque Churches that were declared as UNESCO Heritage Sites."
Just beneath this outline is a Baybayin inscription (Read: Writing a nation: Should we start using Baybayin again?) that literally translates to the first six lines of the Philippine National Anthem.
The costume may have drawn cheers and jeers for the execution, but the concept is innovative. But just to be clear, this preliminary segment of the Miss Universe pageant is not about presenting the official national dress or costume of the participating countries intrinsically. The ensembles just have to be a "creatively unique" costume that best represents their country's customs and culture—which makes Gray's outfit commendable for its inclusive tone. I hope this encourages more Filipinos to recognize, respect, and learn more about our country's vast cultural identities—even beyond competitions like this.
Header image courtesy of Vogue Thailand
Get more stories like this by subscribing to our weekly newsletter here.
Read more:
Your guide to the biggest Philippine festivals this 2018
The terno is not our national dress—but it could be
Anatomy of the lion dance costume
Read more by Amierielle Anne Bulan:
Most Filipinos preferred to travel locally in 2018
Here's a modern take on the bakya
Legacy of Nat'l Artist Ramon Valera continues with his family's new bolero designs
TAGS: back piece backdrop bodysuit Catriona Gray city guide Closer look culture headdress Luzon Mindanao Miss Universe National Costume parol tattoo tradition Visayas