Cupid's day is just around the corner, which only means this: you'll be seeing a lot of hearts, flowers, and deals for two everywhere you go. If you're cynical (or single), it's the kind of holiday that could turn up your pessimism-o-meter.
Listen, cry all we want about Valentine's Day being some made-up mumbo jumbo holiday, it won't stop the day from happening and from couples all around us celebrating it. Instead of being a Debbie Downer about it, we can revel in it, too. Take advantage of all the unique things you can do and get away with on this day. (And hey, even Debbie Downer found someone, too)
Go to the mall
Power Plant Mall
From now until Feb. 14, the mall will be holding two fairs: the Flower Fair at the North Court where you can buy bouquets from Te Amo Floristeria, The Glass House Flowers, Petalier, and BLLOONS; and the Gift Fair at the South Court where you can buy sweet gifts from Auro Chocolate, Gigi's Custaroons, among others. Also, if you have a single or accumulated receipt/s from the Power Plant Mall and Rockwell Center stores from purchases on Feb. 8 to 14, you get a free movie and dinner date.
Araneta Center
From Feb. 14 to 17, the Araneta Center is holding their "Yes to Love" event. On Valentine's Day, Gateway Mall will be hosting an afternoon with DJ Chacha and DJ Jai Ho, who'll be dishing out advice on love. Later, I Belong to the Zoo will be performing their most famous hits. To enter the show, you'll need to preset a single-receipt purchase worth P500. Meanwhile, other upcoming OPM artists will be playing covers of popular love songs at Farmers Plaza and Ali Mall. Roving musicians will continue to play love songs at the three malls until Feb. 17.

The Gateway Cineplex will also be the place for the variety show "1 Night Stand Live," which will feature comics and spoken word artists poking fun at the idea of love. The show starts at 6 p.m. and will cost P250.
Eat out
New World Manila Bay Hotel restaurants
The hotel's four bars and restos will all be having specials for the day of hearts. Fireplace will be setting up a five-course meal which will include a glass of Moët & Chandon champagne and the following dishes: shaved parma ham, smoked salmon, seared scallop, sustainable barramundi, king prawn or Jack's Creek tenderloin, followed up with dessert paired with coffee or tea. It's be P4,500 nett per person.

At the Pool Bar, the hotel's poolside terrace, you can get a glass of wine or berry mocktails and an al fresco five-course meal featuring jamón serrano, crab bisque poached lobster, grilled grain-fed ribeye, and foie gras custard. It's priced at 6,888 nett per couple.
For Feb. 14 and 15, Market Café will be hosting a Valentine dinner buffet which will come with complimentary strawberry mimosa cocktails. The buffet is priced at P2,988 nett per person.New World's Chinese specialty restaurant Li Li will open up a six-course dinner for two which will feature deep fried squid with salted egg yolk, crispy Japanese tofu, pan-fried Angus beef short ribs, and braised abalone with foie gras. Prices start at P2,688 nett.
Bizu
Bizu is bringing back their Valentine's sweets. First is their Romance Midi Cake, which is made up of layers of moist sponge cake, crème brûlée, caramel, chocolate ganache, and fresh strawberries. They also have their strawberry chiboust, a French-style cheesecake (it's lighter than a New York cheesecake) topped with fresh strawberries and raspberry coulis. They're also bringing out heart-shaped chocolate boxes filled with their limited-edition Valentin Macaron de Paris (macarons with a salted caramel center dipped in chocolate and crushed almond praline) and chocolate truffles (salted caramel encased in chocolate and sprinkled with edible gold).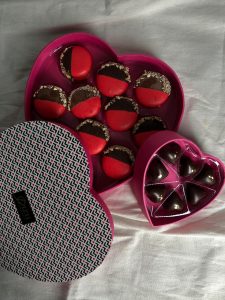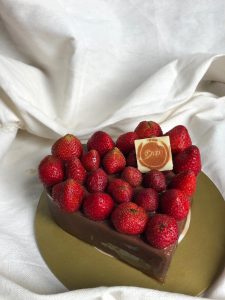 Sofitel restaurants
Sofitel's various restaurants will be celebrating the day, with the flagship restaurant Spiral putting out dishes featuring either strawberries or chocolate for each of its atelier. Some of the chocolate-infused ateliers: The Japanese atelier will have takoyaki balls poured with chocolate mayo sauce and dragon roll avocado maki, also with chocolate mayo sauce; the Filipino atelier will have a chocolate-infused take on adobo; and the Thai atelier will have a seared beef fillet in chocolate chili sauce.

Le Bar will also have chocolate-infused dishes. Starting at P3,500 nett, the Valentine's menu will include seared scallops with white chocolate panna cotta and chorizo crumble, cocoa and herb crusted lamb, sous vide duck breast in chili chocolate sauce, and grilled prawns with white chocolate gnocchi.
The poolside Sunset Bar will host a four-course dinner for two for P20,000. It'll include a bottle of champagne, a bouquet of roses, a box of pralines, a live performance by a violinist, and your own butler for the night.
If that doesn't appeal to you, you can also try their Valentine's buffet for P8,000 which will include barbecue dishes and unlimited beers, iced tea, cocktails, and the Wine of the Month.
If you want to stay by the bay instead, you can avail of the hotel's Romance by the Bay package, which will include a dinner buffet set at P3,588 net per person.
Burrow Café
For lunch and dinner, the hidden café in Antipolo will be offering a six-course meal for P7,392 nett per couple. The meal will include sous vide pork tenderloin, beurre blanc, and santol wood-smoked bacon, and paired with either a glass of Chardonnay or Merlot.

Antidote
I'M Hotel's jellyfish rooftop bar will be offering a four-course dinner with lobster, fish, and beef dishes. The set dinner will be priced at P4,070 nett per couple.
Go out of town
Enchanted Kingdom
The theme park is offering a promo package for their 130 feet ferris wheel. For all weekends of February, Feb. 14 and 15, and Mar. 2 and 3, you can get the couple package for P2,100 (inclusive of two regular day passes, a meal for two, a souvenir photo, and two premier seats for their musical show Enchanté) or the group package for P4,000 (inclusive of four regular day passes, a meal for four, a souvenir photo, and four Enchanté premier seats).
Purple Owl
Purple Owl is a little-known intimate events space in Tagaytay, a comfy house with spaces that are customized for each customer (they can turn the living room into a movie theater, or the backyard into a fairy-like plaza), with the help of design staff Hoot Designs. From now until Feb. 17, the place will only be accepting five customers per night to maximize the intimacy of the place.
Attend a concert
Pop Your Heart Out
To launch their limited edition Dairy Milk Pop Heart bar, Cadbury is hosting a concert on Feb. 13, 5:30 p.m. at the BGC Iconic Amphitheatre. It'll feature local acts December Avenue, Moira dela Torre, and Iñigo Pascual. All you need is to buy one chocolate bar at the concert grounds to get in.
Madz in Love
On Feb. 14, 6:30 p.m. at the Ayala Museum, the Philippine Madrigal Singers will be performing romantic music with guests Musika Filipina and Male Ensemble Nine. Tickets start at P300.
Get more stories like this by subscribing to our newsletter here.
Read more:
6 sweets that make a case for edible Valentine's day gifts
Spend Valentine's Day with just P500
Date ideas for the happily single this Valentine's Day
Read more by Zofiya Acosta:
Gabaldon school buildings will now be protected—but who is Gabaldón?
Here's what to expect at Fringe Manila 2019
What does Metro Manila lack? PWD-friendly tricycles
Writer: ZOFIYA ACOSTA
ART TRICIA GUEVARA