Classified Kitchen is a top-secret haunt for Tomas Morato locals
Here's a top level secret: they have unlimited red wine from Monday to Thursday
info
Classified Kitchen + Wine Café

Casual Dining

12 to 11 p.m. daily

02-2899810

₱

P300
Tomas Morato has steadily been gaining a reputation for being a food-lover's haven, a Quezon City alternative to Kapitolyo or Poblacion. Knowing this, I expected Classified Kitchen + Wine Café to be along a strip of other restaurants. Instead, our driver veered off from the busy side of Morato to a quieter, more lowkey, residential area in Scout Tuazon.
We were undeniably at the right place: "CLASSIFIED" was spelled out in big capital letters above a description stylized like a redacted text, like the military letters Catch-22's capt. Yossarian was tasked to censor. This top secret, army-esque theme was seen all throughout the restaurant, with industrial lights, a camouflaged photo wall, and a little nook featuring more redacted text.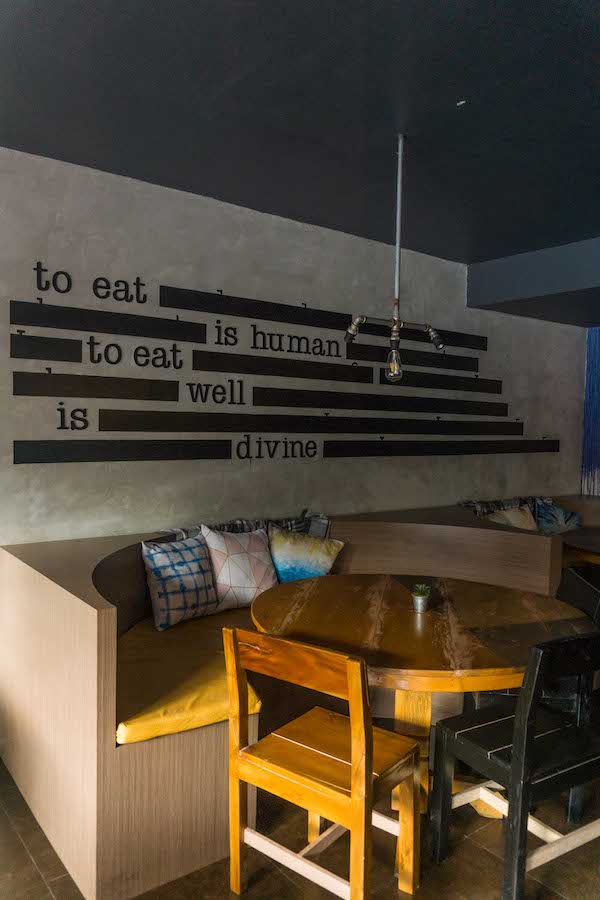 Classified Kitchen + Wine is a family establishment owned by a husband-and-wife team, the same people behind Theo's in Maginhawa. Crystal Retuya, a doctor and one half of the Classified team, says that the concept behind Classified Kitchen came from her husband Alfred's secretiveness. "Masecreto siya sa kitchen," she says about the chef. "He prepares everything," and many of the items on the menu are either his own recipes or were family secrets passed down to him.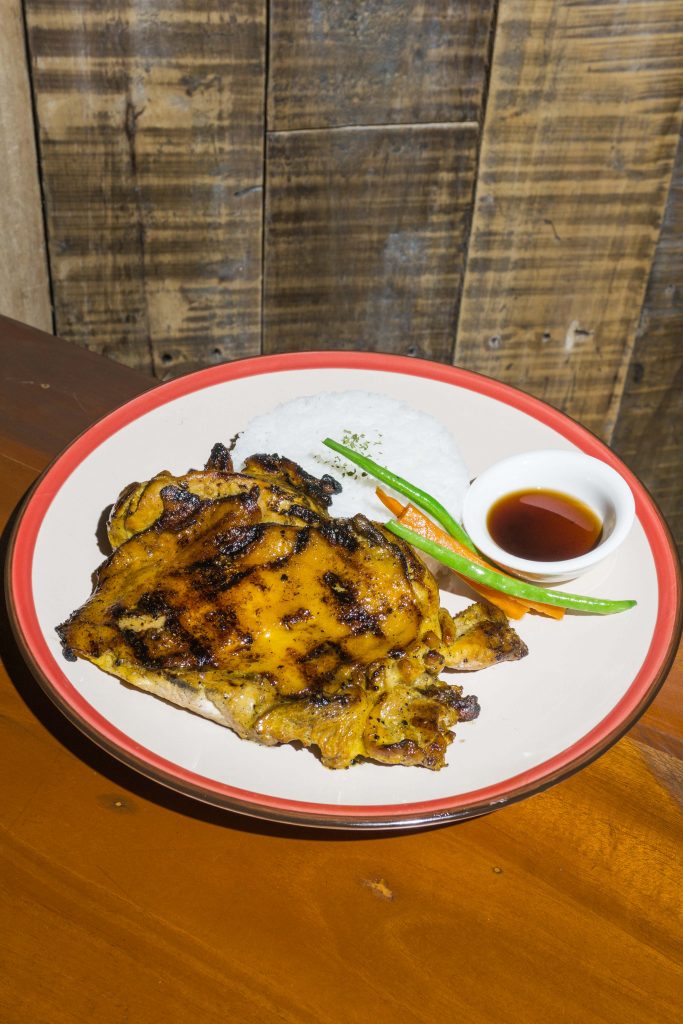 An example of this is the chicken lokal, a Classified Kitchen invention. It's a take on the classic Bacolod chicken inasal and sinamak combo that comes out like a cross between the inasal and a Jamaican jerk, a barbecue chicken dish that has a bit of tang to its smokiness. It comes with unli-rice, like all of their rice meals.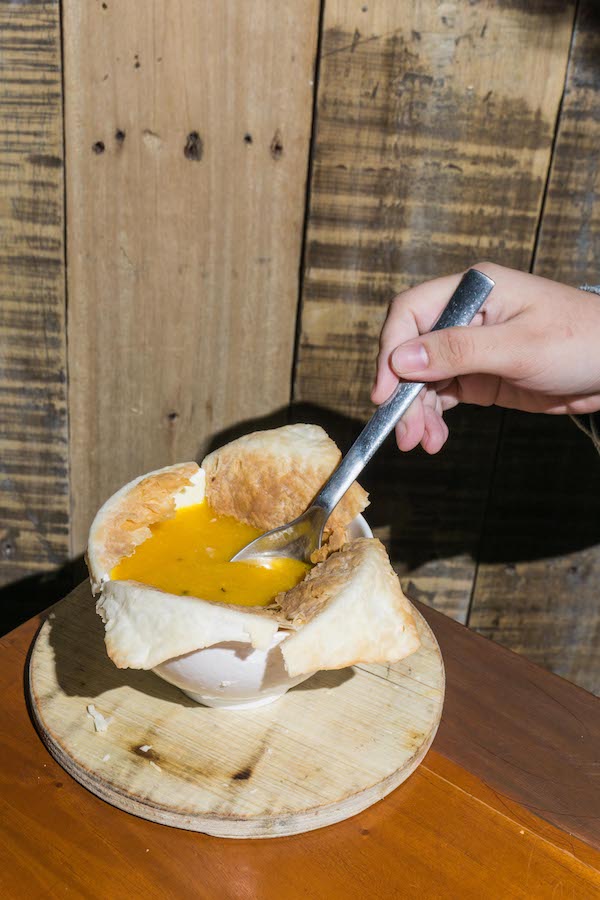 While Classified Kitchen is sort of Alfred Retuya's lab for his new inventions, it's also an all-around sit-down place where families and business partners can meet and dine. For the latter, there's the alcohol (Classified Kitchen offers unlimited servings of their house wine, a cabernet or a merlot, every Monday to Thursday), while the former are offered dishes on the menu perfect for a child's palate. Take the homemade pumpkin soup, many a childhood favorite. Classified Kitchen's version is a no-nonsense approach to the timeless soup, which comes with a crisp baked pastry you'll need to break into to get to the warm, creamy broth.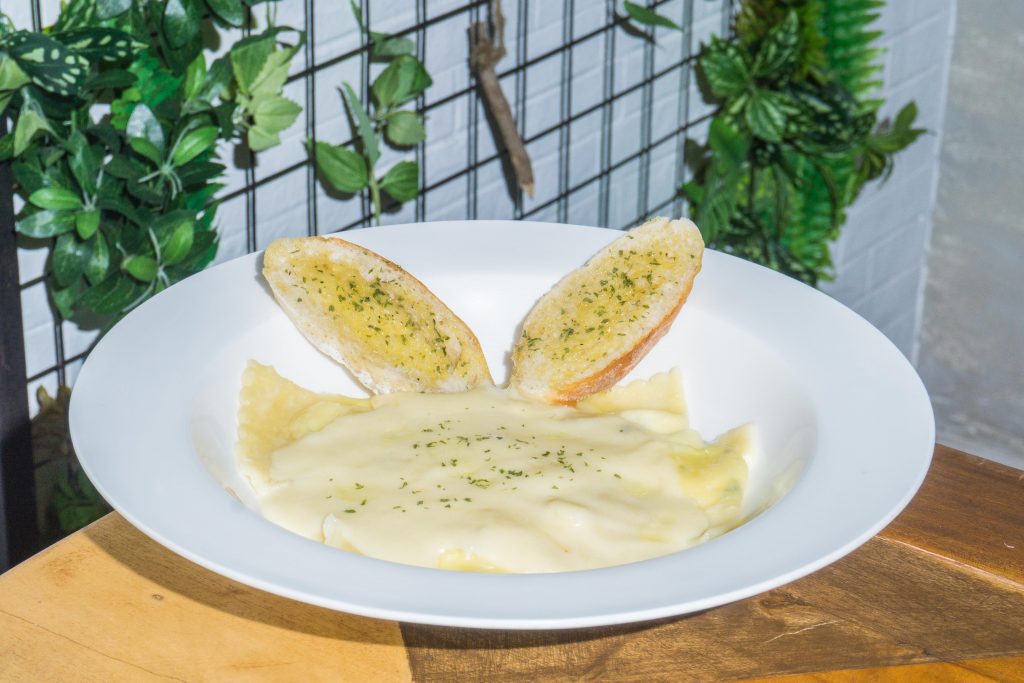 If you're into both cheese and pasta, get their truffled four-cheese ravioli. The ravioli is handmade (like the rest of the dishes), and has a distinctly strong taste. The four-cheese mix is made of cheddar, mozarella, parmesan, and ricotta, which makes for a pungent ravioli pocket.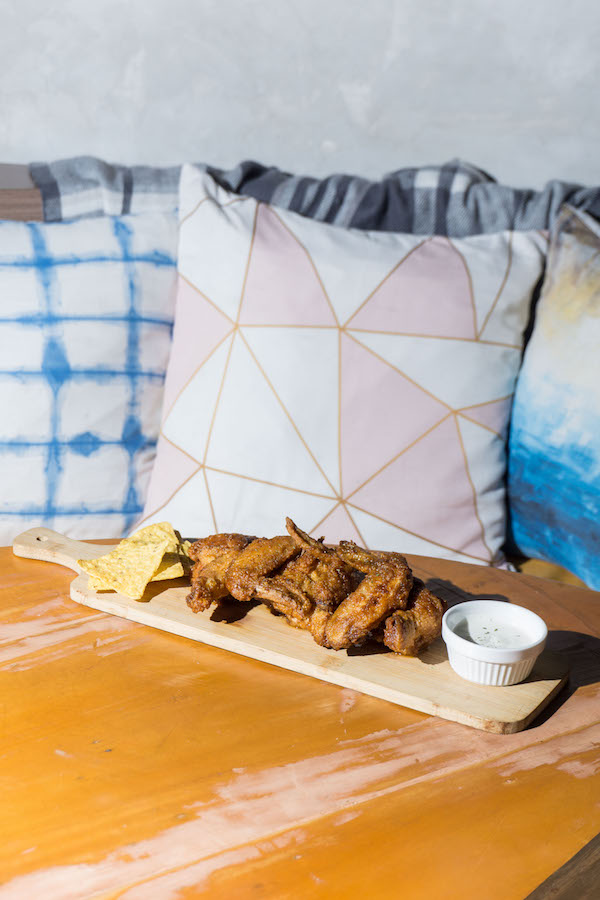 Another thing to try out is the Classic-fied Buffalo wings. The crispy wings, which come with a side of nachos and ranch, are a unique take on Buffalo wings: Instead of spicy, it's sweet. Buffalo adherents shouldn't be alienated, though; the wings are still coated with the usual Cayenne pepper and paprika and definitely still have some spice to them, just one that slides a little bit more to the sweet side. It's listed as an appetizer, but it could definitely work as a meal on its own.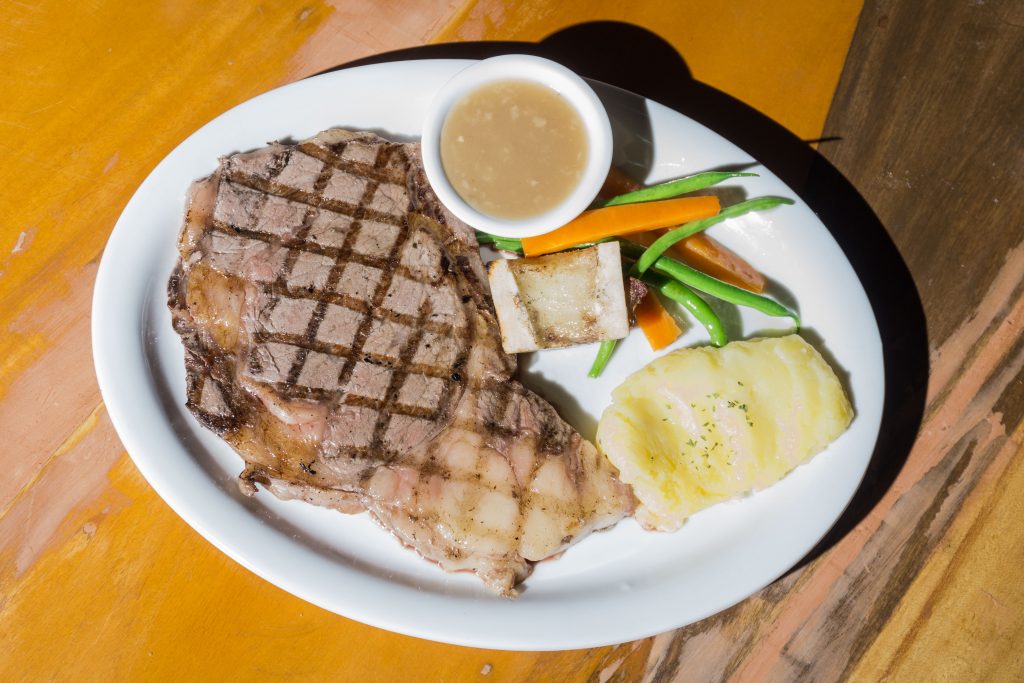 If you're looking for a heartier meal, try out their ribeye steak. Made with U.S. Angus beef, the steak comes with a serving of grilled marrow (perfect for anyone who's fought over the marrow in a bulalo) as well as the more-typical mashed potato and vegetables. The steak is delicately cooked (though grilled), tender, and easy to cut through, which really is all you can ask for from a good steak. We recommend to get it medium well since that allows the meat to fully soak up its rub, allowing the flavor to fully come through, while still maintaining all its juices—but we're not going to dictate how anyone eats their steak.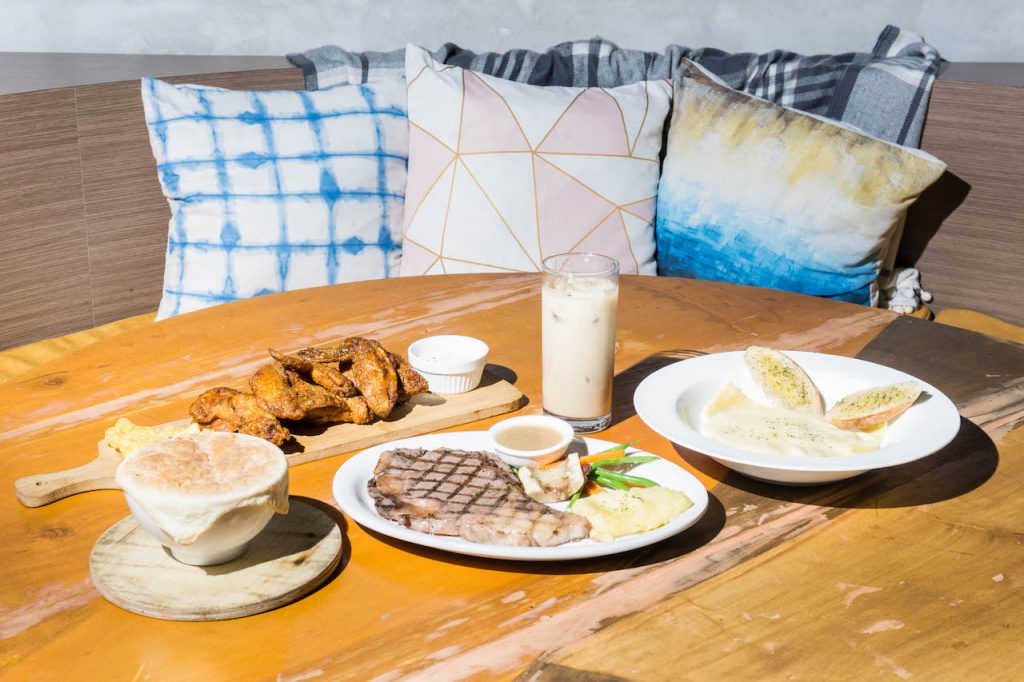 While we won't recommend it if you're only going to get the steak (pair that with red wine instead), we definitely suggest you try out Classified Kitchen's honey almond mocha drink, one of their craft coffee concoctions. The people behind Theo's Café hit a home run with this one, with the nutty almond and honey mix tasting not unlike a Mexican horchata, but with more caffeine.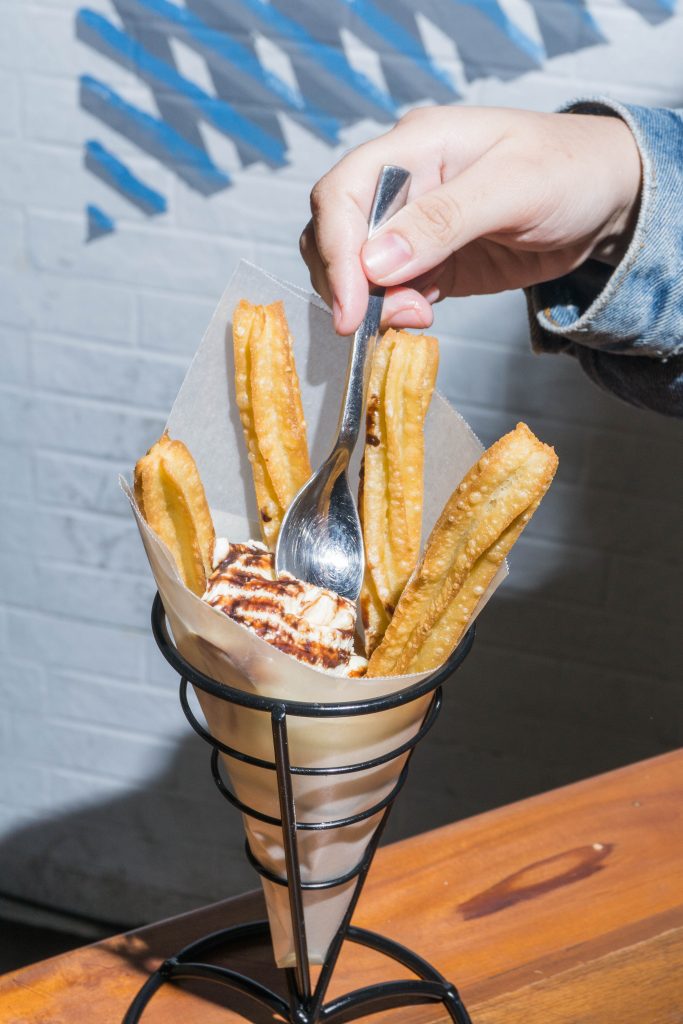 For dessert, try out their churros ice cream. Exactly what it says on the tin, the dessert dish is a deck of churros stacked with a generous dollop of ice cream. It's a great palate cleanser after a hearty meal.
As we left, our photographer and I marveled at how packed the place was for a 5 p.m. Monday afternoon, especially considering that Classified Kitchen is situated in a residential neighborhood. It's a testament to the restaurant's food and affordable prices (again, unlimited rice and wine), and to its warm albeit private environment.
Get more stories like this by subscribing to our newsletter here.
Read more:
8 Mediterranean restaurants to try this 2019
Would you try a mystery steak box?
Kare-kare and Pinakbet get a facelift at this kitchen + bar in Morato
Read more by Zofiya Acosta:
Mabini's wants to restore Malate to its former glory
This series matches Filipina goddesses with western zodiac signs for the modern diaspora
Are memes a form of labor? And other questions the unionizing of IG memers made us ask
TAGS: buffalo chicken classified kitchen crystal and alfred retsuya nolisoli.ph ravioli scout tuazon steak theo's tomas morato
WHY GO?
Their U.S. Angus ribeye steak is a straightforward dish that comes with a bone of grilled marrow. It's tender, juicy, and seasoned well, which is all you can ask a great steak to be.
MENU