Kare-kare and Pinakbet get a facelift at this kitchen + bar in Morato
Tiyo's take on pinakbet will have even the pickiest eater munching away
info
Tiyo Craft Kitchen & Bar

Modern Filipino

5:00 p.m. - 2 a.m.

₱

P200-P500
Curating restaurants seem to be all the rage now. From the interiors down to the branding, dining establishments are making sure every single detail is made to perfection. But very few actually extend this meticulousness to their menu. One of them is Tiyo.
This new dining and drinking place in Tomas Morato has got it all figured out: a clear visual identity designed by the Pasig-based agency Serious Studio, a 300-sqm. area decked with custom furniture made in Pampanga, and an extensive modern Filipino menu to match.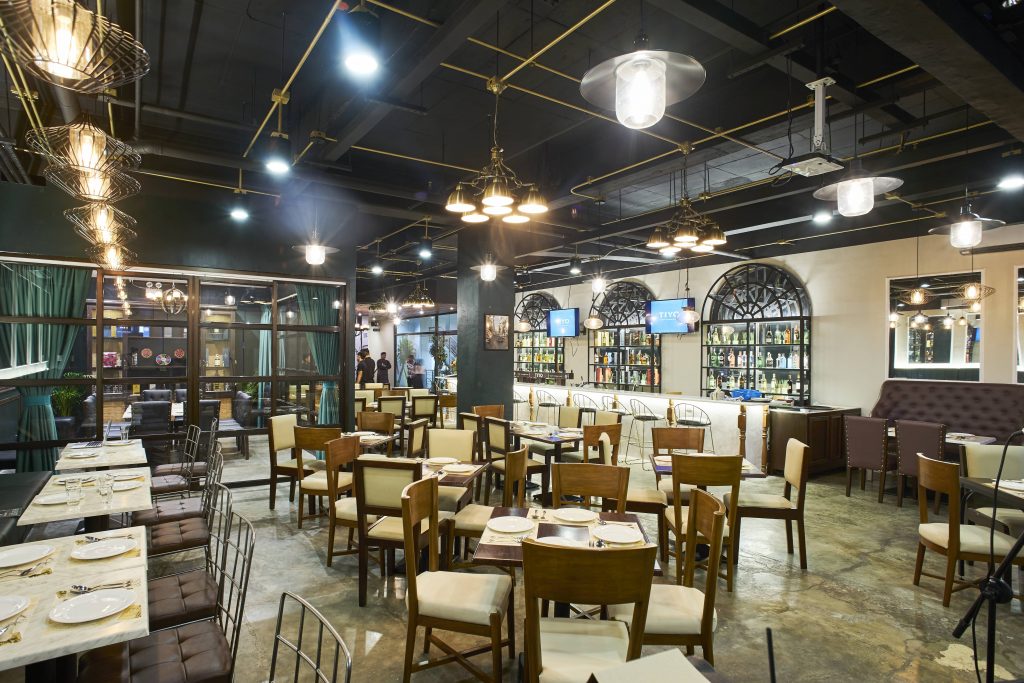 The man behind the concept, Mark Tating is no stranger to the restaurant scene having put up the Kapitolyo brunch place Cow and Chicken previously.
Asked about his approach to Filipino food, Tating, who comes from a family of home cooks, finds that a more fitting description of Tiyo's menu is "plated" rather than elevated. "We wanted to modernize the dishes but not to the point that it is unrecognizable. We wanted it to still be familiar, to evoke a sense of home."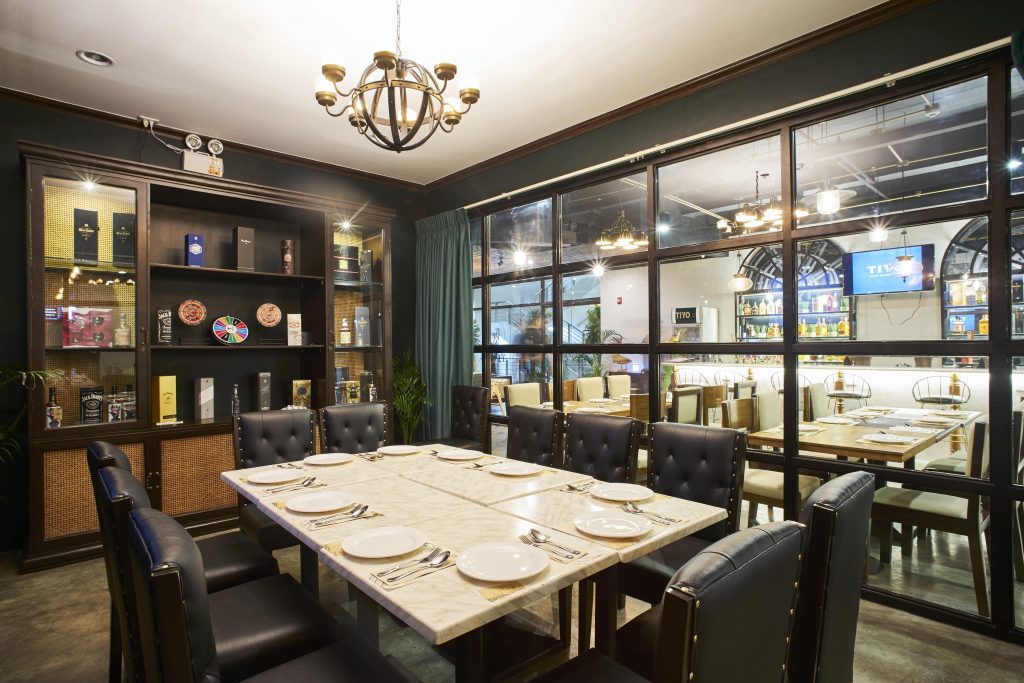 The setup also plays to that logic of eliciting a domestic feel—if not one that is anchored on the masculine perspective of home. Tiyo has a whiskey room inspired by the traditional dining room set up with the kabisera seat at the center.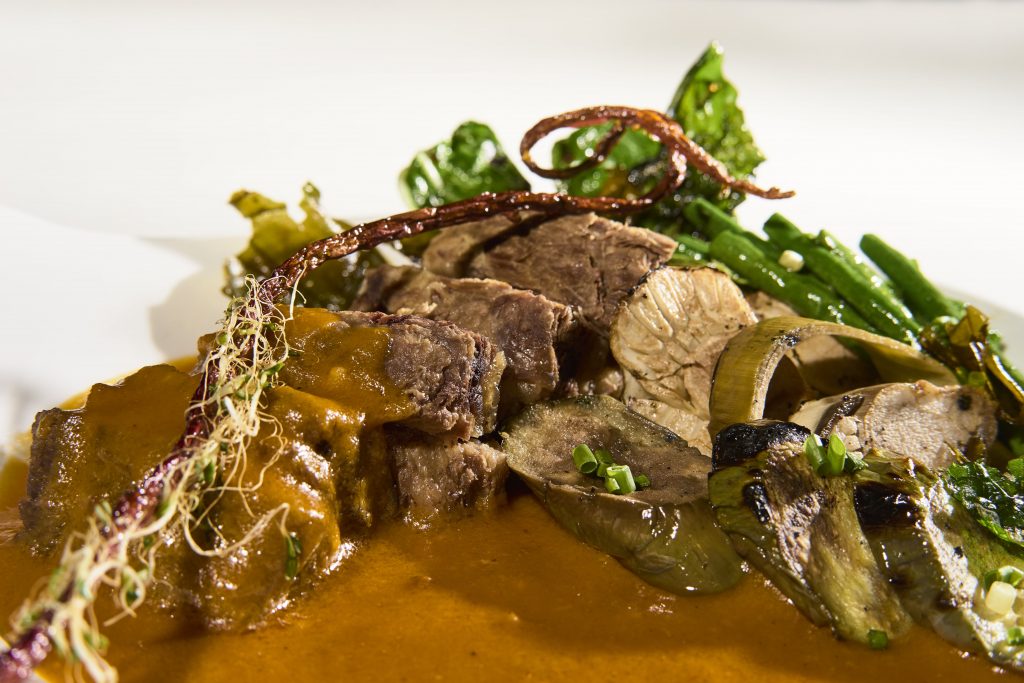 Despite being marketed towards elderly men—an obvious fact given that its name literally translates to "uncle"—their offerings of Filipino classic is for everyone. The plates are large enough to share, with flavors that anyone can instantly relate to despite the out-of-the-box presentation.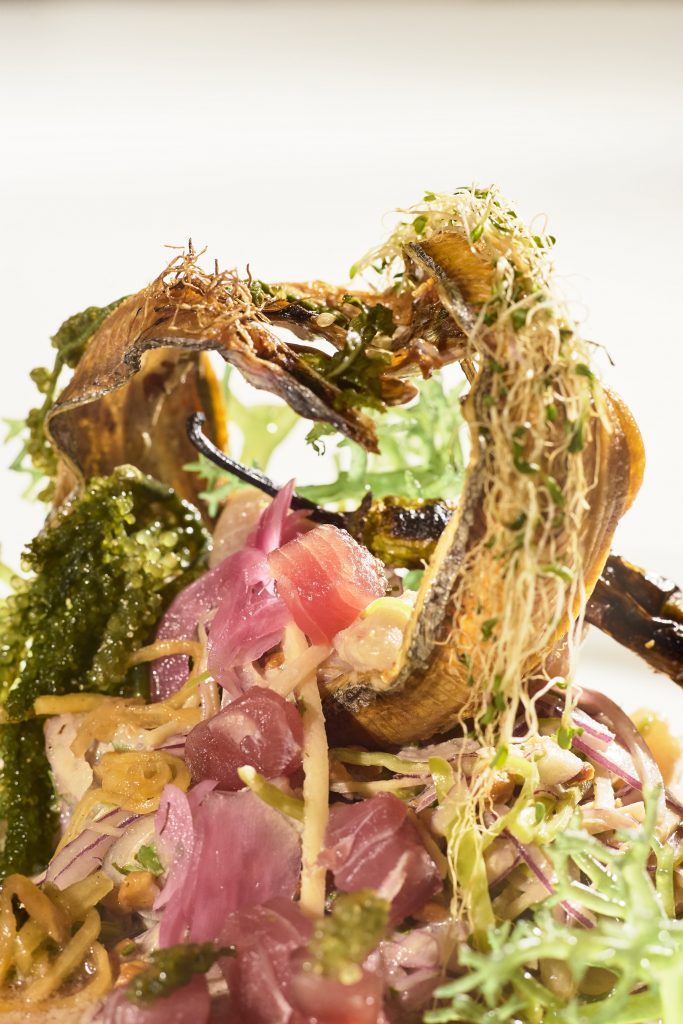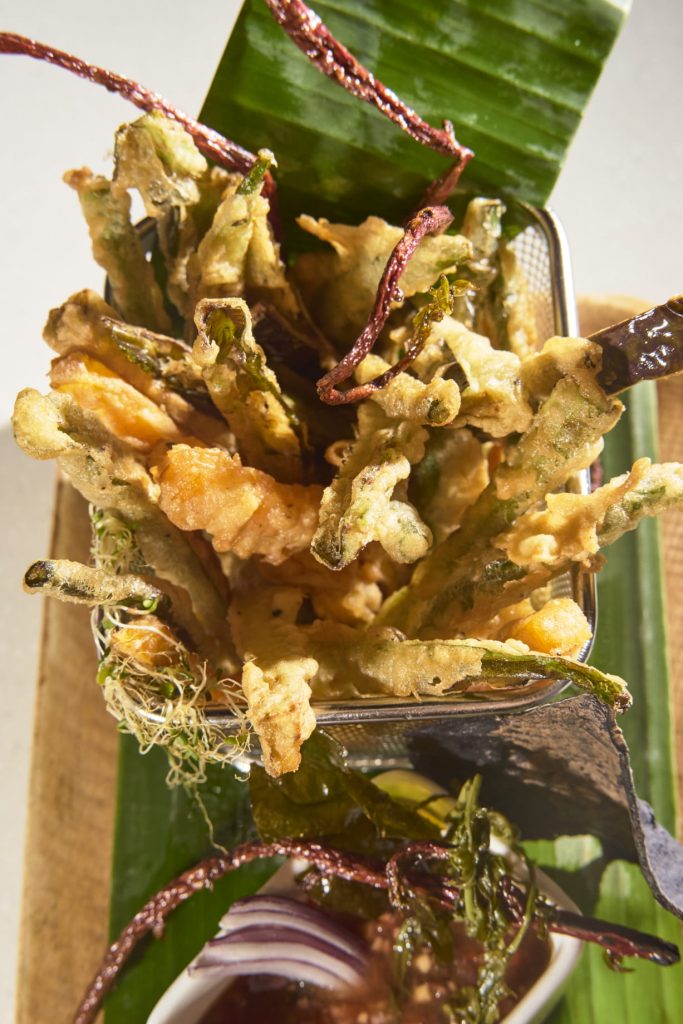 Noting a flatness in the usual plating of kinilaw, Tating decided to incorporate some eye-catching elements with flavors still consistent with the original recipe. These include dried espada fish arched over a mix of raw tuna, malasugi (swordfish), and talakitok (jack mackerel) cured with vinegar, and fresh latô on the side.
Meanwhile, Tiyo's take on the vegetable dish pinakbet pays homage to Tating's northern upbringing, while still remaining inventive. The talong, kalabasa, sitaw, okra, and sigarilyas sticks are battered and deep-fried ala tempura and served with a bagoong dipping sauce, and weirdly, a fried alugbati vine which seems to be ever-present as a decorative add-on to most dishes.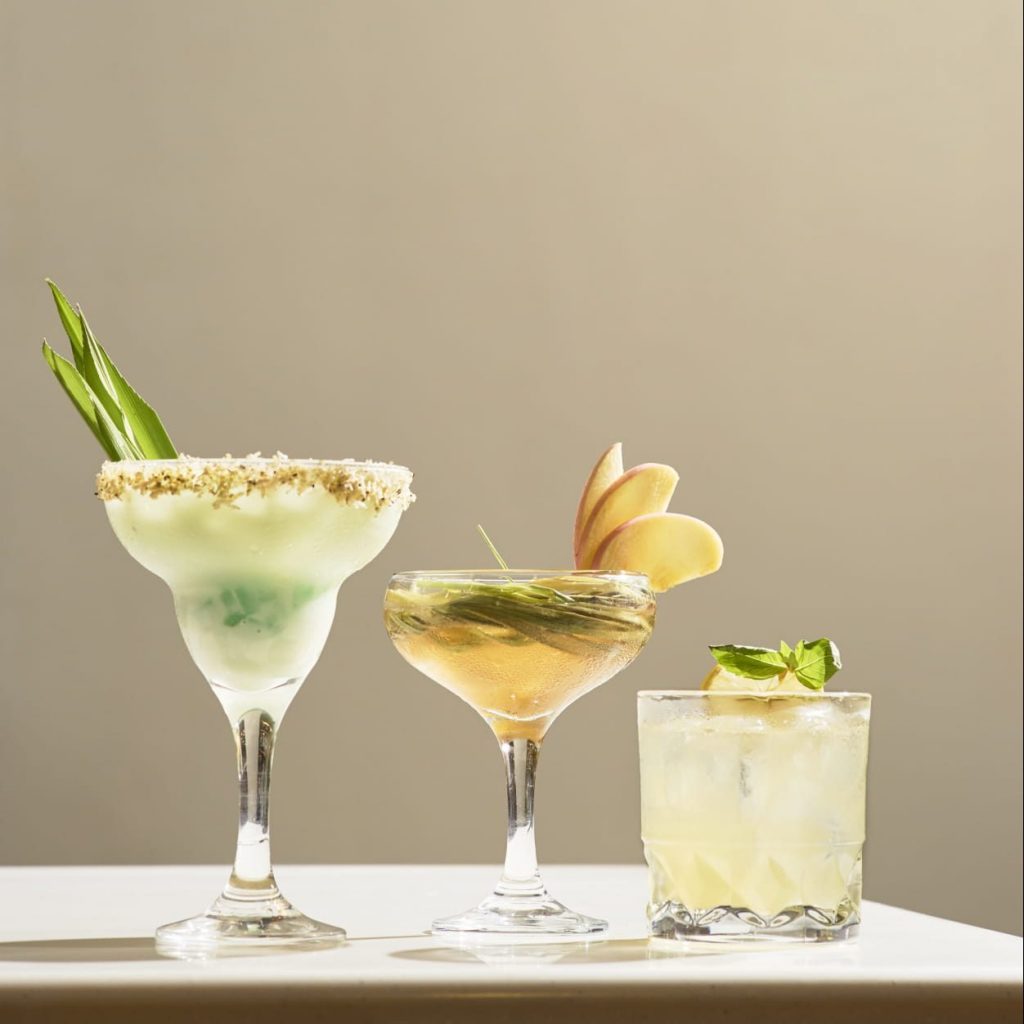 Tating says this is a part of their efforts to reduce their food waste. "It's not an angle that we initially intended, it just so happens that when we were looking into the bigger perspective to serve good food with good prices, we thought we have to also cut down on waste since it's a problem in the industry."
Some ingredients used in the bar come from the kitchen like the grated coconut used in the Streetside Special, one of their signature cocktails crafted with their own infusions.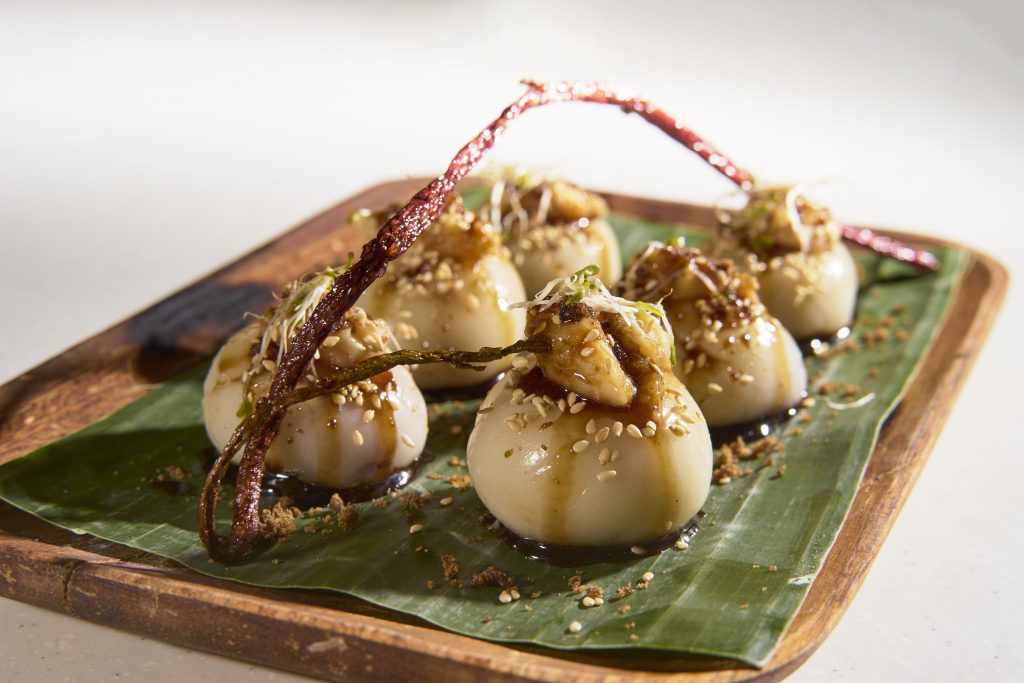 Situated on one side of the restaurant, the bar exudes a relaxed and casual vibe with mirrors, a bottle display imitating the art deco windows of Escolta buildings, and LED televisions to tie up their tito-centric interiors.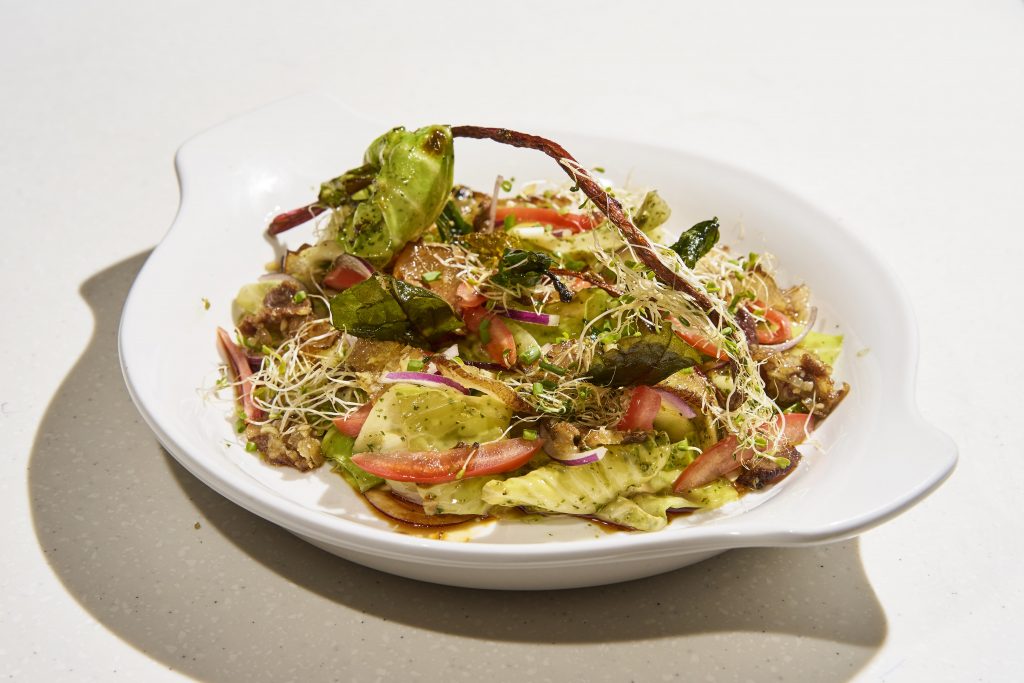 "It was something I was not very fond of in the beginning," Tating says of the TV sets hanging above the bar. "But understanding our customers, I realized that what we like is not always what others will like, so some compromises had to be made. After all, this is a tito bar and what is a tito bar without TVs?"
Read more:
Here's where you can get melt-in-your-mouth gnocchi and uniquely shaped pasta
Local coffee beans defined: Arabica, robusta, and liberica
It's about time you uncover Samar's best-kept culinary secrets
Read more by Christian San Jose:
An introduction to Israeli cuisine by way of a savory baklava
Margarita Forés is now an Italian knight
This new art space in Pasay opens with an exhibit featuring 20+ local artists
TAGS: filipino cuisine Tiyo Craft Kitchen & Bar tomas morato
WHY GO?
Tiyo Craft Kitchen + Bar may be marketed towards titos but there's something for everyone on their menu
MENU