An introduction to Israeli cuisine by way of a savory baklava
A Middle Eastern sweet dish gets a savory treatment at Noor
info
Noor

Israeli-Mediterranean

11 a.m. to 12 m.n.

₱

P500-P700
At the heart of the Bonifacio Global City in Taguig, an eccentric mix of people of different nationalities mingle and share an idyllic neighborhood of skyscrapers, lush parks, and a line of shops and restaurants.
One of them is the husband and wife team behind one of the new restaurants along Forbestown road, Noor. Chef Or Hakmimi and his wife Tair have been residing in the country for quite some time now along with their one-year-old daughter.
We were welcomed at their restaurant at 10 a.m. when the rest of the strings of shops nearby are either just beginning setting up for the day or closing down following a night-long operation.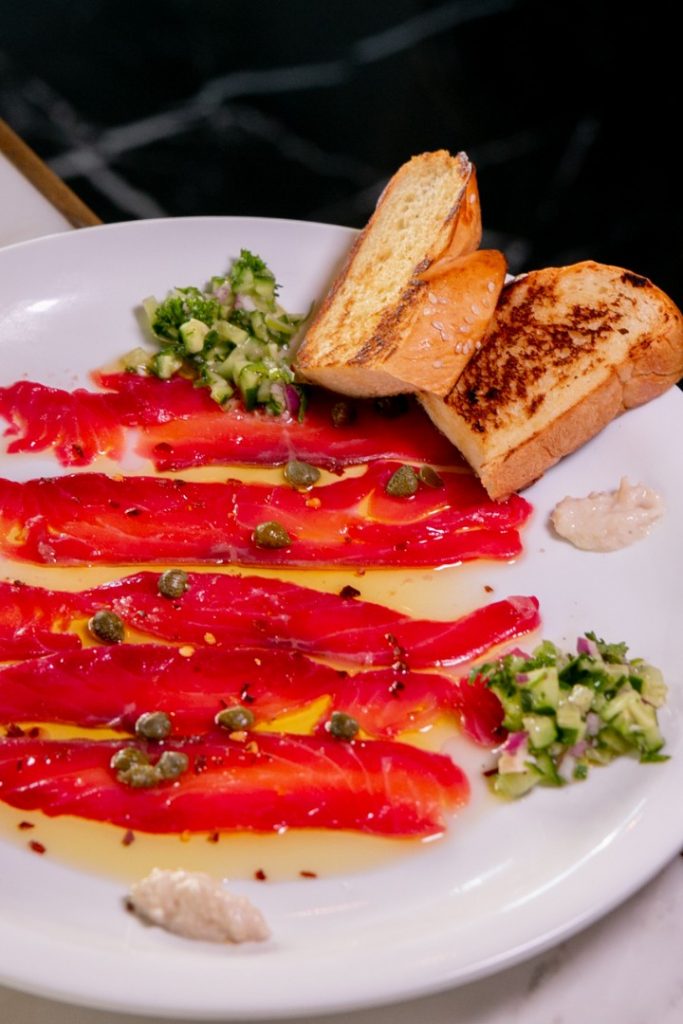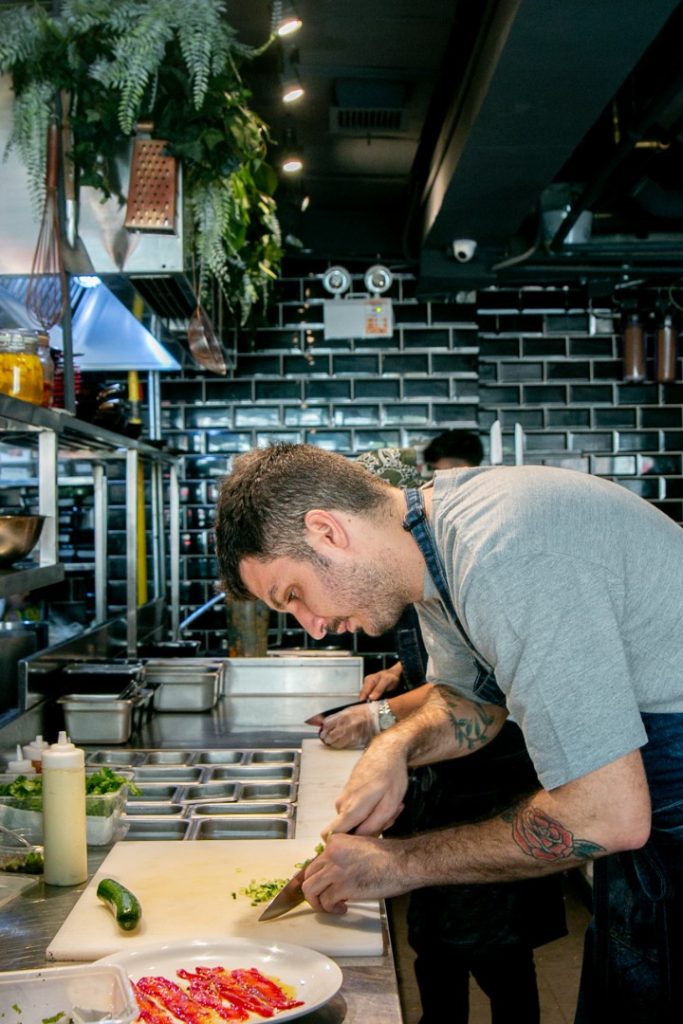 As we enter, an open kitchen greets us with its stainless counters and a cheerful Filipino crew. We have been told that it was one of the first few weeks since they have opened this early to accommodate the lunch diners. Prior to this, Noor only opened for dinner until late.
To our right is a staircase leading to an upstairs dining area and a bar. At the side of the stair is a wall filled with a selection of wine, and two framed artworks by up and coming Filipino artists which Noor consigns.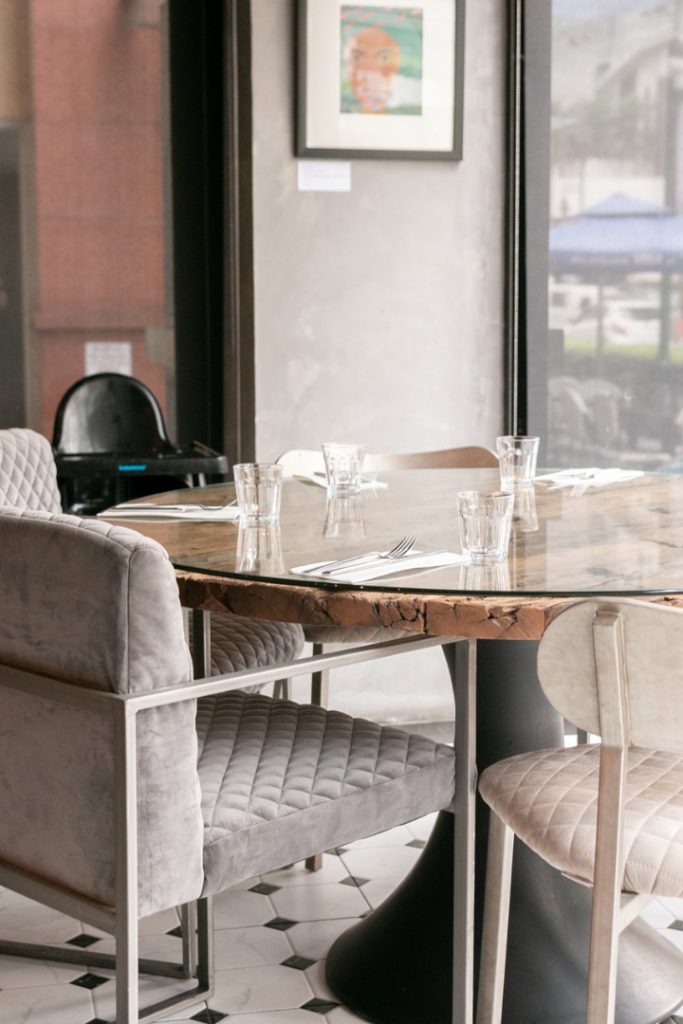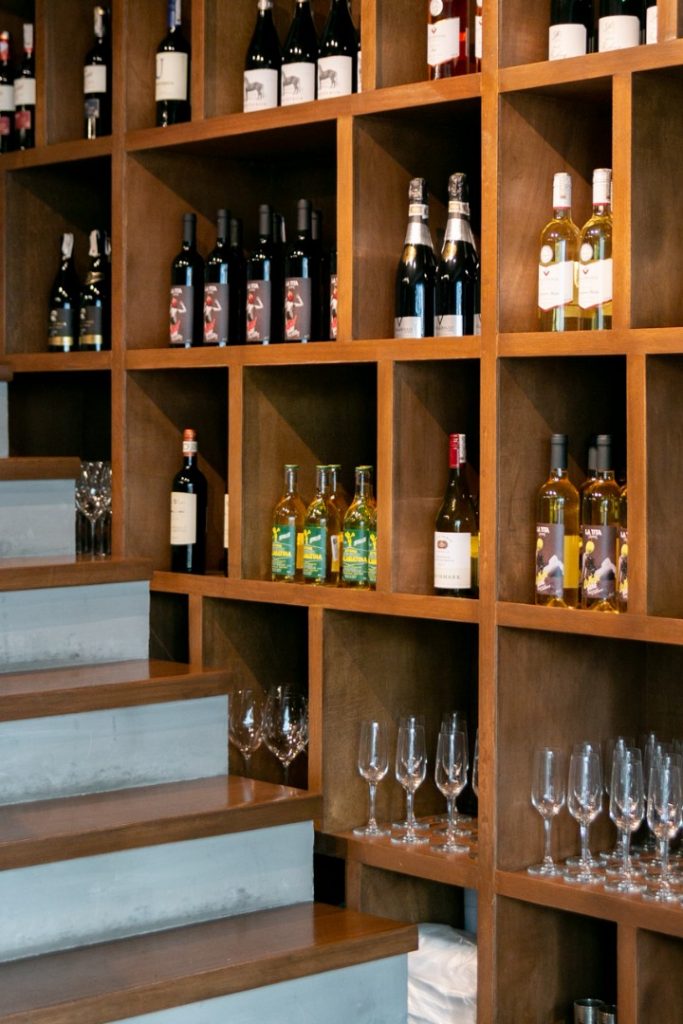 Upstairs we were greeted by Tair, a tall woman of Israeli descent with long curly brown hair. She tells us her husband is running a little late, so she obliges to do the introductions to pass the time. Apparently, the day before we came, they hosted a party where they served all of the dishes on their menu. She even shows as a picture of her husband with a table filled with some of their best-sellers. "It was a pity," she says. "You weren't here. There was a lot of food, and too few people to eat all of it."
A few minutes in, she leads us downstairs to meet Or, her husband. Few inches taller than Tair, he came into the restaurant wearing a t-shirt and ripped jean shorts along with a pair of slightly beat-up Stan Smiths. Coffee in hand, he immediately proceeds to greet his wife, then puts on an apron. He wastes no time, with the help of his crew he quickly came up with his first dish: cured salmon with a side of green salsa and horseradish cream, their take on the Italian carpaccio. He was such in a hurry that he cut his finger mincing the cucumber.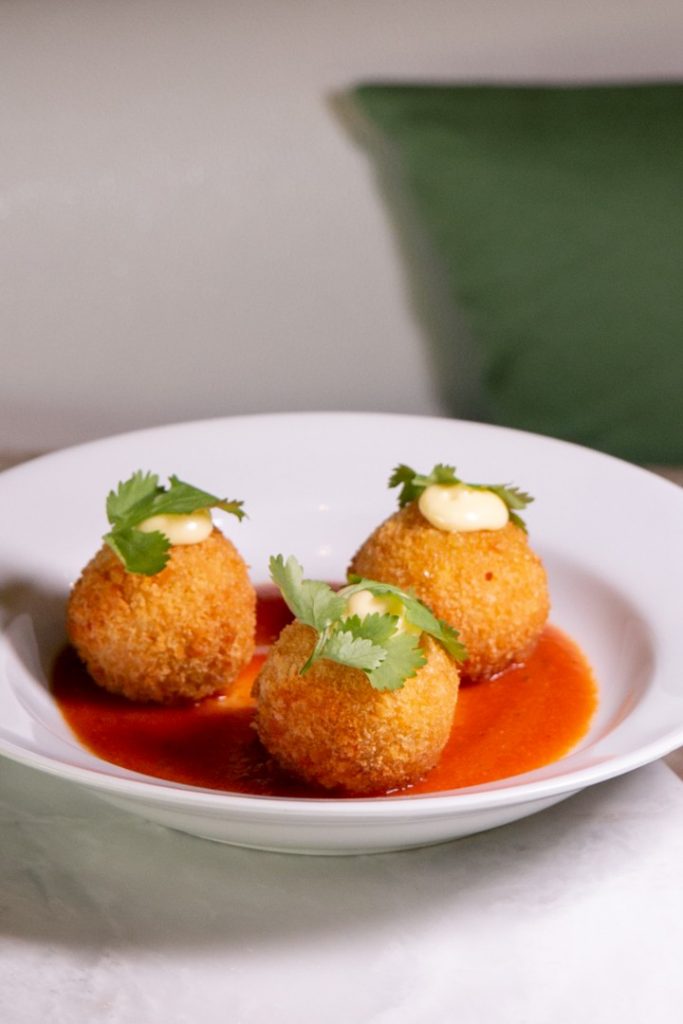 He offers up the plate on the counter as he bandages his wounded finger. But before we could take the carpaccio to our table upstairs, he stops us and adds two slices of perfectly grilled challah bread.
Noor which in ancient Hebrew text means "light" or "flame," Or shares, started out as a local catering service. The restaurant was put up August this year with the goal of bringing Mediterranean cuisine with a focus on Euro-Israeli flavors to a country where a sizeable number of Israeli and Middle Eastern immigrants are starting to reside.
"There are many Mediterranean restaurants here with a straightforward sense of an approach to cuisine," Or says. "Some restaurants, they even have themes to make the experience very clear. Here, want to bring a new experience for diners, we want them to experience the food itself and not just the theatrics."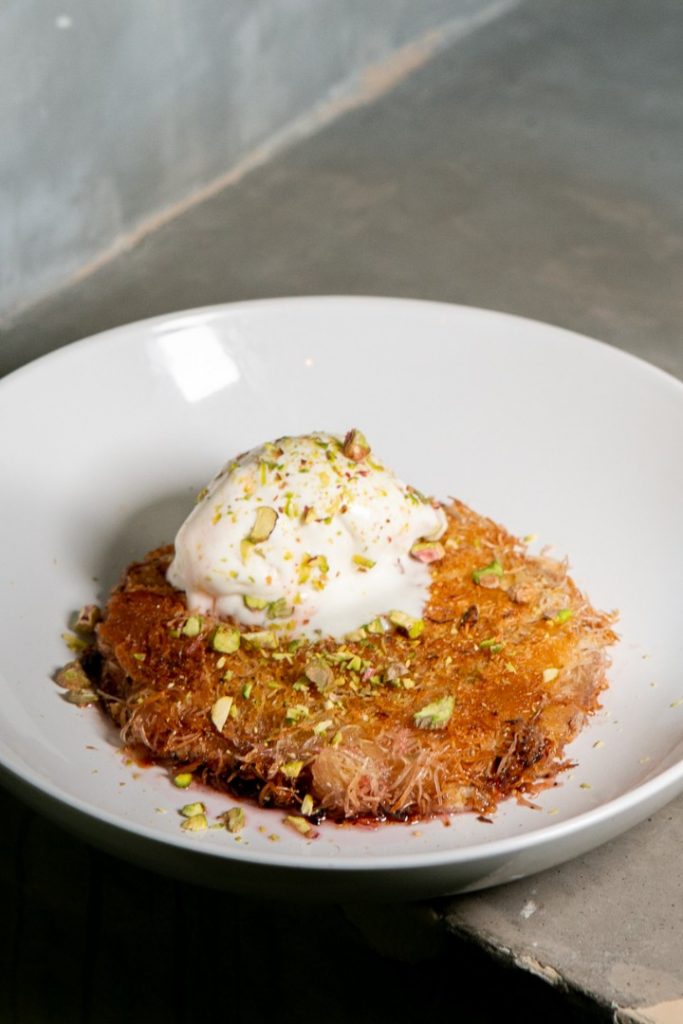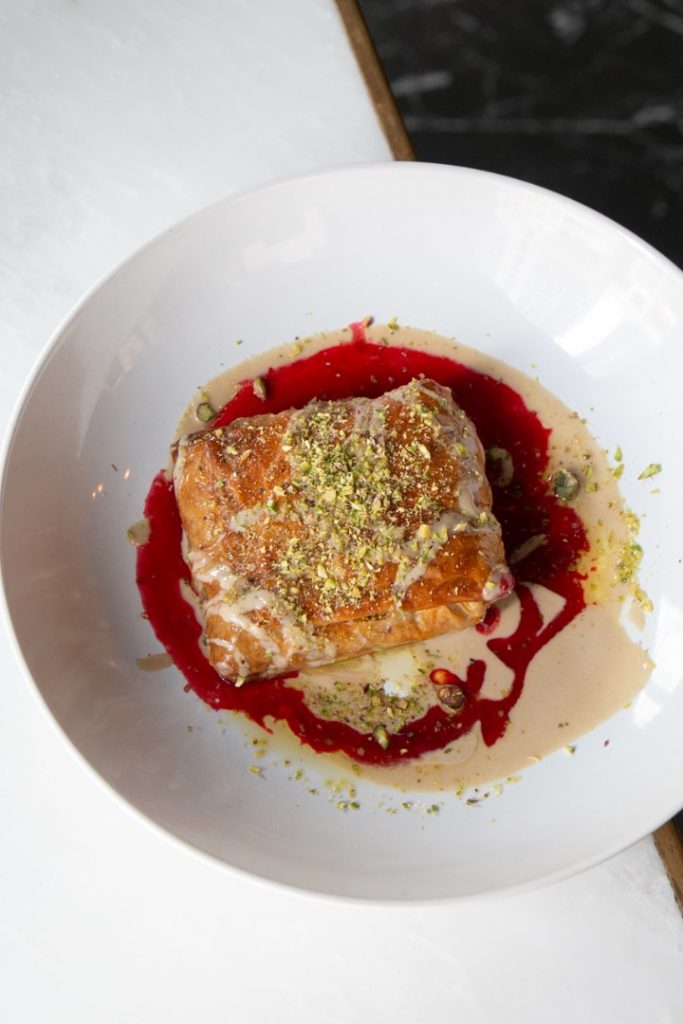 Noor in itself is decisively Mediterranean. The interiors, with lots of light rushing in through their floor-to-ceiling windows, have that rustic charm accentuated by wood elements like their round tree trunk table downstairs and their driftwood ornament hanging above the chef's station. Although, the tables upstairs and al fresco have a different feel: modern, sleek and leaning towards the greenery.
This contrast, too, can be seen in their menu which is a potent mix of Israeli flavors and European influences. Take their arancini, for example, an Italian dish of turmeric risotto rice balls filled with minced beef cheek served in a bed of tomato sauce with basil like marinara sauce. But to add a Mediterranean twist, it is topped with garlic aioli sauce and cilantro to cut through the rich flavors.
They also serve middle eastern classics like the knafe and the baklava, although only one of these takes the form of a dessert at Noor. While both are made with phyllo pastry, chef Or has decided to turn the latter into a savory dish filled with lamb. Each dig into the flaky layers leads to a center filled with lamb bits and ends with the sweet raspberry sauce.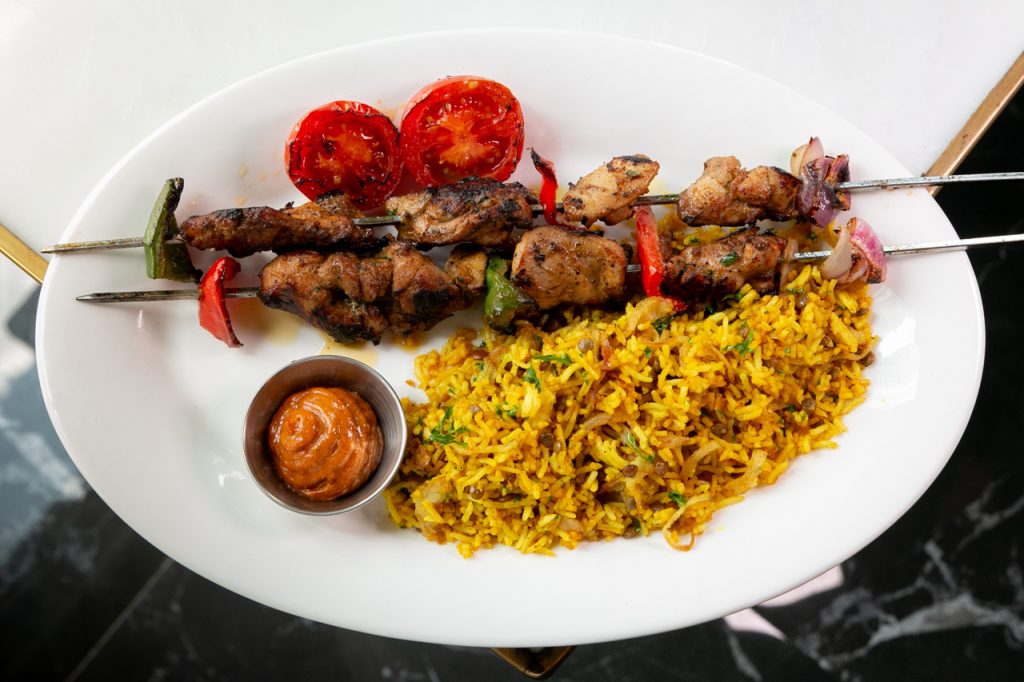 If you are worried that Filipino diners run the risk of being alienated at Noor, you are sorely mistaken. Chef Or says that much like the Filipino table, from where they came from, sharing meals is very much part of the culture which is why they wanted that to be the central theme in their concept.
Part of why they decided to open for lunch was to expand on the idea of eating together, may it be with families, friends, co-workers, or acquaintances. In fact, they offer options for big plates good for sharing. One of which is their chicken skewer with paprika honey marinade. It is one of their few offerings that is served with Syrian long grain rice.
"I know chicken and rice is big here in the Philippines," Or says matter-of-factly. "It's like bread in our country, we eat it with everything."
As he explains the last of the dishes on our table, a visitor comes in. This is common according to Or, their friends and family frequent the restaurant. It was his daughter, she has just woken up. She goes straight to her mother who looks every bit just like her. Or, on the other hand, takes a baby into his arms, a friend's. As we leave, Tair looks at her daughter with a wide smile and then to us. It is only the beginning of a long day for their family.
Get more stories like this by subscribing to our weekly newsletter here.
Read more:
Brains, blood, and poison: Eat your way through these Halloween treats
Know your banana: What makes Lakatan, Señiorita, and Saba different from one another
Pancit Center in Kapitolyo showcases regional varieties of palabok
Read more by Christian San Jose
Have a golden chocolate cake and eat it, too at Aperitif
The one Korean condiment you should have in your pantry
Dispatches from migrant Filipino kitchens featured in new cookbook
TAGS: eats forbestown Israeli cuisine mediterranean Noor taguig
WHY GO?
Their flaky savory lamb baklava is a fitting introduction to Middle Eastern flavor. While the crispy knafe with homemade yogurt ice cream is a dessert you would wish you had known sooner.
MENU