Mabini's wants to restore Malate to its former glory
They're doing it one laing-filled baked prawn at a time
info
Mabini's Kainan Kapihan Tindahan

Filipino

11 a.m. to 10 p.m. daily

₱

0966-7851273
If you're as much of a cultural heritage nerd as we are, then you've probably felt that very specific longing to see the streets of Manila as they were in the 90s, 60s, 20s: basically any decade that isn't now. None of the people in the Nolisoli.ph team are even old enough to round off our ages to 30, so our only contact to Manila's heyday are through old books, movies, photos, and the well-worn stories of our lolas and lolos. Still, the desire is real.
The people behind the cultural handicraft store Tesoros are trying to recreate the gilded age with their new venture, Mabini's. Located in the Tesoros building (there's a Tesoros storefront you can stroll along while waiting for your order) in Malate, a once-beautiful strip gone to seed, Mabini's is a restaurant that offers updated versions of Filipino classics—though chief consultant Mikey del Rosario is quick to add that some dishes are sacred, and not to be touched. "The adobo is adobo," he says. This playfulness yet adherence to cultural touchstones can be seen throughout their menu.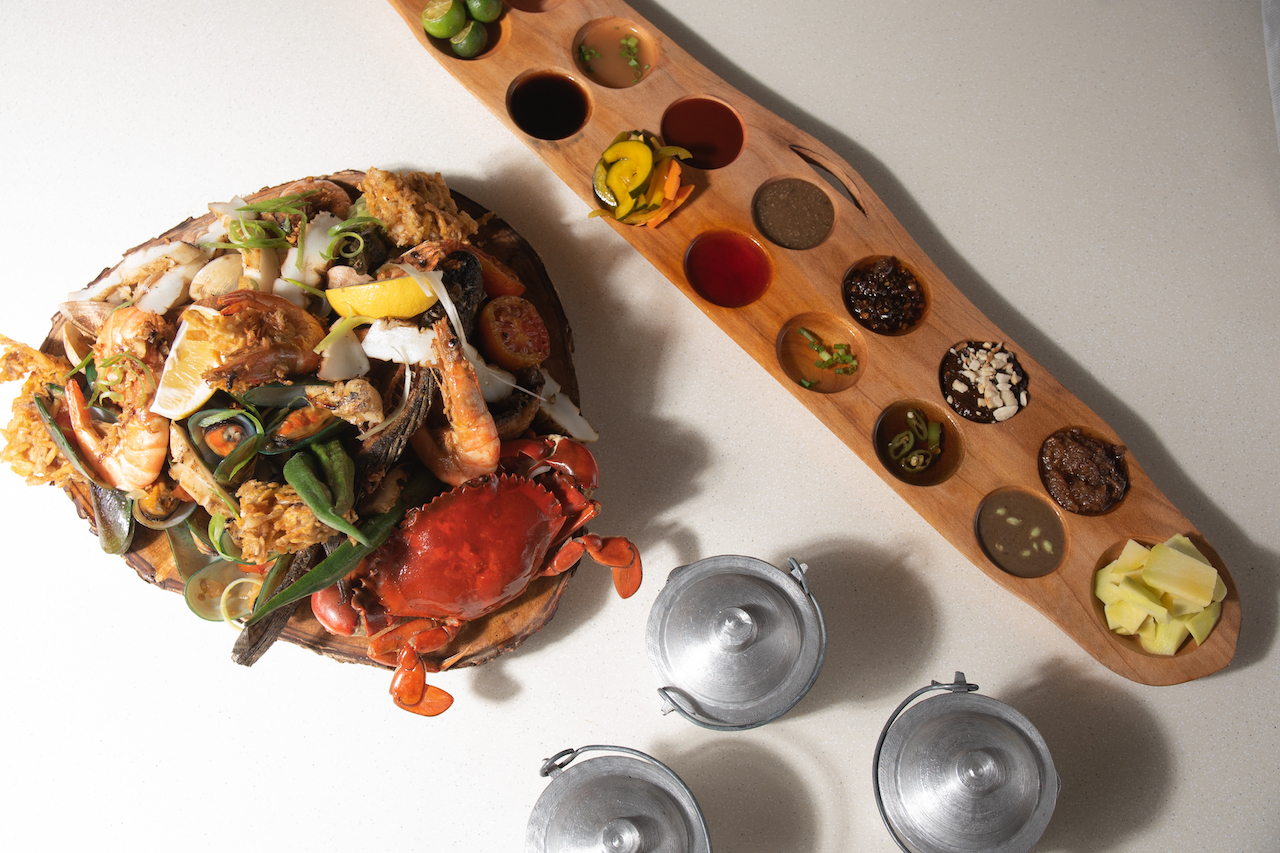 Take the seafood platter sungkaan, for one. An array of some of our great seafood dishes (crab, tilapia, squid, prawns, mussels, and clams) prepared in various ways (fried, steamed, butter in garlic, and cooked in adobo), the platter comes with 16 dips and sides served in a sungka board. We'd recommend to dip the tilapia in their homemade banana catsup, or on their version of a Mang Tomas sarsa, and a dash of bagoong on the grilled squid, but the sungka board invites you try out all the sauce and meat combinations (here's a weird one: crab meat and peanut barbecue sauce). If you aren't fussy, turn it into a game on the dinner table: First one to try all combos wins.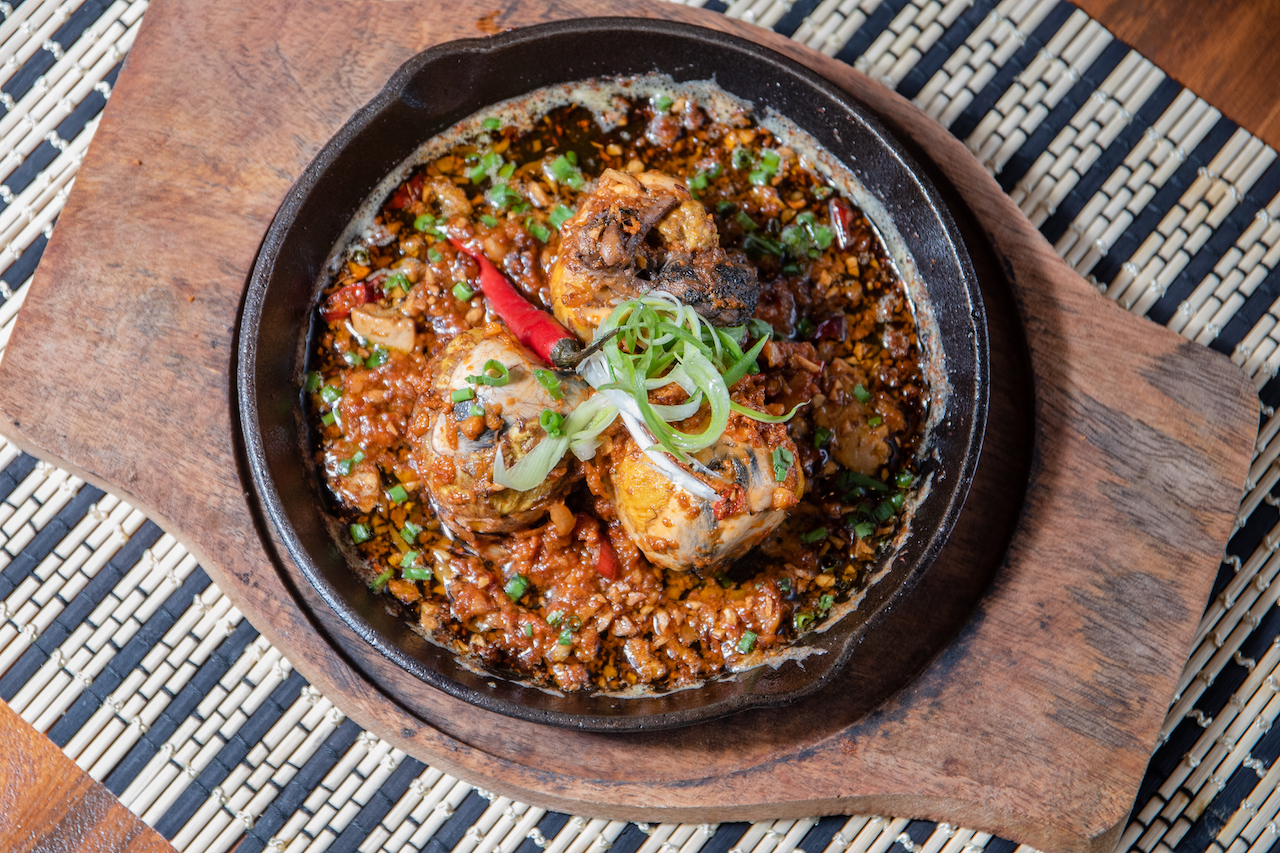 For the more adventurous types, the balut matapobre is a good entrée. Though balut is infamous for being "revolting" (no thanks to Bizarre Foods-type of specials), Mabini's makes a good case for the street food: sourcing the duck embryos from Pateros, the eggs are slathered with crab fat, chilis, and garlic butter. It's balut at its most palatable.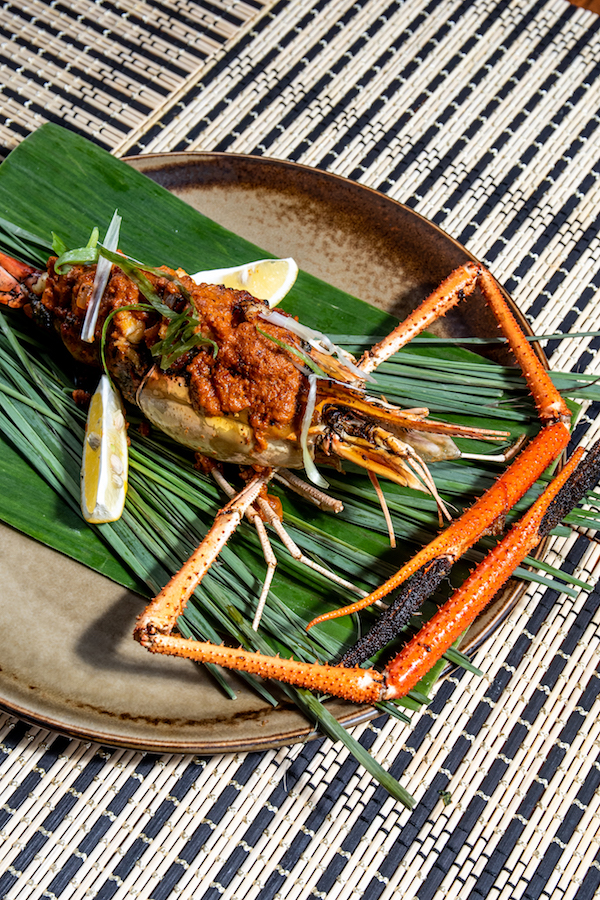 Other dishes to try out are the laing inside (a pun on the song "Dying Inside to Hold You") and the pork barbecue. The laing inside, del Rosario confesses, is Mabini's valiant attempt to make laing as aesthetically pleasing as it tastes. (That's Filipino cuisine in a nutshell: ugly but delicious) Here's their solution: to wrap it inside a giant baked prawn with taro leaf curry.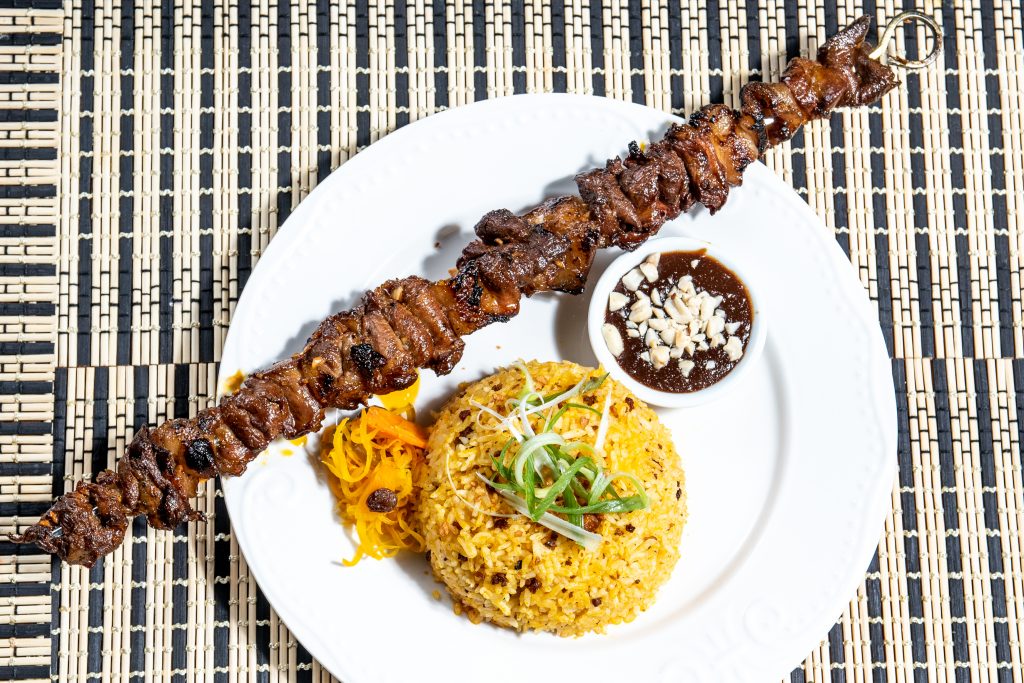 On the other hand, they took a more no-nonsense and straightforward direction with the barbecue.  The quintessential skewer in all kid's parties, it's served on a giant skewer (the meat tips off the plate) with atchara, java rice, and barbecue sauce mixed with peanuts.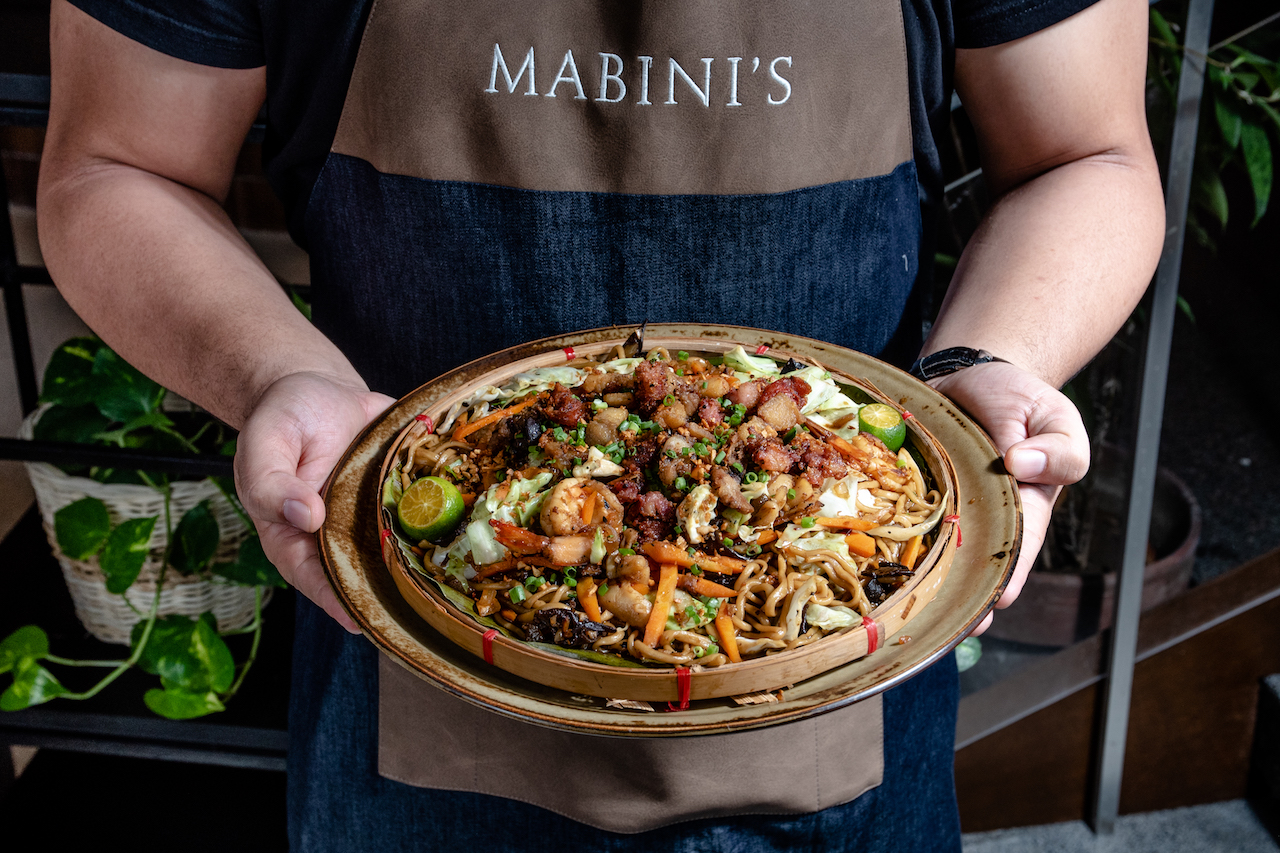 A Filipino meal table is incomplete without pancit, and Mabini's serves a fine one with pansit ni Aling Doreen. It's their version of the pancit canton, with crispy bagnet and longganisa to go with the usual mixed vegetables and noodles. Those with discerning tongues will notice that the noodles are stickier and thicker than usual: that's because Mabini's serves freshly-made flour noodles on site.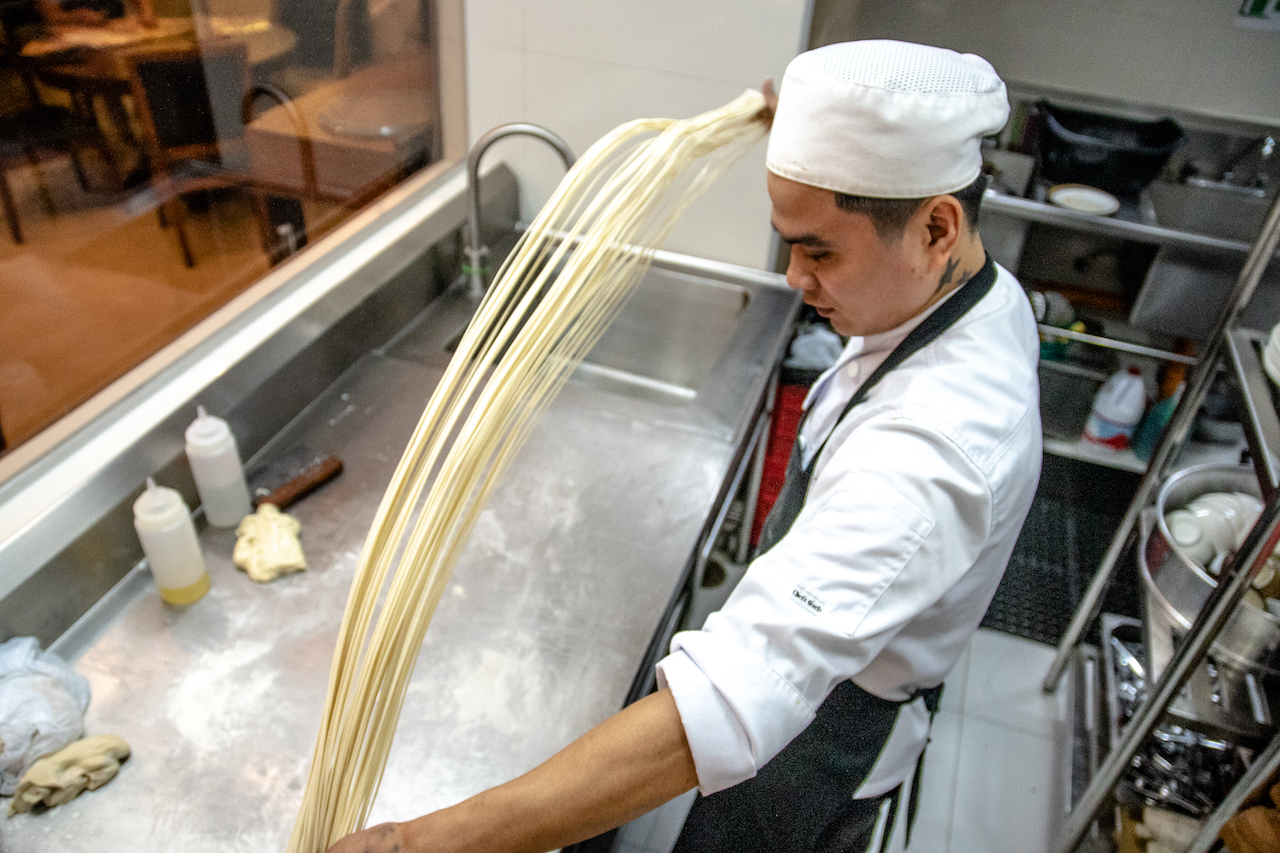 Top off the meal with an order of dirty ensaymada, a sort of Filipino-take on an ice cream sandwich. The ensaymada is cut in half and dirty ice cream is wedged in between it, the end result looking not unlike a burger. Biting into it is an experience unto itself: Imagine the sugary, slightly charred cheese of an ensaymada on cold and wet sorbetes. The dirty ice cream itself is also authentic: Mabini's sources it straight from the original makers. "Restaurant-made dirty ice cream isn't dirty," del Rosario explains. "It's not authentic."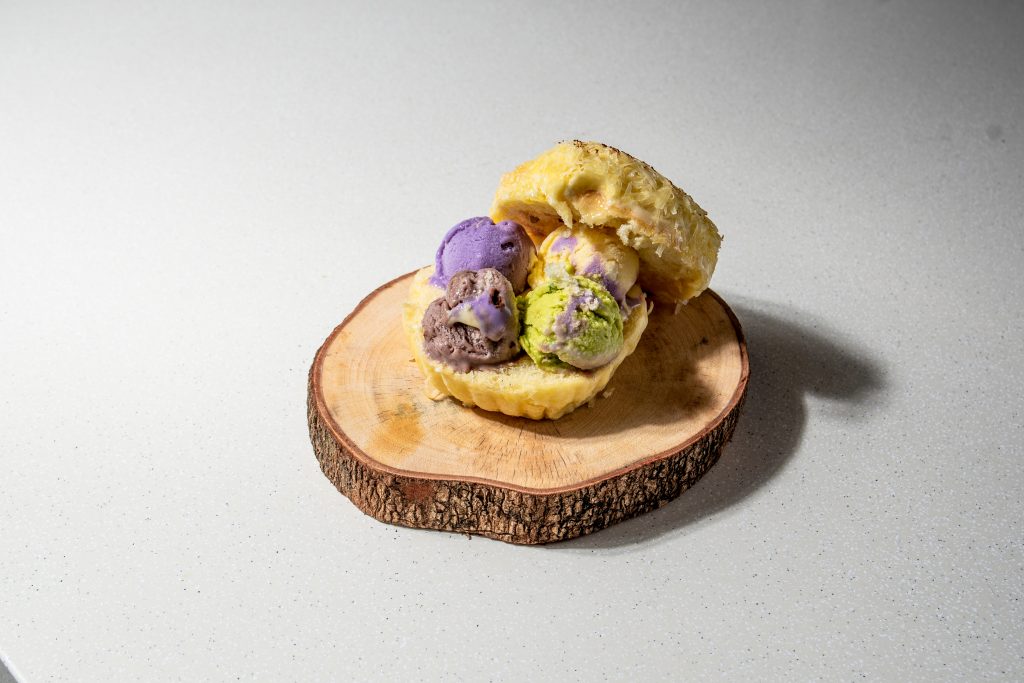 And that authenticity is what drives the soul of Mabini's. As much as it banks on the nostalgia of the yesteryears, it's not content with just reminding people of the old sit-down dinners that used to rest in Ermita. It aspires to be one of them, breathing life back into the dirty Manila streets and ushering in a new great era.
Get more stories like this by subscribing to our newsletter here.
Read more:
Filipino diner Ma'am Sir is one of America's Best New Restaurants
This Filipino dessert café has maja blanca- and mango float-inspired halo-halo
This vegan joint has meatless Filipino food to rival the real thing
Read more by Zofiya Acosta:
This series matches Filipina goddesses with western zodiac signs for the modern diaspora
To all the books we haven't read, yet are already on our bookshelves
Five unique local chips you should try out this summer
TAGS: Ermita mabini's Malate nolisoli.ph tesoros
WHY GO?
Try their bestseller laing inside, which mixes laing and taro leaf curry inside a huge baked prawn. Each component of the dish perfectly complements the others.
MENU