Did you know that the backdrop of the SONA rostrum is a Meranao wall decor called "balod"?
A backgrounder behind the backdrop of President Duterte's SONA
Jul 23, 2019
In the midst of President Duterte's report about the nation yesterday, it's easy to miss the details behind the occasion—and by that we mean the literal ones, like the decor on the rostrum, a multicolored woven cloth draped all over the wall behind the President.
READ: So you think you know your local weaves?
The cool colors of the weave meld together from a zoomed-out view, but a closer look reveals the interesting geometric patterns that almost look like waves. The weave is particularly a recognizable Meranao wall decor called "balod."
According to the Facebook page, Marawi City Bayan Patrol, "balod" literally translates to waves, the pattern of the weave. "This particular piece was donated by Lanao del Sur Governor Mamintal "Bombit" Adiong, Jr.," the post read.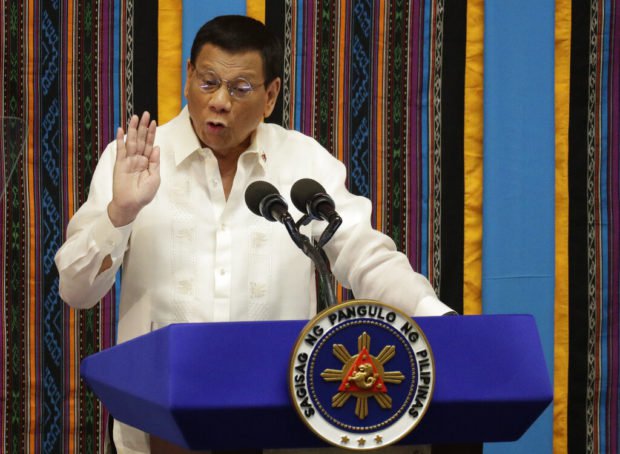 The landap—the alternating blocks of blue and yellow in between woven runners—on the other hand, "are products of Arkat Weavers from Marantao who are recipients of various technical assistance by the Provincial Government of Lanao del Sur under the Technology and Livelihood Development Center."
The Technology and Livelihood Development Center provides citizens equipment and training for them to make their crafts that are then sold in Department of Trade and Industry fairs and other trade shows in and out of Mindanao.
Maranaos are part of an ethno-linguistic group settled in Lanao Province.
"Weaving is deeply embedded in the rich culture of the Maranaos. In many homes, the loom is a significant fixture," writes one of our staff writers regarding the role of weavers in the rehabilitation of Marawi after the siege two years ago.
READ: How women are at the forefront of Marawi's rehabilitation
Notwithstanding the stories of the siege, in his latest State of the Nation Address, Duterte didn't really delve into the issues concerning the citizens of Marawi, how they are doing after the siege, what's their situation like right now. The focus, instead, was on his anti-drug drive, which apparently infiltrated the Marawi siege.
"During that Marawi Siege, tons of shabu worth millions and millions of pesos. Drug money killed 175 and wounded [2,101] of my soldiers and policemen in that five-month battle," the president said in his speech, which lasted a little over an hour and a half.
Despite this erasure, it's nice that the narrative of the Maranao people is still represented even in something as obscure as a woven piece of wall decor.
Header photo courtesy of Inquirer.net
Get more stories like this by subscribing to our weekly newsletter here.
Read more:
4 key takeaways from Duterte's fourth SONA
Checking up on Duterte's 2018 errand list in time for the 2019 SONA
These children's books hope to heal scars of the Marawi siege
TAGS: Duterte maranao Sona weaving