There is nothing more heartbreaking than seeing an impounded animal get killed for unexplainable reasons when people can just choose to rescue and rehabilitate them. Many stray animals are impounded and if they are not adopted in a given time, they are terminated.
There are existing city ordinances, like Bacolod City Ordinance 184, which states that if stray dogs are not redeemed by their owners within 10 days, they will be subjected to termination. If rules like these continue to hold animal rights, then what are we trying to promote in terms of animal welfare? 
That's why animal welfare group Pawssion Project, in celebration of the 1st International Homeless Animals' Day in the country, will hold its first exclusive event in support of providing widespread awareness about animal rehabilitation and adoption at Novotel Manila Araneta Center, Cubao on Aug. 16.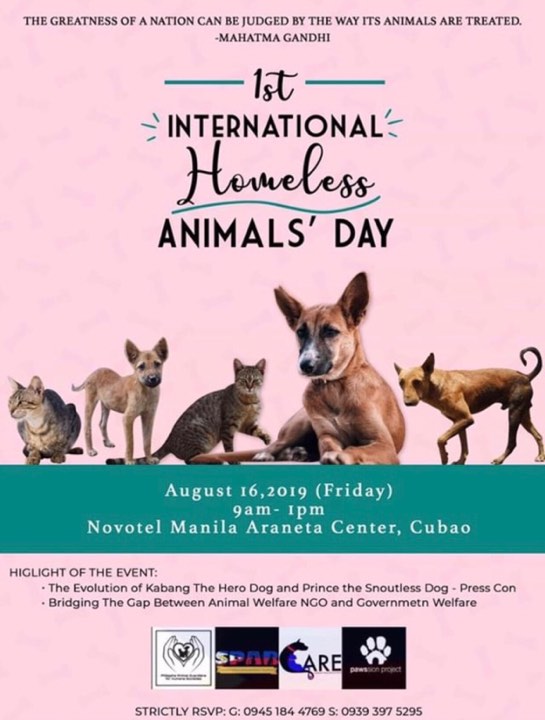 The event will highlight the evolution of Kabang the Hero Dog and Prince the Snoutless Dog. It will also have a talk about animal welfare education and bridging the gap between animal welfare of non-governmental organizations and government organizations. The panel will be led by veterinarian Dr. Ed Uson of Animal House for Kabang, Malou Perez of Pawssion Project, and Atty. Ernesto Tabujara.
For the most exciting part, guests can bring their own dogs. Pawssion Project will also bring in seven dogs in the event that can be up for adoption. 
"There are millions of dogs for free waiting to be re-homed, all just but as lovely and deserving to have a home. These millions of strays are subject to being killed when impounded and no one adopts or rescues them. So why buy when you can save and adopt one for free," Pawssion Project said in an interview.
Header photo courtesy of  Sasha Sashina on Unsplash
Get more stories like this by subscribing to our weekly newsletter here.
Read more:
Unless adopted soon, 103 impounded dogs in Bulacan will be euthanized
More than 30 dogs in 2 provinces will be euthanized—but we can prevent it
Want to foster or adopt cats and dogs? Check out this Instagram account