Provocation is a two-way street in Carlo Calma's approach to architecture. His style of blurring the lines between art and architecture, of combining different design movements, principles, and even disciplines into his own particular language always spurs the imagination, but a provocateur must also always remain open to being provoked. And for Calma, nothing is off-limits as a source of inspiration.
Like the word and concept of "infinity," which the architect has since explored and fully fleshed out into a three-story 1,000-sq.m. home. Starting out as a sculptural model, the World Architecture Festival-nominated Infinity House now sits on a residential street in Makati, looking solidly planted among other, more typically gated houses in the village despite its arrestingly unique façade. Completed just a little over a month ago, it is now the home of Calma's father, contractor Pablito Calma. 
Seated at the marble dining table that can host 18 people, the younger Calma reflects on how the house that his imagination built continues to yield surprises even to him, now that it is lived in. "A space always changes. Maybe you start with minimalism, then the client's taste—in art, for example—dictates how it would grow; it keeps on 'moving.'" 
[
READ
:
Inside architect Carlo Calma's colossal skeleton-like Infinity House
]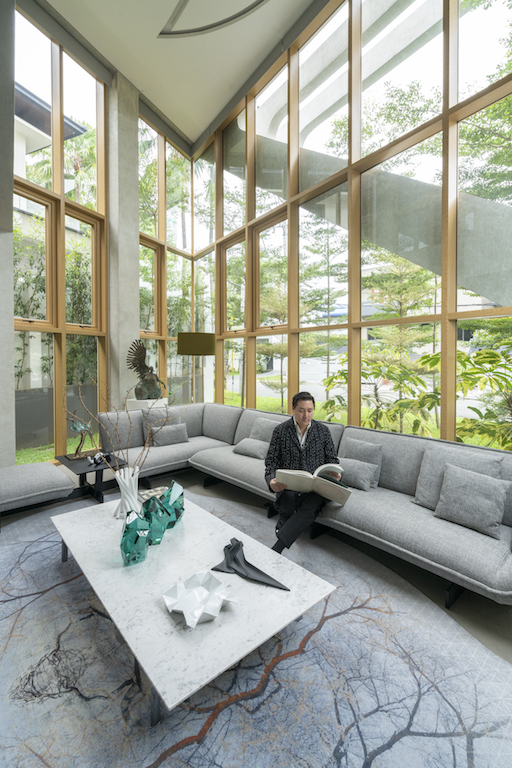 With the Infinity House, in particular, the occupants' daily lives have molded it into more than just a showcase of fantastical architectural details; a second, north-facing living room, which Calma describes as "a more informal sitting area," is favored by his dad, because of how the morning sunlight pours in through the floor-to-ceiling windows, filtered by the leaves and branches of the African talisay trees outside.  "This house is owned by a 90-year-old guy who has two grandkids, so it's also a home for them. Whenever I work on a project, I envision every furniture piece to be fixed in that space, but nothing really stays 'fixed'; I just present the client a curated idea of a space where people can live in."
Not everything has to be demolished; when you take the time to study the historical purpose of an old structure, you can see ways on how it can be repurposed.
It is, after all, not just about mere provocation but also intent. In balancing the two, Calma also functions as sort of a conductor who anticipates how occupants could and would move about in a space, like actors on a performance stage of his creation. He brings this approach to Calma Properties, Inc., which he formed with his brother JP Calma in 2017; their cousin Ed Calma is on board as a design consultant. "Our philosophy is to work on projects that can have local and global architects working together," he describes. "All of the developments we work on have mixed uses, usually of a museum and a residential space." 
This is evident in the company's first project, the Monument + Film Archives Museum in Quezon City that will be housed in a restored 80-year-old heritage house. A structure that has served as a setting for some of local cinema's classic works, such as the Fernando Poe, Jr. movie "Ang Leon at ang Daga" and the seminal '80s coming-of-age film "Bagets," the museum is located along Mother Ignacia Street—an area that pretty much remains the hub for film and television production in the country. Calma envisions the museum to have a 50-seater screening room at the top where the public can watch works from the country's century-long history of cinema. "It'll be kind of nostalgic," he describes. "It'll be as if the audience were submerged beneath the roof, like how young kids used to sneak into cinema houses, or as if they were on a magic carpet ride. It's kind of child-like in that sense, with all these references to the '70s, '80s, and '90s." The development will also feature 25 residential suites (one per floor) with a penthouse that has a 360-degree view of the Sierra Madre.  
Aside from the obvious celebrity factor, the museum also embodies the Calma Properties' vision of going beyond the usual practice that most real estate developments in the country resort to. "Aside from preservation, we also like repurposing what's old, which is something we could all learn from as we develop our cities. Not everything has to be demolished; when you take the time to study the historical purpose of an old structure, you can see ways on how it can be repurposed." He points out how the most interesting buildings are the ones that are rich with history. "Imagine seeing ancestral houses sandwiched between newer ones. The city landscape just becomes even more interesting."
The question of what a museum is relates to how we identify ourselves, given our rich culture and history: How to brand it, in a sense, through proper storytelling.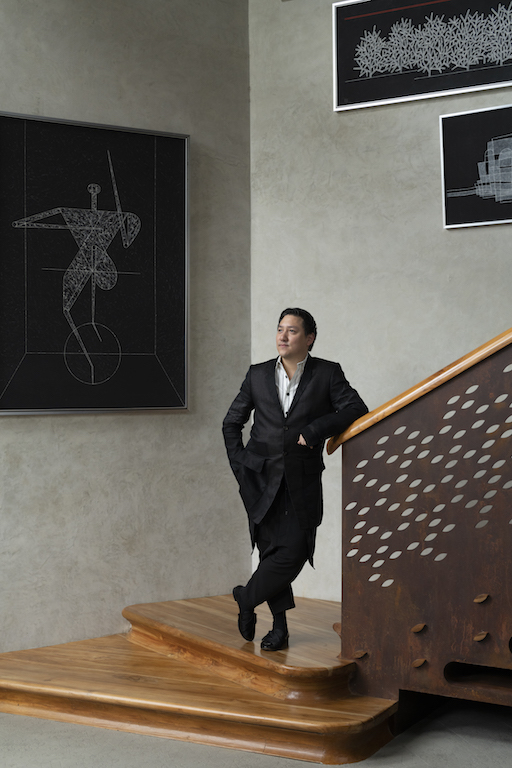 Calma also remains fascinated by the dynamics between what is natural and what is artifice, which is why location always informs the focal design idea in the developments he works on. He envisions the second Calma Properties project, the Museum for Architecture + Residences in Nuvali, to look like a structure that grew organically in the space, and the area's previous incarnation as rice terraces became the starting point for the structure's design: a 22-story complex that looks like a vertically flipped grid of rice paddies. The design is by Japanese architect Sou Fujimoto, whom the company tapped for this particular project.   
Both museums are designed to challenge conceptions of what a museum is and could be. As Calma puts it, "Do they always have to be about art pieces? Museums can be as temporary as a pop-up space, they can be housed within a house. The question of what a museum is relates to how we identify ourselves, given our rich culture and history: How to brand it, in a sense, through proper storytelling."
With the Museum for Architecture in particular, he envisions it to be an open platform where creatives from different design disciplines (architecture, fashion, art, etc.) can present models of their concepts, within certain parameters. "Everything now is multi-disciplined," he explains. "I want people from even small design studios and companies to be able to submit models, a maximum of three—one from the past, the present, and the future—and they can also be related to technology and the environment. Because the museum will be open to the public, people can then see all these ideas and the precedents for them, and just imagine the connections they can make simply by seeing all these different creative visions." It'll be a site for deliberate provocation, which the architect hopes to become a cultural identifier with all the ideas it will contain and generate.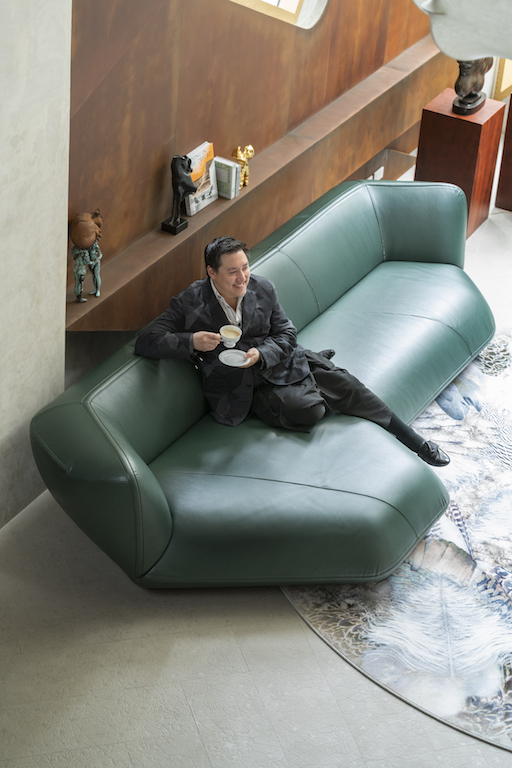 As for his own ideas, Calma doesn't see himself getting so jaded as to no longer be provoked by what is already in existence; he admits to deliberately opening the Google Maps app to see what else can be done. An old cockpit in Pasay, for example, recently sparked his curiosity and led him down the rabbit hole of the historical significance of cockpits in Filipino culture. "That popular lechon place in Quezon City? That place came to be because of the presence of a local cockpit." 
Manila's organized chaos, as he describes it, is always worthy of creative illumination. "How can light enter a street and create a canopy, given the urban growth that we've had? How do you make our eskinitas more interesting, just by seeing how buildings and structures co-exist side by side and in terms of how a city grows? Imagine a modern-day cockpit set inside a mall or at a street level; it won't be a cockpit per se but a market area. Or a palengke that goes vertical, a series of market squares that go up like that. Or a building inspired by local embroidery. These are very Filipino ideas technically, but not literal or cliché; they go beyond the ideas of local architecture as the bahay kubo or the bahay na bato." To a provocateur who is just as open to being provoked, ideas will never run dry. "The city is ripe for inspiration."
This story originally appeared in Southern Living Homegrown Issue
Get more stories like this by subscribing to our weekly newsletter here.
Read more:
Inside architect Carlo Calma's colossal skeleton-like Infinity House
The material and immaterial space of the Aquilizans' Fruit Juice Factory
NEX Tower wins the 2019 Urban Land Institute Asia Pacific Awards for Excellence
Architect couple in La Union turned a container van into a retro, functional abode
Writer: SEPTEMBER GRACE MAHINO
PHOTOGRAPHY RG MEDESTOMAS and MARC GO