LIST: Where to catch Christmas lights and sounds display this holiday season
Visit these 7 destinations to make your holidays brighter
Dec 3, 2019
We're a few weeks away from the decade's last Christmas day and we're thinking what gifts would we give to our family and friends. It's quite a challenge to think about what presents would they like but it's also important to consider getting items from local businesses that champion handmade materials through their sustainable products.
[READ: Find local lifestyle products that give back at this bazaar]
We've also listed some guides you might want to look at when thinking about gift ideas. Here's a gift guide for artists and creatives who want to make their gifts more personal. And for bibliophiles out there, here's a list of books you can check for your book-loving friends.
And while you're out doing your shopping, you also might want to roam around some destinations that feature Christmas lights and sounds display that can make the season a little more festive and brighter.
Gallery of Lights

Ayala Triangle Gardens, Makati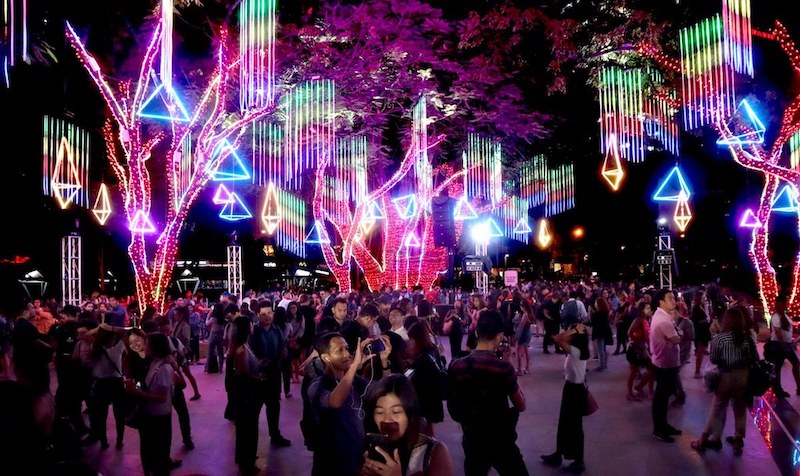 There are three things to look forward to this year's Gallery of Lights: the techno-inspired music and lights number by music composer Tris Suguitan, a big band medley that consists of jazz-inspired tunes by musical director Mel Villena, and a Filipino medley that features nostalgic melodies by music and film composer Von de Guzman.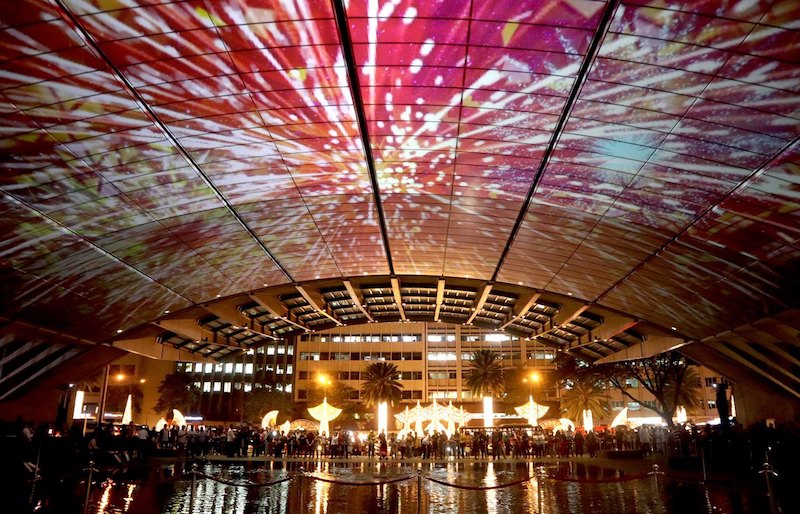 In addition to this is a 3D-video mapping show called the "Carol of Lights" that features light projections of church ceilings and stained glass windows from selected local and international churches. 
The Gallery of Lights will be open every day until January 12, 2020, from 6 p.m. to 10 p.m.
Nuvali teamLab Water: Interactive Water Show
Globe Lakeside, Nuvali, Laguna
For the first time in the country, get ready to participate in Nuvali's teamLab interactive water show at the Globe Lakeside, Nuvali, Laguna. The water show highlights artworks projected on water-screen displays that span 100 meters wide and 15 meters high. If you want to learn more about this interactive water show, download the Nuvali teamLab Water application on Google Play Store or the App Store. 
The Nuvali teamLab interactive water show is open from 6 p.m. to 9 p.m., Fridays to Sundays.
Tiendesitas Gift of Wonders
Food Village, Bldg. B and Pet Village Bldg. C, Tiendesitas, Pasig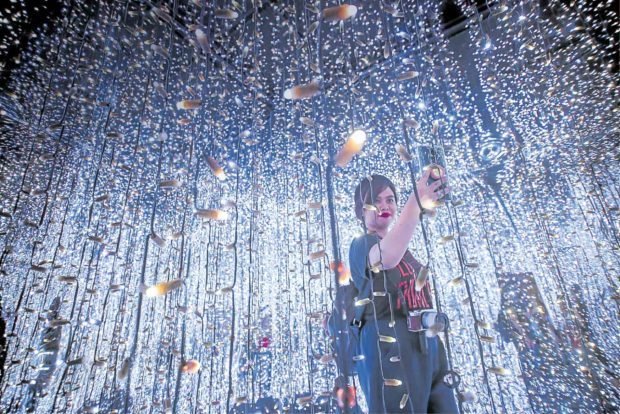 To mark the beginning of the holidays, Tiendesitas' Gift of Wonders features two installations: the "House of Stars" and "Pets Unleashed." House of Stars showcases dangling Christmas lights where visitors can walk through, while Pets Unleashed highlights a 360-degree projection of an animal and lights show.
The Tiendesitas Gift of Wonders is on display until Jan. 5, 2020, from 6 p.m. to 10 p.m.
Ortigas East Christmas Street Musical Light Tunnel
Ortigas East, Pasig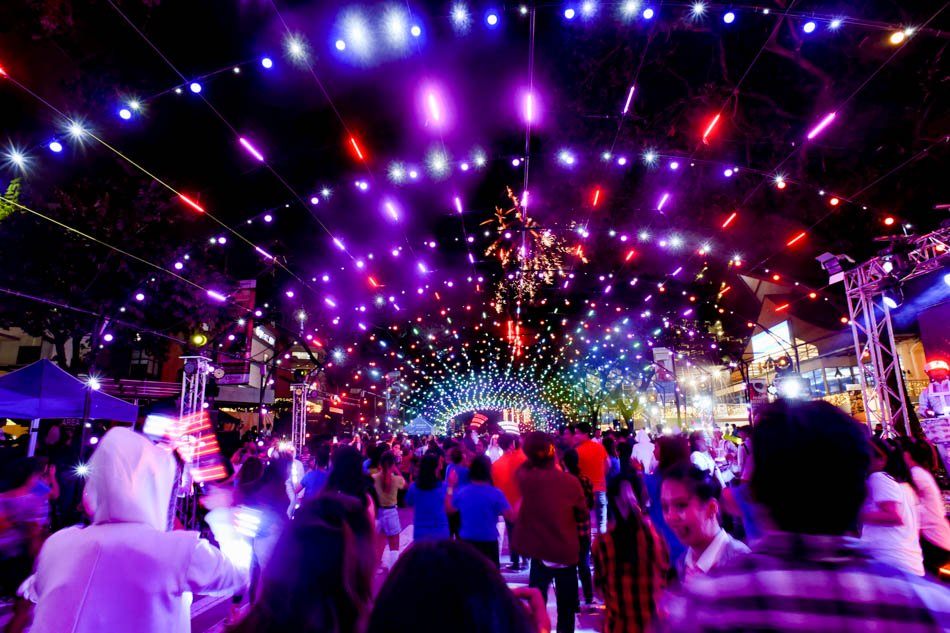 Around the Ortigas area is the Christmas street musical light tunnel that features 74 arches with 9,216 bulbs, 5,130 flash pods, and 1,200-pixel tube lights spread across a 213-meter stretch along Central Avenue of Ortigas East.
The Ortigas East Christmas Street Musical Light Tunnel is open until Jan. 5, 2020 from 6 p.m. to 10 p.m.
Araneta City's Christmas Animated Display
Times Square cor. Gen. Roxas Ave., Araneta Center, Quezon City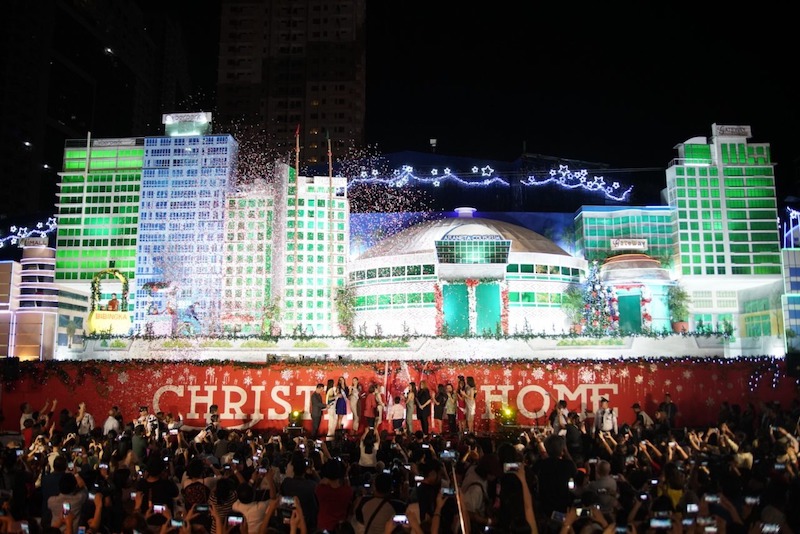 For a little bit of storytelling, Araneta City features familiar Christmas stories of the little drummer boy, Frosty the Snowman, Rudolph the Red-nosed Reindeer, and Santa Claus through an animated display.
You can also roam around the Times Square Food Park that has various activities such as rides, booths, and a synthetic ice rink.
The Araneta City's Christmas Display runs from 6 p.m. to 10 p.m. on Sundays to Thursdays and from 6 p.m. to 11 p.m. on Fridays and Saturdays.
SM Mall of Asia Grand Festival of Lights Parade
SM Mall of Asia, Pasay
Just like Disneyland's parade of live troupe and dancers, SM Mall of Asia's Grand Festival of Lights Parade is set to present six magical floats accompanied by music and over a hundred Christmas characters every Saturday starting Nov. 30 until Dec. 25 from 5:30 p.m. to 7 p.m.
Filinvest City's Christmas Village
Festival Alabang, Commerce Ave., Filinvest Corporate City, Muntinlupa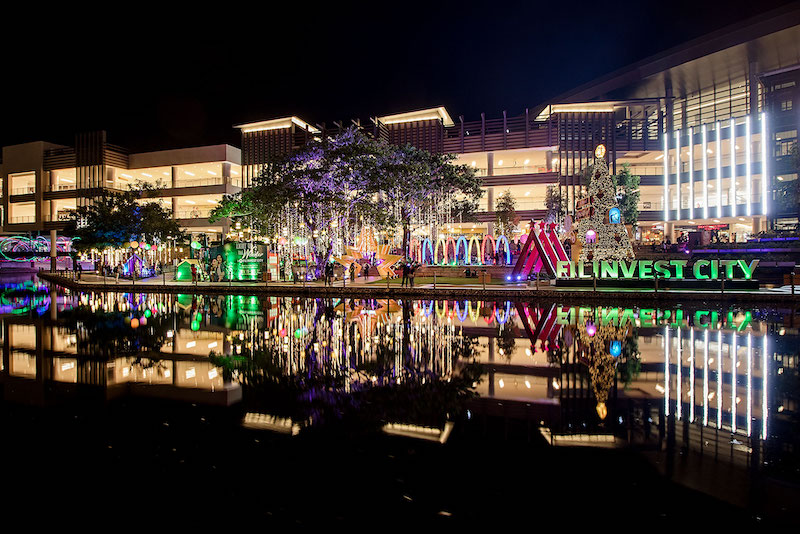 If you're from the South and you don't want to venture far, stroll around Filinvest City's water garden that has been transformed into a Christmas village. The place features a 42-foot tall magical tree located at the center of the village adorned with bright and colorful lights. You can also look forward to special performances by local bands every weekend until Dec. 28.
The Christmas village is open until Dec. 31.
Header photo courtesy of Inquirer.net
Get more stories like this by subscribing to our weekly newsletter here.
Read more:
The Nolisoli Gift Guide: Under P1,000
This is how you can save money for the upcoming holiday season
These fresh floral arrangements will last you throughout the holiday season
TAGS: Araneta City's Christmas Animated Display Ayala Triangle Gardens christmas 2019 Filinvest City's Christmas Village Gallery of Lights holiday lights and sounds show laguna makati Nuvali Nuvali teamLab Water: Interactive Water Show Ortigas East Christmas Street Musical Light Tunnel SM Mall of Asia Grand Festival of Lights Parade Tiendesitas Gift of Wonders