Last July, we shared our discovery of the meatless burger that finally found its way into the country called Beyond Burger.
[READ: The Beyond Burger, a meatless wonder, now in Sweet Ecstasy]
But here's a new offering from another company that's slowly making its mark on the meatless meat market: pork and sausages made with no trace of pig but rather with heme, a protein derived from soybean roots that tastes and feels like meat. It's gluten- and antibiotic-free, too.
Impossible Foods, the startup behind these plant-based meats, recently released its new lineup at the Consumer Electronics Show (CES) in Las Vegas on Monday, where they presented a menu using Impossible Pork consisting of pork banh mi, char siu buns, pork katsu, meatballs, and more.
The rise of plant-based alternatives is expected to curve meat consumption and the carbon footprint of conventional meat production, which brings to mind animals locked in cages and injected with ridiculous amounts of antibiotics.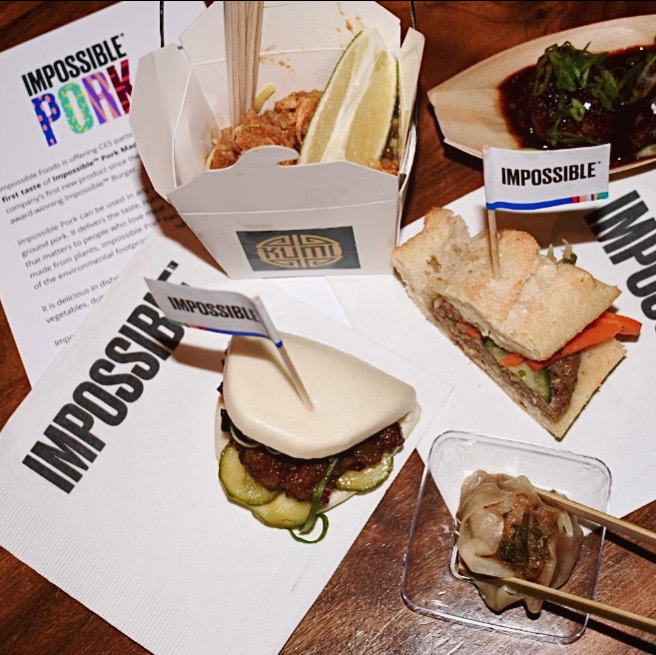 As of writing, Impossible Pork has yet to be commercially available but the company said it is planning to roll it out in US restaurants and then in groceries.
The Impossible Sausage on the other hand will be readily available starting Jan. 13 at select Burger King stores in the US.
The Verge writer Elizabeth Lopatto described the Impossible Pork after having tasted it at CES saying, the fake meat felt a little spongy and quite salty. Other people who have tried it said the texture was not quite right but the taste was spot on. 
Pat Brown, founder and CEO of Impossible Foods, said in a statement that it is in line with their vision to replace animals in food systems with these alternatives by 2035. "Beef is popular around the world but in many cultures, the most popular, familiar, and common dishes use pork as the main source of meat so for us to have an impact in those markets was a necessity." 
Header photo courtesy of Impossible Foods
Get more stories like this by subscribing to our weekly newsletter here.
Read more:
Cosmic's secret club makes a case for a veganized Poblacion
How jackfruit is making meat-free dining more exciting