ALT Philippines reframes local art by ditching the 'frame' and we're here for it
Upon immersing ourselves at ALT Philippines' first staging, we realize that it doesn't conform to any a specific structure—and that's exactly what makes the show what it is
Feb 15, 2020
"So ano ba'ng mangyayari?" 
We walked into SMX Convention Hall in SM Aura not really knowing what's in store for us at ALT Philippines 2020. All we knew was that this three-day event was organized by an established group of 10 galleries that broke away from a bigger art fair and are now seeking to "reframe the art show." How exactly they intend to do it was yet to be discovered.
So, I went around asking people in charge of each gallery, mostly questions about their theme and how it's aligned with that of ALT Philippines in hopes of getting a concrete angle. To my surprise, I noticed that most of the people found it hard to answer these questions or decisively pinpoint a certain structure in their own exhibits. 
This was a bit frustrating at first but after immersing myself in the space and what it offers, I came to the conclusion that the so-called 'reframing' was done exactly by discarding the 'frame' and all the restrictions it brings to the art experience. 
A makeshift space
In retrospect, the first way of reframing the scene was literally through the venue itself. Despite evidently having dividers for each gallery's exhibit, I find that the center very much remains an open space.
As opposed to the usual sleek and strictly cube exhibits, ALT Philippines' way of showcasing each gallery was through asymmetrical beehive shaped booths. This noticeably encourages a laid-back and almost informal kind of setting. You can walk in and disappear into an exhibit all while being able to peer into the next gallery that may interest you.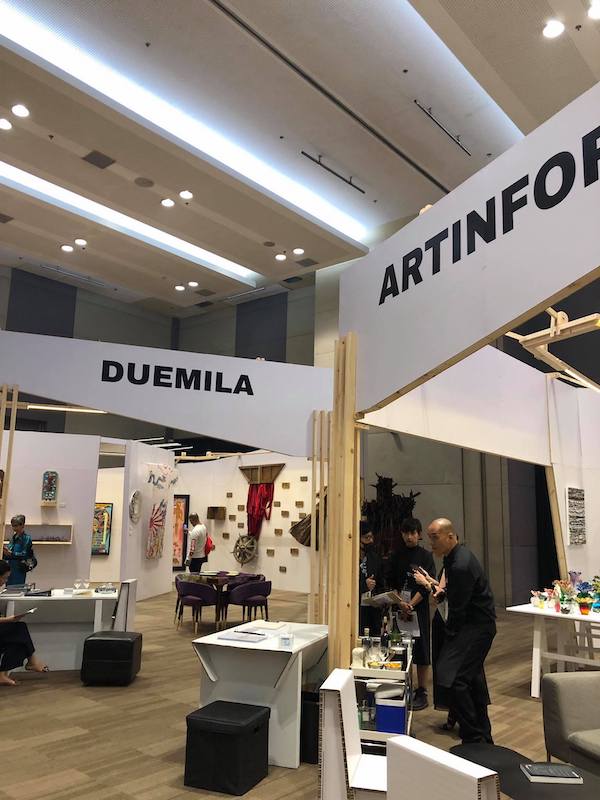 Furthermore, I was told that the people behind the galleries planned the whole thing and had full control of what they were going to do with the space allotted to them. So you can see galleries like Artinformal where furniture and makeshift chairs are placed in the middle of the exhibit that you could even mistake it for a well-curated living room. This also allows people to casually view the art while having a quick discussion with other event goers, artists or gallery owners.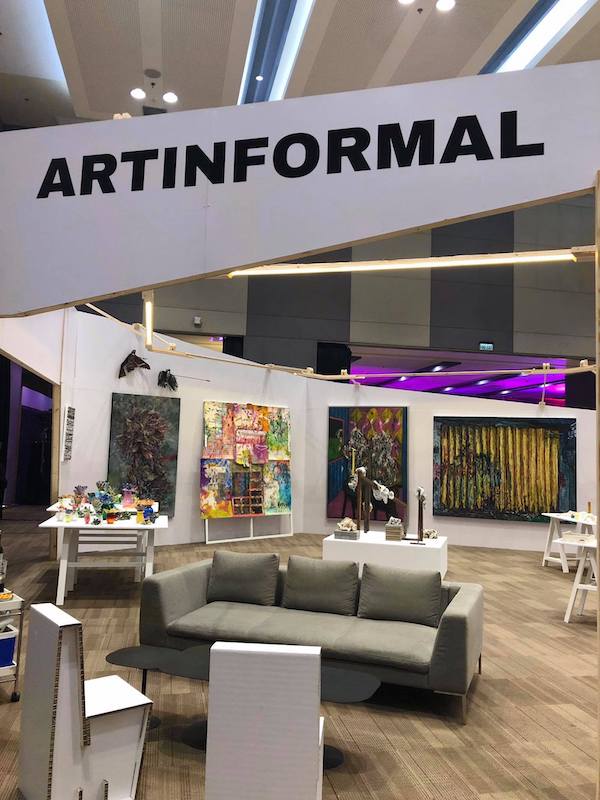 A constellation of ideas
Contemporary art has gone beyond conventional forms and mediums. Even so, there is still more to discover and put forward. However, the commercialization of art and the need to make a stable living out of it tends to push artists to trade a part of the novelty they want to convey for a mass-produced value proposition. 
Despite ALT Philippines evidently being held inside a mall and having an entrance fee, the way it presents a more liberal setting not only in terms of the actual space but in the uncompromised diaspora of pieces and consequently, ideas presented in the galleries, opens up a lot of doors for both the artist and the spectators. With this, here are some the pieces and installations that struck us: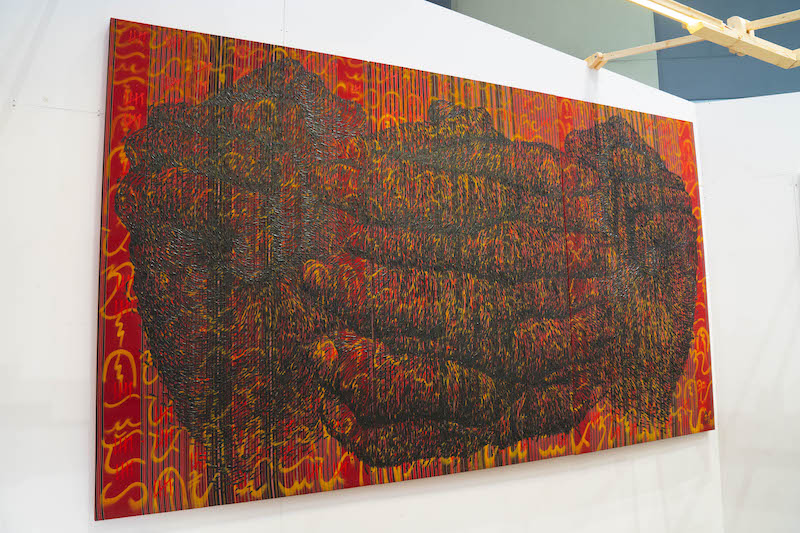 Street artist Archie Oclos exhibits a force to be reckoned with in his piece "If Only These Hands Could Speak." This mural-shaped painting in a bloody color scheme is an homage to impoverished and terrorized farmers and indigenous people who have no choice but to toil in harsh circumstances.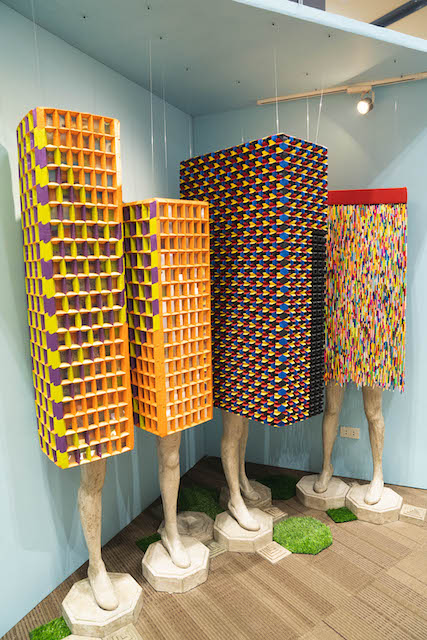 Among the vibrant and witty pieces from Vinyl on Vinyl is "Grace Period" by Tekla Tamoria. The colorful installation depicting high-rise buildings propped up by human legs is a work of satire as it gestures to the reality of corporate life taking over people and their individuality.
These thin books displayed on the walls of Artinformal's exhibit are nothing of the ordinary especially in the digital age. What, at first glance, may seem like typical printed-on covers are actually 'obsessively' hand-drawn by artist Nica Buenaventura who's known for recreating print-outs through analog drawing. While you may expect a lot of writing in the notebooks because of the title "Institutional Conscience," the pages inside are all blank as Buenaventura implies such a concept to be nonexistent.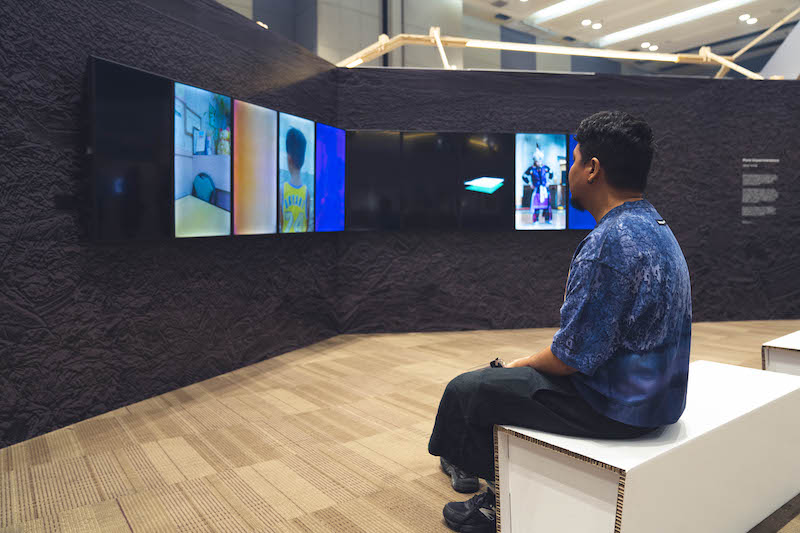 A back piece from the Drawing Room is a digital art wall by Derek Tumala. Entitled "Pure Impermanence," the 10-channel video mirrors how we make and perceive images on our smartphones. Recording our experiences and crafting images in this day and age paradoxically seems to just be an endless cycle of fleeting pictures, posts or Instagram stories.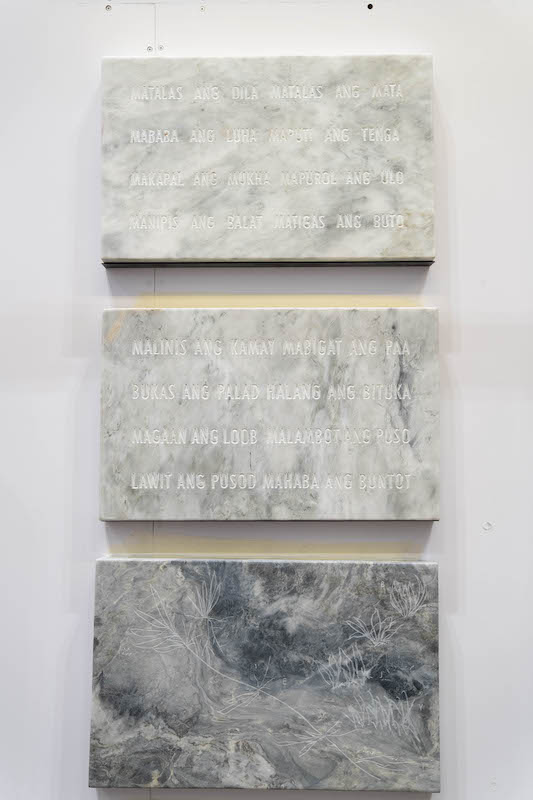 These eye-catching marble slabs by Lesley Ann-Cao of MO_Space entitled "Dreams of speaking" were done in collaboration with a gravestone maker. In an effort to decode the peculiar piece's meaning, the marble being engraved with a set of commonly used Filipino idioms like "Malinis ang kamay" or "Bukas ang palad halang ang bituka" along with a piece containing illustrations of grass flowers, the ensemble provokes you to explore the relationship between language and materiality.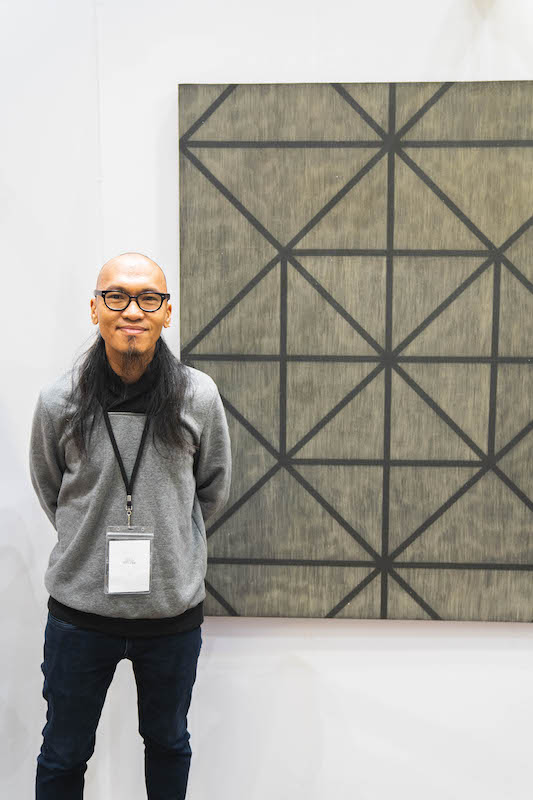 Alvin Zafra's "Sailboat" is a geometrical rendering of the childhood icon that is the paper sailboat. Though, the paper toy's conventional shape isn't quite evident in Zafra's piece because it's the spread-out and unfolded version etched in canvas with sand paper. This nonetheless prompts the viewer to look closely into the piece and its unique material.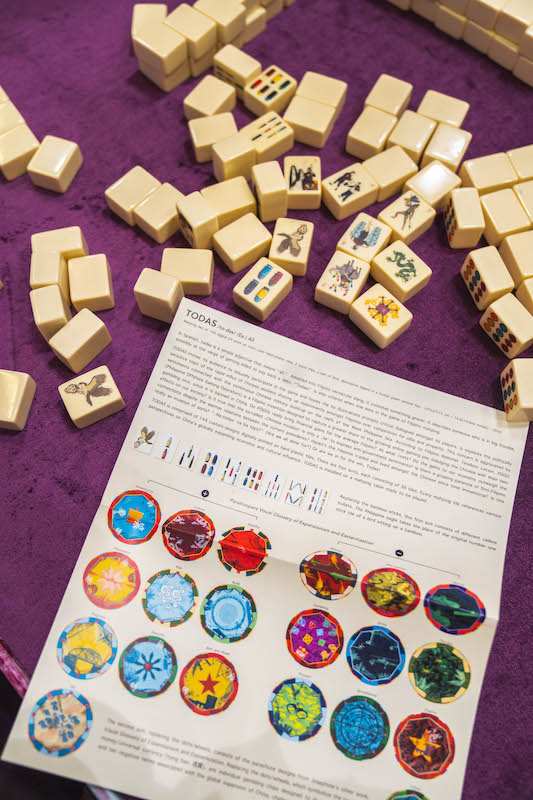 Josephine Turalba's cleverly reimagined mahjong set "Todas" will instantly greet you as you step in Galleria Duemlia. Mahjong is among the myriad things the Chinese has brought to the Philippines and this functional and interactive artwork by Turalba puts forward new sets of symbolisms and instructions including the Spratlys Island dispute, that encourages players to delve into the growing dynamics between our country and China's relationship.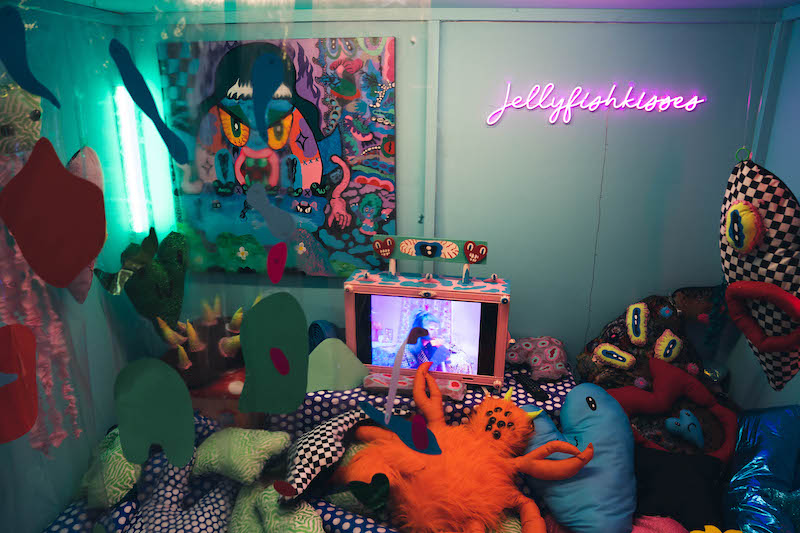 Another interactive installation from Vinyl on Vinyl is Jellyfishkisses' "Panic Room." From the title itself, the makeshift room filled with the artist's hand-stitched trademark dolls, aims to be an innovative safe space. It will have Anton Belardo's alter ego Jellyfishkisses inside for most of the duration of the art event as each participant will get five minutes of non-judgmental conversation with the artist. And by the end of each 'session,' the artist will write down his advice for the participant. 
Alt for Taal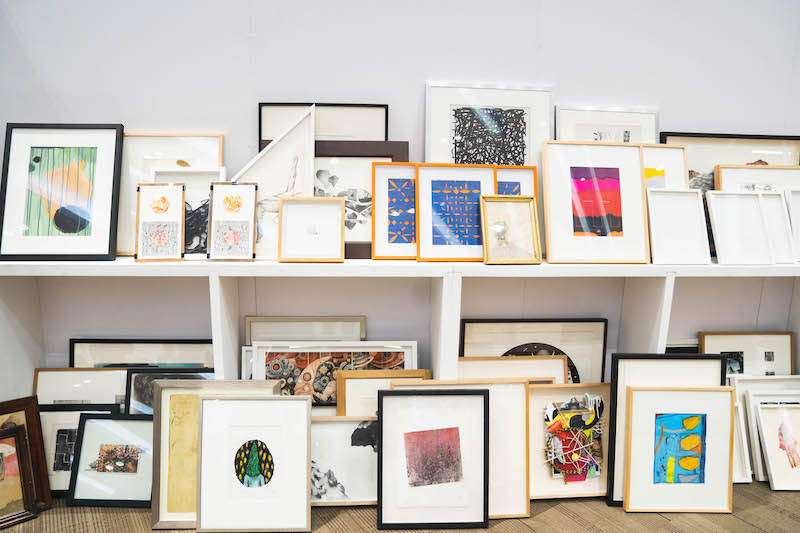 The centerpiece of ALT Philippines' venue was definitely the  event's initiative to help those in need or are directly affected by the Taal Volcano eruption. Alt for Taal is a last-minute addition to the event fueled by each gallery donating 10 artworks to be sold right then and there at the event with the proceeds going to St. John Nepomuceno Parish in Alfonso for relief initiatives. The price of all the artworks was capped at P50,000 so as to make them more affordable. 
Considering all this, I can't help but feel like this is how art shows should essentially be: not too intimidating or daunting to downplay preconceived notions that can cloud our judgment and experience of art. Since we're already bombarded with restrictions and parameters in life, maybe art should be the last thing to subscribe to these reductions and instead help us challenge them as well. 
Get more stories like this by subscribing to our weekly newsletter here.
Read more:
Where to eat if you're at ALT Philippines
Here's what to expect at the first ALT Philippines 2020
Artists Martha Atienza and Yee I-Lann on the universal struggle of island communities
TAGS: alt philippines 2020 archie oclos art art fair artinformal contemporary art Derek tumala galleria duemlia jellyfishkisses Josephine toralba lesley ann-cao modern art nice buenaventura paintings sculptures tekla tamoria vinylonvinyl