In the middle of a pandemic, our country's national government is pointing fingers and sparking competition against politicians who are simply doing their jobs as public servants. The National Bureau of Investigation (NBI) has suddenly decided to use their powers to investigate the alleged misconduct of three of our most visible government officials during this pandemic.
Mayor Vico Sotto of Pasig City, who implemented efficient programs that provided food, medical supplies and transportation systems for the city's frontliners and civilians, allowed the use of tricycles to transport frontliners to and from their homes on Mar. 17. When the national government disallowed this, he stopped operations. On Apr. 1, the NBI stated that the tricycle operations were against the Bayanihan Heal as One Act. However, this act was enacted on Mar. 24, a week before Sotto's tricycle operations started. Therefore, all grounds of the NBI's investigation is considered to be ex post facto, a legal term which refers to a criminal statute that punishes actions retroactively.
They're asking for an "explanation on the alleged violation of the Bayanihan to Heal as One Act (e.g. continuous tricycle operation)"

We complied with all directives. Hindi po illegal magbigay ng opinyon.

…at alam kaya nila na March 24 naging batas ang Bayanihan Act? https://t.co/PY4LzZDf8y

— Vico Sotto (@VicoSotto) April 1, 2020
The Office of the Vice President (OVP) under VP Leni Robredo has raised P42 million for the procurement of personal protective equipment and food and healthcare packages for frontliners. She has also set up free shuttle services and dorms for healthcare workers. On Apr. 2, Presidential Anti-Corruption Commission Commissioner (PACC) Manuelito Luna requested the NBI to investigate Robredo for "actions that compete with or calculated to undermine national government efforts."
Una, electoral protest. Sunod, impeachment complaint, sedition case, indirect contempt. Ngayon, ang gusto NBI investigation. Kailangan ba du'n personal appearance o puwedeng Zoom? Dami pa kasing trabaho😇 pic.twitter.com/MGUoa0ofWF

— Leni Robredo (@lenirobredo) April 2, 2020
Last night, Apr. 3, President Duterte held a public speech intended to address updates on how the government is handling the pandemic. During this, he dedicates around five minutes to call out Atty. Chel Diokno, who has been giving legal assistance to those who received a subpeona from the NBI, for "causing disorder." He says all this through a ramble of childish insults: "Itong si Diokno magsalita parang janitor[…]Alam mo kung bakit 'di ka nanalo? Pagkalaki ng ngipin mo."
Mr. President, may mga kliyente akong tinutulungan na tinitiis na ang sakit at gutom, ngunit wala akong sinabihang manggulo o lumabag ng batas. Okay lang na pag-initan n'yo ako, pero tutukan n'yo rin ang pangangailangan ng mga tao.

— Chel Diokno (@ChelDiokno) April 4, 2020
After the PACC's accusation of the Robredo, President Duterte himself has now lashed out against Luna, announcing that the commissioner is now fired from office. On the other hand, the president also stated that he has nothing to do nor does not care about the NBI's investigation against Sotto. It seems that our government is playing a careless round of whodunnit–accusing suspects and retracting convictions, or staying silent and taking sides–in a time that needs urgency and cooperatinon.
Political pettiness
These accusations remind me of my preschool years when I was caught in pointless fights in the middle of classroom projects. I would be diligently doing what is needed of me to help make our group's project successful, but a class A bully would suddenly blame me for something not only random but detrimental to the project. The bully would say that I wasn't doing my job right with obvious hints of jealousy. 
The bully's accusatory finger and yappy declarations then cause a ruckus among the whole group, and time that was supposed to be spent finishing the project is lost to pointless, petty arguments. Today, however, it's no longer just happening among rowdy children, it's happening within the Philippine government. 
Sotto, Robredo, and Diokno prove that good governance exists and is actually possible. They are reminders of the good that Filipinos cannot find under Duterte's presidency.
Our government seems to be insecure. These government claims are almost comedic if you imagine the accusers as a hot-headed kid throwing a tantrum over someone they think is "stealing the spotlight," when they're only minding their own business and being responsible. Imagine this kid throwing insults about your teeth, cursing at you senselessly and trying to start a fight that will knock a tooth out when you've simply been offering good advice to those who need it. Sound familiar?
Sotto, Robredo, and Diokno prove that good governance exists and is actually possible. They are reminders of the good that Filipinos cannot find under Duterte's presidency. They are symbols of what should be done, but as in all unjust and corrupt governments, the good are considered the enemy.
While the government should be focusing on fighting the effects and easing the damage of the pandemic, they are still wasting precious time and effort in trying to silence sensible politicians. This, on top of President Duterte's death threats, shows that the health and safety of their citizens are not a priority.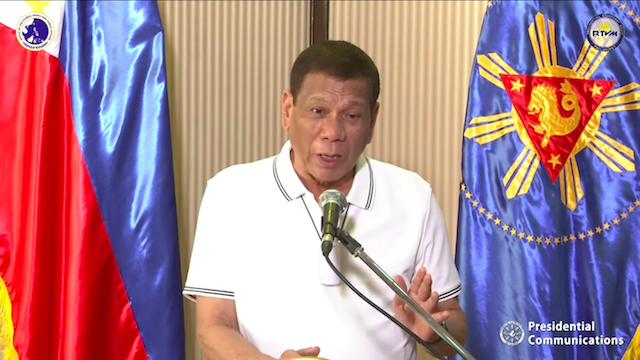 So, to the President and his cronies, as all these accusations are being made, while you may be convening to find the next target of your pettiness, pray tell: Where is the budget allocation of the emergency fund?  Will Koko Pimentel be punished just as well? What are the concrete plans on helping Visayas and Mindanao battle this pandemic? Will there be an extension of the community quarantine? 
The answers to these are what the countrymen deserve to hear. These are the issues that should be addressed in order to protect the country from the pandemic. Being transparent with the budget and actually acting out the distribution of cash to low-income earners and small businesses is an indication of a government that cares for its people. All efforts should be directed towards protecting people from the pandemic, but also from poverty. It's time to stop acting like children and instead be a competent government.
Get more stories like this by subscribing to our weekly newsletter here.
Read more:
20,000 arrested, 4,000 tested: Duterte's disposition for warfare amid a pandemic
Instead of concrete solutions, Duterte's latest address expressed his brutality
The virus is a relentless sign for us to finally focus on the PH's poor
Writer: THEA TORRES
ART LEVENSPEIL SANGALANG