The implementation of quarantine all over the world due to the coronavirus pandemic has brought about the rise of "crisis gardening," a movement wherein people are resorting to food growing for security during uncertain times.
People have long been drawn to their backyards as a result of food security concerns brought about by disruptive events such as wars, economic crises and pandemics.
The COVID-19 crisis is no exception. As of writing, there are now over two million cases worldwide, 5,000 of which were reported here in the country. Over the course of the month-long quarantine, Google searches for "gardening" and other related topics have surged and peaked during the onset of April.
Locally, the Department of Agriculture-Bureau of Plant Industry (DA-BPI), as early as Mar. 30 has been giving away free seeds to interested home gardeners with a message associating calmness with gardening while also encouraging people to grow their own food. This has resonated with the public as the following day, throngs of people rushed to DA offices.
[READ: Dept. of Agriculture is giving away free seeds for people to grow own food amid COVID-19]
The idea of self-sufficiency is appealing, especially in a time when grocery shopping has become a taxing endeavor and when food security is reserved only for those with the energy to wait in line for hours, and, of course, those with liquidity to afford to stockpile.
But what people often overlook is the painstaking process of actually growing your own food which takes months and constant care, not to mention the efforts of ensuring the perfect condition for growth and requisite space.
To quote one Nolisoli reader's vehement albeit demeaning reaction to DA's seedling giveaway, "baka akala ng iba dyan parang Farmville 'yan na mabilis tumubo [laughing emoji]."
And to that person I say, have you ever grown bean sprouts from monggo beans? It is, in fact, possible to grow food in a fraction of the time it takes to grow one from seeds, and that is through food scraps. So that's technically hitting two birds with one stone: self-sufficiency/food security and food waste.
Here's a rundown of some vegetables you can grow from trimmings and other often disposed of parts.
There are specific kinds of plants that are easiest to propagate: root crops, bulbs, leafy greens, and herbs. 
Herbs 
For herbs, take one to three stems each about three to five inches long and remove the bottom leaves until only the two to four on top are left. Using shears, make a 45-degree angle cut on the end of each stem then submerge the bottom half in a jar filled with water. Depending on the plant and light and soil conditions, it can take a couple of days or weeks for it to develop roots. Only then can you plant it on potted soil.
Spices
For bulbs and rhizomes, it can be as simple as burying it in loose soil and waiting for it to grow roots and sprout a stalk. As for green onion, just take the discarded root and let it develop roots via the same way for herbs previously stated.
Garlic*

Ginger* 

Green onion

Lemongrass

Onion*
*takes months to mature new bud for harvest
Leafy vegetables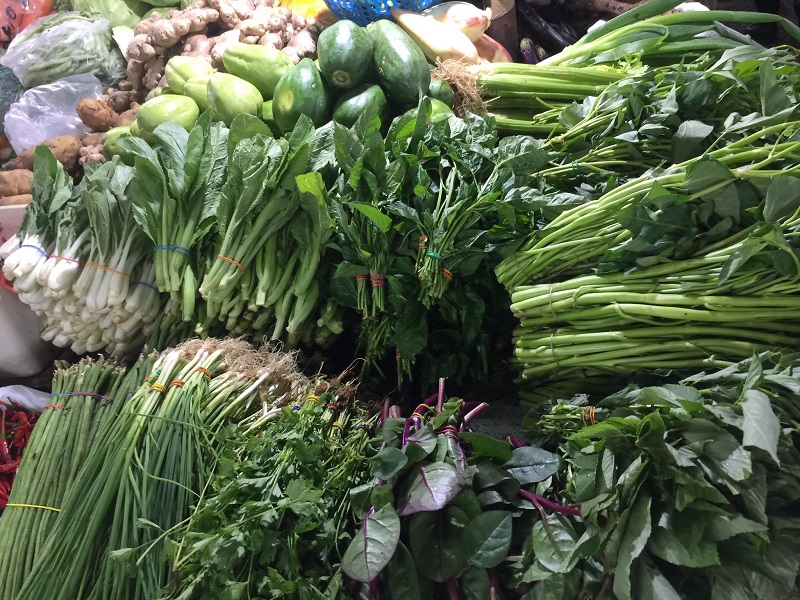 This type of plant is the easiest to propagate. You just need to take the bottom part (as in lettuce and pechay) and submerge it in water till roots grow then repot. For vines like kamote tops and kangkong, either let it develop roots in water or directly on soil depending on variants—Chinese kangkong bodes well on land, while the local one is suited for water. Sayote tops, on the other hand, can only be grown straight from its root crop, so just plant those in soil and wait for leaves to sprout.
Alugbati

Kangkong

Lettuce

Pechay

Sayote tops

Talbos ng kamote
Get more stories like this by subscribing to our weekly newsletter here.
Read more:
Please wash your fruits and vegetables—but not with bleach. Do this instead
Dept. of Agriculture is giving away free seeds for people to grow own food amid COVID-19
To LGUs, fruits and vegetables are also needed to help combat COVID-19
Writer: CHRISTIAN SAN JOSE
ART JOEY SIMBULAN