The "new normal" demands social distancing—but with the state of our current public transport systems, there is no way to avoid a crowded commute.

That's why biking is now being championed as an ideal alternative: efficient, affordable and sustainable. However, many have argued that the country's current infrastructure isn't the most welcoming to cyclists.
Aside from safe bike lanes, walk/bike-only streets and bike-sharing programs, how can the government address the transport crisis?
Robert Siy, chief planner of Pasig Transport and a biking advocate who took up Transport Economics abroad, suggests a multi-pronged strategy.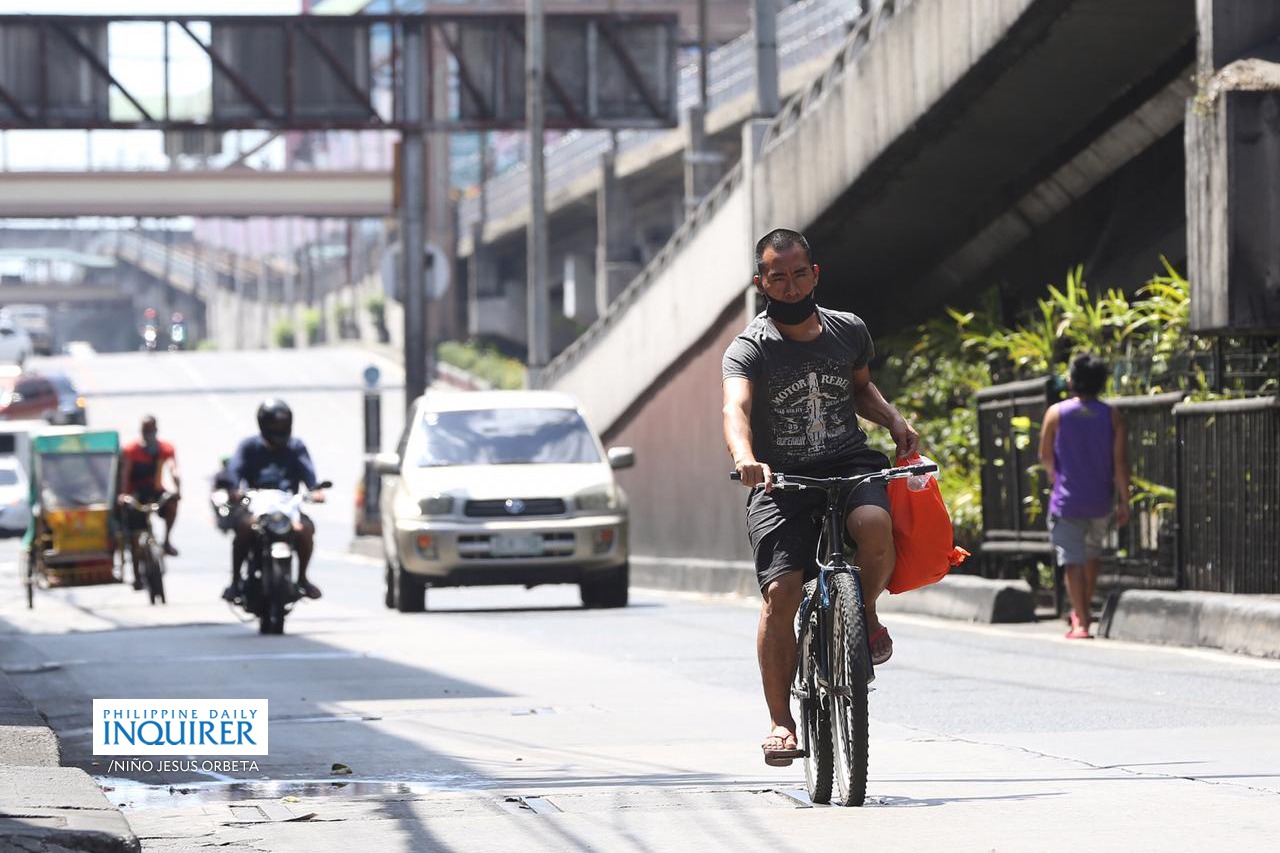 Modifications on current road policies
Although the Metropolitan Manila Development Authority (MMDA) launched a bike-sharing program in the past, it was halted in 2017. Siy notes that the program didn't have biking infra per se, unlike those of New York, Paris and Taipei.
"It was an 'honesty-based' bike rental system that did not receive continuous monitoring and investment, so it should surprise no one that it folded up operations eventually," he says.
If we plan to push a biking agenda, modifications on the current Build, Build, Build (BBB) program must also be made.
"The Build, Build, Build program, ideally, should certainly consider making cycling a central part of the infrastructure development on national roads. Right now, BBB has basically nothing about cycling except for vague notions that some modern bridges will have bike lanes—which by themselves do nothing unless they connect to safe paths on other parts of the road network," Siy says.
He argues that the scale of planning should happen on a national level. "I think they expect LGUs to take over investment in cycling infrastructure, but only the national government can make the national roads bikeable, and we need that to happen for Metro Manila to have a continuous, safe cycling network."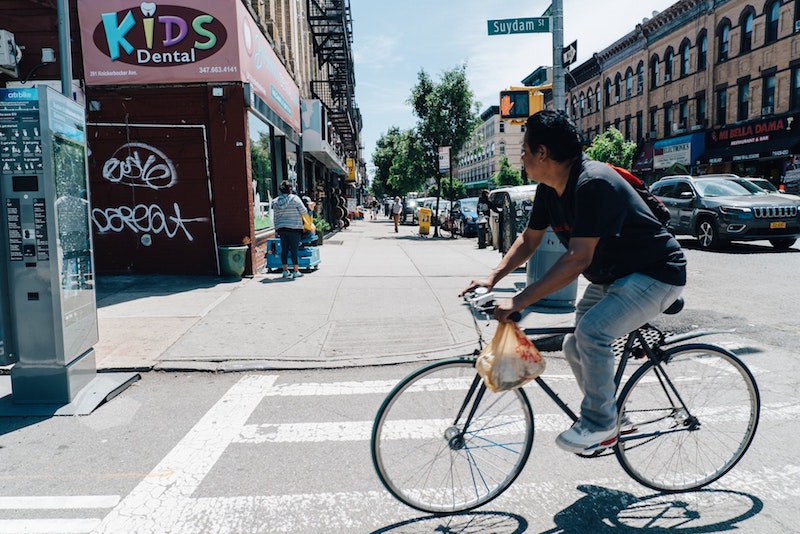 Assuring safety and convenience 
In order to ensure a truly inclusive policy for people of all ages and abilities, Siy  emphasizes the importance of safe paths and parking.
"The paths we put cyclists on should allow safe cycling even at low speeds without danger of collision with motor vehicles, and the paths should be continuous to enable even long trips to be stress-free," the cycling advocate says. 
Aside from mobility, distance is a concern, especially for those who live outside of Metro Manila.
"Distances of 10-15 km are easily bikeable on safe paths if there is decent, usable parking at the end of the trip," he says. "The distance itself is not the main hardship to cycling, it's the fact that distances like that often mean prolonged exposure to danger such as speeding vehicles and pollution. The distance becomes less of an issue when cycling is completely safe."

One factor to make biking accessible is ensuring a safe bike network.
"The key is to prevent mixing with fast-moving motor vehicle traffic. A good thing to do is lower speed limits and vehicle operating speeds using traffic engineering techniques such as traffic calming. The faster vehicle speeds are on a street, the more expensive it is to build a safe bicycle path on that street," he says.
Siy also warns, "The new normal will be much worse if we don't accommodate mobility through all modes of transportation, given the expectation of reduced loading on all forms of public transport."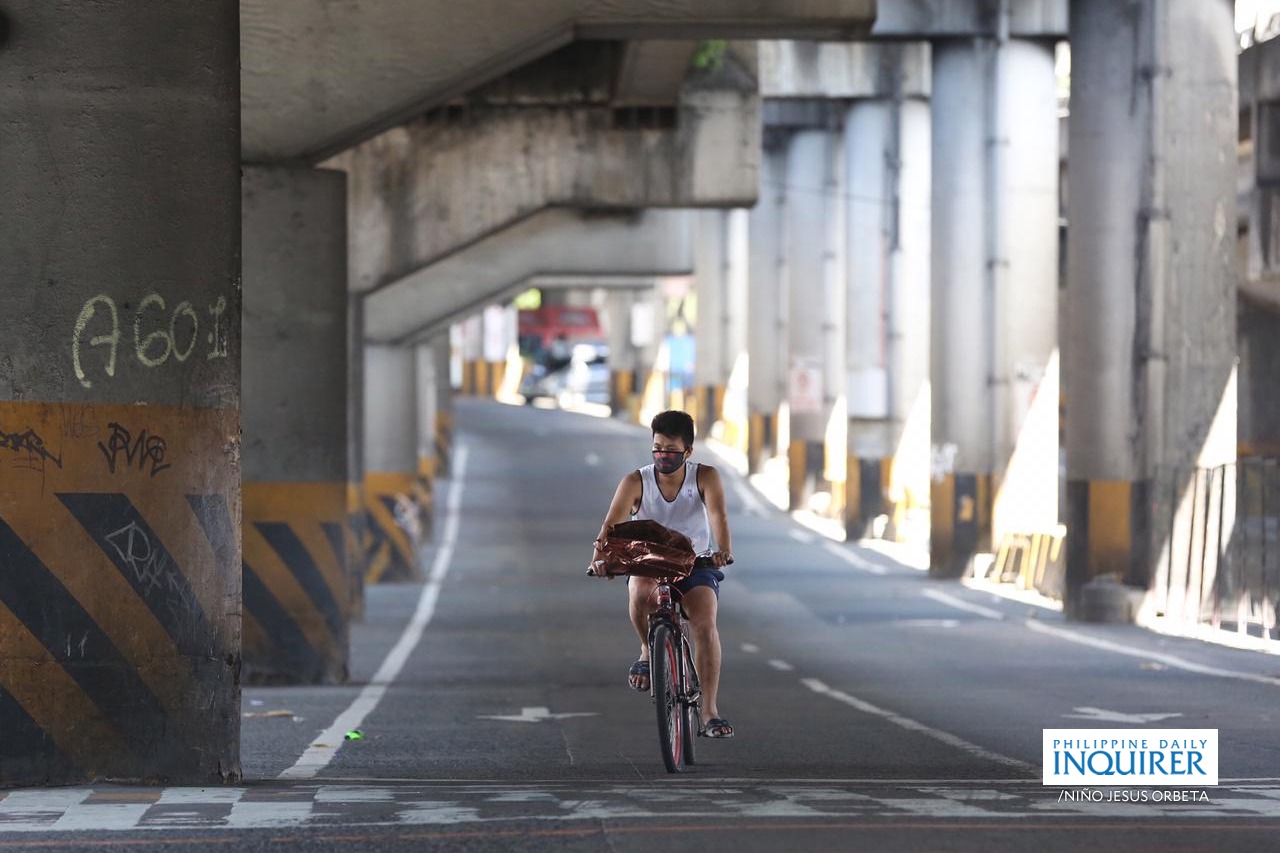 Benefiting the public
With or without the pandemic, there are many benefits to biking—including lessening the volume of cars on the road.
"What we have is more [of] a situation where the road system and transport system really caters to a small number of road users at the expense of everyone else. With better cycling infrastructure, we open streets up to road users who cannot afford or cannot physically drive cars, which I hazard is a far greater number than 12 percent of the population in Metro Manila," he says.
These measures reward not only the commuter but proves to have advantages for multiple entities in the transport chain. "Cycling infrastructure in a city improves sales for businesses along the route as well as improves road safety and mobility outcomes for other road users on routes where bike lanes are located. It also allows people to ride outdoors recreationally, which is great for mental health outcomes."
In order to encourage more citizens to bike to work, Siy highlights the importance of demonstrating its inherent convenience and practicality.
"Promoting cycling is first and foremost about making the activity safe and convenient. You need a path to cycle on and somewhere to park. Look at cities with similar weather as us, such as Taipei and Singapore—they have better cycling outcomes because of their investment in safe infrastructure. In my experience, it's also much more pleasant to be cycling," he says.
Often, parties who oppose cycling as a serious alternative option cite the weather as the greatest inhibitor, after safety. And yet countries like Vietnam with a similar tropical clime boast a thriving cycling community. People bike to work, to the park, to the cinema. They bike in dresses, shorts, polo shirts.
One argument—among many—in favor of manual two-wheel transport is the reduced carbon footprint. This footprint also manifests in heat waves or heat islands. Imagine navigating a road on a hot summer day, jammed with cars belching exhaust. Now imagine that same road with much fewer cars, more room to breathe.
A 2015 study observed that "vehicles contribute to heat emission in urban areas. The total heat emitted by vehicles may remain trapped in poorly ventilated urban canyons, thereby reducing the thermal comfort of city dwellers."
A transport policy that puts the comfort of city dwellers at its core, while promoting sustainability, is rooted in the understanding that a good transport plan is a holistic one. Mitigate hostile environmental factors and you alleviate plenty of pain points for taxpayers.
Planning mobility in the city
As the chief planner of Pasig Transport, Siy is largely concerned with mobility plans in the city—especially with modified enhanced community quarantine looming.

Walking and cycling, public transport stops, safe street engineering on local roads are the priority. "The main goal we have in our transport planning is trying to make streets safe for all road users," he says. 
"Once you do that, all other improvements tend to follow. But if you put the safety of some vulnerable road users secondary to indicators such as maintaining average vehicle speed or flows, everything falls apart and you actually get even less of what you want."
The hackneyed rhetoric that Manila—and the rest of the country—isn't bike ready needs to change in light of the transport crisis we face today.
To naysayers who think we're not ready—that our roads aren't ready—Siy has a response.

"We already have quite a cycling culture. Look at any bicycle rack in the city—you'll hardly find an empty one. Just because we've never noticed it doesn't mean it's not there," he says. "The far better question is, when will our culture improve to the point where we believe you shouldn't need a car to be treated decently in our transport system?"
Heder photo by Grig C. Montegrande for Inquirer.net
Get more stories like this by subscribing to our weekly newsletter here.
Read more:
A breakdown of the proposed "New Normal" bill
International travel might not be part of the "new normal" for awhile
The best bike shops in Teacher's Village
Writer: YANN MAGCAMIT