The perfect fried egg may evade definition. Some like it with a soft white underbase, the yellow barely set. Others like it over easy, flipped to cook the yolk. While a wise few prefer a crispy fried egg.
In Nolisoli's Comfort Kitchen series, food photographer Miguel Nacianceno devoted six weeks to perfecting his fried egg. In his episode, seen on our IGTV, he notes that the secret to the quintessential fried egg is a good nonstick pan and a substantial amount of oil over medium to high heat. 
First, he cracks the egg into a bowl—in this case, a mug—to avoid the dreaded broken yolk. Before pouring the egg into the pan, he flicks a little water into the oil. "If it sizzles, your oil is good to go," Miguel says.  
"This looks like a good egg," he says of his fried creation, the edges laced with that brown crisp lattice, yolk intact. "I'm happy."  
Consider pairing the fried egg with almost anything—atop an open-faced sandwich, over a salad, coupled with kimchi fried rice or, in Miguel's case, an all-day breakfast platter with bacon, mini bagels, cheese and arugula. 
Nolisoli Comfort Kitchen comes out every Monday and Thursday evening on IGTV. Follow @nolisoli.ph for updates.
Get more stories like this by subscribing to our weekly newsletter here.
Read more:
3 sinigang recipes using native alibangbang, rattan, and katmon
These easy pasta recipes are making me think I'm a pro chef
Writer: BEA LEDESMA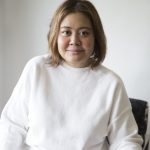 Bea Ledesma
Bea Ledesma is the group publisher of Hinge Inquirer and a columnist for the Philippine Daily Inquirer. She has a dog named George, and spends much of her leisure time photographing him while he naps. You can see more of her dog photos on her Instagram @bealedesma.