For better or for worse? How the pandemic is taking a toll on weddings
Rescheduling with suppliers, adjusting the number of guests and worrying about marriage license expirations: This is how the pandemic is making it difficult to walk down the aisle
Jun 17, 2020
Dubbed the "wedding month," June often has churches and wedding venues booked and busy with couples tying the knot. But the pandemic has stopped supposed-to-be brides and grooms from meeting at the altar and holding the ceremony of their dreams.
Just like other countries, churches in the Philippines also had to modify several rules and traditions. With the general community quarantine (GCQ) in place, a limit has been imposed on the number of people who can gather in one place. Unfortunately, these included wedding ceremonies and receptions as well.
Among those affected by these restrictions is Marionne Rivero, a nurse and family friend who was supposed to walk down the aisle last May. With the enhanced community quarantine (ECQ) announced while they were on the final stage of planning their wedding, she admitted that the most stressful part for her and her fiancé was deciding whether they should reschedule or not. Additionally, they had to face the grueling task of contacting their guests and suppliers one by one.
Not knowing when the community quarantine would actually end also proved to be a problem for the couple. "Willing sana kami sumugal. However, my groom is from Davao. Travel restriction was also our enemy. We had no choice but to postpone after the first extension of the ECQ," said Rivero.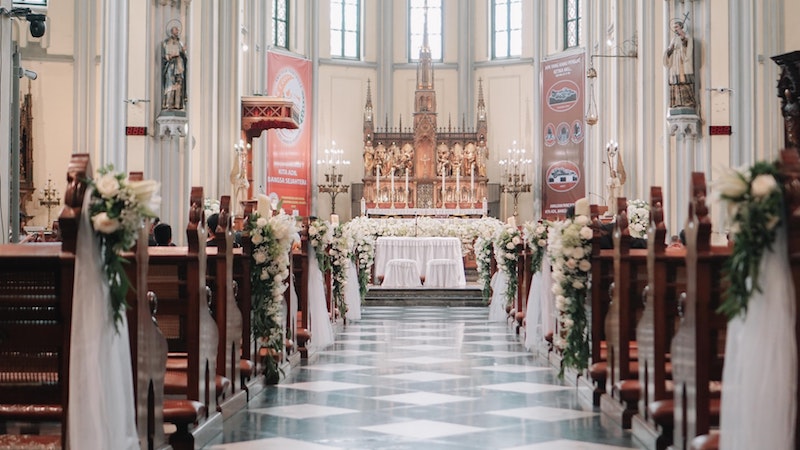 Limiting numbers
In addition to couples-to-be-married, people in the wedding industry were also deeply affected by the pandemic restrictions. Wedding planner Kutchie Zaldarriaga of Getting Married Philippines shared that the wedding industry experienced a huge decline during this challenging period.
"At this point since lockdown, almost zero bookings or maybe in trickles. It's really been affected that bad since couples are hesitant to book with all the uncertainty," revealed Zaldarriaga.
To make up for this slump, she shared that they have opted to give special rates for intimate weddings, which are customizable. They're also offering discounts since they're anticipating smaller weddings next year.
Facing dilemmas
As for their current clients, Zaldarriaga noted that most of them "moved their dates to next year and [their] immediate concerns were aligning their suppliers again." 
She also noted that "refunds were a common concern for those who choose to cancel their wedding or downgrade their suppliers" instead.
This concern was also echoed by Rivero, who has already paid for 120 guests—excluding the approximately 30 team members of their suppliers. This includes coordinators, photographers/videographers and make-up artists.
"New guidelines require a total of no more than 20 pax for guests for our venue. So, we needed to adjust everything, not only the date. I had to cancel my orders for our entourage's attire. I also had to negotiate with the band, coordinators, host and florist to cancel or downgrade the package that we originally availed. Some were considerate, some were not," she said.
Engaged in December 2019, Tanghalang Pilipino marketing manager and vlogger Juan Lorenzo Marco and entrepreneur Kristin Noelle Bonifacio were already starting their wedding planning process when the lockdown was announced. This meddled with the timeline that they set for their Feb. 20, 2022 wedding, especially as gathering suppliers became more difficult.
"Most of the suppliers stopped their operations during the lockdown and bridal fairs were canceled," said Bonifacio. 
Mentioning the difficulty of making decisions due to the uncertainties of the pandemic itself, she also added, "Some of our preferred suppliers, hindi masagot yung sa guest list, naglilimit kasi dahil sa new normal, di pa nila maconfirm yung number of guests namin dahil di pa natin alam mangyayari sa 2022."
Various changes also had to be made in traditional wedding ceremonies. In Brazil, some couples have been resorting to "drive-thru weddings" where a couple sits in the back of a car with a notary public presiding the ceremony outside.
Aside from observing social distancing and wearing face masks and shields, Zaldarriaga also noted that adjustments on location and workflow needed to be made. This is due to some ceremonies being conducted at home instead "with limited areas to shoot" and a limited number of suppliers allowed.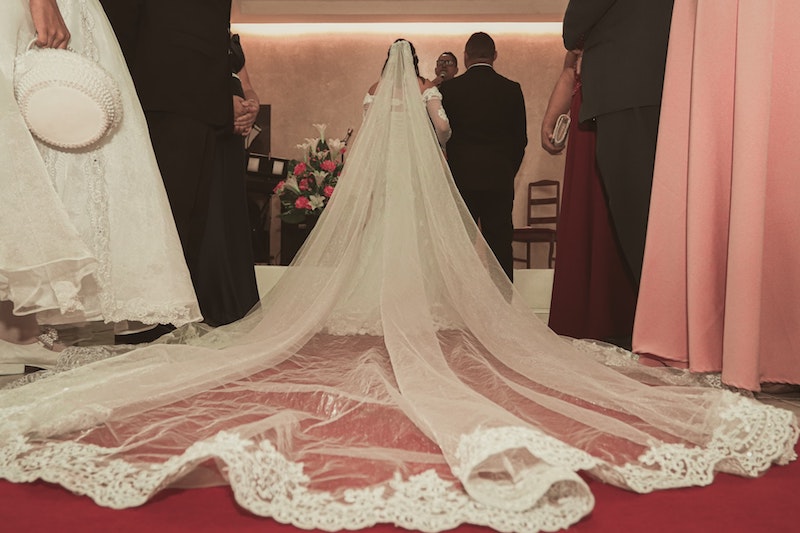 Waiting it out
Among the concerns that Bonifacio and Marco also noted was the need to adjust wedding papers, which usually have expiration dates.
"Isa sa mga naging major concern namin ay 'yung pagshift ng process ng papers online, sobrang dami pa naming kailangang makuhang documents pero dahil quarantine, 'di kami makapunta sa mga agencies," said Bonifacio.
Recently, the story of an on-the-spot wedding of a couple in Cavite who inquired about their expiring marriage license after needing to postpone their wedding due to COVID-19 went viral on Facebook.
While they only sought the mayor's office to ask whether they could schedule their civil wedding not later than the expiration of their marriage license on June 3, the couple was asked if they wanted to do the ceremony right at that very moment. After agreeing, they proceeded to have their civil wedding—with an improvised ring provided by the office's staff.

In Cebu, Jayson Lu and Kara Yu gave a glimpse of how church weddings look amid the COVID-19 pandemic. As shared by Cebu Daily News Digital in a story, the ceremony was attended by 10 people only despite the couple's initial plans to hold a big wedding with all of their relatives and friends. All 10 guests also had to wear masks during the ceremony.
"The church requirements and license were already ready so we decided to push through with the ceremony rather than postpone it to a later date and have to go through the processing of the requirements all over again since a license has an expiry," said Yu.
With this, Zaldarriaga also shared that the majority of their clients have chosen to "wait it out for a bigger celebration next year" in light of restrictions on wedding ceremonies. However, a few others who can't wait anymore are opting to hold simple civil weddings or an intimate church ceremony.
Included in those considering the latter option are Rivero and her fiancé. Originally set to be married in their tenth year as a couple, they decided to wed at the soonest possible date instead. 
"Currently, my fiancé and I agreed to do a civil wedding in the meantime with only our immediate family once he can travel safely already.  We agreed to hold a bigger ceremony and reception, like what we wanted, in the future once the restrictions will be lifted and once safety is ensured for everyone. My fiancé still promised to give me the dream wedding we planned in the future," she said.
As for Bonifacio and Marco, they still plan to push through with their initially-scheduled Feb. 20, 2022 wedding date.
"There's no way we're going to delay the biggest day of our lives. I hope that by that time, normal na yung dates ng mga suppliers kasi of course, I want the best for my bride," said Marco.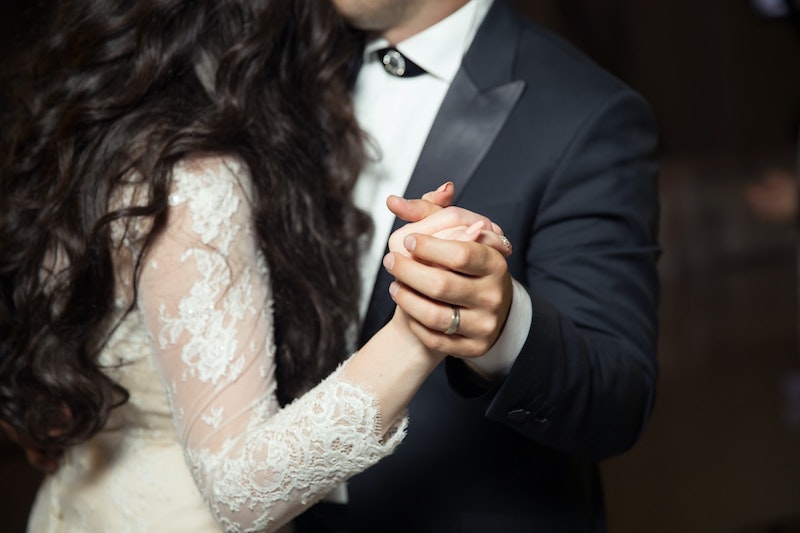 Coping with changes
"As a bride-to-be who was hands-on with all the wedding preparations for two years, I was really heartbroken. In my view, everything was planned carefully and beautifully. It should've been the happiest, most magical time of my life as a woman," said Rivero.
"The sadness was, however, short-lived. After a while, inisip nalang namin na hindi kami nag-iisa. We are not the only couple in despair at this time. We don't know when the crisis will end, but we are hoping for the best," she added.
While there's still a long way ahead before their wedding, Bonifacio and Marco shared how they also resonated with the gloom of those whose marriage dates were directly affected by the pandemic.
"Based on our research, nakikita ko na yung mga couples scheduled to get married this year and next year are struggling a lot. And actually nalulungkot ako for them. Grabe yung hassle na dala ng pandemic sa kanila, from dealing with suppliers to rescheduling their weddings and also downsizing their guests. Yung wedding na na-plan na nila for a year or two tapos biglang kailangan i-change because of the pandemic," said Bonifacio.
Sympathizing with couples-to-be, as well as churchgoers in general, was Cebu Archbishop Jose Palma, who reminded everyone that only simple weddings will be allowed this year.
"There is no doubt that there will be challenges and frustrations. Our parishes need to learn new ways to cope with the 'new normal' after the ECQ, when we begin to celebrate the liturgy, especially the Holy Eucharist, with the faithful in attendance," Palma said.
He added, "But we believe that following these guidelines is a reasonable sacrifice for the interest of the common goal, and ultimately to best serve our own community."
Header photo by Samantha Gades on Unsplash
Get more stories like this by subscribing to our weekly newsletter here.
Read more:
Update: Work, church gatherings still prohibited under GCQ, Palace says
9 beautiful Manila churches for your wedding
Ways to go zero-waste on your future wedding
TAGS: covid-19 getting married philippines marriage covid-19 wedding covid-19 wedding new normal weddings