A week after the controversial Anti-Terror Bill had passed third and final reading in Congress, we stumbled upon this focaccia bread on Instagram by a home cook with a username @rosankatlea. The dough was inscribed with the words "Junk Terror Bill" in an assortment of ingredients: olives, asparagus, bell peppers, etc.
Right then and there, we knew we had to repost that image on our feed knowing it encapsulated the anxiety we had at the time (and probably still have to this day bottled up) about the political climate. Apart from the passage of ATB, there were also various threats against basic human liberties on the ground at that time like the arrest of protesters in Cebu and the jeepney drivers in Quezon City.
https://www.instagram.com/p/CBMs8KPnewK/
But there are other issues as well that were overshadowed by that bill that is now a law, some that have been going on for a long time now and which the pandemic has made worse. These include child exploitation and food security.
According to the data by the Department of Justice, there was a spike in the number of cases of online sexual exploitation of children (OSEC) during quarantine—a whopping 264 percent increase to be exact.
The National Center for Missing and Exploited Children in May, recorded a total of 279,166 cases reported through its Cyberline Trip Report hotline from Mar. 1 to May 24.
Of these thousands of reports, according to a May 25 story by Rappler, only seven arrests were made and only 34 children were rescued.
The incidence of hunger has also increased in the last few months. A recent survey by the Social Weather Station found that 16.7 percent of the respondents or 3.9 million families experienced involuntary hunger in the past three months. This is the highest recorded rate of hunger during President Rodrigo Duterte's term.
This is despite the social amelioration program implemented by the government to support underprivileged families during the lockdown. Now with still limited means of mobility even under more relaxed general quarantine measures in most parts of the country, these families are still struggling, especially since workers in the informal sectors were the most affected by pandemic layoffs.
Baking for good
Now, what about these issues? Are Instagram food posts also shedding light on these? You'll be surprised because some home bakers are, in fact, doing just that through hashtag called #BakesChange.
https://www.instagram.com/p/CCEDhHijR1f/
The initiative was started by sustainable strategy and creatives consultancy Tayo on Instagram last week with the goal of enticing food businesses, and home bakers and cooks to make socially-aware content through food.
"It's an Instagram campaign, which aims to raise awareness and collect donations for OSEC in partnership with Kids For Kids Philippines, through sharing pictures of baked goods and savory food that have slogans on them pertaining to children's rights," read one of Tayo's posts.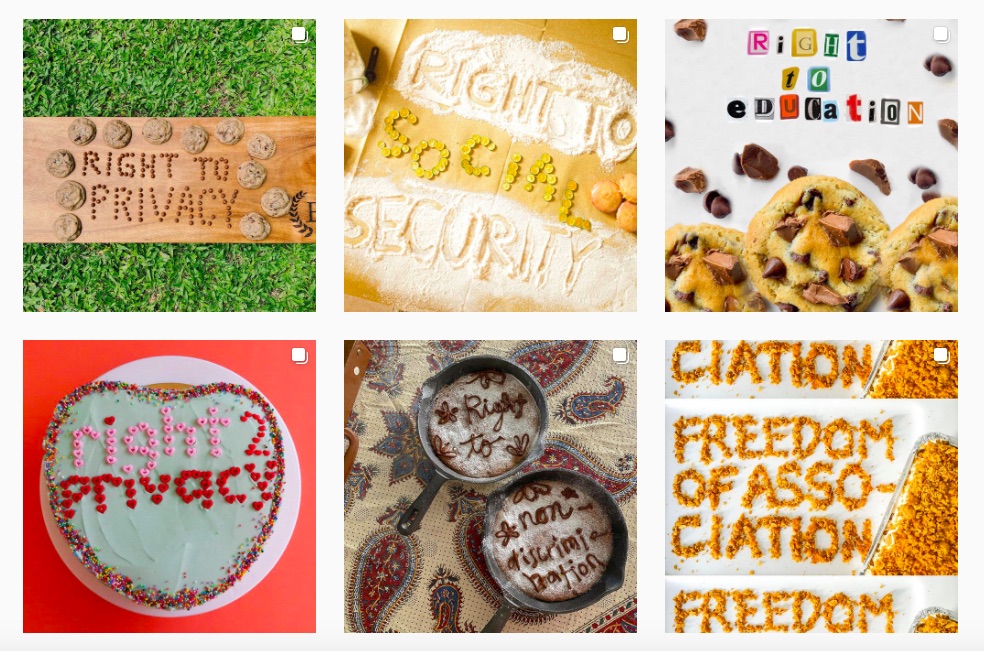 If you've seen cookies and cakes that sport political statements, those are likely from this initiative.
Every post corresponds to a monetary donation, which is used to feed and aid low-income families in hopes that these would deter them from resorting to online sexual exploitation of children to go by each day. It's an initiative in partnership with NGO Lingap Bata and the United Nations International Children's Fund (UNICEF). 
A P1,000 donation, for example, can provide a family with food for a month, homeschooling materials for children, urban gardening training and/or sanitation kits.
There's something in it for donors, too. For a minimum of P1,000 donation, you will receive an electronic cookbook with a collection of recipes curated by Tayo.
For more information about #BakesChange and/or questions on how to donate, send a direct message to @tayo.com.ph on Instagram. They currently accept donations through PayPal, BPI bank transfer and GCash.
Header collage made with photos by @crumbakery_ph, @boulangerya_and @wknd.bakery on Instagram
Get more stories like this by subscribing to our weekly newsletter here.
Read more:
2 pro-ish pastry recipes for quarantine bakers tired of making the same thing
Will bike for baked goods: This bakery gives cyclists a 20% discount on everything
Got birthdays coming up? Bake your own cake to celebrate
Writer: CHRISTIAN SAN JOSE