What's making me happy: the perfect laptop desk, 'extra' house sandals and authentic Cebu lechon
Sometimes, dancing in fluffy pink slippers is all it takes to make content creator Andreiana Yuvallos feel like an *actual* person.
Sep 11, 2020
"What's making us happy" is our weekly list of things we are drooling over or things we bought by impulse or purposefully as of late—anything to distract us from this gloomy quarantine and maddening real world, all the while helping local brands regain footing amid the economic disruption.
***
If there's one thing this long, unforgiving quarantine has taught me, it's to grab anything that produces even a modicum of serotonin and milk it for all its worth. After the first few months of trying all kinds of quarantine trends, I'm happy to report that I've finally found my footing when it comes to keeping my spirits up. 
A jar of honey made from wild flowers
My knee-jerk reaction when it comes to cheering myself up is finding something sweet. Ill advised, I know, but to me, sweet things make the world go 'round. Since it obviously isn't healthy to mainline candy and chocolate, I opted for something a little less deadly. 
Aside from our affinity for crop tops, Pooh Bear and I finally have something in common: a love for honey. I usually drizzle Ima's Pulut-pukyutan Wild Honey over freshly toasted bread and high-quality butter. What I love about this specific brand of honey is that it's a little tangy and citrusy because of the flowers in the area the bees are from. 
A laptop desk that accommodates my weird sitting positions
Adjusting to working from home was a big challenge in the early days. I live in a cramped condo with no empty flat surfaces to be found. This means I usually had to resort to working on the couch, or worse, my bed.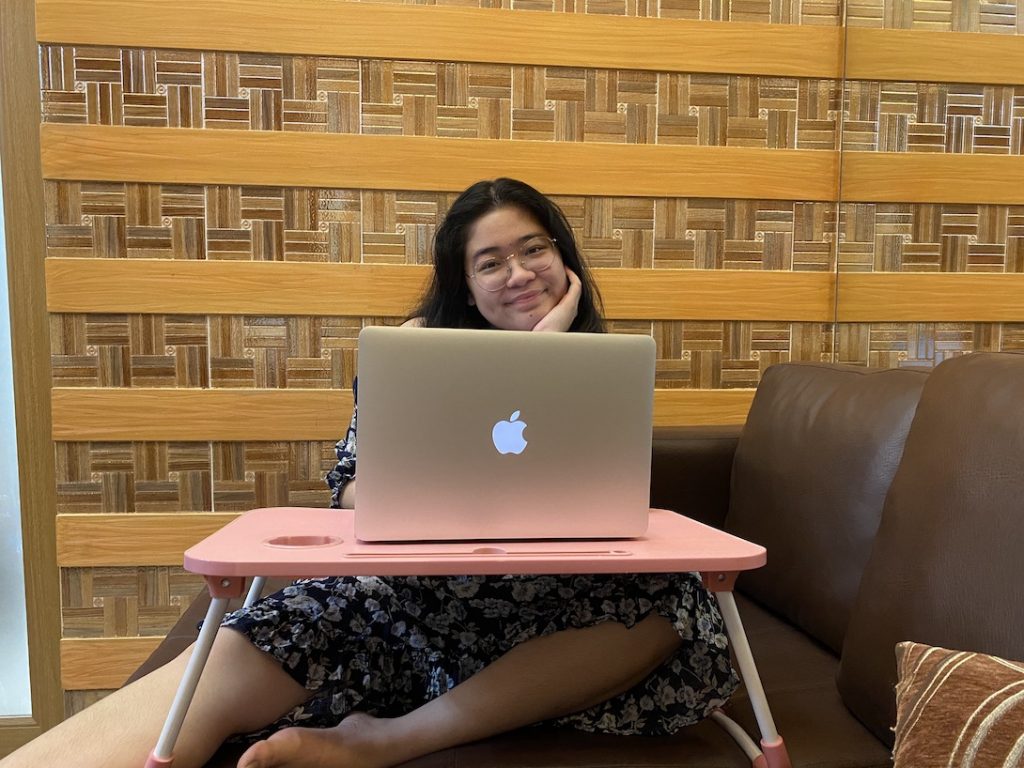 Me sitting in a somewhat normal position to take this photo with my beloved desk
I found the perfect laptop desk online which is not only stable and sizable, but also accommodates my propensity to sit in weird positions while I'm working. Another reason I love it so much is that it's pink. 
A pair of "extra" house sandals
I may be someone who usually has better impulse control when it comes to online shopping, but I was no match for these sandals. They're fluffy, pink and oh so very extra. 
I couldn't wait to get my hands on them, so I asked the wonderful people at Erin if I could have them delivered to me via Grab instead on the same day. Although these sandals may be better suited on the stage of the Folies Bergère, I love washing the dishes and sweeping the floor feeling like a glamorous starlet. 
Impromptu dance parties
If there's one thing I truly, madly, deeply miss about life pre-quarantine, it's dancing. My friends and I used to go out almost every weekend and dance the night away (as tita as it may sound).
These days, we still dance to our favorite disco hits, but in the comfort of our own homes and oftentimes out of nowhere. All I have to do is play the right song and suddenly we're all doing the hustle. Here's one of my favorite playlists to get the party going:
A taste of home via authentic Cebu lechon
Another huge downside to quarantine is that I can't visit my family in Cebu. In the last few months, I've missed my entire family's birthdays, celebratory dinners and many other milestones. Although I can't be with them physically, I console myself by ordering Pig Senyor's authentic Cebu lechon so at least I can have a little taste of home while I'm away.
Get more stories like this by subscribing to our weekly newsletter here.
Read more:
You can finally get authentic Cebu lechon delivered, no air freight necessary
What's making me happy: Cultured butter, tie dye tee and candles that smell like good times
What's making me happy: A book fair reading list, film photography and high school hobbies
TAGS: ErinPH local honey mobile laptop desk nolisoliph Pig Senyor Pig Senyor authentic Cebu Lechon playlists Pulut-pukyutan Wild Honey sandals