Filipino Food Month is upon us. In case you didn't know, it has been observed every April since 2018. Organized by the Department of Agriculture, the National Commission for Culture and the Arts, and the Philippine Culinary Heritage Movement, this celebration aims to preserve and promote our culinary traditions, which are part of our cultural heritage.
For its part, the University of the Philippines Vargas Museum just released a cooking module with a few recipes inspired by paintings in its permanent collection: works by National Artist for Visual Arts Fernando Amorsolo and prolific Filipino artists Dominador Castañeda, Emilio Alvero, Zosimo Dimaano and Alfonso Ongpin.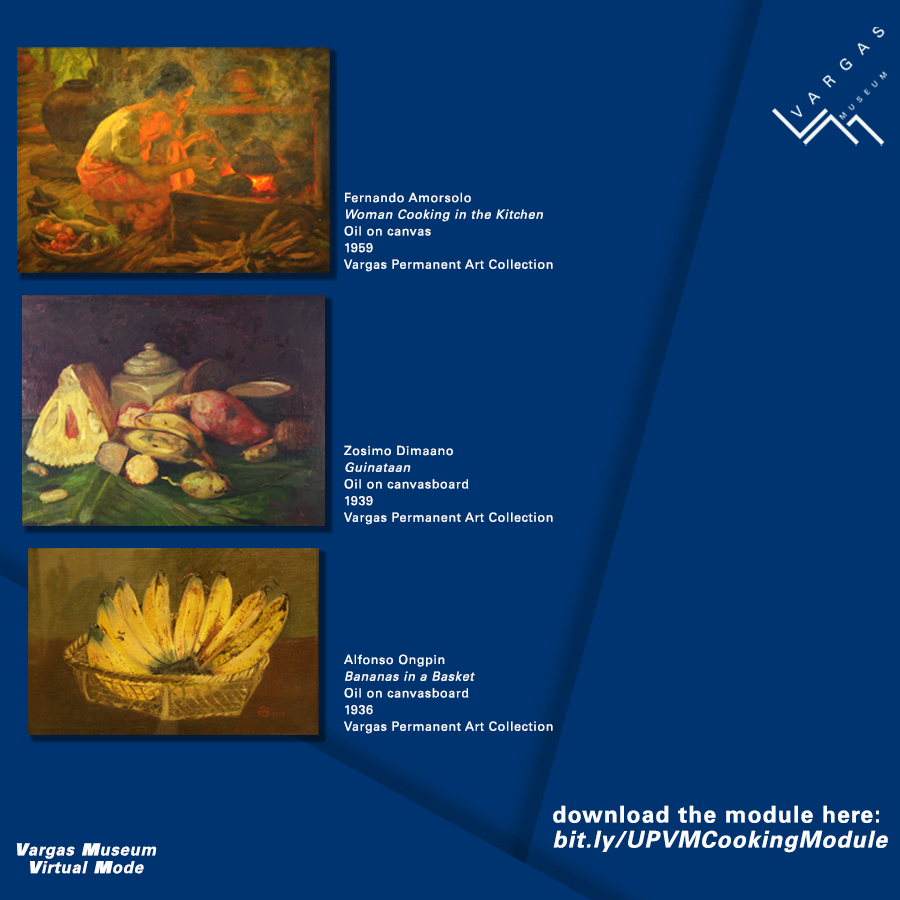 The seven-page document begins with Castañeda's 1940 oil on canvas painting "Market Scene" depicting a busy palengke with its patrons and vendors decked in traditional Filipiniana. The creator of the project, UP Vargas Museum's work-from-home intern Chesca Santiago, juxtaposed this with tips on how to make the most of your market trips and food safety in the time of the pandemic.
Of course, what would a Filipino recipe guide be without our unofficial national dish sinigang? Amorsolo's "Woman Cooking in the Kitchen" leads to a recipe for sinigang na bangus, a fitting guess as to what the woman squatting in front of a stove with an earthen pot on it is cooking. Beside her is a spread of ingredients like fish onions and eggplant, which confirms our hypothesis.
[READ:
3 sinigang recipes using native alibangbang, rattan, and katmon
]
Tawilis, as rare as they come now after they were declared endangered in 2019, is a Filipino breakfast staple. Battered and deep-fried to crisp a la tempura, it comes with a punchy vinegar dip. Alvero's 1928 painting "Table Delicacies" perfectly encapsulates the sardine's features: shiny armor of scales and its dainty size good enough for one bite.
For dessert, Vargas Museum has two suggestions: ginataang halo-halo based on Dimaano's still life of jackfruit, sweet potato and plantain called "Guinataan" and turon accompanied by Ongpin's "Bananas in Basket."
And although the recipe is not included in the module, the museum shared a 1984 painting by J.D. Castro titled "Tinola," a grim foreshadowing of the fate of a limp native chicken posed alongside spices such as onion, ginger and garlic, as well as a bayong spilling its contents: dahon ng sili and green papaya.
"Nutritious yet not costly, tinola has long been a staple of Filipino diet and history, even making a prominent appearance in the opening sequences of Jose Rizal's Noli Me Tangere," the museum said in a Facebook post. "While tinola is typically served with chicken and green papaya, it can also come in fish, pork, or shellfish to suit the Filipino taste—as long as it is heartily served hot and paired with steaming rice."
You can download the module here. The museum allows for it to be reproduced.