Read more related stories

Plant-based burgers are among our all-time favorite food trends. In order to replicate the look and taste of regular meat, plant-based meat is made with processed ingredients isolated or derived from plant sources like soy, pea, and wheat. You'd probably love it if you're transitioning to a meat-free diet. But if you want to take your meatless venture a step further, why not try traditional vegetable burgers, too? Here are some recipes you can whip up in your own kitchen.
Eggplant burger
Aside from being a nutrient-dense food, eggplants are high in antioxidants and low in calories. They are also easy to incorporate into many different dishes—burgers included. You only need a few ingredients like shallots and parsley to go with peeled and diced eggplants in order to produce a mouthwatering meatless burger from your kitchen.
Sweet potato burger
Looking for a fiber-rich veggie that you can turn into a burger patty? Try sweet potato. This easy recipe uses the sweet tuber with flour, breadcrumbs, garlic, salt, oregano, and coriander. You can also add pepper, cumin, and crushed peanuts, too—but they're completely optional.
Falafel burger
Falafel is a deep-fried fritter made from chickpeas, and you can give it a burger makeover with onion, garlic cloves, parsley, cilantro, salt, pepper, cumin, paprika, and baking soda. This burger recipe also uses flour, but you can substitute it with breadcrumbs or (for a gluten-free version) chickpea flour.
Zucchini burger
Aside from meat, you can get rid of grains and dairy in your burger with this vegan-friendly baked zucchini patty. You'll also get extra nutrients from the carrots and potatoes in this quick and easy recipe.
[READ:
These low-carb zucchini fritters are the answer to your prayers
]
When it comes to Japanese food, simplicity is key. It's pretty evident with the cuisine's large selection of dishes that only require a few choice ingredients. Some of the food is even served raw, like sashimi. If you need a simple and easy meal to cook during a busy or lazy day, Japanese food is definitely a good choice. And one way to make cooking these dishes even quicker and more convenient? Using an air fryer.
[READ:
Burnt Basque cheesecake, lechon belly and other food you didn't know you can cook in an air fryer
]
Whether you are looking for a quick and easy lunch recipe or you simply want to sate your midnight cravings, here are some Japanese dishes you can cook with an air fryer.
Karaage
Chicken karaage is typically deep-fried in oil to achieve its super crispy texture. But if you want to reduce the oil intake in your diet, you can choose to air fry this bento box favorite instead. Just marinate the meat, lightly coat it with flour or starch (potato or corn), and air fry it with light oil.
Katsudon
Level up your katsudon game by serving it not as part of a rice meal, but as katsudon sando! Bread and marinate the pork or chicken cutlet like usual, then cook it in your air fryer for a few minutes. Don't worry, you'll still achieve the same golden, crispy skin and tender, juicy meat even without deep-frying the cutlets. Once done, coat the katsudon with sauce and make a sandwich with toasted bread and shredded cabbages. Cut the sando in half and enjoy your meal!
Sushi rolls
Add crunch to your usual sushi rolls by rolling it in breadcrumbs, spraying it with light oil, and air frying it for at least five minutes!
Yakitori
While you won't get the usual char from its original grilled version, air-fried chicken yakitori helps you save effort from cooking in open fire. To make it keto-friendly, this recipe teaches you a low-carb version of tare, the umami sauce that gives yakitori its mouthwatering glaze.
Yaki onigiri
Instead of pan grilling, why not try making these Japanese rice balls using your air fryer? This simple recipe only requires the following ingredients: miso paste, sugar, soy sauce, water, rice, butter, and sesame seeds. You can also opt to sprinkle furikake (Japanese rice seasoning) for a more umami-packed taste.
There's no overarching rule when it comes to mold in food. There are food items like hard cheeses that actually require mold. With other types of food though, there are some rules that can help you decide which ones are safe to eat and which ones to toss out. Mold requires moisture to grow, so making sure easily infected items like meats, yogurts, and pastries are in a clean and dry environment is a must while storing them.
While it's always best to avoid food waste, it's sometimes inevitable that you pull out a loaf of bread for a sandwich you've been looking forward to and find a colony of green fuzz living on one side (a modern tragedy, honestly).
Here's a guide to common food items and whether or not you should throw them away because of mold. 
Bread and pastries
It may be tempting to some to just pinch off the mold and eat the rest of your croissant, baguette, or sandwich, but you need to throw away the whole thing at the first sight of mold. Moldy bread can contain spores that burrow deeper than you can see, which can lead to things like stomach aches and food poisoning. 
Cheese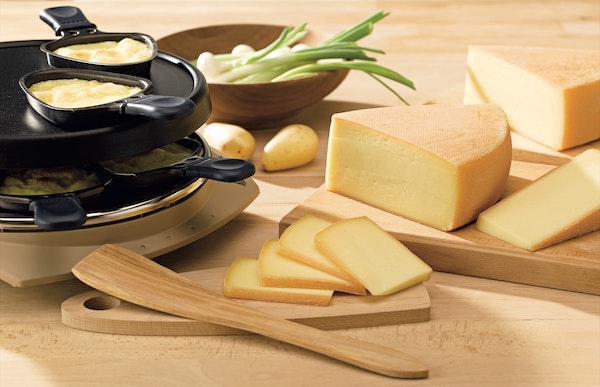 We're all familiar with cheeses like gorgonzola, brie, and Roquefort that actually need mold, but how about others? The rule of thumb when it comes to moldy cheese is that if it's hard or semi-soft cheese like parmesan, cheddar, gouda, and the like, they're generally fine to eat after carving away the mold and the surrounding inch around it. 
Grated, sliced, and soft cheeses (like cream, cottage, and chevre) sadly have to go in the disposal bin. These cheeses are high in moisture, which means mold can thrive easily. 
Processed meats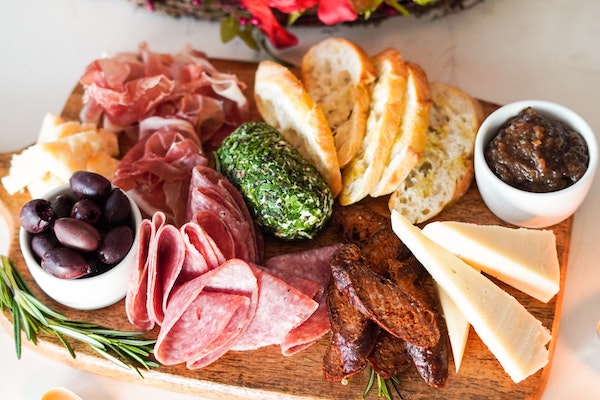 It's not unusual for deli meats like hard salami and dry-cured ham to have a layer of mold surrounding them. It's perfectly fine to scrub the mold off the surface and eat it. The same can't be said for other types of processed meats though. 
Canned and processed meats, for example, also need to be disposed of when they grow mold. Since food items like luncheon meat, hotdogs, bacon, corned beef, and even canned fish contain a lot of moisture, mold and other types of bacteria can rapidly grow on them. 
Fruits and vegetables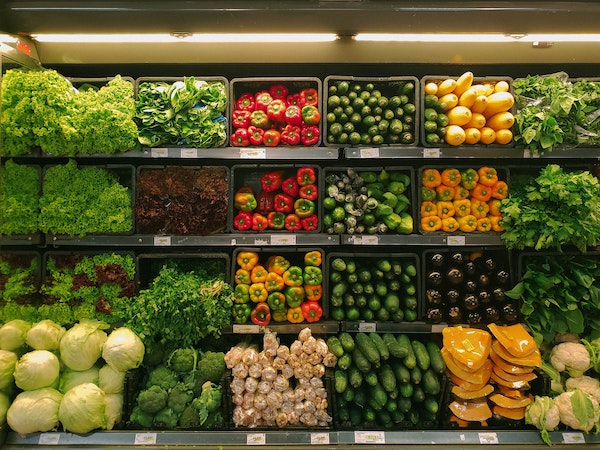 The same mold rules that apply to cheese apply to fruits and vegetables. If a fruit or vegetable is hard and has low moisture content, like carrots, cabbages, and bell peppers, they're generally safe to eat after removing the infected area and the surrounding inch. Since these fruits and vegetables aren't as high in moisture, the mold doesn't spread as easily as opposed to their softer cousins. 
Soft fruits and vegetables like cucumber, peaches, tomatoes, and other high-moisture produce need to be thrown away. Mold spreads fast among fruits and vegetables, so if you spot a moldy tomato in your produce drawer, you need to check the other items you've kept around it. 
Jams, jellies, and nut butters
Jarred preserves, jams, and nut butters need to go at the first sight of mold—especially if they're made without preservatives. These products may be infected with mycotoxins, which can result in stomach aches, allergic reactions, and breathing problems.
Throwing away moldy food is a huge waste, but it's always better to be safe than sorry. What you can do instead of throwing away moldy food is making sure you store your food properly and only buy what you need. Food waste is a big problem, and we can all do our part to avoid it.
Filipino restaurant Jeepney in New York is closing its doors on Sept. 25.
Its founder and chief operating officer Nicole Ponseca told Eater: "I want to graduate from being an independent operator into something more formidable with more support. I don't want this to be the end of Jeepney." Ponseca is the same restaurateur behind Modern Filipino restaurant Maharlika, which also closed down its East Village location in 2019.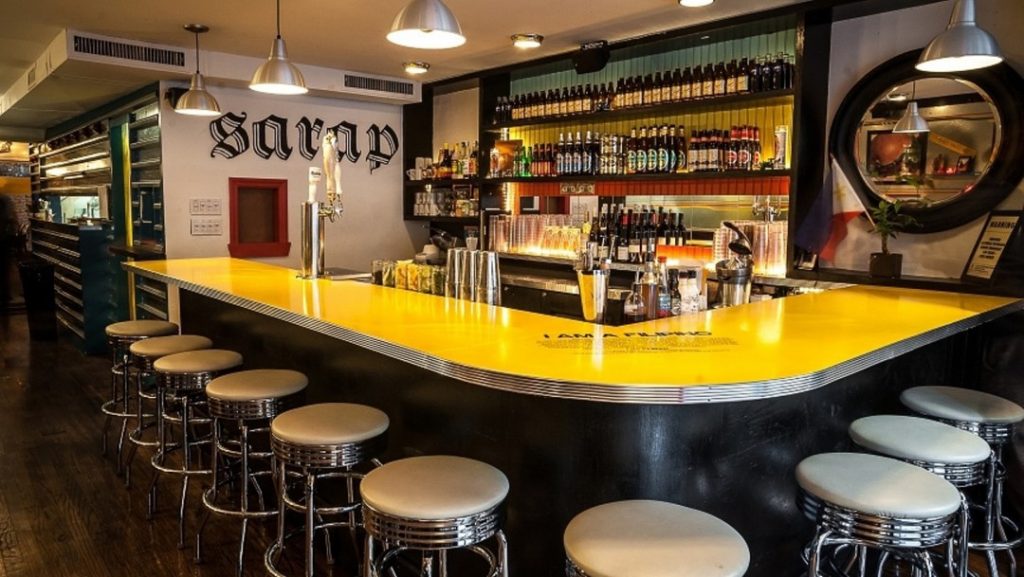 [READ:
NY restos Maharlika and Jeepney owners write a cookbook
]
She added that she hopes to partner with a restaurant group to open a more casual version of Jeepney in multiple cities.
Earlier this year Jeepney opened its first Miami location. According to Ponseca, the future iteration of Jeepney will look something like that. "It's a hybrid of something that is fast-casual and something that is fine-casual. I call it fast-fancy."
Jeepney was opened in 2012 following Maharlika's closing. The latter was open for nine years.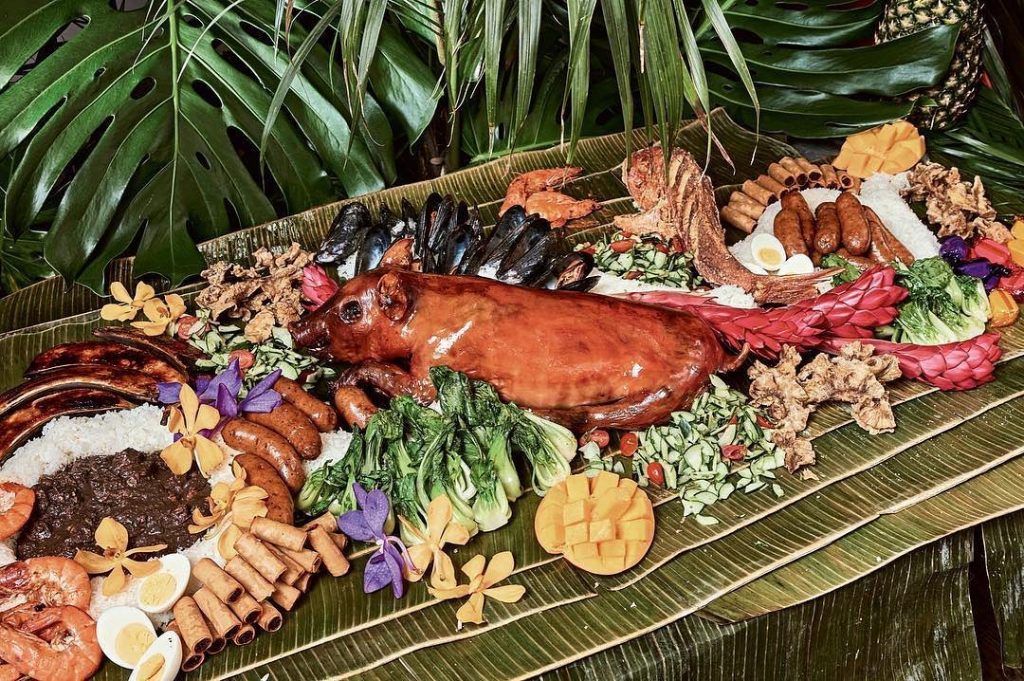 "At Jeepney, two nights a week are devoted to eating kamayan style, with banana leaves spread over tables and food—slow-roasted pork with bagoong (fermented shrimp), adobo head-on prawns, sweet-hot tubes of longanisa (sic)—piled on top, without intervening china or silverware," The New York Times wrote in a 2015 article.

At its new Miami location inside the 1-800-Lucky food hall in Wynwood, ​​Jeepney serves up three types of sisig: [chopped] pork, chicken, and a vegetarian/vegan option with jackfruit along with the Filipino classic silog. Its brunch menu has a unique take on a ubiquitous Filipino rice cake called Bibingka Benedicts. "Instead of English muffins, we will be doing bibingka [coconut rice cake], poached eggs and calamansi hollandaise, with either Spam, sisig or pulled chicken. Then I'll have different sauces: adobo, ginataan [cooked with coconut milk] and my own banana ketchup," Ponseca told Forbes last year.
Who doesn't like birthday surprises, especially if it involves receiving numerous P100, P500, and P1,000 bills? Chances are, your Facebook or Instagram feeds have shown you videos of quarantine birthday celebrants lifting their cake toppers and pulling out a string of money bills with nothing but sheer joy on their faces. These special cakes are called "money cakes" (for obvious reasons) and we've seen people gifting them to their spouses, parents, or grandparents.
If you're planning to surprise a loved one with this sweet treat, here are some places that make them.
Donnalicious Bakeshop Philippines
Hide your surprise in a themed cake decorated with the birthday celebrant's favorites—like zumba, weightlifting, or basketball. Sta. Ana, Manila-based Donnalicious Bakeshop Philippines customizes money cakes with very cute and detailed fondant designs.
The Bunny Baker
If your loved one asks before uncovering the hidden treasure, tell them that this cake is a good kind of sus. Order a money cake from The Bunny Baker in Quezon City, and maybe even add a dessert set to make the celebration extra special.
Isabel's Oven
Give those trendy minimalist cakes an upgrade by hiding money inside! Prepare your Instagram feed for the surprise waiting inside these customized textured cakes from Isabel's Oven, which you can order for pick-up or delivery from Laguna.
[READ:
Nope, these minimalist cakes don't need decorations to look delectable
]
Kink Cakes
Want to make your surprise romantic? Hide it in a sunflower bouquet-designed cake, like this sweet treat from Kink Cakes, which has Makati and Quezon City branches.
Le Gré Cakeshop
Okay, so this cake isn't stuffed with "money" per se, but our inner titas still think that it's brilliant. In this very witty efficascent oil-designed cake, Le Gré Cakeshop, located in Sultan Kudarat, replaces cash with another great treasure: Salonpas packs. And this makes us wonder: what other surprises can we stash inside a "money cake"?
Although there's always room for cold sweets like halo-halo, ice cream, and custardy silk pies on our tables, the cool and rainy weather has us looking forward to something a little cozier. The arrival of the 'Ber months means trading in our iced summer desserts for warm treats we can pop in the toaster or microwave when the cravings strike.
Here are a few desserts that will warm you up from the inside out and leave you feeling satisfied. 
Sweet hummus bucci
The bucci most of us are used to are usually filled with custard or bean paste, but Gang Green's bucci (P150/box of eight) is filled with sweet hummus—yes, the chickpea kind. The deep-fried glutinous rice balls are coated in a generous layer of black and white sesame seeds and best enjoyed while warm. They're sweet, a little salty, quite filling, and taste better when shared with friends and family. 
Guava strudel
Nothing But Jill's claim to fame may be its Porto's style cheese rolls, but the guava strudel (P350/box of five) can definitely compete. The strudel is made with buttery, flaky puff pastry generously stuffed with sweetened cream cheese and guava jam, sprinkled with sugar and baked until golden brown. If you're not a fan of guava, Nothing But Jill also makes apple and strawberry strudels. 
Sticky rolls
Passing by the food carts selling freshly made turon is probably one of the things everyone misses from the "before" times. Instead of hunting turon vendors down physically, Fried Nice has done everyone the favor of adding the crowd-favorite snack on its menu.
Aside from bananas (P130+ per serving), the cloud kitchen has also created different versions of turon like mango, ube cheese, and champorado. Pro tip: If the rolls have cooled down, make sure to pop it in the toaster before chowing down so the exterior crisps up and the fillings get warm again. 
Hot taro sago
If you were a Chinese restaurant regular pre-pain de mie (you'll get it if you say it out loud), hot taro sago was one of the many staple dessert options available after your meal. The Creamery Catering's hot taro sago (P480) comes in a bonafide 1-liter bucket, so you can either share with others or keep enjoying it by yourself for a few days. 
Aside from hot taro sago, the catering company also has a ginataan series where you can choose between ginataang halo-halo (P250), monggo (P200), or mais (P220) to help keep you warm and satisfied. 
Kunafa
For cheese and nut lovers, kunafa (P580+) (alternatively spelled as knafeh or knefe) is the sweet treat you're definitely missing out on. This Middle Eastern and Mediterranean dessert is made with a semolina dough crust layered with white cheese, then soaked with a sweet syrup and topped with pistachios. Kunafa is typically served warm out of the oven—or toaster, we don't judge—so the cheese is deliciously ooey-gooey when you grab yourself a slice.
Aside from kunafa, Mediterranean Sweets also carries a variety of—well—Mediterranean sweets on its menu. They offer Arabic, Turkish, and Ashta baklava (P650+), atayef (P1,080+), halawa (P550+), and maamoul (P960+).
Last week, a group of T'Boli farmers in South Cotabato went viral as their boss treated them to their first fast food restaurant meal as a reward for a good harvest. The harvest in question is P100,000 worth of Carolina Reapers, the world's hottest pepper. Who knew it was grown locally?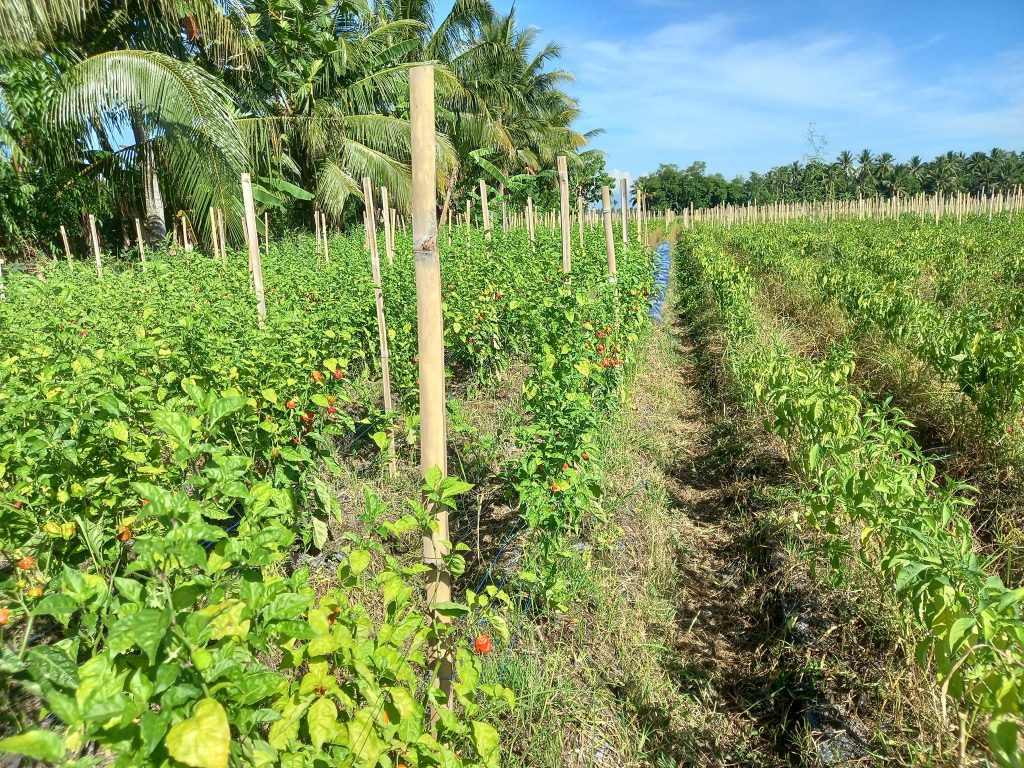 Carmen Familia Farm in Surallah, South Cotabato sells these horned peppers through its brand Sox Peppers for P1,000 to P1,600 per kg depending on their appearance. According to the farm, a harvest of fully-bloomed peppers takes a week or two.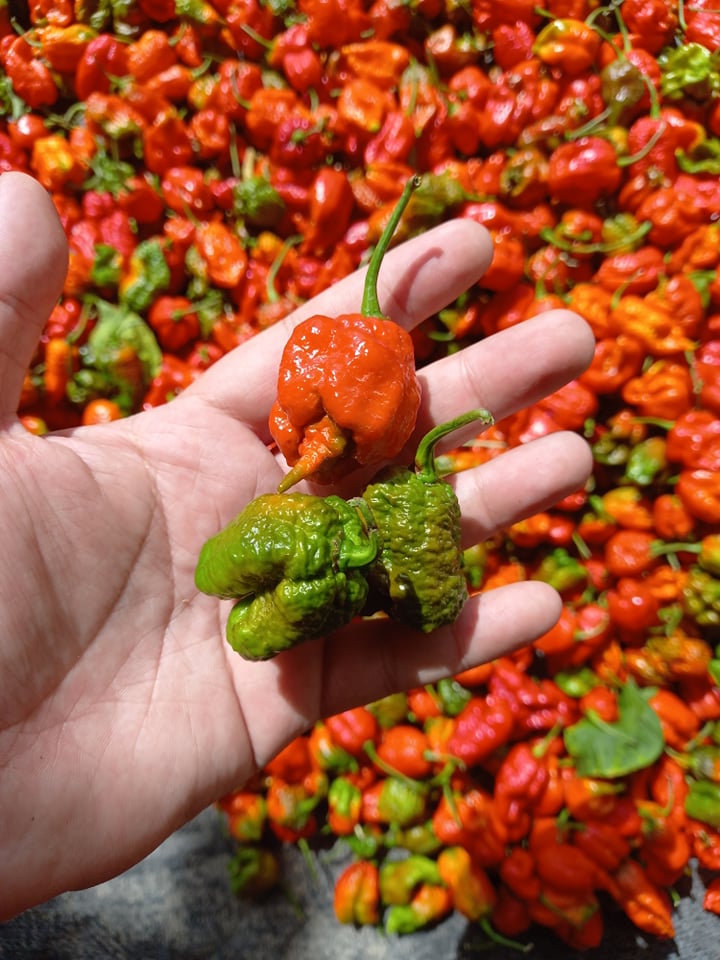 The world's hottest pepper, which clocks an average 1.5-1.6 million Scoville heat units (SHU) (for reference, siling labuyo—the real one—registers 80,000-100,000 SHU), is known for its distinctive lobe or tail. However, a phenotype of the species allows it to grow looking like a regular wrinkled ghost pepper without a tail. So if you want to try the real thing but not splurge, you might want to try the non-tailed ones.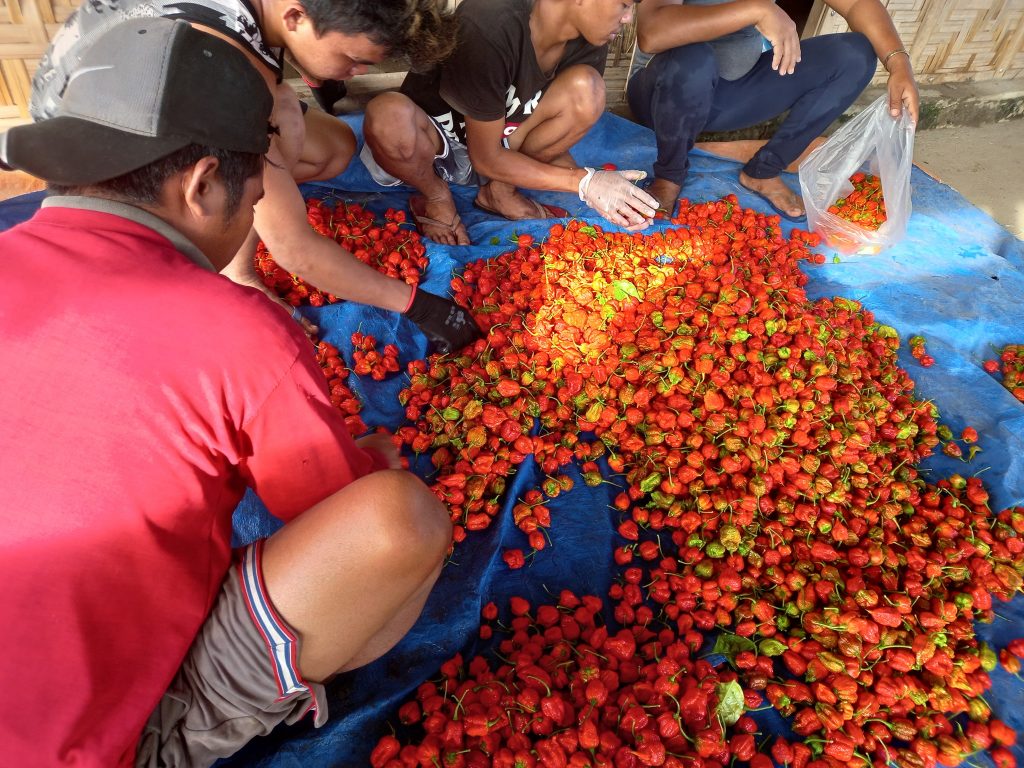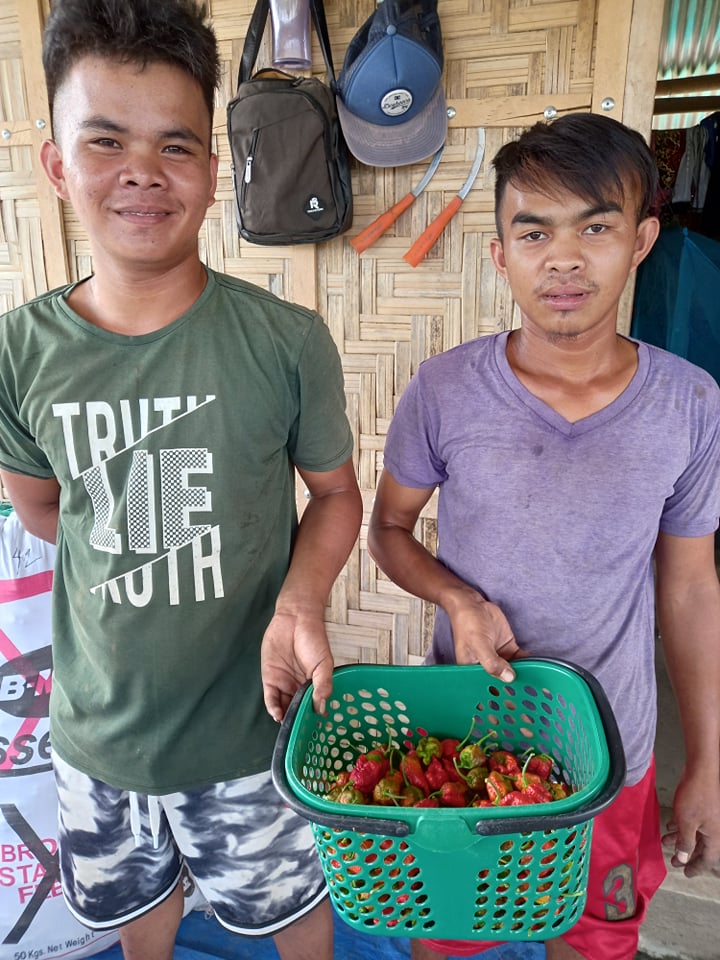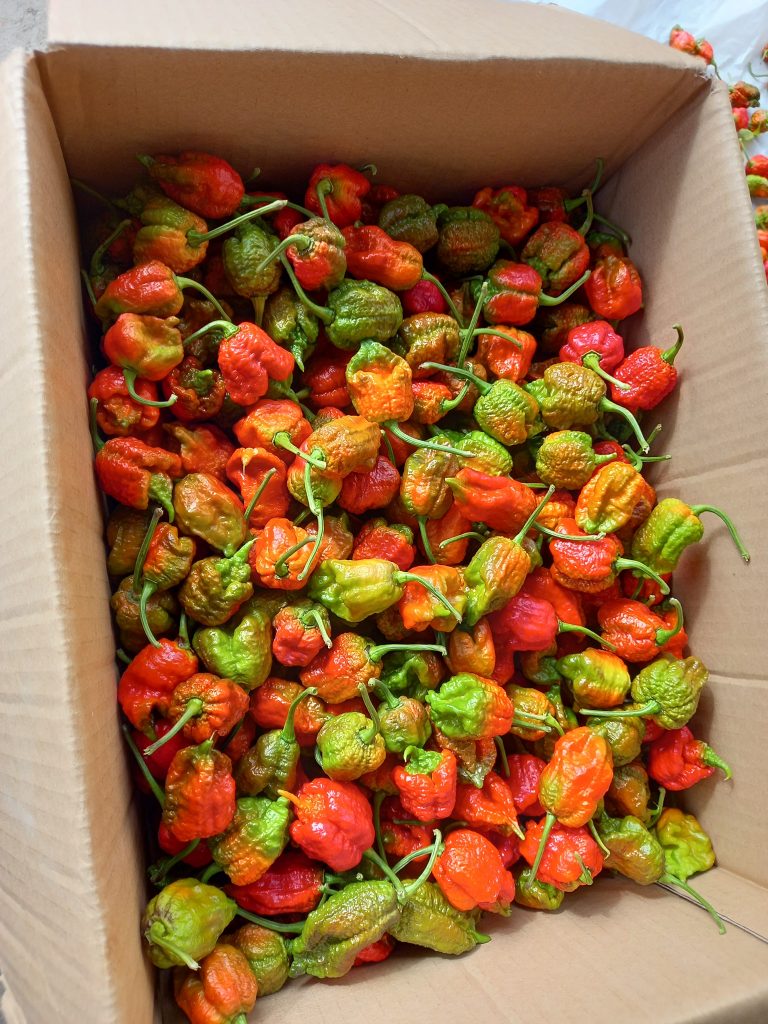 If you really want to try it, Sox Peppers has an offer for bloggers: free ½ kg but you shoulder the shipping cost from Cotabato.
Carolina Reaper is a crossbreed between La Soufriere pepper from the Caribbean island of St. Vincent and a Naga Viper pepper from India. It was created by Ed Currie of South Carolina.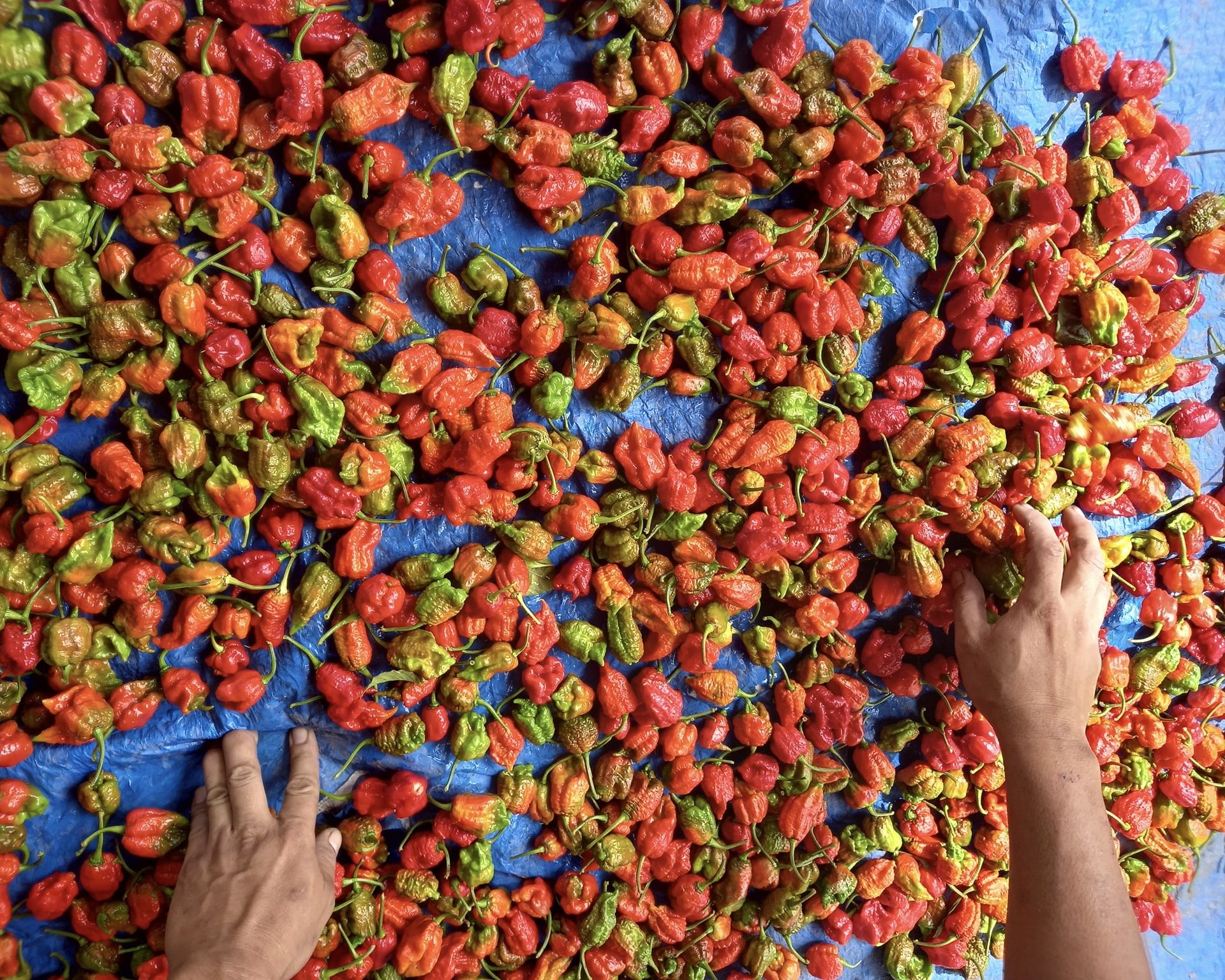 "The hottest pepper wasn't hot enough for me back in the '90s," he said in a 2019 interview. "When I created the Carolina Reaper, I really wasn't trying to make the hottest pepper in the world. I was just trying to make something that was good, and it just turned out hot."
Chili pepper enthusiasts describe its taste as fruity and sweet at first bite, then accelerating to a pungent flavor some can only describe as like eating molten lava.
How do you smoothly and gradually transition into a vegan diet? Designating at least one meal per day to be vegan might be a good strategy, and what's a better meal than breakfast to start with? After all, you need food packed with nutrition to power you up and provide you energy in the morning.
You can go for smoothie bowls right away, or take small steps like incorporating plant-based alternatives instead of animal-based ingredients in your meals. For this, you can easily get dishes delivered from restaurants—or you can try cooking the following vegan versions of your fave breakfast food.
Bacon
I actually came up with this list after seeing Gordon Ramsay's vegan BLT recipe on TikTok. Instead of pork, use crumbled tofu and rice paper to make delicious crunchy strips that resemble bacon. Marinate it with spices, maple syrup, soy sauce, and melted vegan butter before baking until it's crackly. Pair this vegan bacon with fried rice—or bread to make a sandwich, if you're on the go—for the ultimate breakfast goodness.
Pancakes
Substitute buttermilk with a mixture of almond milk, apple cider vinegar, and vanilla to make your batter vegan-friendly. To make sure that your pancake is light and fluffy without milk, eggs, or butter, add a bit more baking powder to your recipe. Like in baked goods, baking powder will make your pancakes rise once mixed with liquid.
Fried egg
I've mentioned replacing eggs with flax and chia seeds for baking before because they bind pastry ingredients well, but what if you're making fried eggs? Pumpkin, apparently, works as a good alternative for egg yolk. In a blender, combine it with corn flour, nutritional yeast, water, regular salt, and black pepper. Add black salt to capture the taste, and olive oil to replicate the texture and consistency of regular egg yolks.
For the egg white, simply mix rice flour, coconut milk, water, and salt together. Pour these two mixtures into a frying pan and voila, enjoy your vegan breakfast!
Okra has all the characteristics an eater may disdain about food. Picking it from its tree is a challenge. You might need to put on gloves to avoid getting pricked by its microscopic "hairs". Being poked by one reminds me of a stubborn cactus spike or even a wood splinter that hurts so bad and requires a tweezer, a steady hand, and some pressure to remove.
That's just the beginning.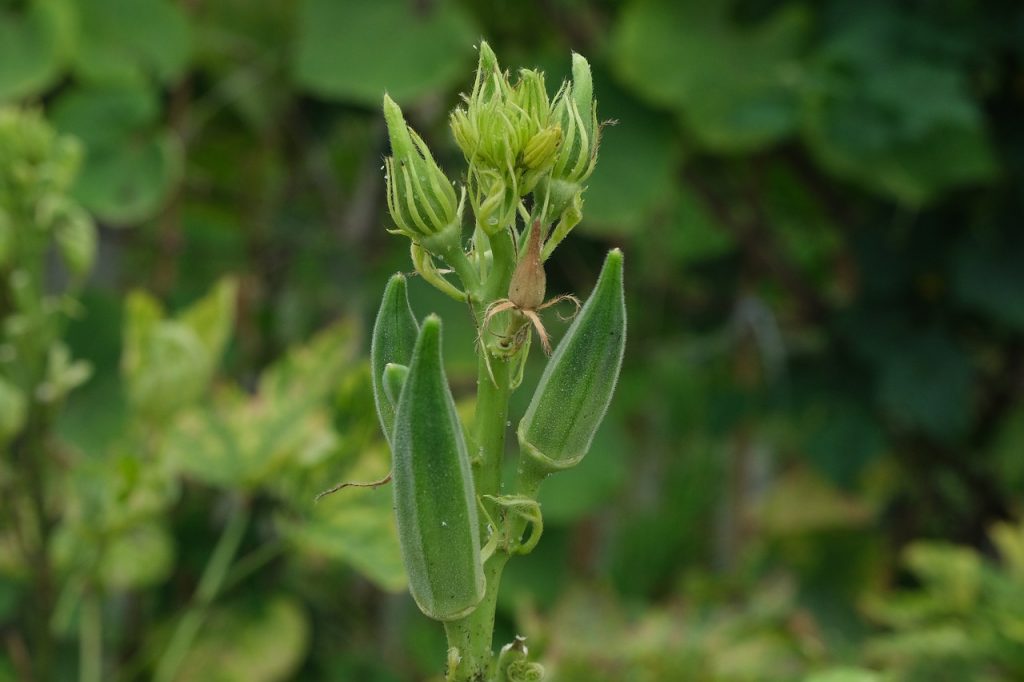 Okra is notorious for the sticky, viscous, and slippery substance it produces once sliced. Not to be gross (not that I believe food can ever be gross) but people have compared it to many bodily fluids (mucus, saliva, semen, the works).
[READ:
The girls who laughed at the thought of eating (chicken) ass
]
Those who can move past this know it is pretty much liquid gold though. In most cuisines, okra is used to thicken soups and stews as in gumbos, in a particular Japanese salad, and our very own sinigang.
Moreover, in Filipino cooking, okra on its own, outside of the marriage of many ingredients, plain steamed, provides the perfect canvas for a refreshing salad of tomatoes, onions, and fermented shrimp. To this day, I, the lone okra eater in our household, would sneak it inside the rice cooker minutes before the rice cooks to steam slender okras. I would eat it sometimes with bagoong, a liquefied fermented fish sauce, or as is with steamed rice. It's sweet, grassy, a welcome taste on the side of a rich meal, plus I do like it slimy so… yeah. I love okra.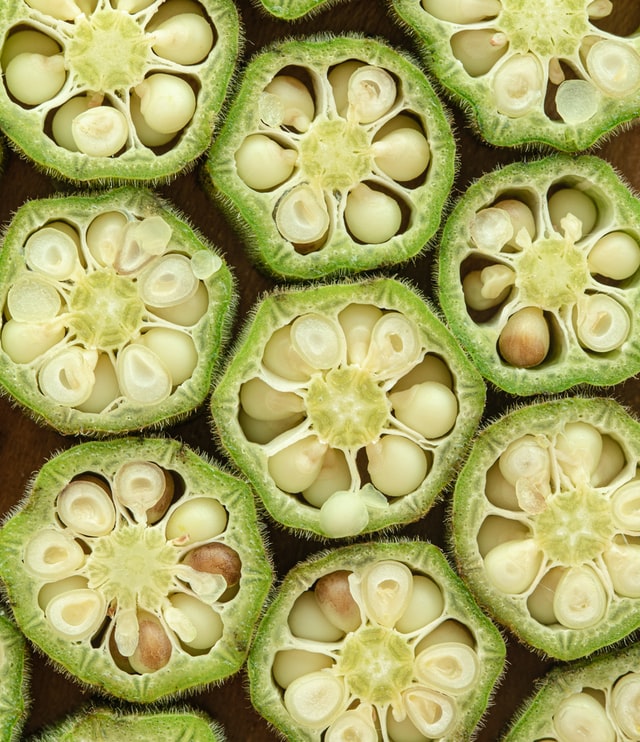 For those who couldn't fathom eating the slimy okra substance, there are a myriad of ways to get rid of it. Heat and acid are your best friends. Cook (roast, grill, sauté, fry, bake) sliced okra pieces in high heat until that liquid evaporates. The acidity found in ingredients like tomatoes and vinaigrette also tends to cut through all that slime. If all else fails, you can also dry them out then pop them as chips, the best re-introduction for okra non-believers, in my opinion.
But whatever you do, do not pass up on all the goodness that okra has to offer. Apart from being rich in fiber, this vegetable also has considerable amounts of vitamins like vitamin C (23mg/100g or a quarter of the daily recommended vit. C intake) and minerals like potassium (averaging 300mg/100g, just a few milligrams behind banana).
Okra is okay. You produce the same bodily fluids its juices are compared to and someone loves you. Give it a chance.