The middle class is suffering, but senator-elect Rafael "Raffy" Tulfo thinks they can fend for themselves. In the midst of the rising cost of goods, dwindling peso, and pending change in administration, Tulfo proposed that rice subsidies to augment the cost of living in the Philippines should be given to those who fall under the poverty line and not the middle class.
In a press Senate briefing, the radio-personality-turned-incoming senate member explained that middle-income wage earners can afford to buy goods for themselves and the priority should be placed on lower-income households.
"Pero (But for the) middle class, for me, in my humble opinion, right now, without still looking at the facts and figures, I don't think so," Tulfo said on excluding the middle class from receiving subsidies.
"Ang targetin ng ating pamahalaan na bigyan ng ayuda 'yung mga nasa poverty line (The government should target giving aid to those under the poverty line). [The] middle class can take care of themselves, I'm sure. Ikaw middle class ka, ako middle class (You and I are middle class), we can take care of ourselves so we don't need help from the government, right?" he further explained. 
It goes without saying that the people under the poverty line are the priority, but the middle class is struggling, too.
Since Tulfo hasn't taken a look at the facts and figures yet, why don't we?
Facts and figures
The Philippine Institute for Development Studies (PIDS), a government-run think tank, published a study in 2018 on the income statistics of the country. As of 2017, the study showed that almost half or 40.2 percent of the population falls under the middle class categories.
While the figure might sound impressive and initially worthy of praise, we have to take into consideration that "middle class" in the country means that the combined household income is at roughly P20,000 to P115,000.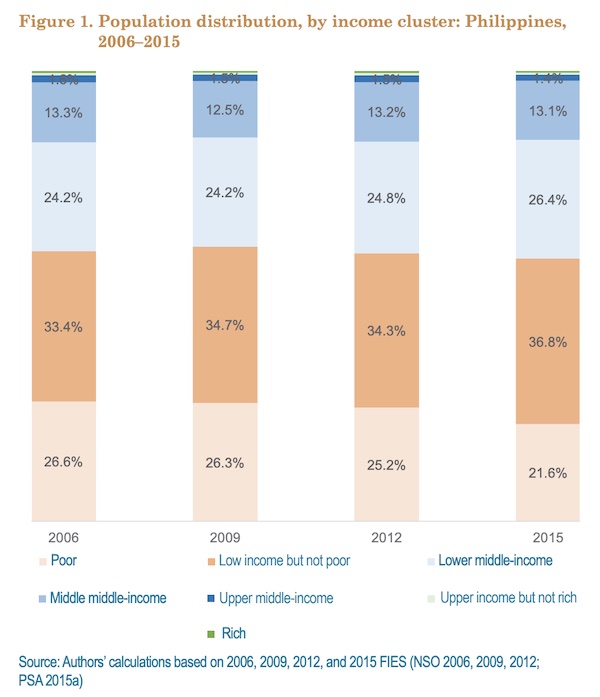 So while all 40.2 percent may fall under the middle class category, they're all living vastly different lives.
The study also revealed that 7 percent of those in the middle class bracket are informal settlers.
"In Metro Manila alone, roughly 7 in every 10 (69%) informal settlers belonged to the middle-income class in 2015, which is contrary to the conventional view that informal settlers in urban areas are the urban poor," it said.
It's important to keep in mind that these figures were published in 2018 and taken in 2017. 
Things have gotten much worse since then.
Our so-called "middle class" is also one of the highest taxed income brackets in the country relative to income. Aside from the value added tax (VAT) at 12 percent, the outgoing Duterte administration is planning to roll back promised tax cuts to help pay for the ballooning national debt incurred during the pandemic by raising VAT further and taxing more items.
These plans are being presented to the incoming administration. In short, it's up to them whether they plan on implementing them or not. 
Things like shrinkflation (the shrinking of items to help hide rising prices) have also made it more expensive to shop for groceries. To disguise the rising cost of goods, manufacturers are producing smaller versions of items and selling them at the same price. This would mean that these goods wouldn't last as long as they used to and prompt earlier repurchase.
A potentially shrinking middle class
Facts and figures aside, anecdotal evidence should serve as enough proof that the middle class needs help, ASAP. Many people have lost their jobs or have had severe loss in income due to the pandemic. 
Of course, prioritizing those who fall under the poverty line is of utmost importance, but leaving the middle class to fend for themselves without any aid whatsoever isn't the right way to go about things.
The average cost of gas, goods, and living in general have reached seemingly astronomical heights compared to what the middle-class wallet can comfortably afford. While the government is focusing its powers to help those who fall under the poverty line, what are they doing to prevent people from being forcefully shoved beneath it?
Believe it or not, our taxes are supposed to come back to us. These taxes can come in the form of helpful infrastructure, funding for public projects, emergency services, and most importantly subsidies during hard times.
Our taxes are there to benefit all citizens, especially in times of need. These are times of need. But why does it feel like the middle class is always being left out? 
Middle class isn't a synonym to living comfortably. Again, a middle-class income is P20,000 to P115,000 a year. That's a wide range not only in salary but also in what an individual or family can afford depending on their needs. For instance, what is the size of those families? Do they have a sick family member and dependents like children? How many hours do they work in a week and is their job a secure one? Bottomline is, we can't just lump everyone into one  stereotypical middle class profile.
Tulfo may be right in saying that the middle class can afford to buy their own rice, but the question is, for how much longer? 
It should go without saying that the middle class is crucial to this country. We're the workhorses that won't stop working, even if we're stuck in long PUV lines, traffic, and have to fight to get to work and go home every single day. By paying taxes, we're the ones that are keeping the pockets of the government lined to carry out infrastructure projects, even though not all of us have cars to drive on those shiny, new, expensive roads.
A shrinking middle class means fewer people spend on health care, quality education, and other necessary things to keep their lives and the economy afloat. If more people sink below the poverty line from the middle class, it means less access to those services and a poorer quality of life for more Filipinos.
Tulfo may be right in saying that the middle class can afford to buy their own rice, but the question is, for how much longer?
And sure, we can afford to buy our own rice and have a few nice things (for now), but don't we also deserve the government's support?