One mark of a thoughtful party guest is bringing a little something for the host, and the common (but very much appreciated) token is always a bottle of wine. It's convenient, and requires little planning to prepare—after all, you can just pop into the grocery or your neighborhood wine shop and pick out a bottle or two. Plus it's a no-fail gift, as booze will surely be enjoyed at any festivity.
But if you want to up the game and really show your hardworking hosts just how grateful and happy you are for the lengths they've gone through to put together the holiday feast you're about to partake in—or simply just thank them for the wonderful year of friendship—here are a few specialty shops you can order wines from. Most of these wines are natural, too.
But before we dive in, a briefer: Natural wine generally means that it's produced with no additives, chemicals, or little intervention. Basically, just juice from pure grapes, fermented, then bottled. That's it. And while natural wines are becoming rather trendy now, it's apparently the traditional way of winemaking.
How's that for some nice trivia to bring to the table when you pop the bottle at your host's party? Anyway, on to the bottles!
Some Love Natural Wines
Some Love has a wide selection of natural wines on their site. Picking a bottle from their collection is fuss-free because it's segregated multiple ways: by type (think whites, reds, rosés), flavor profile (do you want something "fresh and vibrant"? Or maybe something "earthy, spicy, and savory"?) and even by mood (are we having one of those "cool and intimate nights" or do we want some wine to bring in the "celebration energy"?).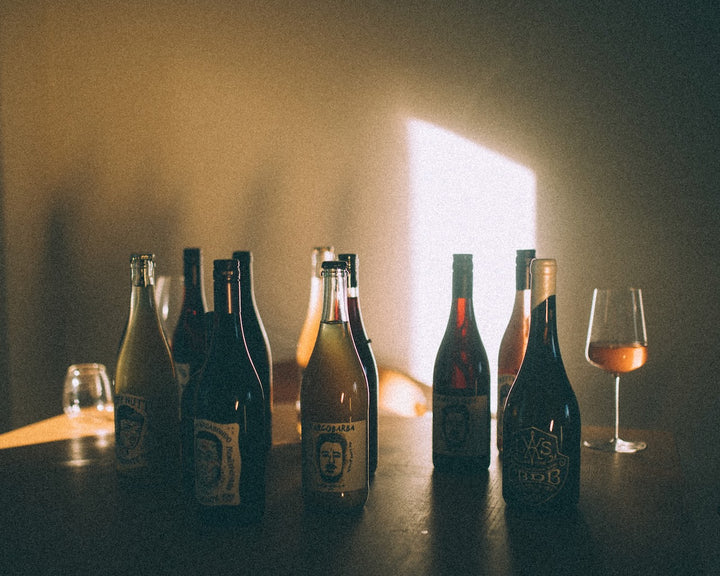 Each wine's dedicated page also features a detailed description of the bottle, its tasting notes, and even suggested food pairings. And unlike the tired, old pairings, Some Love has some interesting suggestions—think French fries and takoyaki with VHS Wines' Beast 005 Marsanne, or even pork menudo with Unico Zelo's Harvest pinot gris, and sinigang with the Dreamers Creed Fiano.
Bomb Vinos
Just as their name and branding reflect, Bomb Vinos makes the idea of drinking wine so hip and fun. You can browse their wines by type (which are further grouped into interesting subsections like "chuggable red" or "chill rosé"), flavors, occasions, and potential food pairings (think a whole section dedicated to wines that pair best with sushi or tacos or even salad, if you want a "balanced" meal.)
Aside from their extensive natural wine selection, Bomb Vinos also has wine accessories, making theirs almost a one-stop shop. Our favorite: the witty B! wine glasses that are just as fun as the wines that will potentially be poured into them. NGL, eyeing a restock of that "Papuri sa Juice" glass.
Good Morning Wines
Unlike other wine shops on this list, Good Morning Wines specializes in Japanese natural and sparkling wines. They currently source from two Japanese wine producers: Graperepublic, based in Yamagata Prefecture, and Fattoria Al Fiore based in Miyagi Prefecture. 
Good Morning Wines also currently has a wine bag collaboration with designer Carl Jan Cruz. Each bag features unique fabrics and patterns, so no one item is alike. It has two main compartments which you can use to carry two wine bottles (or anything, really), and smaller outside pockets for other knickknacks. Perfect gift, if you ask me.
Dekanto
Noting that one of the most daunting things when it comes to wine appreciation is discerning aromas—mostly because descriptors are commonly Western—this Instagram-based wine store aims to make the conversation around wine a little more approachable.
Dekanto currently only has three wines in their selection: Rieslings Alt Scheidt, No. 16, and No. 9, all from German wine producer Peter Lauer.
Their IG posts contain short, casual descriptions of each wine, locally relatable notes on taste and aroma, and equally inclusive food pairings—Riesling with kinilaw or Bicol express, anyone?