As the saying goes, the way to a person's heart is through the stomach. That's why rather than the usual flowers, balloons and teddy bear, we'd rather look forward to a romantic and satisfying dinner date with our loved ones for Valentine's Day.
You can make home cooked meals as a more personal way to show your love, but you can also order in from your significant other (SO)'s favorite food places and treat them to an exquisite meal for that ultimate at-home dinner date experience. Here's a list of places to get you started.
Appetizers
Kuh Meal
In restaurants, charcuterie is often served as an appetizer together with artisan cheese and nuts. With everyone and their mother raving about this trendy spread of delicious cold cuts, cheese and other small bites, it's a great starter piece for your V-Day date night.
Kuh Meal offers a Mini Love Charcuterie box just for the occasion, and it only costs P700. The box includes two types of cold cuts and cheese, grapes and strawberries, nuts and a bottled jam from Chanos Noms.
To order, message Kuh Meal on Instagram
Grazed PH
Here's another charcuterie option for Valentine's Day: a romantic wine night set curated by Grazed PH that comes with a complete mini cheese ball graze box, buttermilk biscuits from Sabrosa Cocina Manila, red wine truffles and a bonus bottle of red sangria. This charcuterie package is available for only P1,700 until Feb. 12.
To order, visit Grazed PH's website
Multi-course meals
Marriott Hotel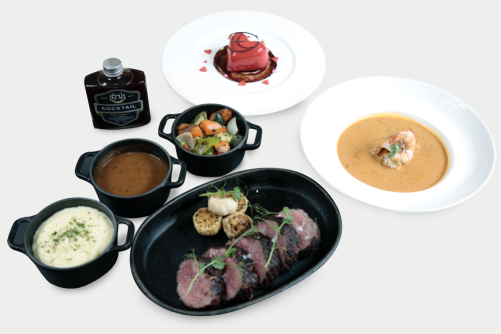 Want to give your SO the hotel dining experience at home? Try the special couple's set from Marriott Hotel's Cru Steakhouse which includes an exquisite selection of spicy seafood gumbo soup, Angus beef center cut tenderloin, truffle whipped potatoes, roasted organic vegetables, black peppercorn sauce, a "Love Dessert" and a bottle of sparkling wine. This set will be available for the whole month of February for P5,800.
To order, call Cru Steakhouse at 0917-6595420
Gallery by Chele
If there's any restaurant that we fully trust to prepare sumptuous course meals for a special and intimate dining experience, it's definitely Gallery by Chele. For the day of hearts, the restaurant is offering a special takeaway set menu which includes oven-grilled wagyu tenderloin. You can pre-order these meals for you and your SO's Valentine date night until Feb. 12 at 12 p.m.
To order, contact Gallery by Chele at 0917-5461673
Desserts
Bizu Patisserie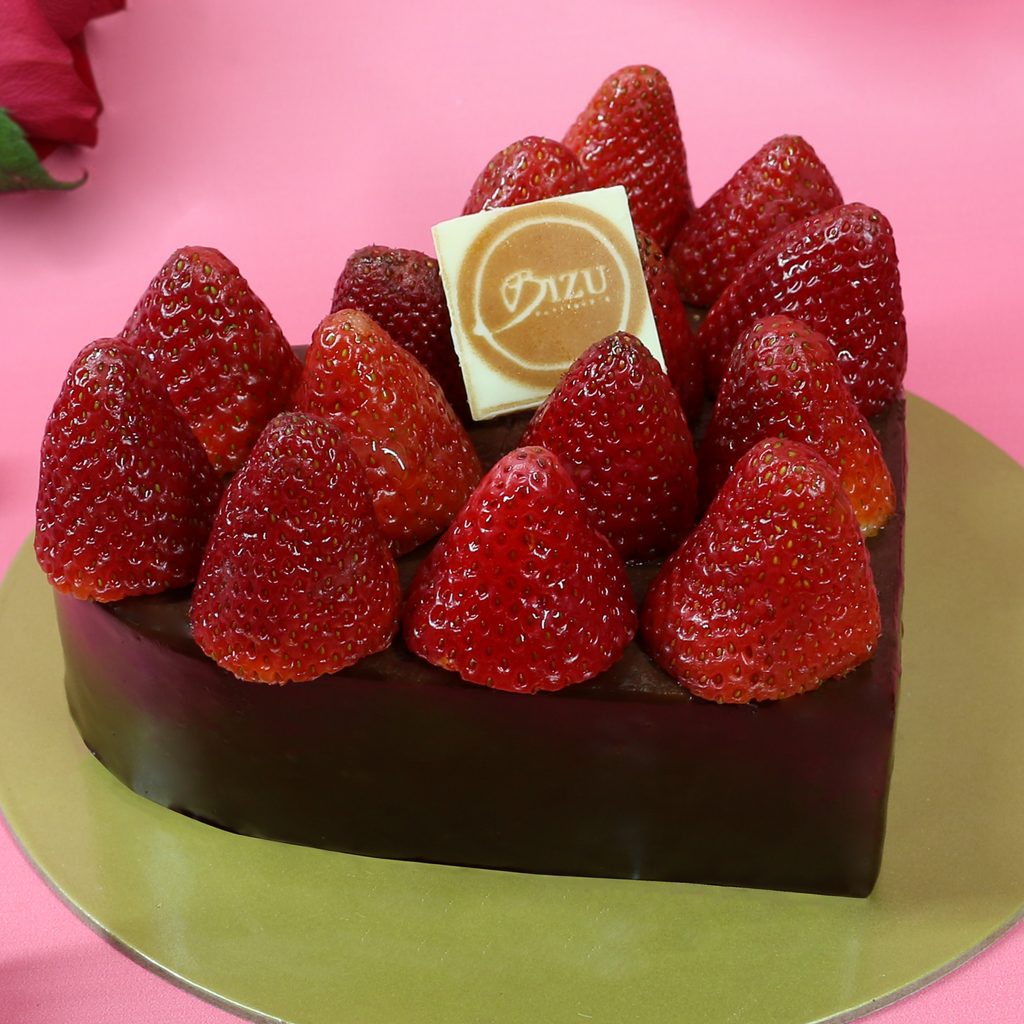 V-Day dinner dates aren't complete without delicious desserts. To bring an even sweeter finish to your romantic night, Bizu Patisserie has prepared an array of special edition pastries. This includes a heart-shaped drip cake named La Vie en Rose, which is generously garnished with fresh strawberries, meringue and macarons. Its luscious flavor comes from its combination of strawberry sauce, rose essence and Chantilly cream. 
Another cake exclusive for the patisserie's V-Day menu is the Romance Cake, a delightful treat with dark chocolate ganache, crème brûlée and caramel layers topped with farm-fresh local strawberries.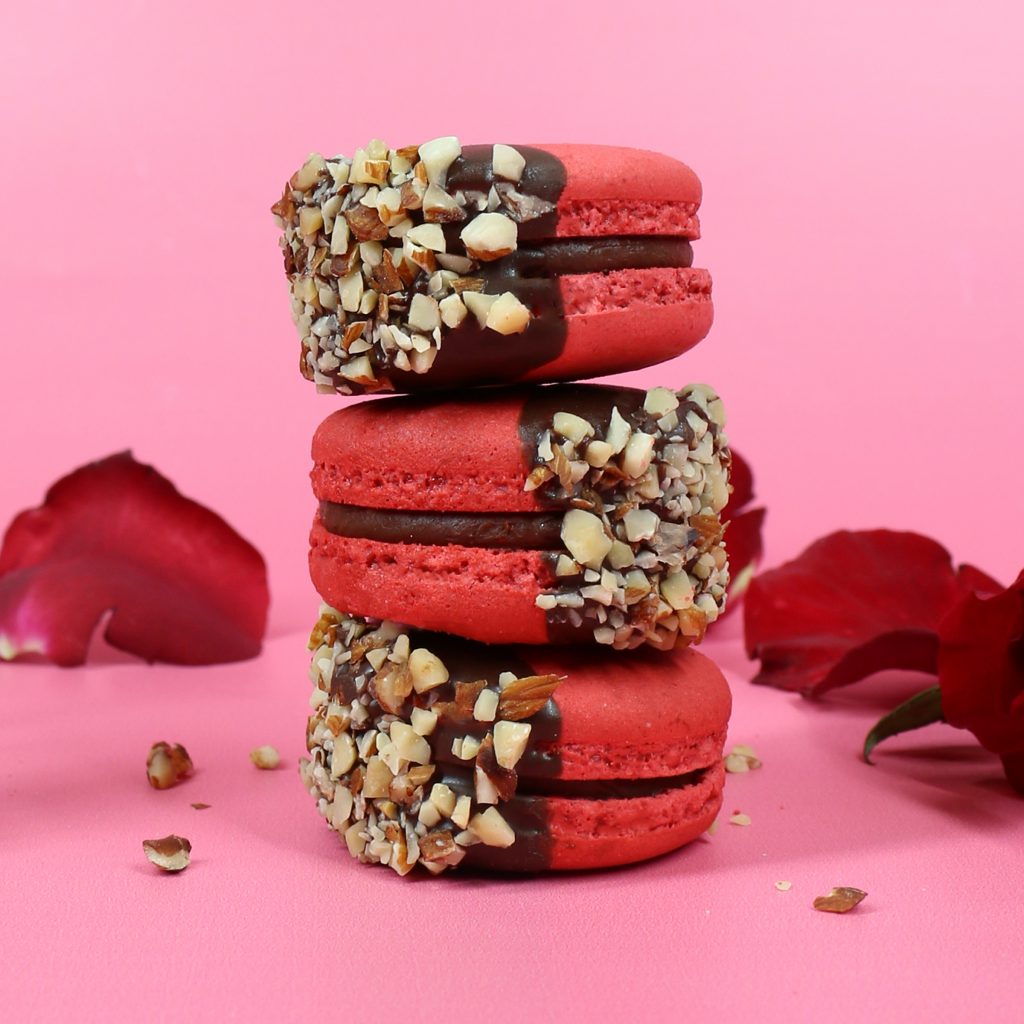 In addition to its usual macaron flavors, Bizu is also introducing a new ruby-red treat called Valentin to its dessert menu. This special Valentine macaron dipped in chocolate is made with ganache from award-winning chocolatier Malagos Chocolate and a sweet strawberry filling. It is then dusted with praline for an indulgent finishing touch.
To order, call or text Bizu Patisserie at 0915-3006082 or visit its website
Banapple
We're suckers for Banapple's banoffee pie, but for this day of hearts, try the café's newest sweet treat: the Super-Lovin' Caramel Jr. cake. Available for P650, Super-Lovin' Caramel Jr. is a chocolate fudge cake covered in homemade toffee caramel and topped with chocolate sprinkles. It is currently available for store pickup and express delivery pre-orders for those who plan on sharing a slice of it with their partners from Feb. 11 to 14. It will also be available via GrabFood on Feb. 13 and 14.
To pre-order, message Banapple on Facebook or visit its website,
Drinks
Mix Mojo
What's a couple's dinner date without some liquor? For the day of hearts, Mix Mojo collaborated with flower shop Fleuriste by Terrace Manila for three different "cocktails and bloom" gift boxes that scream "romantic" from all angles.This special kit pairs Mix Mojo's sangria, cosmopolitan or margarita with Ecuadorian roses or tulips to help you set an even more romantic mood.
To order, contact 0915-0681497 via Viber or phone call or message Mix Mojo on Instagram