The topography of Pampanga has been dotted with lahar and the girly bars of Angeles City for as long as I can remember. These two images always come to mind when thinking of Pampanga—the catastrophically fatal eruption of Mount Pinatubo in 1991 and the prostitutes who still peddle ass in the red light district long after the departure of American servicemen from Clark Air Base. Misfortune and survival are interwoven in its history.
On a swollen summer day not too long ago, paired with Manila-based Spanish chef Jose Luis "Chele" Gonzalez of Vask Modern Tapas and Gastronomic Cuisine, I discovered another hardwearing face of this province that's just a two-hour drive north of Manila, challenged by time but still smiling in its authenticity. The idea was to get out there with a city chef and cook with the Aetas—or what's left of them.
Believed to be the earliest inhabitants of the Philippines, the Aetas successfully evaded numerous attempts at relocation by the Spanish colonists, who had envisioned of subjugating the indigenous population in controlled reducciones. Steadfast in their nomadic ways, the Aetas remained in the uplands of Luzon, moving from one temporary settlement to another for centuries to come.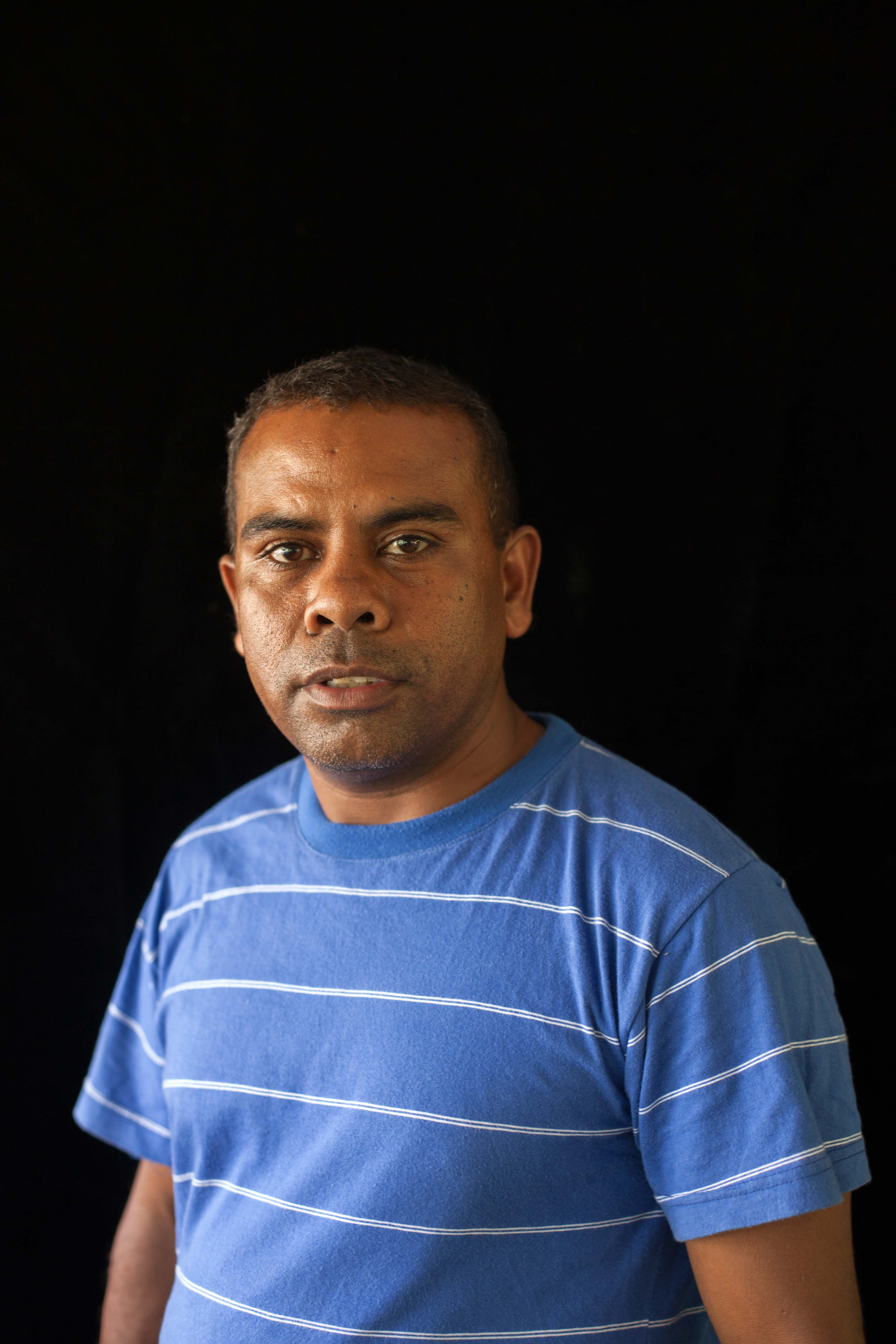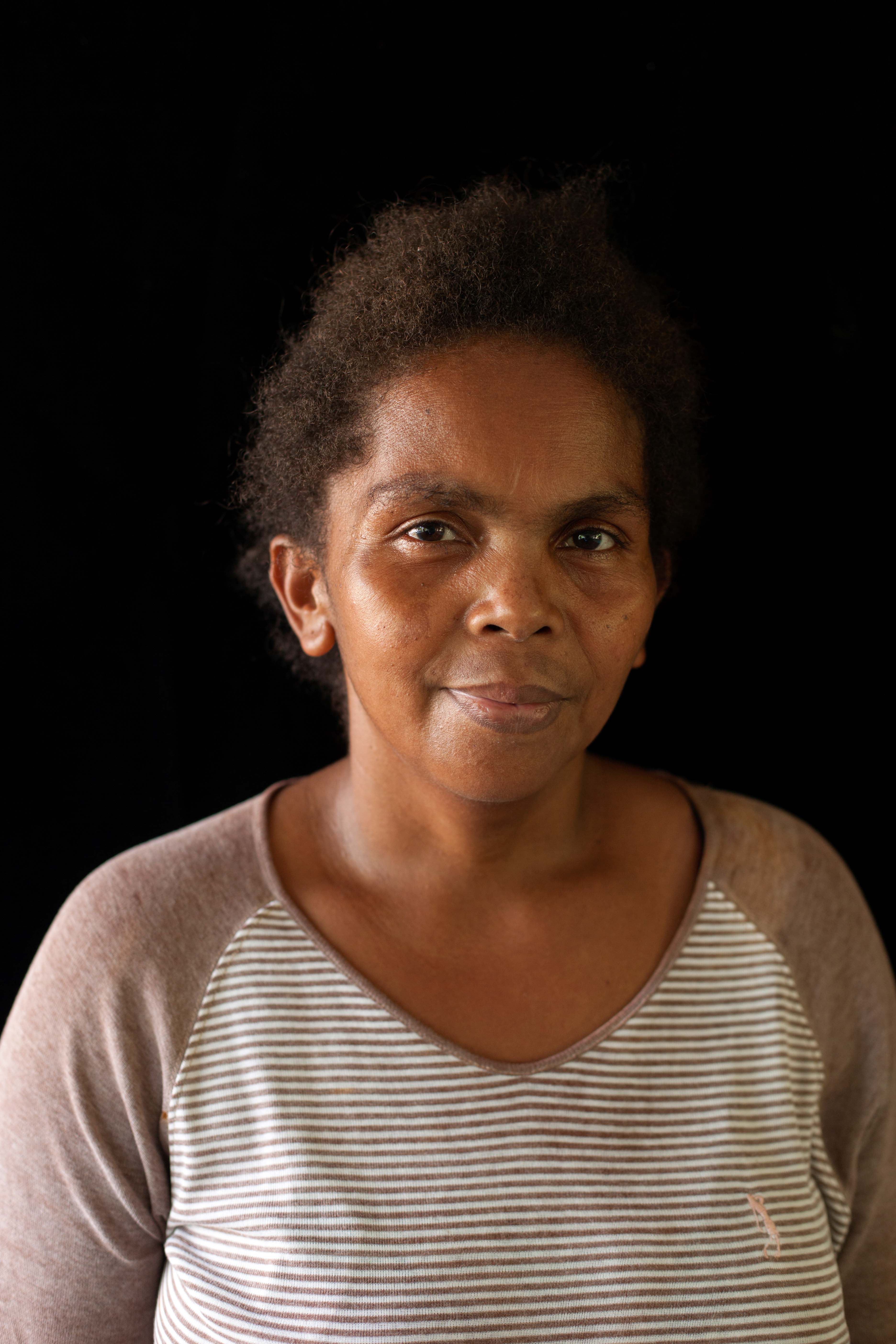 Only an unsparing force of nature was powerful enough to alter the way they lived: the violence of Mount Pinatubo chased our autochthonous brethren down from their mountainous habitat and into the towns of Pampanga more than two decades ago. The number of Aetas presently living in various Pampanga resettlement areas, which encompass multiple barangays in this part of town, comes to a little over 600.
Perched up on a hill that is accessible through a serpentine road, the Villa Maria Resettlement Center in the municipality of Porac is home to a population of Aetas. We darted past its cement brick houses with sheet metal roofs, which hung against an arid forest full of parched trees. The sound of Christian rock music was emanating from the barren Inararo Christian Church nearby—Creed, or some other jock rock quintet.
It was by an empty, open-air, singular schoolroom convent that a traditional Aeta meal was being assembled for us visitors. Banana leaves were unfurled on a utilitarian wooden table. "I'm really sorry to tell you," I confided to the much-lauded gourmet Gonzalez, "But I've never written about food and I've never eaten at Vask." It was a last-minute excursion for everyone involved, and the experience was almost pure, something genuine to observe for the very first instance. A love for adventure was the biggest motivator for our small team. "They (the Aetas) weren't able to catch any frogs since those require around two days to catch and skin," our translator informed us.
I couldn't resist but draw up juxtapositions in my head, for the male-dominated ballet before me was a veritable tableau of then-meets-now. Gonzalez, a native of Santander, told me that he's been living in the Philippines for three and a half years. "I declined job offers elsewhere to relocate here because of cultural ties and similarities," said the Spaniard. He, too, noticed that our lunch was at the helm of a group of Aetas seven men deep, all dressed in the widespread national costume of the homogenous sando-shorts-flip flops combination worn by everyone from the tip of Luzon all the way down to Mindanao; nary was a bahag in sight. Gonzalez was careful not to disrupt the process unfolding in front of him. Here was a Spaniard peacefully observing how the first Filipinos cooked before our society was colonized, before our territory was dictated by outsiders, before we were made to pray to a god we did not know.
Primitive and practical, the binulo method of cooking inside a bamboo shaft eradicated the need for pots, enabling greater mobility when traversing through mountains. The only vital utensil to be carried was the bolo, used for chopping plants and gutting animals; fire arose from two sticks of wood rubbed together. Aeta men have always assumed the responsibility of preparing food this way, and the simplicity of their tactics is a means to survive when they forage into the high ranges. The women remain at home.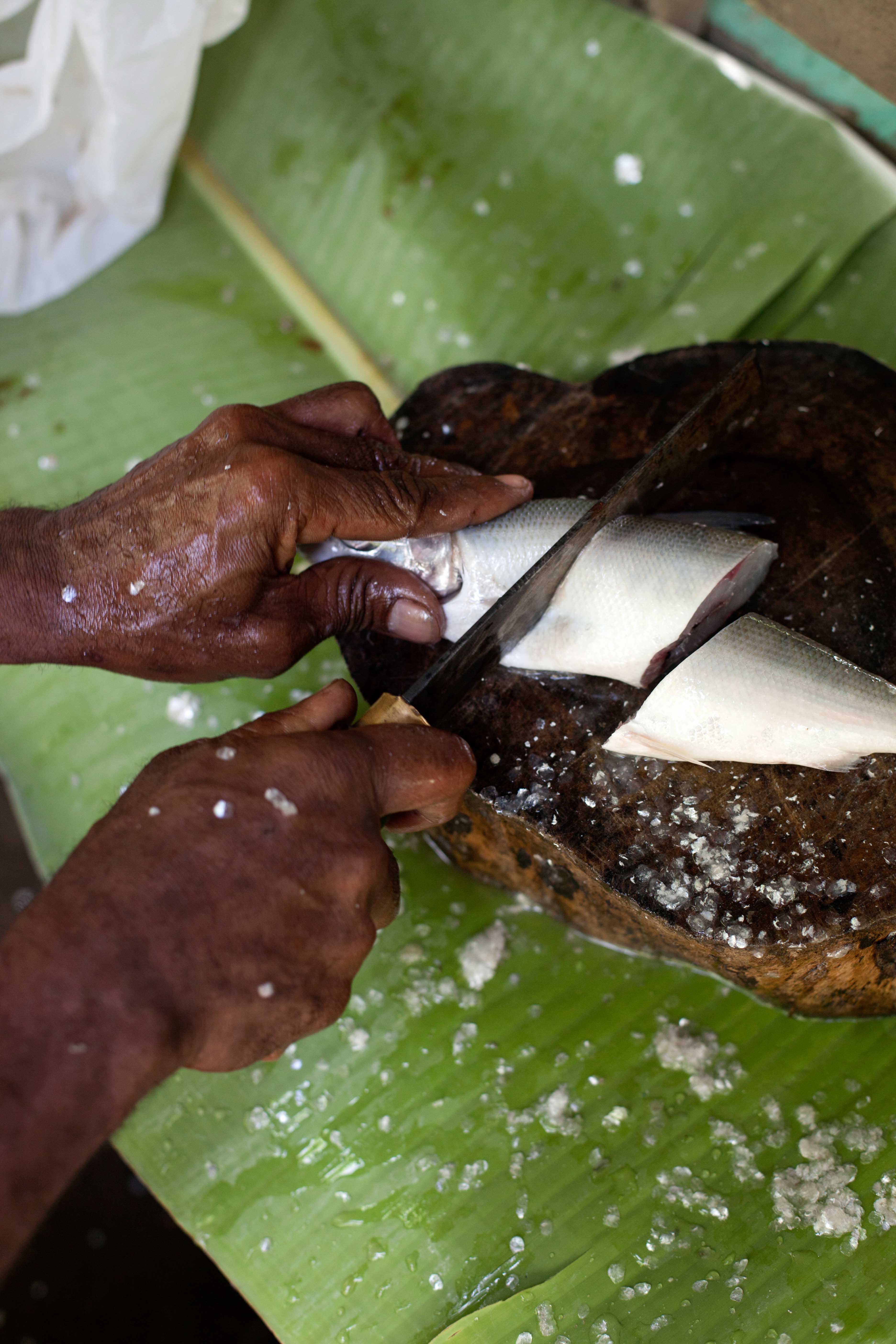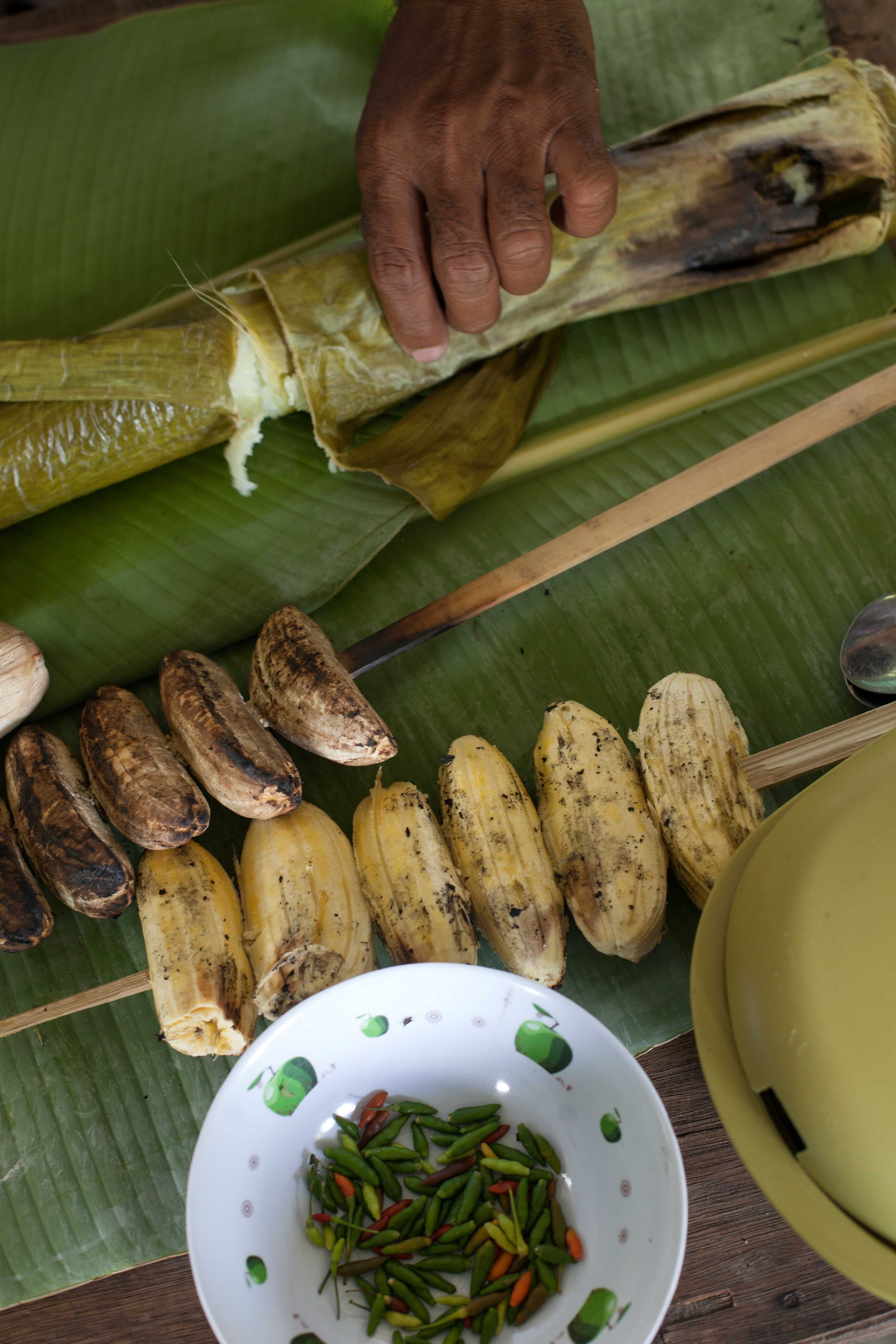 Gonzalez observed the Aeta men rinsing sections of green bamboo and lining the insides with banana leaves. "It would be really interesting to see how I can cook using bamboo at Vask," he wondered out loud. The cuisine at Vask as of late has evolved, becoming more steeped in Filipino culture, "using the same ingredients with a gastronomic twist."
From where we were sitting, concrete columns framed the Aeta men cooking under the sun. The panorama was lined with a few women and children, but none of them partook in the action. There was also no exchange of names with the locals except for a fleeting introduction with Barangay Captain Benzon, or "Cap." He showed us how to make disposable cups from folded banana leaves. Later, we witnessed the men eschew drinking glasses in favor of these.
Along with the rest of the Aetas at the Villa Maria Resettlement Center, Cap did not speak Tagalog. A translator decrypted his Sambalic mother tongue of mag-antsi. We learned the names of the leaves that would be used to flavor the binulo: balinaknak, kaibangbang, pingol bato, and baoukuk. "Did I spell the names of the leaves correctly?" I asked Cap, showing him my scribble-filled notebook. He glanced at the words on the page but did not say anything, and went back to descaling bangus. Our translator spoke over my shoulder, "Sometimes, they can't read very well."
[blockquote]It shouldn't take a foreigner like Gonzalez to remind us that there are Filipino culinary traditions we should appreciate and propagate, that value lies in the indigenous practices that we often overlook. [/blockquote]
The balinaknak would feature most prominently in the day's feast, used as an intense souring agent in lieu of vinegar. Balinaknak broth was made from simmering the leaves in salted water. Clear and reddish purple in color, it tasted slightly herbal with a tart bite. Although all the leaves tasted acetous, the balinaknak was the strongest in flavor. The bamboo was flushed with water and further stuffed with rice, leaves (banana to line, bitter herbs to taste), and meat (either pork or bangus, both bought from the market since we didn't give them enough of a heads up to slaughter a pig or go fishing). Salt and Ajinomoto seasoning were used to season the proteins. Then, the cylindrical husks were perched above a bonfire to boil their contents. Wait—Ajinomoto? When did flavor-enhancing MSG become part of the all-natural Aeta diet? "In 1991, after Mount Pinatubo erupted and we had to come down from the mountains to the towns," replied Cap. An honest answer, at least.
Saba bananas and cassava roots were roasted on the fire, coming directly in touch with the wood and stone that kept the flame alive. These starches were served to us first as an appetizer. Neither was seasoned. "Eat to live, not live to eat," I thought to myself. I surmised that they were consumed first to placate hunger and provide energy for further foraging. The cassava was the winner of this round, softer and more talcum-like in texture than the compact and gummy saba.
As we waited for the rest of the dishes to arrive, our guide imparted to us that the younger generation of Aetas are seeking further education, taking an even bigger step away from their customary nomadic lifestyle; one had just recently graduated from the University of the Philippines College of Law. In the past, Aetas had been resilient to human invaders. Their way of life was only irreparably disrupted by a singular act of nature, when the fiery mudflow rumbled down from an awakening volcano. Was change good or bad? Who decided when it was welcome?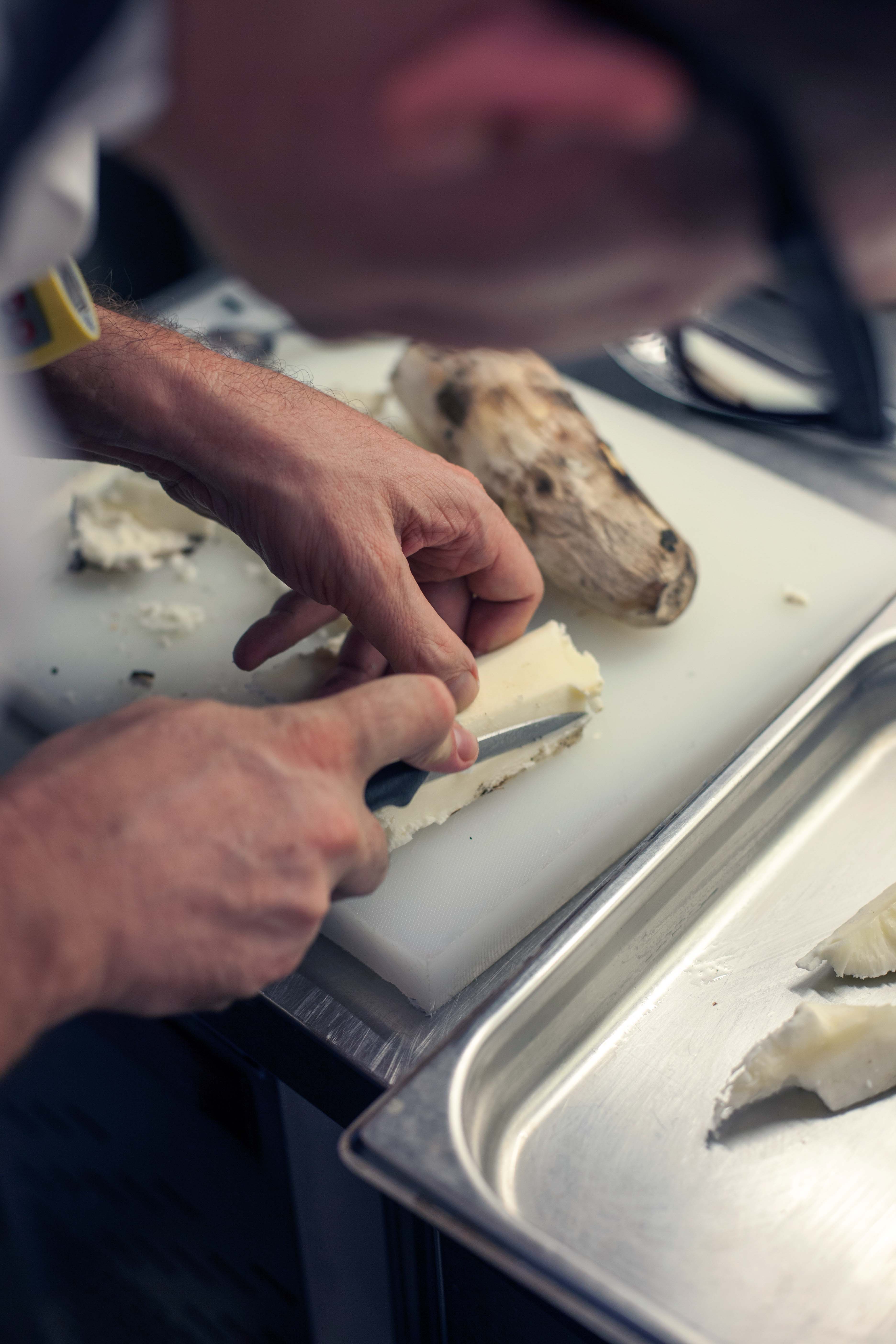 The bamboo had transmuted from a vibrant green into a blackish brown. This meant that the binulo was ready, an hour and a half after preparations began. Aetas used the bolo to shuck stalks of their contents, and the rice slid out of the wooden casing compact like the more glutinous variety, though at the same time, it was not sticky at all. Gonzalez held up a solid portion of the rice, still wrapped in banana leaf. "This is good to take home."
The bangus and pork binulo both had hints of sinigang to them, but they were less sour and didn't kick you with a mouthful of salt. Flavors were smoky, earthy, and aromatic. Dishes were by no means out-of-this-world amazing, but the depth of character they possessed was an exceptional peek into a way of life that will disappear soon. Cap admitted that binulo was only used for special occasions these days. "Our favorites, in this order, are boiled paniki (bats), bayawak (monitor lizard), and sawa (python)." Most especially the paniki; that particular delicacy would cause furor at fiestas.
Another two hours, and we are transported to Gonzalez's domain, the kitchen at Vask in all its plush modernity. He quickly delegated for the bangus he had brought back from the Aeta to be cleaned by his male sous chef, mirroring the patriarchal Aeta arrangement. Then, careful not to spill even a single drop, he emptied the precious balinaknak cordillera broth into a shallow pot. "I'm using the same technique for the fish," he explained. "Just simmer it in the water with all the herbs." While we were still up in the hills of Porac, he had stressed that he didn't want to disrespect any aspect of Filipino cuisine whenever he applies his own touch. "What I'm looking for actually is the same flavor."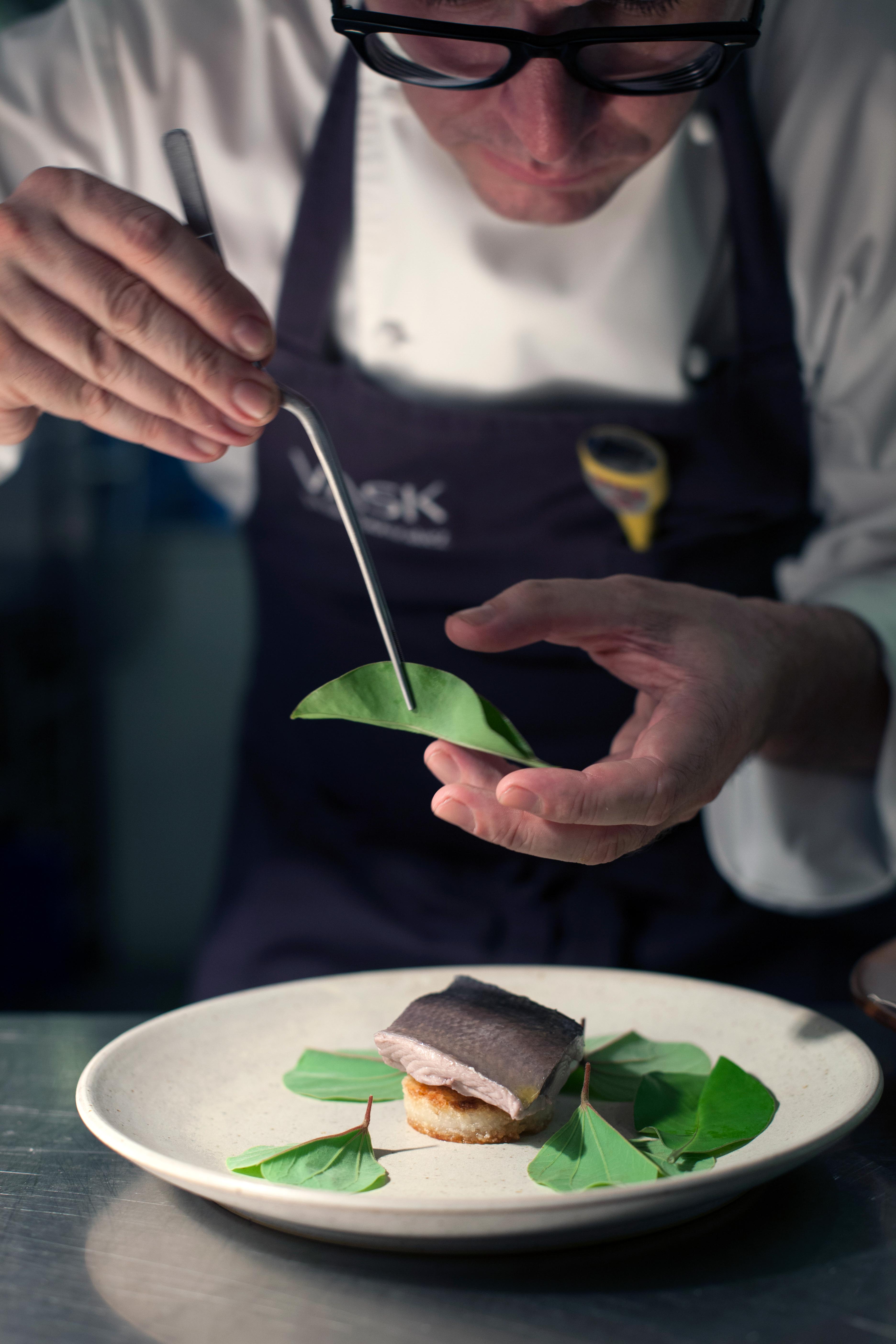 The packed binulo rice was sliced into inch-thick discs, pan-fried in olive oil "to make it crispy and more sophisticated." Gonzalez puts emphasis on the process of his craft; even when he is experimenting, he is precise in his mission. I watched him drop the balinaknak, baoukuk, and kaibangbang into a deep fryer full of olive oil, turning the foliage crisp and magical. Chunks of cassava the size of steak fries joined the leaves in their transformation. He used salt to season, but while the Aetas had Ajinomoto, he used olive oil.
His finished re-imagination of bangus binulo is arranged on a dish from Iligan, the place of origin of his sous chef—uniting two far removed localities on one plate. In a sense, the Spaniard did divide and conquer, but this time with so much more mindfulness and appreciation of an object's origins.
The bangus still tasted like our sticky and redolent afternoon with the Aetas, but a brush of olive oil applied to the skin was a pleasant reminder that our physical and temporal setting had changed drastically and quickly. As for the rounds of rice, they embodied a different dimension now: the flavor of smoke was intensified with the quick slap of a heated pan, and the cassava held itself together, more intact and less chalky.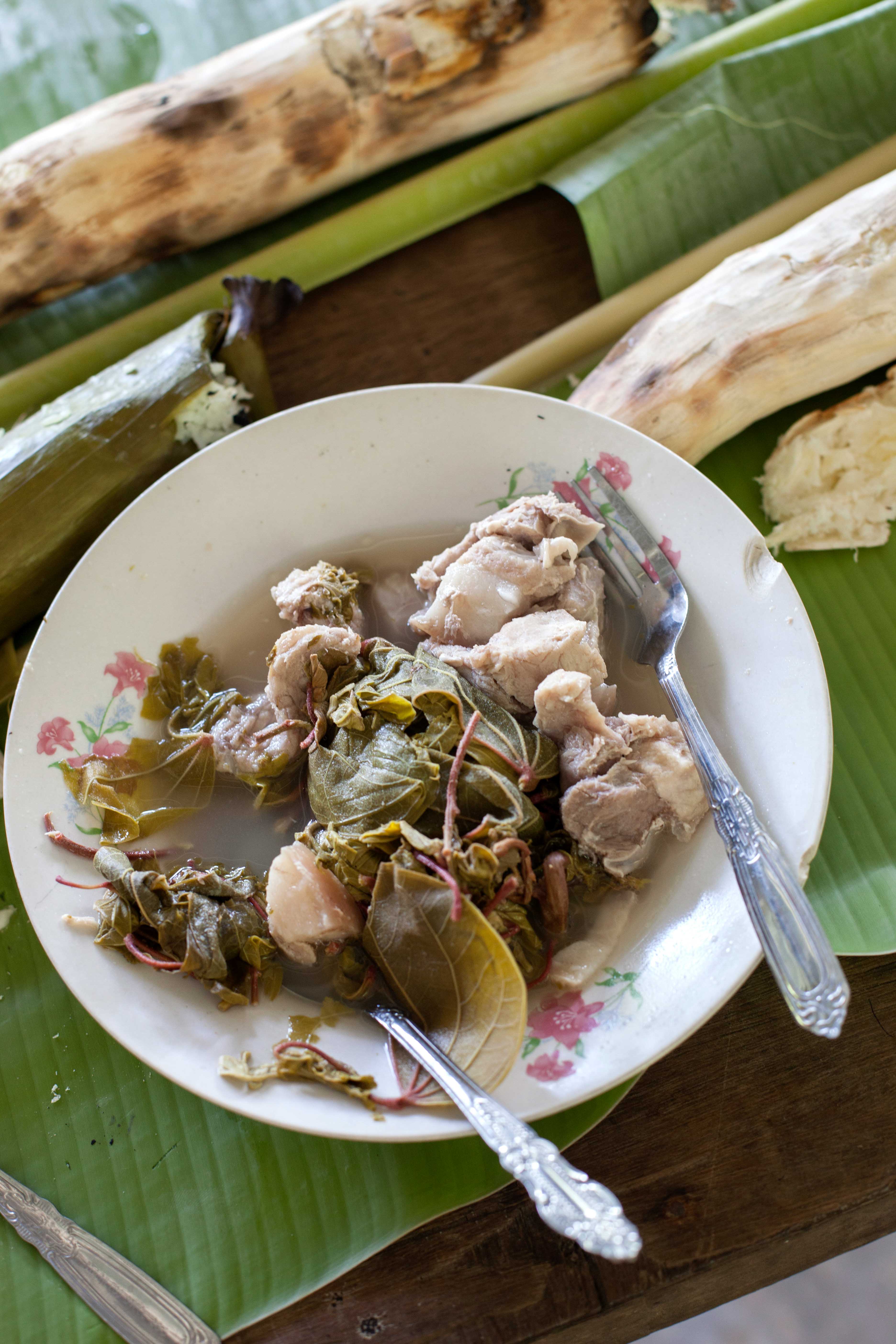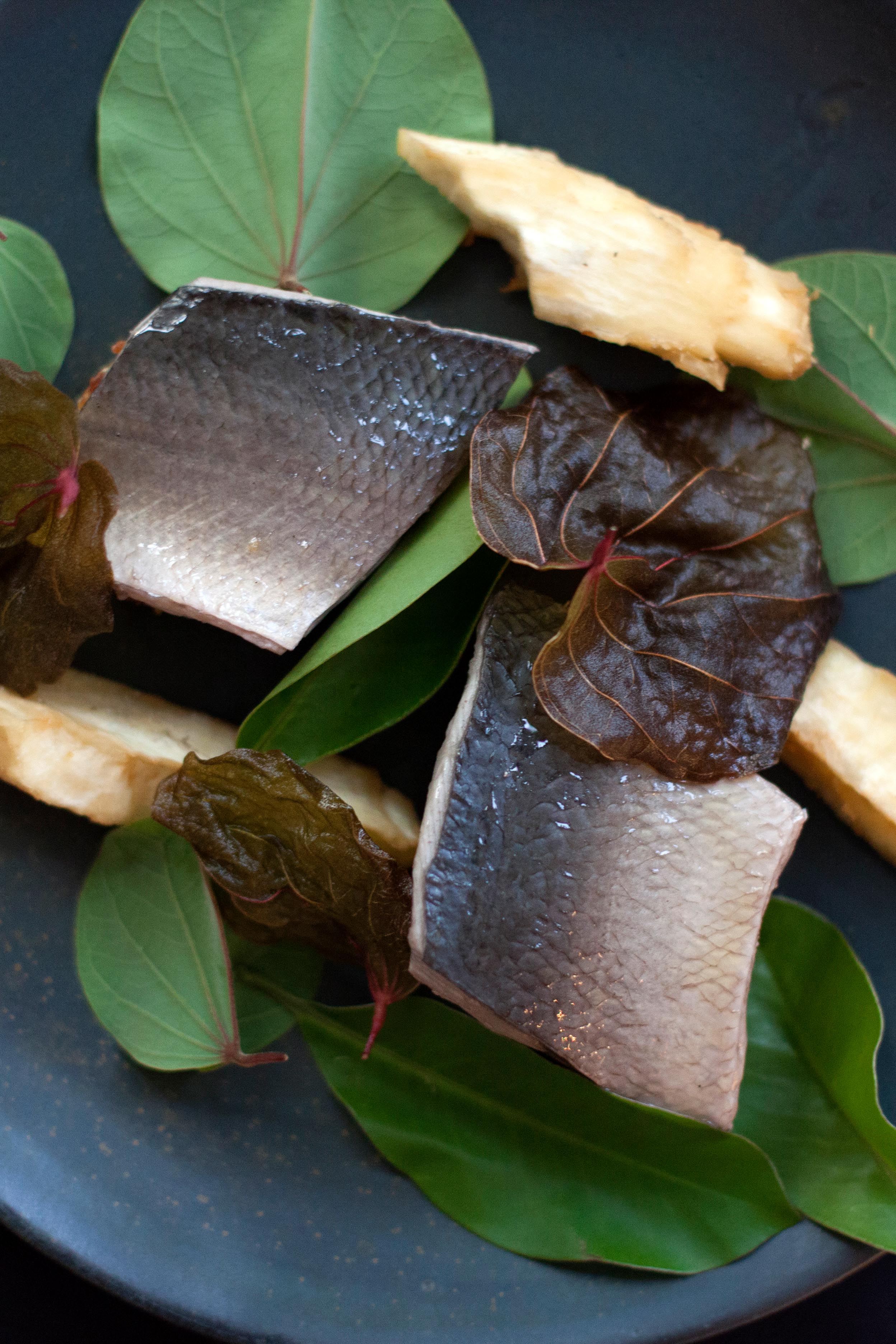 However, the real standout was the deep fried balinaknak, baoukuk, and kaibangbang leaves. "No limits," as Gonzalez says of his philosophy, and that's what happened to the indescribable explosion of tastes that came with the fried leaves. Salty, bitter, sweet, sour—it was never ending. Over bites of subtle fish and punchy herbs, the chef began to lament the emotionless culinary reiterations that predominate Manila's fine dining scene. "The trend now, I think, is most chefs who work at hotels import produce from France, the States, and Australia. It's like they're blind and don't want to go outside or see what's going on."
A few lessons were reaped from our daytrip to Pampanga: evolution is natural. Though initially disruptive when a sudden reorganization occurs, adapting to change enables societies to survive. The big Aeta reveal was that the once-defiant people have come to terms with assimilating, but not completely, or at least not yet. They hold on to their old practices, though these are slowly disappearing as their descendants go further into cities to pursue higher education.
It shouldn't take a foreigner like Gonzalez to remind us that there are Filipino culinary traditions we should appreciate and propagate, that value lies in the indigenous practices that we often overlook. We all should explore more to see through the grit and grime enveloping physical terrains. Underneath all that dust and neglect lie unique exploits, if we only paid as much attention to what is going on locally as we do internationally.
Writer: HANNAH CRUZ
PHOTOGRAPHY SONNY THAKUR