Despite quarantine, we longed to visit Pampanga, the country's culinary capital with its distinct cuisine. Fortunately, the isolation didn't stop Kapampangan culinary figure, chef Sau Del Rosario, from delivering food, literally—alongside some goofiness—from Pampanga to Manila.
[READ:
4 restaurants in Angeles City to visit for an authentic Kapampangan food trip
]
In the early days of the lockdown, chef Sau focused on pastries. In April, he posted a photo of a confection he's made, an egg pie he jokingly called Heg Fye in reference to the comedic mispronunciation among some Kapampangan speakers. That stuck—both the name and the pie itself—and soon he was making buko pie, too, jokingly called Vuko Fye.
The pies were on every stuck-at-home foodies' list in the metro until quarantine restrictions were loosened. Nine months later, chef Sau opened Le Petit Café Fleur, literally a smaller, more cosmopolitan version of his Angeles, Pampanga restaurant, in Poblacion, Makati.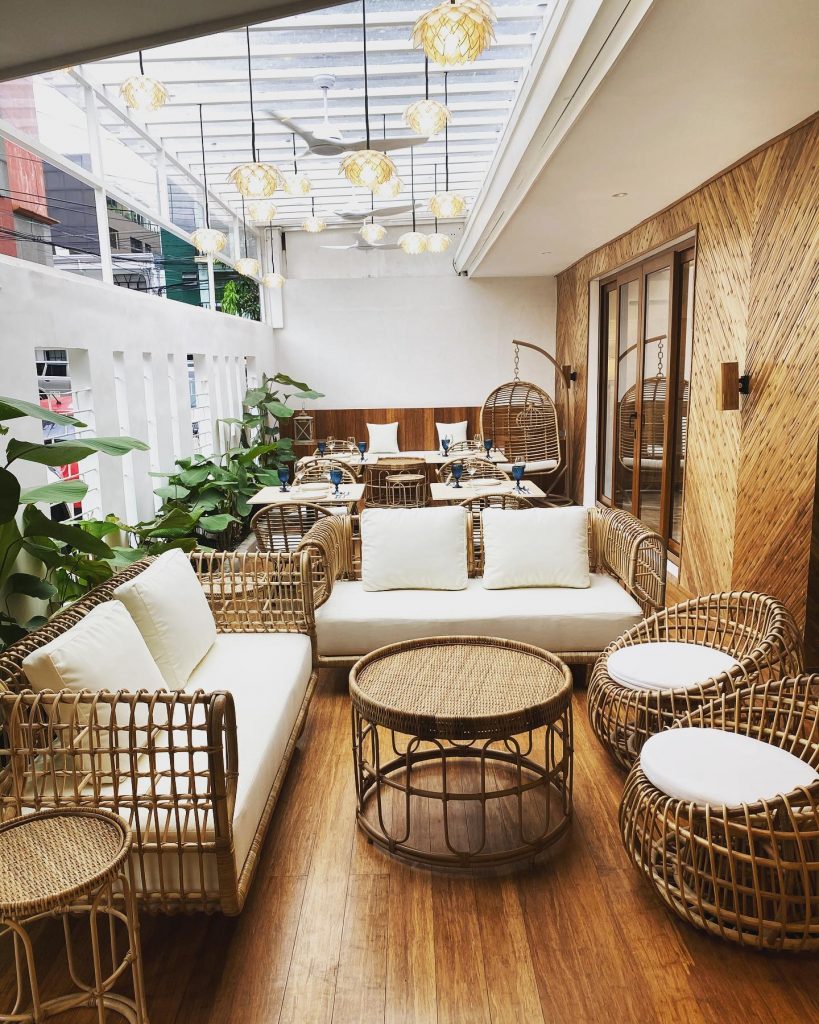 Part restaurant, part "bekeri"—yep, he's sticking to his comedic guns—Le Petit Café Fleur is currently on soft opening and serving only a few customers due to restrictions. And yes, people are more comfortable dining in now. For those who may not be, there's an "almost" al fresco section outside, a garden-style seating arrangement reminiscent of a boutique hotel in a tropical destination. Warm with wooden floors and wall panels, the area receives enough light through a make-shift sunroof, enough to fool you into thinking that you are otherwise in Pampanga and not in the heart of Makati.
Pampanga-meets-the-world menu
Known for his avant-garde takes on traditional Kapampangan cooking, Del Rosario's newest concept is a comforting mix of familiar Filipino flavors and some Western fare. Local favorite pork bola-bola misua and patola, for example, is served with sourdough rolls and sits comfortably on the menu alongside the Italian squid ink aglio olio, the Mediterranean shakshuka (sous-vide organic eggs in a sauce of tomatoes, olive oil, peppers, onion and garlic) and the Latin American boneless pollo a la plancha.
Of course, there's bread. For one, the chef's quarantine hit Vuco Fye stays, along with a selection of other "hilarious" pastries made in-house including the Vananah Walnut Malagos Cake.
In keeping with the interiors' tropical-Mediterranean vibe, there is a lineup of color-coded smoothies like the green smoothie made with kiwi, honeydew, avocado and lime, and the white smoothie made with lychee, guyabano, banana and coconut.
A socially-distanced dining setup
In a preview of the space on Instagram TV, chef Sau virtually tours outdoor dining-starved guests in his spacious new culinary address at 5893 Enriquez St. There's the "bekeri" living up to its name with bread strewn across a pristine paneled counter as one usually finds in a local neighborhood bakery. To its right is a see-through baker's kitchen and on its left is the airy al fresco area.
Going inside, one is greeted by a circular booth that can seat a party of four socially-distanced diners. Then there are three tables for two with enough room to allow the minimum six-feet distance between individuals. An open kitchen bookends the interiors, where the staff makes almost everything fresh including the pasta.
Open Tuesdays through Sundays from 10 a.m. till 10 p.m., the restaurant currently accepts bookings by appointment in keeping with safety protocols.