App-based alternatives to Uber that you might want to try
Yes, we miss Uber but life goes on
Aug 17, 2017
It was only yesterday that I realized how dependent I've become on Uber, after having walked to the MRT's Magallanes station from one end of Chino Roces Ave.
Since I was aware of the ongoing LTFRB ban, I didn't even bother opening my Uber app. I tried Grab, but to no avail—it was either buggy or there were no drivers available. Before I knew it, I had already walked more than halfway to the MRT out of frustration, and riding a tricycle or jeep didn't seem to make sense considering the traffic.
And so I walked—which actually felt good (I did appreciate the extra workout)—but I could have saved more time had I tried other options. Don't get me wrong. I take various modes of public transportation, but there are just days or events that require services like Uber. Yesterday was one such day for me.
Aside from Uber and Grab, there are actually other app-based ride-sharing options you can explore. So if ever you find yourself in a similar situation, here are some alternatives that you can book via phone:
1. Wunder Carpool
Wunder is essentially a carpooling service. According to its Facbook page, "it's an Urban Carpooling App which is designed to simplify your daily commute to work and home." Upon signing up, the Wunder app "matches you with other Wunder Community members" based on your work and home location, and your travel time.
Wunder also encourages passengers and drivers alike to talk about their routines and know more about each other to promote a sense of community among its users. Carpooling, after all, is dependent on the groups of people that participate in the practice.
Wunder makes it easier for users to navigate its app and its features by making tutorial videos accessible on social media.
A lot of Wunder users also swear by the big price difference, saying that the app-based carpooling service cuts their transportation costs by more than half their usual spending.
2. Angkas
Fair warning: Angkas isn't for everyone, but it does the job quickly for those who dare to try it. It's an app-based service that deploys motorcycles on-demand. The word angkas roughly translates to hitching a ride with a biker and that's exactly what the app offers.
While others may question the services' safety, Angkas assures users that:
All bikers go through a screening process that assesses skills and background
All bikers go through safety training
Good quality helmets, ponchos, and masks are provided
Passengers are covered by insurance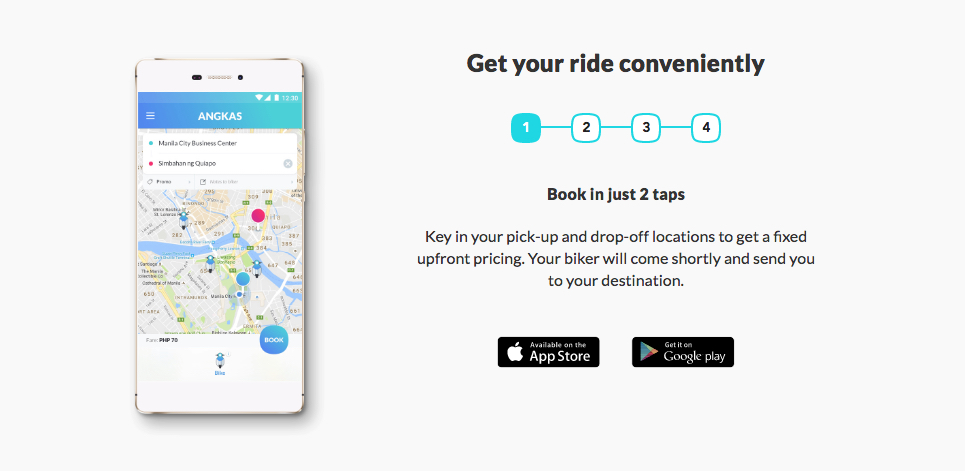 Pricing is fairly simple, too: "Fares start at P50 for the first 2km," the Angkas website says. After that, P10 is charged for every km that follows.

Note, though, that prices will vary depending on the demand for bikers. It may also be wise to check which areas in Metro Manila do not allow ride-sharing on motorcycles, like the city of Mandaluyong.
3. Micab
Okay, Micab isn't actually operating in Manila yet, but the company, which started in Cebu, has announced plans of servicing Metro Manila in the coming months. What's interesting about this app, though, is that instead of deploying drivers with private vehicles, they actually partner with existing taxi franchises and utilize their vehicles and drivers.
Simply put, Micab is a cab-hailing app that allows customers to book a taxi easily via smartphone.

A selling point is that unlike Grab, Uber, and even Angkas, Micab doesn't have surges. It simply charges a booking fee on top of the taxi meter.
TAGS: angkas commute fixture Grab LTFRB manila micab News nolisoliph Uber wunder wunder carpool