Aug 30, 2017
A seafood company just made salted egg fish skin available for the mass market
It just dropped on the shelves of 7-Eleven
If you're obsessed with Irvin's salted egg fish skin, you're in luck.
There's a more affordable local version, retailing for P195 a pack, that recently showed up on the shelves of 7-Eleven.
Frabelle Salted Egg Fish Skin comes in regular and spicy variants.
The regular flavor seems like it was calibrated for the Filipino palate, with its mild and sweet flavor profile.
Frabelle Market Corporation (FMC) is known for its fish products, thanks to a fleet of over 100 fishing vessels. You'll find most of their products lining the freezer section of most supermarkets.
A little under a year ago, Frabelle family matriarch Bella Tiu-Laurel tried Irvin's Salted Fish Skin and gave the directive to replicate the company's success.
"Being in the seafood processing business, FMC processes salmon and generates a lot of salmon fish skin as a byproduct," says managing director Kei de Jesus. "FMC has been looking for a value-added product which would utilize our fish skin."
"FMC went through rigorous research and development process in formulating Frabelle Foods Fish Skin," de Jesus says. "Initially, FMC looked into the different local and imported fish skin brands—including Irvin's—to establish a product benchmark in terms of taste and bite, crunchiness and crispiness. The goal was to come up with a superior quality fish skin snack but at a more affordable price to reach a larger consumer base."
The results are pretty good. The skins are large and crisp, and the flavor milky with a faint saltiness from the salted egg.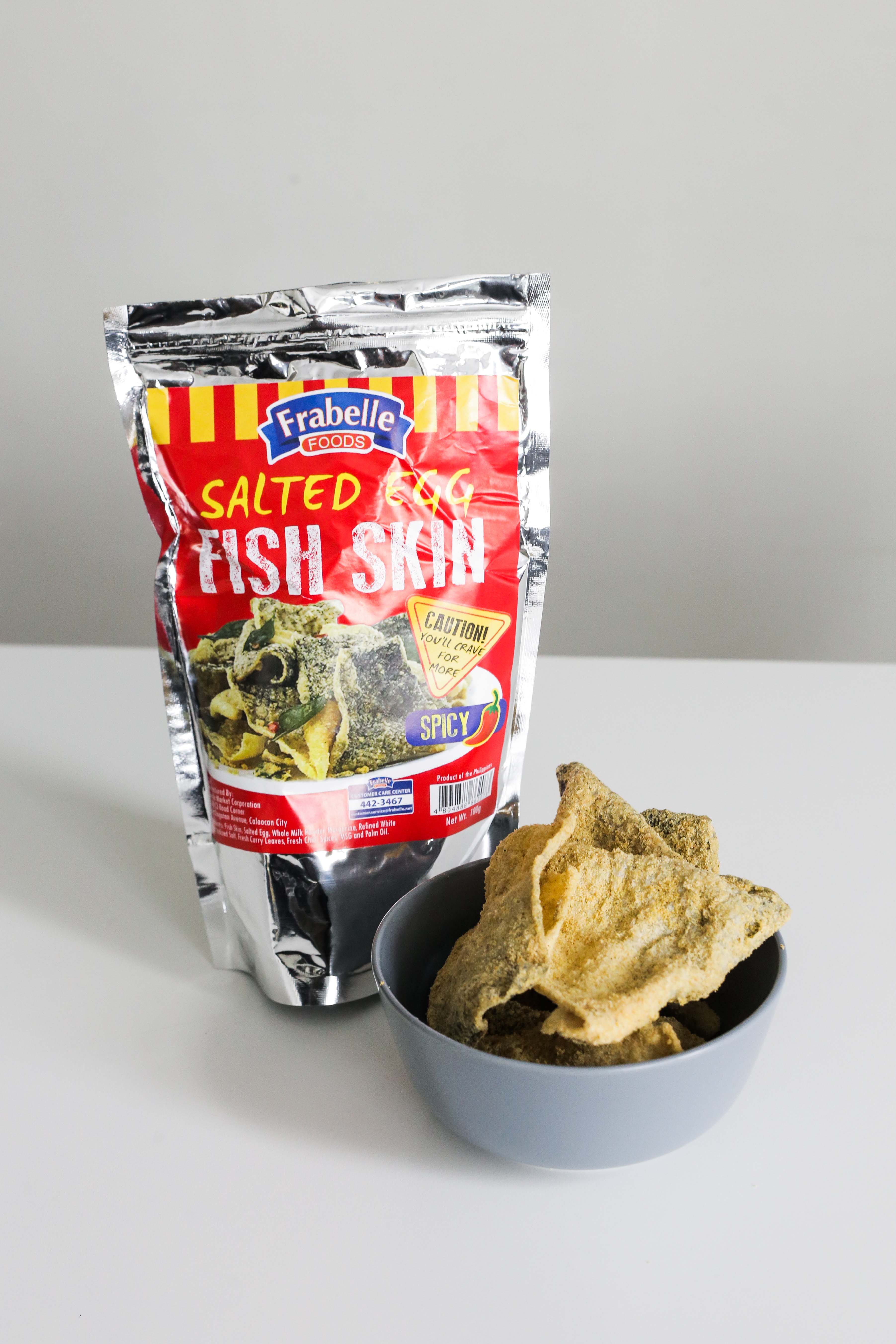 I had a couple people in the office try it out. Their take?
Our creative director Nimu Muallam thought it was pretty good overall. "Frabelle was generous with the salted egg. I love the balanced mix of spice and salt flavors. Minor problem was the size of the actual chip. It's too big, hard to eat, and kinda messy."
Personally, I like the size of the fish skin. The fish skins are large and substantial and feel like an indulgence, instead of a regular potato chip. Although I eat mine with a plate, since I'm a civilized person and don't want to leave a trail of fish skin crumbs.
According to Oliver Emocling, Nolisoli staffer: "The fish skin chips are like eating chicharon without the guilt. I'm not a big fan of salted egg-coated stuff, but this one isn't overpowering that you can still dip it in vinegar. Also, it doesn't feel as oily as chicharon or other chips."
I opened one bag to try it out, while on the way to Home Depot on an early Saturday morning. I finished the entire bag on the 15-minute car ride.
At P195, these snacks are worth their weight in salted egg.
TAGS: 7-eleven fish skin frabelle salted egg salted egg fish skin