No 'ball' can measure one's self-worth
Just ask Megastar Sharon Cuneta
Oct 2, 2017
Sharon Cuneta expressed her dismay on social media last week after not receiving an invite to the Star Magic Ball last Sept. 30. In an Instagram post that has since been deleted, the Megastar said that she was "hurt and quite insulted" when she found out she wasn't invited or thought that her invitation got lost "on the way."
Comments on her posts were a mix of support and backlash, with one basher saying that she was pathetic and that she should know her self-worth. Singer Martin Nievera offered to take the actress to the ball as his date, but Cuneta politely declined.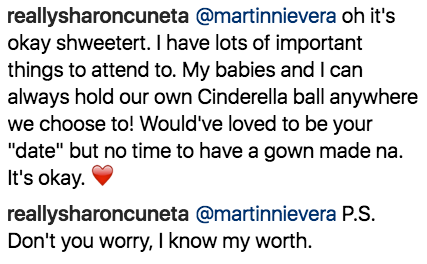 In another lengthy Instagram post, Cuneta explained her side and told her followers why she felt the way she did.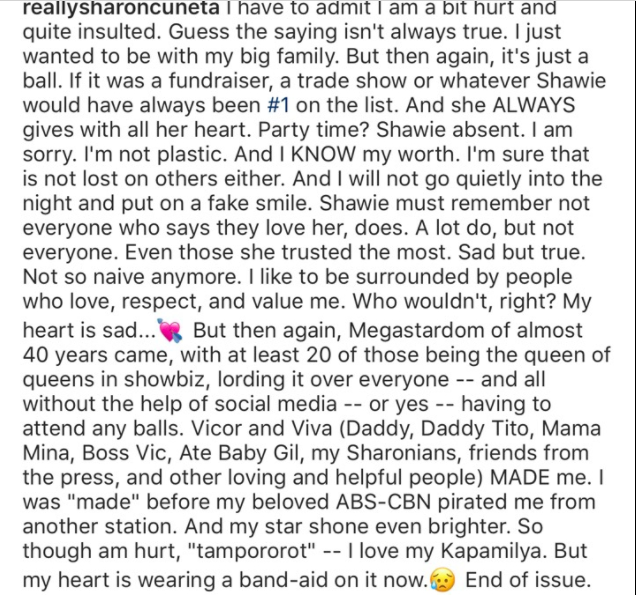 This inspired us to come up with three things we should never base our self-worth on, just like how she didn't make the ball define her.
You're not only 'as good as you look'
It's still common for people to measure self-worth through their physical appearance. Moreover, the media's constant reminder that we're only 'as good as we look' and other marketing strategies that strongly target our insecurities aren't helping either. We're not saying that good looks don't serve an advantage; we're saying that it's not the be-all and end-all of your overall value.
Don't live beyond your means
It's easy to fall into the idea that our self-worth can be determined by material possessions. And we're not just talking about wealthy people here; some try to live above and beyond their means in order to feel more valuable and accepted. At the end of the day, it doesn't really have a lasting effect and will only leave people you feeling emptier afterward.
People don't depend on other people to give them value
It's downright unhealthy. To feel 'worthy' when you surround yourself with VIPs is the wrong way to measure your self-worth. If there's anything I learned within my short adult life, it's that it's impossible to please everyone. You can't control what others will think of you, and what they say should never affect you.
Screenshots courtesy of Inquirer.net (via Sharon Cuneta's Instagram)
Featured image courtesy of InterAksyon
Read more:
How to de-stress if you're not Sharon Cuneta
Kris Aquino is the proud mom you should aspire to be
TAGS: ABS-CBN fixture nolisoliph self worth sharon cuneta Star Magic Ball 2017