Now you can taste legit burrata in Tomas Morato
This dish is one of the constants in La Spezia's seasonal menu
info
La Spezia

Italian

11 a.m. to 2 p.m., 5 p.m. to 10 p.m., Tuesday to Friday; 11 a.m. to 2 p.m., 6 p.m. to 11 p.m., Saturday and Sunday

0956-5178452

₱

P1,000 for two
La Spezia owners Sean Yuquimpo and Aaron Shiu were restaurant hoppers first before they became restaurateurs, so they know what not to do when it comes to Italian food—particularly with burrata.
"Burrata should have a firm skin on the outside but still creamy and curdy on the inside," says Yuquimpo. Other restaurants, he says, serve this Italian mozzarella and cream cheese hybrid "all hard and pasteurized" that are just, frankly, plain mozzarella.
So he delivered us their own burrata, a dish as legitimate as it can be—fresh buffalo mozzarella imported from Italy surrounded by orange slices, basil, mint, and capped with drizzles of basil oil and a bit of reduced balsamic vinegar. Pistachio and almond bits add texture to this otherwise smooth fare.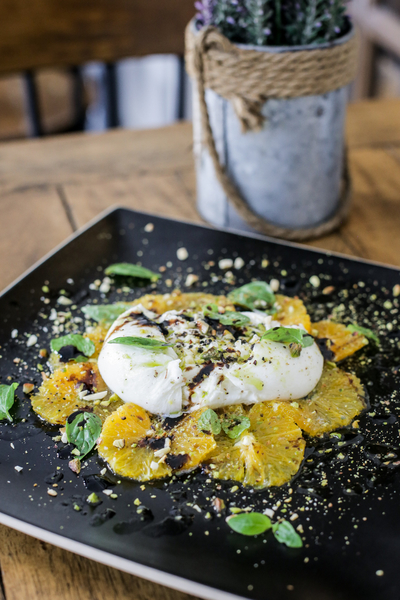 Deviating from the usual Italian concepts in the country, the two friends opened La Spezia to reintroduce pasta in a different light. Literally and metaphorically speaking. Unlike other restaurants in the Tomas Morato area illuminated by huge, flashy signs, La Spezia's allure is in its understated, inconspicuous vibe. Its facade looks just like a house, with the engraved letters in concrete as proof of their existence.
"Beautiful things don't need attention," says Yuquimpo with an air of confidence and a chuckle. Food is still the most celebrated part of any Italian restaurant after all. And their new items are as engrossing and authentic as their attention to detail.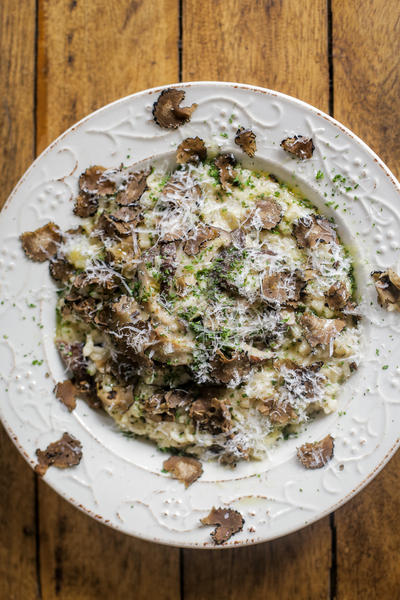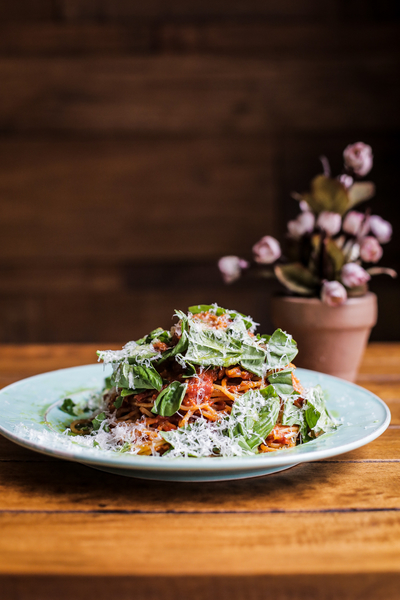 If you need your rice fix, have their peppery Risotto Ai Funghi. It's arborio rice topped with shiitake mushrooms and parsley and sprinkled with 18-month Parmigiano-Reggiano, an aged parmesan that gives off a nutty and savory flavor.
Yuquimpo's own Spaghetti Pomodoro E Basilico recipe occupies its place in the menu because of the subtle depth of flavor. "We added pancetta (Italian bacon made of pork belly meat) skin, which is not evident on the surface, but actually adds up to the flavor," he says.
Pancetta Di Maiale, Fagioli Bianchi is basically a sous vide pork belly with sweet potatoes, bok choy, and jus on the side. Then finish off with the striking La Spezia Alveare, a honeycomb-adorned gelato that gets its magenta sheen from the beetroot-ginger coulis—a blend of boiled beetroot for the color and ginger for a throat-cleansing effect to balance the sweetness.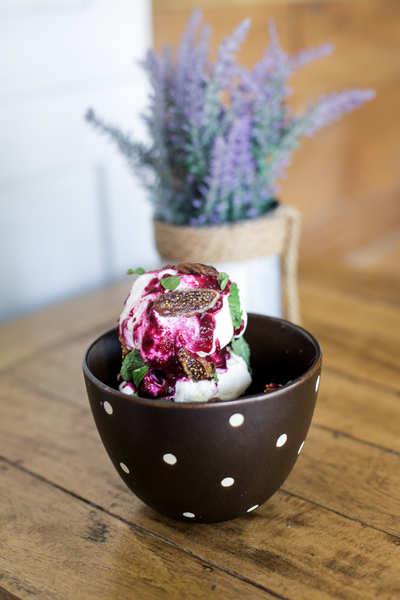 Read more:
Giuseppe serves authentic Italian food in Bohol
Balestier finds a good balance between Singaporean, Japanese, and even Italian cuisines
TAGS: city guide eats Italian la spezia nolisoliph north quezon city restaurant tomas morato
WHY GO?
Also go for their Spaghetti Pomodoro E Basilico for a different take on pomodoro pasta. They add pancetta skin in the sauce for more depth of flavor.
MENU