We recently held our very first public cooking class at Ayala Malls the 30th with chef Miko Calo and everyone had a blast learning two low-sugar, low-carb recipes.
Calo was joined by Hinge Inquirer Publications group publisher Bea Ledesma, who told audiences how low-carb, low-sugar dishes are hard to come by at celebrations during the holidays.
"We're trying to promote recipes like these so people are made more aware of healthier options when preparing a spread," Ledesma said.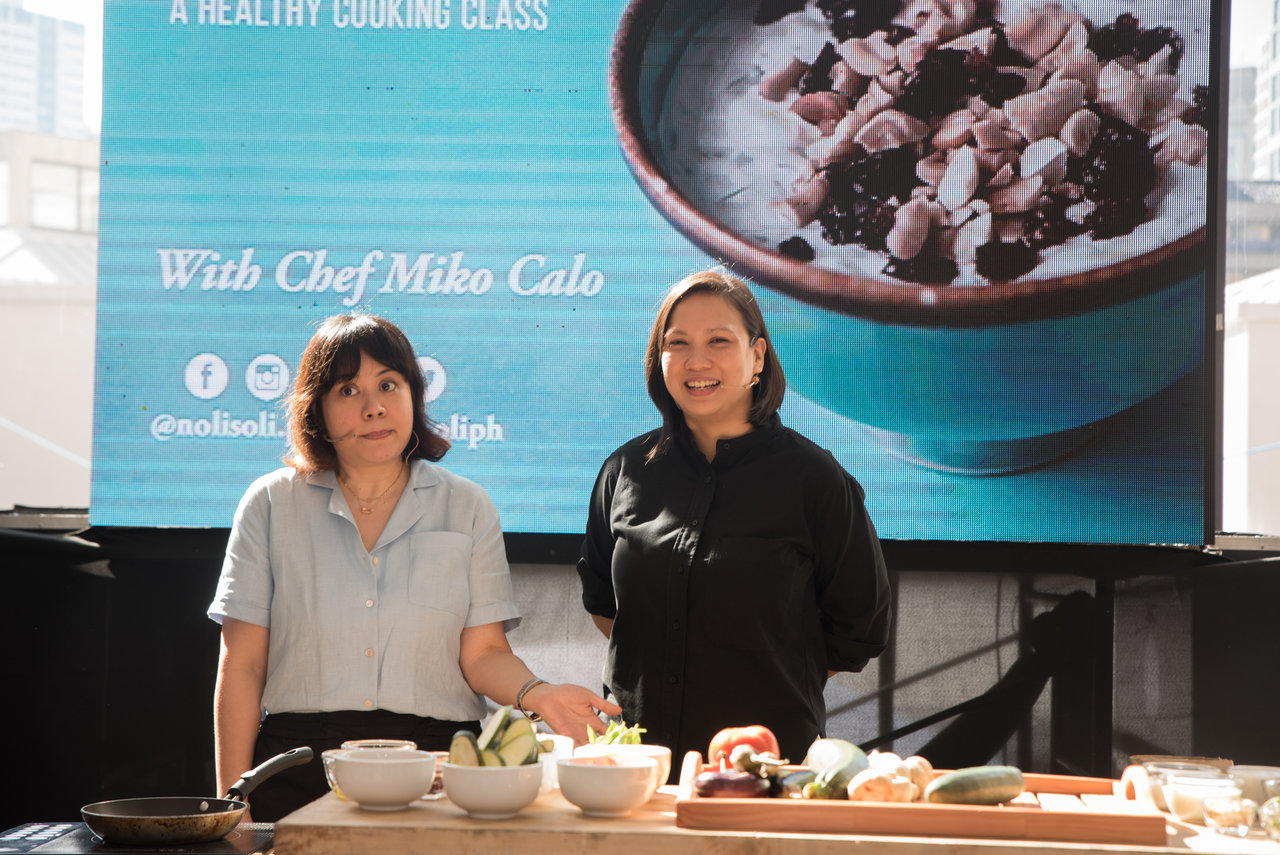 After all, we must keep in mind that when having guests over for a meal, some may have diet restrictions. Even if this weren't the case, it's always good to incorporate healthy, hearty recipes in any get-together.
Another thing—you don't even need company to enjoy these easy-to-make dishes. Don't have anything planned tonight? Treat yourself to some pasta-less lasagna, or whip up a batch of no-cook cold soup.
And since it's the season of giving, here are the recipes that you missed in case you weren't able to join us last time:
Pasta-less Veggie Lasagna
4 portions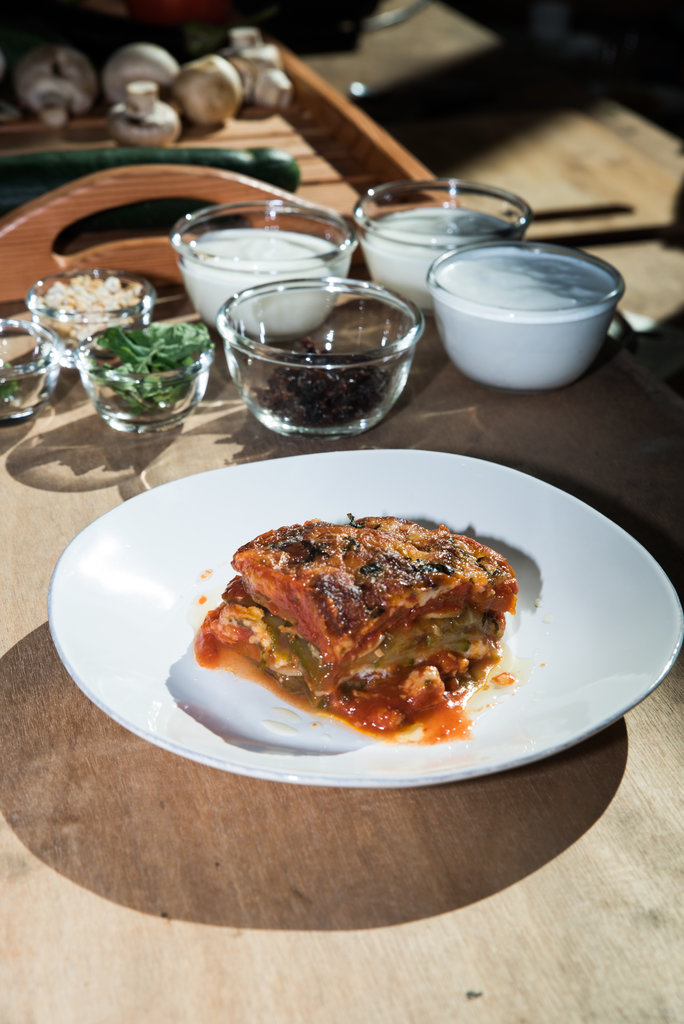 Ingredients
Tomatoes, sliced 1mm thick
1 pc large eggplant, sliced 1mm thick
1 pc large zucchini, sliced 1mm thick
1 cup white button mushrooms, sliced
3 cups mozzarella, grated
Fresh basil, chopped chiffonade
Passatta
For the sauce
2 pcs garlic, finely chopped
1 cup passatta
1/2 cup water
1/2 tsp anchovies, finely chopped
1 pinch oregano, dried
1 tablespoon olive oil
1 tsp honey
1 pinch black pepper
Procedure
To make the sauce:
Saute garlic
Add passatta
Add water
Add anchovies
Add oregano
Add a pinch of black pepper
Season with salt to taste then simmer for five minutes
To make the lasagna:
Brush nonstick pan with sauce.
Place a thin sublayer of eggplant then top with four tablespoons of mozzarella before placing the next vegetable sublayer. Do the same with mushroom, zucchini, and tomatoes.
After all vegetable sublayers have been placed, spread one tablespoon of sauce to seal the entire layer.
Season the layer with salt and chopped basil.
Make another layer if your pan permits.
On the final layer of vegetables, sprinkle basil. Drizzle with olive oil. Add four tablespoons of mozzarella.
Preheat oven to 375 °F
Bake at 350 °F for 40 minutes, then rest for 15 minutes.
Drain excess liquid ingredients.
Cucumber Yogurt Soup
6 portions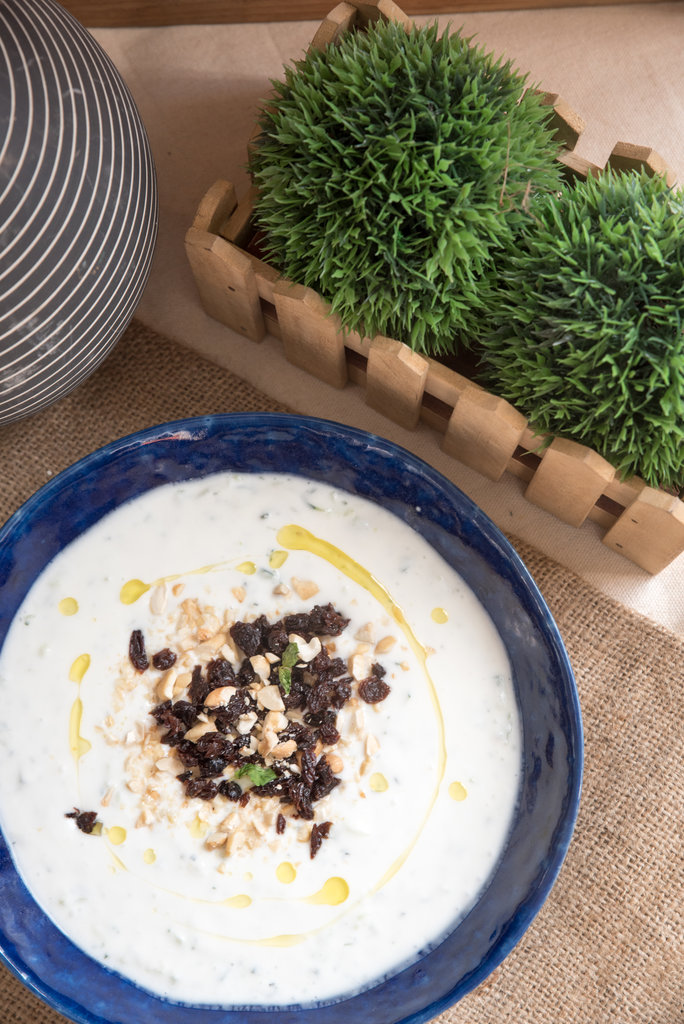 Ingredients
1 large cucumber, partly peeled, coarsely grated
4 tbsps cashews, toasted, roughly chopped
1 1/4 cup yogurt
1/2 cup coconut milk
1 pc garlic, finely grated
2 tbsp mint, finely chopped
Salt, to taste
3 tbsp raisins, roughly chopped
Procedure
To prepare cucumbers:
After grating, sprinkle with a pinch of salt and leave in colander to drain for 10 minutes.
After 10 minutes, squeeze to remove excess liquid.
To prepare raisins:
Steep dried raisins in hot water until plump.
Drain once plump.
To prepare soup:
First, prepare cucumber. Set aside.
Mix yogurt, mint, lemon, olive oil, grated garlic, coconut milk.
Squeeze cucumber and add to yogurt mixture.
Season with salt and pepper.
Chill.
Top with raisins and cashews.
For those who were able to join us, though, here's an extra treat: We uploaded your photos on our Facebook page. Feel free to grab, like, and share. See you at our next cooking class!
Read more:
We're having our first ever public cooking class
There's no pasta in this spaghetti and meatballs
We made cauliflower pizza and it tasted as good as the real thing
Writer: ALYOSHA J. ROBILLOS