"We didn't change anything! It's classic Filipino food," says Erik Dee, president of Foodee Global Concepts aka Ben Chan's partner in his new venture—a lifestyle cafe under the Bench umbrella aptly called Bench Cafe. "Bistek will taste like Bistek," he explains. "We just figured out ways to make it better." And by that, he meant local ingredients done with new techniques and executions.
A section of the new Bench flagship store was transformed into a modern and chic restaurant with touches of Filipino elements like palm tree printed wallpapers, abaca trays, and of course, nostalgic print ads by the brand itself. As a refreshment from the hot Friday morning, we were served with a tall glass of Benchanted iced tea (P80), a brew of lemongrass, calamansi, ginger, and star anise. One sip and we knew we were off to a great start.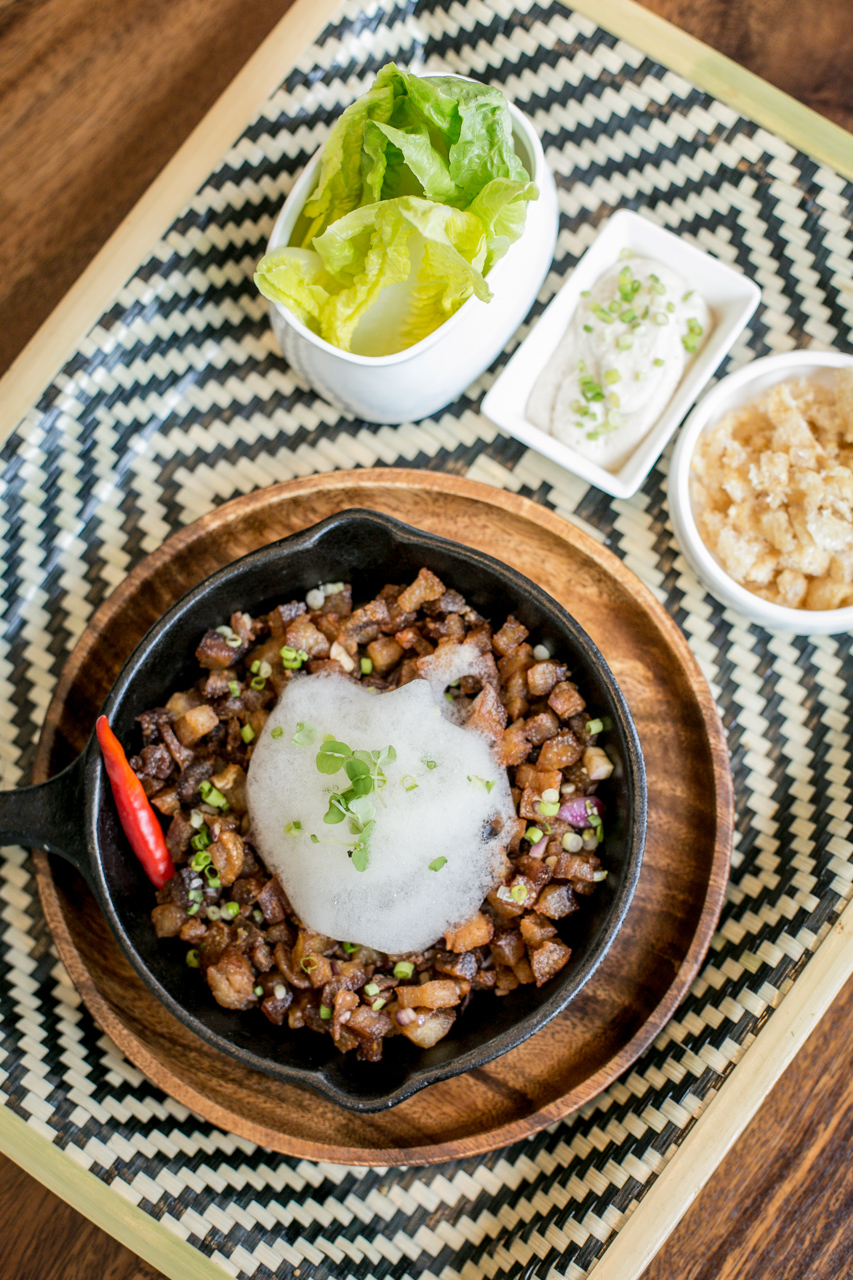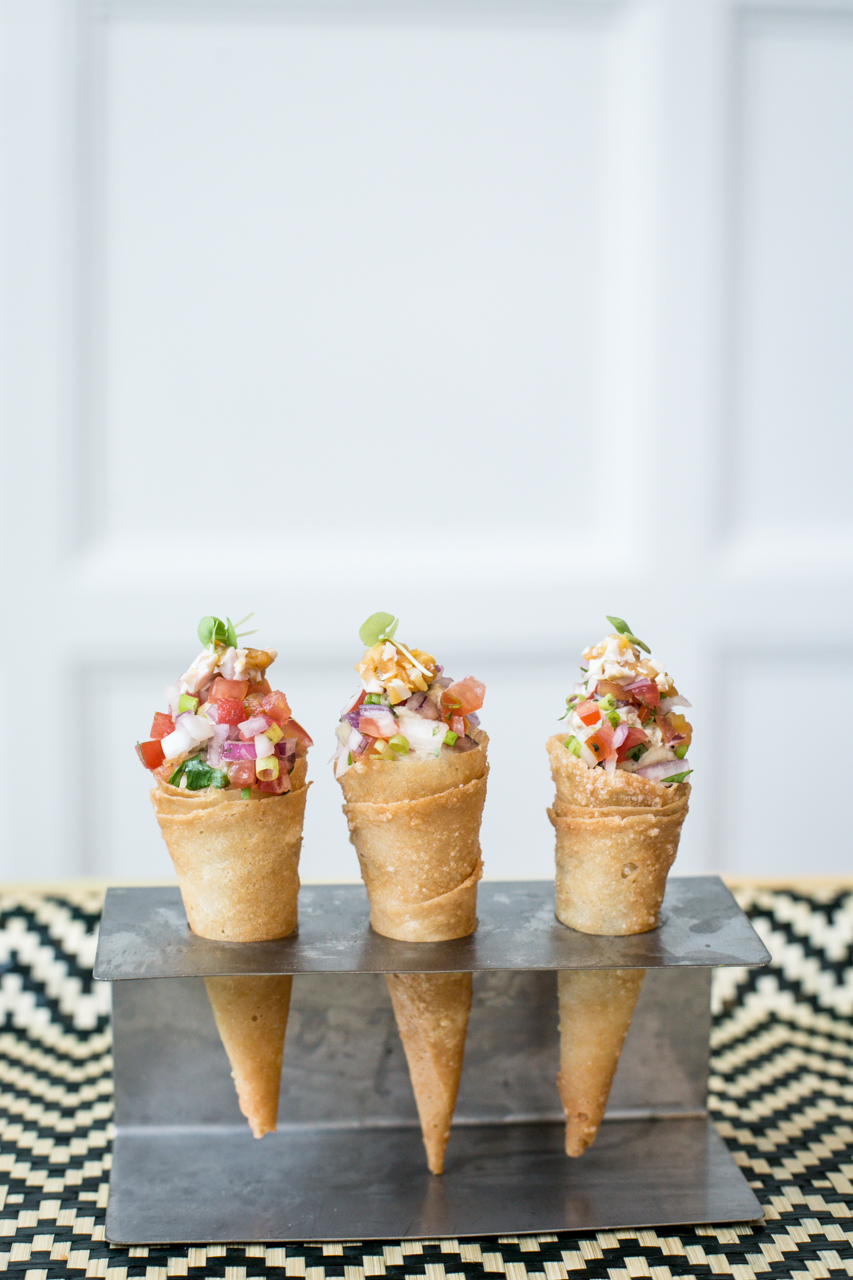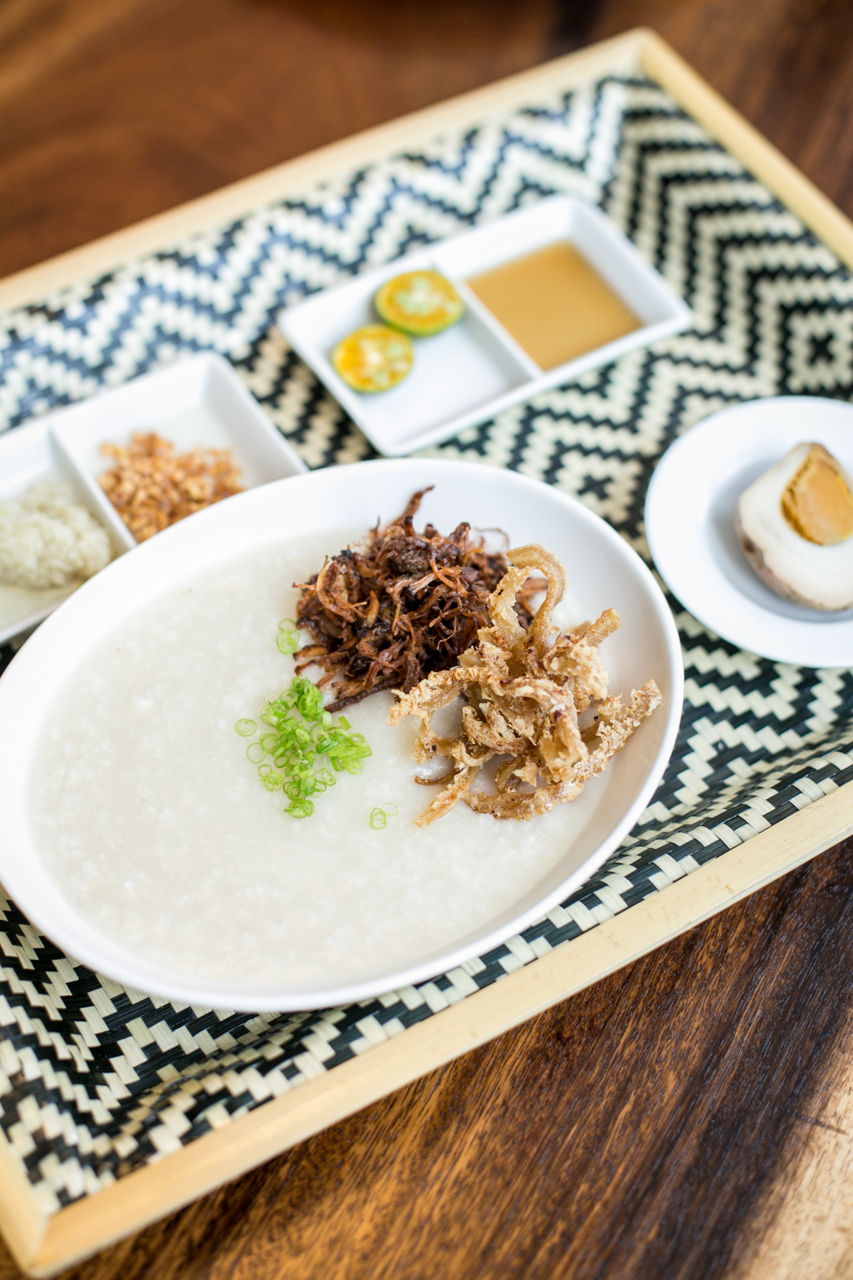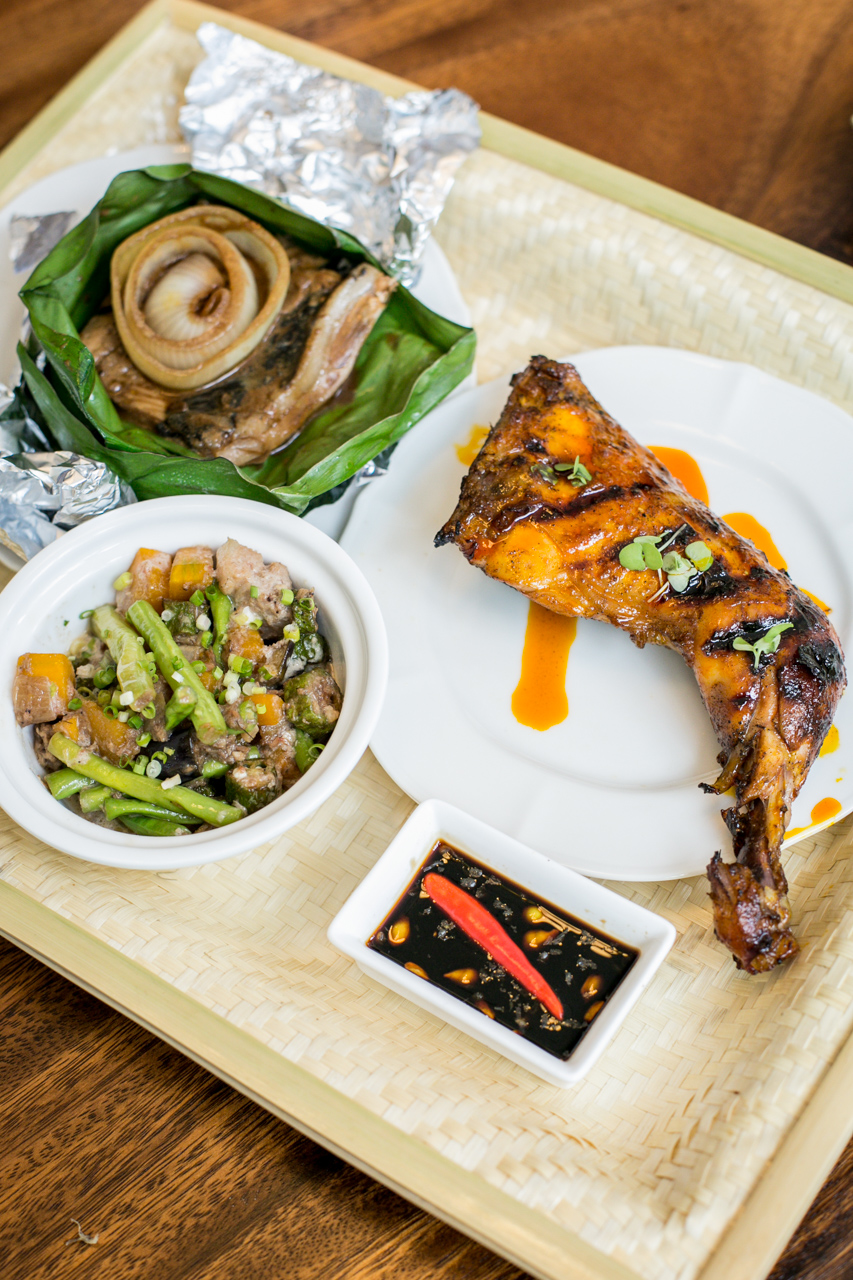 The current menu format is very simple and was developed with chef Carlos Miguel. They plan to serve all-day meriendas (snacks), desserts, drinks, as well as their set meals called Bench/Tos. A play on the Japanese bento which basically means single portion and inspired by the usual mall food court set up of two mains, sawsawan, and rice. You also have the option to upgrade your rice to either of the five options available (Dilis rice, Bagoong rice, Adobo rice, Talangka rice, and garlic rice) and also order soup on the side.  
If you're stopping by for some snacks, you can go for Sisig Lettuce Cups which is basically your crispy sisig served with calamansi foam and utak (yes, brains) aioli. Scoop it up on a lettuce leaf and you've got one flavorful bite. Or try their Tinapa Cones which are crispy lumpia cones filled with Tinapa mousse and homemade salsa. The Arroz Caldo is just like the classic served with your usual itlog na pula, chicharon, ginger, calamansi, but the game-changer would have to be the deep-fried tripe reminiscent of mushroom chicharon in taste and texture—it's under meriendas, but believe me when I say that the toppings alone can merit to a full meal.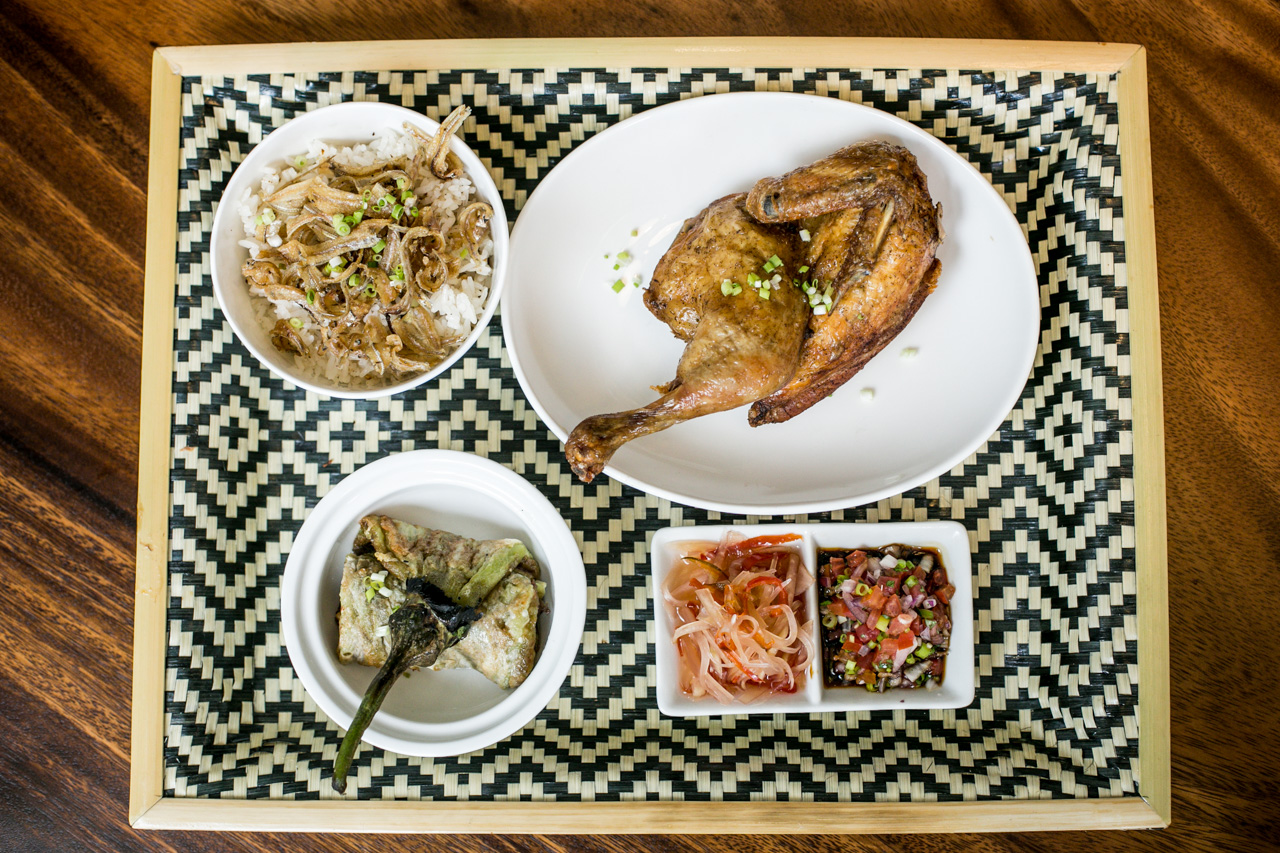 If you have a big appetite for either lunch or dinner, go for the Bench/To. Our top choice would have to be their Inasal which was tender to the bone, flavorful, and was charred on all the right places. This is served with Pinakbet and plain rice. As mentioned you can upgrade and we recommend the Dilis rice. The Kaldereta was so tender that you can break it apart with your fork (sous vide for 24 hours, BTW) and is served with a side of crispy okoy. Another must-try would be their Filipino Fried Chicken served with banana ketchup and a side of Pinaputok na Bangus Belly but served with Bistek sauce instead of the usual tomato and onions—the Talangka rice, though deadly, was fitting for this set!
Bench Cafe also did not come short on dessert and in fact has gone all out with local favorites like their very own Halo-Halo Bar where you can choose between Ube, White, or Classic. What's so special about this particular cup of Halo-Halo is the borrowed Bingsu concept from our neighboring Asian country—instead of the usual crushed ice, they top it off with fluffy ice that bursts with flavor. "I'm not a sweet tooth, but this is my favorite," says Erik. If you prefer something simpler there's always a Flan B (you get it?) which is the classic Leche Flan shaped like the Bench logo and topped with macapuno.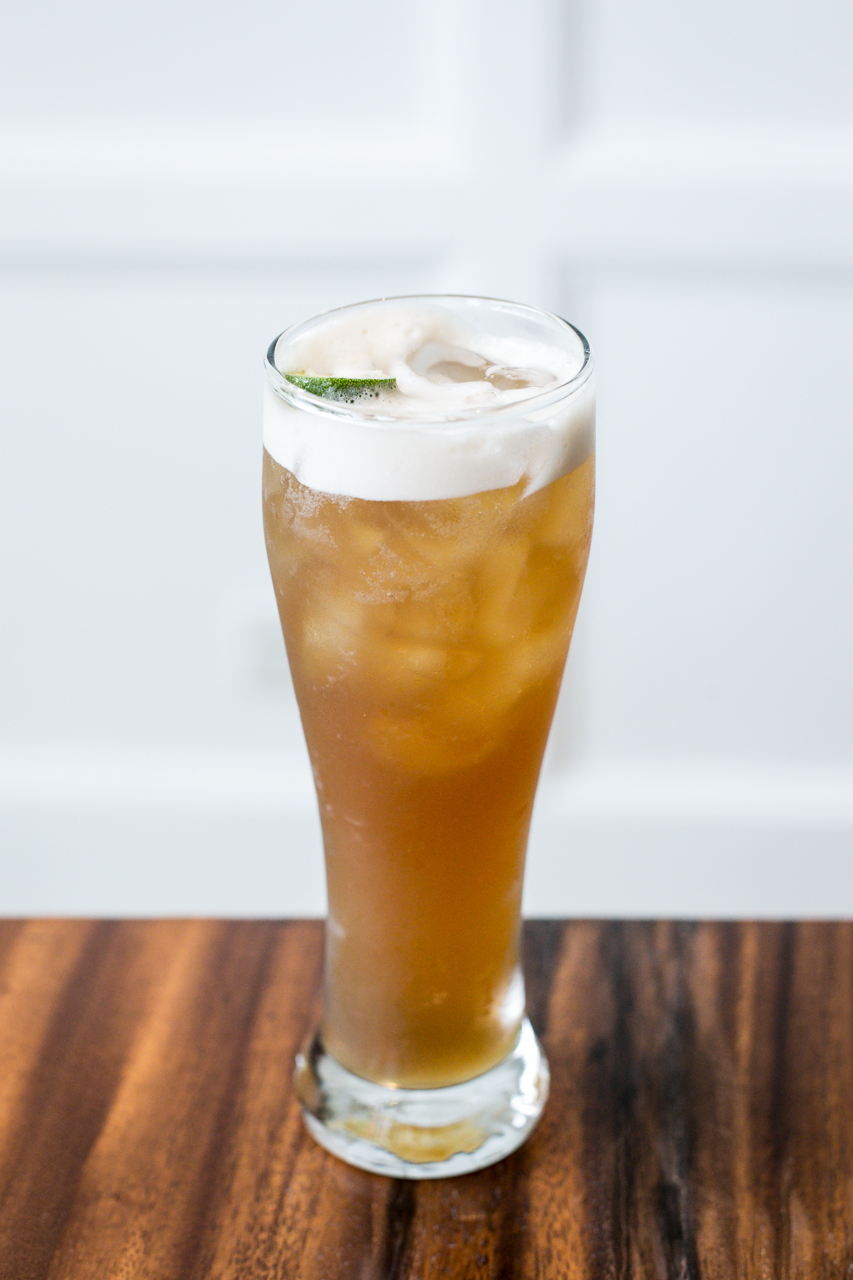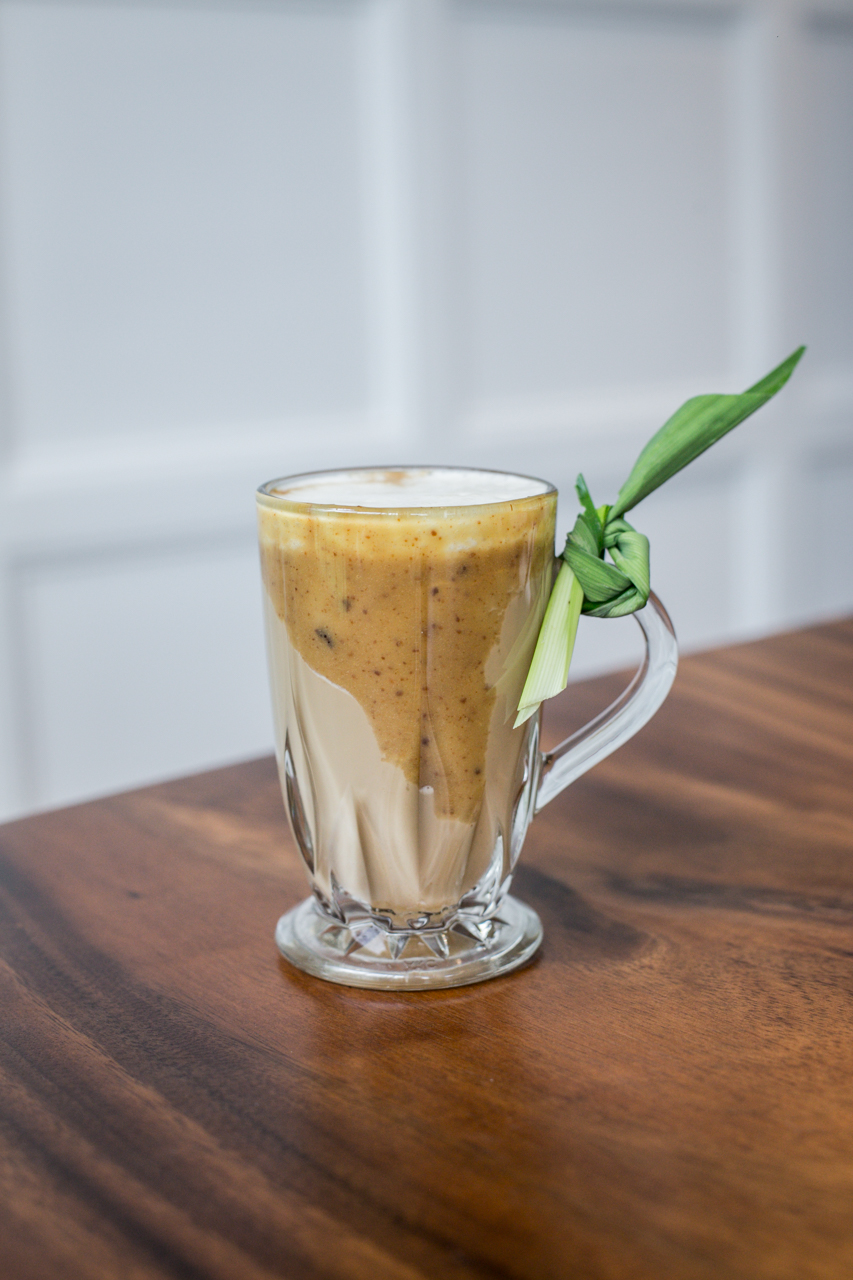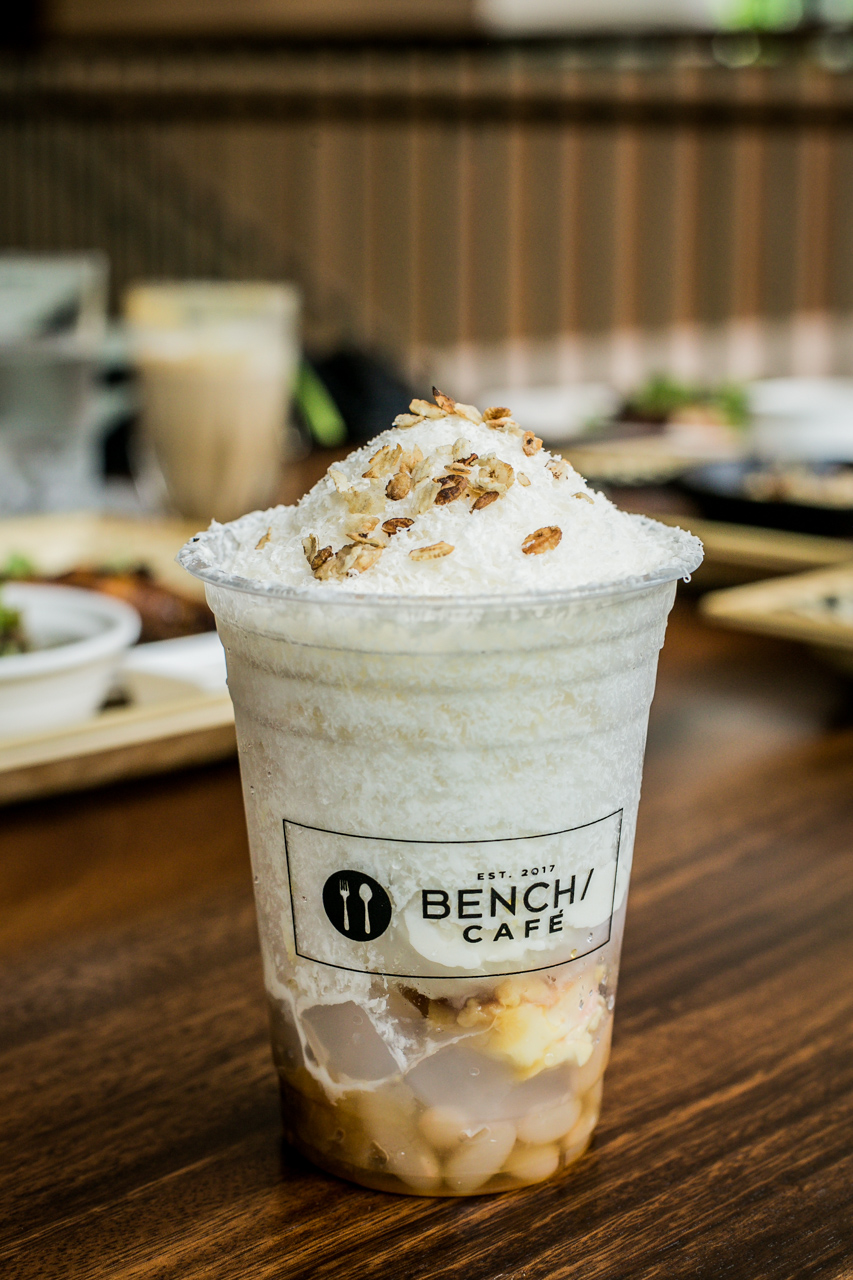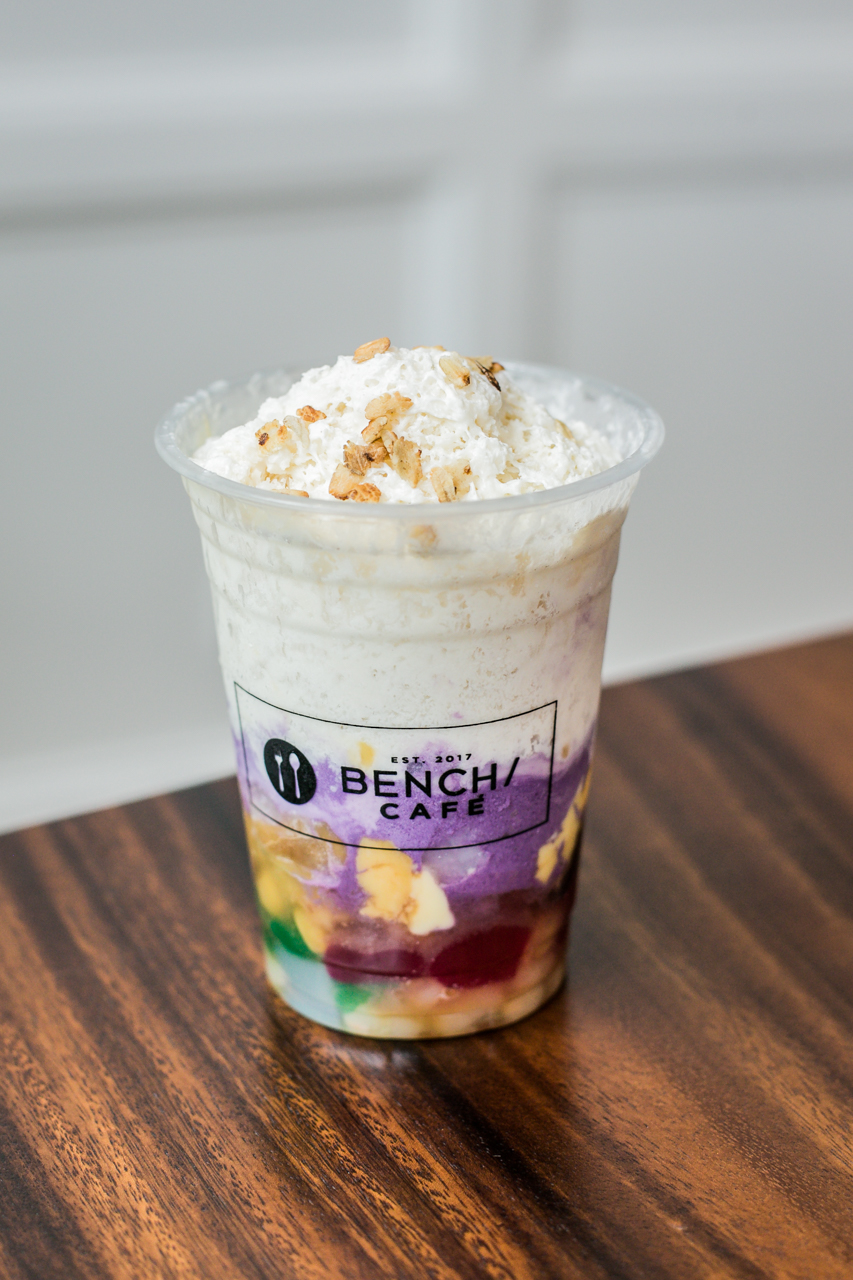 Their line of drinks were developed with Kalel Chan and uses local ingredients. Their specialty coffees like Pandan Latik, Ube Tanglad Latte, and Luzon Double Mocha, definitely kicked my brewed coffee's butt. Their cocktails like the Bench Mojito and Circa 1987 (Bench's birthday) may not taste like they're strong, but can get even the most regular drinker tipsy. Kalel made sure to incorporate as much local ingredients and flavors when it comes to their drinks, hence, the unique drinks menu.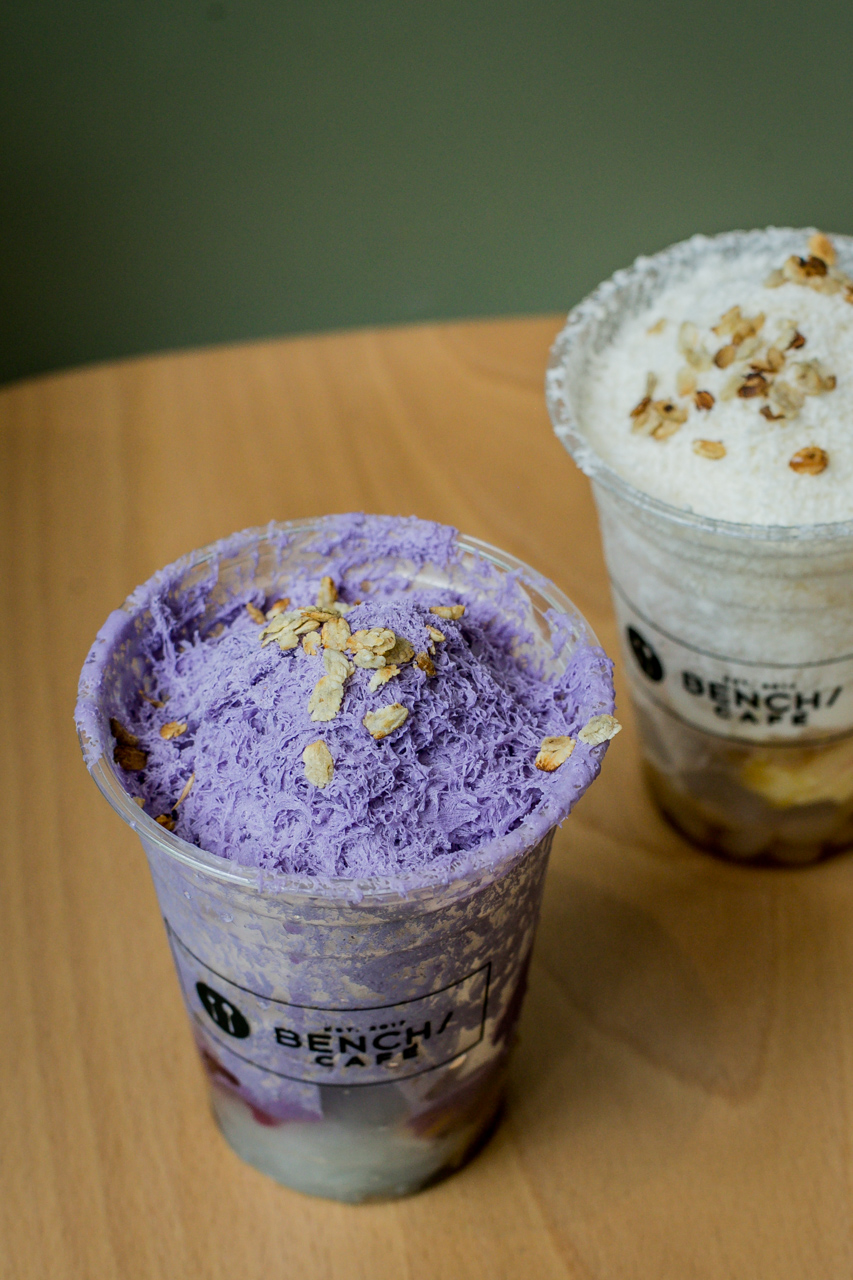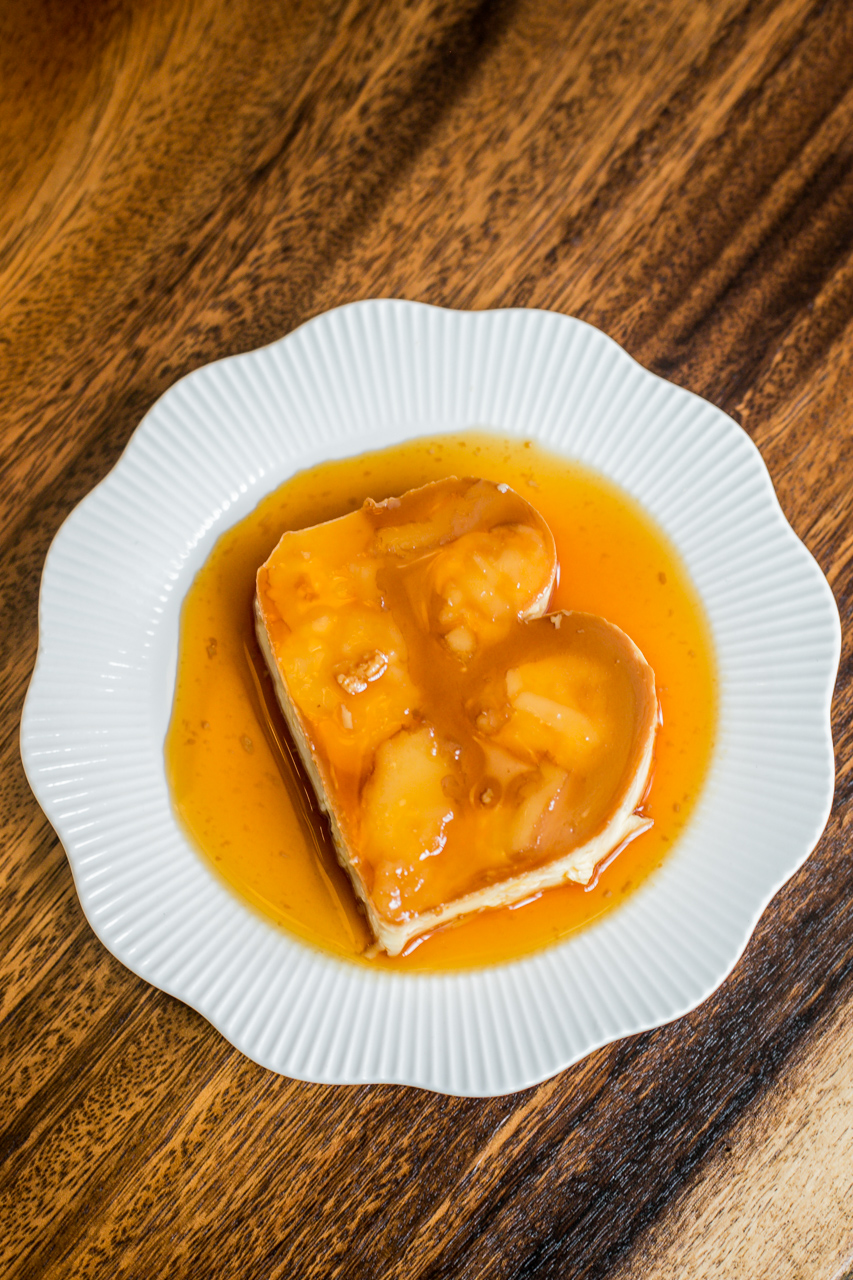 There's no stopping Bench Cafe as they're looking into expanding, so expect their Halo-Halo bar, merienda, and drinks at your favorite Bench branches. They won't stop there, because they will also have stand-alone restaurants as well.  
Now excuse us as we line up for some Halo-Halo.
Writer: JACQUE DE BORJA
PHOTOGRAPHY DANICA CONDEZ