Karen Davila calls out Siargao after a surfing accident
When the public's greater interest aligns with a personal agenda
Apr 2, 2018
For Filipinos, the Holy Week has pretty much become synonymous to a long weekend—the perfect time to go on an out of town or country trip, subsequently turning Metro Manila into a ghost town. For those of you who were listlessly browsing through Facebook, living vicariously through friends' vacation posts instead of sharing your own geotagged photos, chances are, you've come across Karen Davila's trip to Siargao—gone wrong.

The broadcast journalist took to Facebook, writing a detailed narrative explaining the events that occurred over the course of her family vacation, and expressing her concern and outrage over the island's lack of medical structure. The post has been shared over 26,000 times as of today.
The mother of two scheduled surfing sessions for her sons at Cloud 9, the popular surf spot in the area, requesting that the instructors pay special attention to her older son, David, who has autism and struggles with coordination.
Her sons were given basic training in the beach—as is customary for beginners—before heading off into the water. While their kids surfed, Karen and her husband spent their time lounging along the shore.
Before long, Karen was alarmed to find her son back in the beach with a torn-up rash guard and several cuts along his torso. They scrambled to tend to his wounds but couldn't find the necessary medical service or equipment within the vicinity of the surf spot; with no clinic, medic, or a mere first-aid kit available, the only immediate option they had was the nearby sari-sari stores that sold basic first aid supplies.
Seeking more thorough medical attention, the family took a van to the "nearest" hospital, which according to the journalist, was a lengthy 45-minute drive away—an appalling fact considering that surfing is an extreme sport where accidents are bound to happen.
No one can deny how much of a nightmare the entire ordeal was. But as with any public figure taking to social media to express their dismay, there has been some backlash.

Some people have pointed out that Karen was too eager to put the blame on the local government and management, when she herself should have been more accountable, considering her son's condition. Individuals with autism shouldn't and don't have to live their lives with limited opportunities, but it's important to acknowledge the risks involved in any situation, especially when it comes to an extreme sport such as surfing.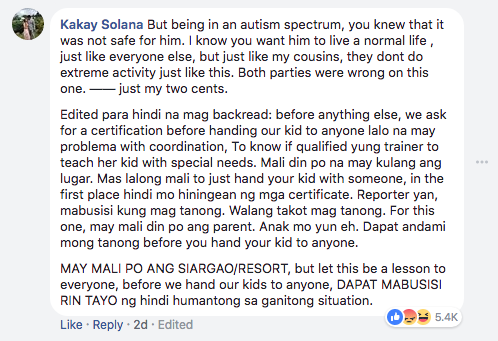 As someone who has travelled to Siargao recently, I can tell you that the beach in Cloud 9 is pretty treacherous; the waves are strong and unpredictable, while the shore is lined with sharp rocks. While walking along the shallow water, I held onto the rocks to keep my balance only to find out a few seconds later that I had several cuts on my hand. My point being: you don't even have to be in the ocean to realize how dangerous it is.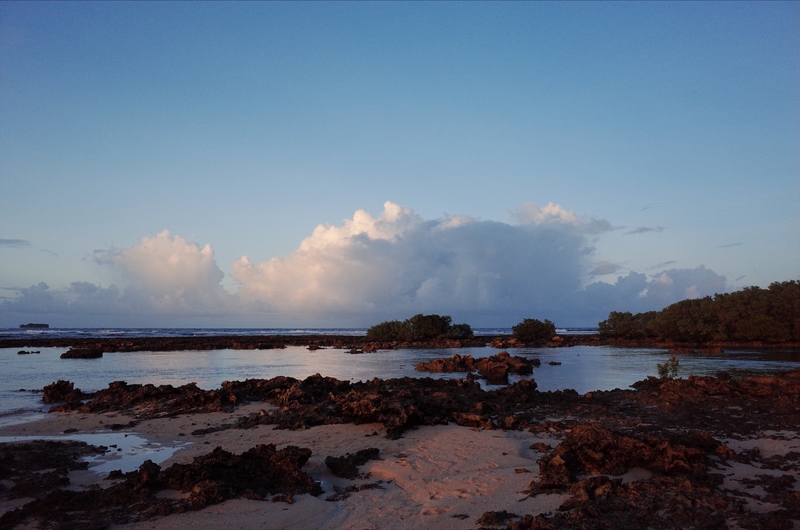 If safety was a top priority, Karen and her husband could have been more prudent with their surroundings. After all, Siargao is not a luxury destination (at least, not yet). You can't go to the island and expect it to be the new El Nido or Boracay, because it's far from that.
Prior to the island's rise in popularity, Siargao was a mainly a destination for surfers and backpackers; the lack of amenities and the dangers that come with living in an undeveloped area are things that these rugged travellers seem to have accepted.
With the massive influx of tourism in the past few months, the local government of Siargao should have already started addressing these issues. If they cannot provide solutions to the glaring lack of safety measures, then they should at least warn and educate incoming travellers about the dangers they may encounter, especially now that more and more tourists are coming in.

But you have to wonder: if the accident had never happened, and Karen's family vacation had gone by smoothly, would she have raised any concern over any of these issues? The answer is probably, no. She would have simply enjoyed the long weekend with her family.
Hypothetical situation aside, what happened, happened. If it takes a public figure's outcry to confront problems regarding safety issues and tourism practices, we all benefit in the long run, at the very least.
What are your thoughts on the issue? Tell us down in the comments.
Main image by Jessica Alberto.
Read more:
You'll rethink your litter after what happened in Boracay's beaches
Young Siargao-based architect plans to turn beach waste into buildings
What's life like on the beach?
TAGS: cloud 9 fixture karen davila nolisoli nolisoli.ph Siargao surfing tourism