San Carlos City is breaking free from plastic with taro leaves
Way to walk that no-plastic talk
Apr 10, 2018
From Bulacan to Baguio City (come this May), more and more cities and municipalities in the Philippines are taking on the plastic ban. It's a step in the right direction and one that many of us are happy to see. Still, implementation of this plastic ban policy can be difficult, especially for folks who are trying to make a living, like our manongs and manangs in the wet market. Without cheap and easy to use plastic bags, what are they supposed to pack their produce in?
San Carlos City in Negros Occidental found their answer, unsurprisingly enough, in mother nature.
Through a Facebook post published last April 8, Facebook user (and random tourist) Danny Ocampo proudly shared how an entire wet market in San Carlos has replaced their plastic bags with taro leaves.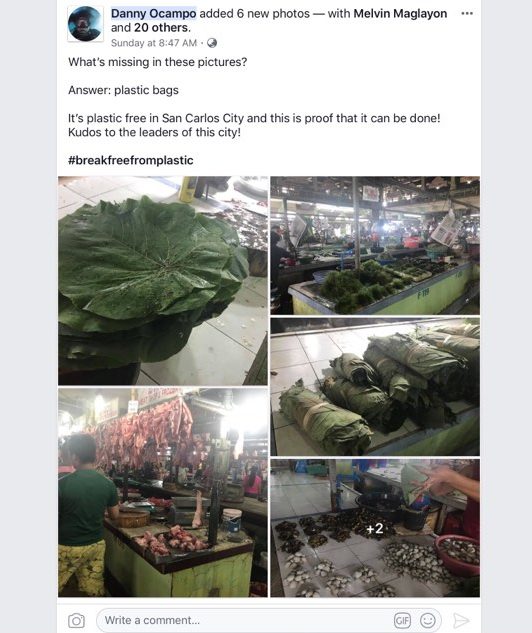 In the photos, you won't see a trace of plastic in the wet market. In one of the shots, you even see a vendor handing over a bunch of clams packed in taro leaves to a customer. It just shows that the leaves are good for all kinds of produce, dry or wet.
This alternative is a bit ingenious, plenty affordable, and much more sustainable than plastic. We'd like to congratulate the government of San Carlos City for a job well done and finding a simple way to walk the talk.
How does your city try to replace plastic in your daily life?
Header photos courtesy of Facebook.com/danny.ocampo
Read more: 
TAGS: fixture Negros Occidental nolisoli Plastic Ban San Carlos City Taro leaves Wet Market