We always think of the phrase "mother knows best" in relation to the things she tells her children. But that phrase is getting turned on its head somewhat with Mom Made. After all, if there's anyone who'd be able to create the best way to cook healthy but fast and stress-free meals, it would be a mother herself.
Mom Made is the brainchild of Happy Ongpauco-Tiu, a mother and chef known for being behind a number of culinary concepts such as The Boutique Bed and Breakfast, Pamana, Private Dining, Tsokolateria, and more.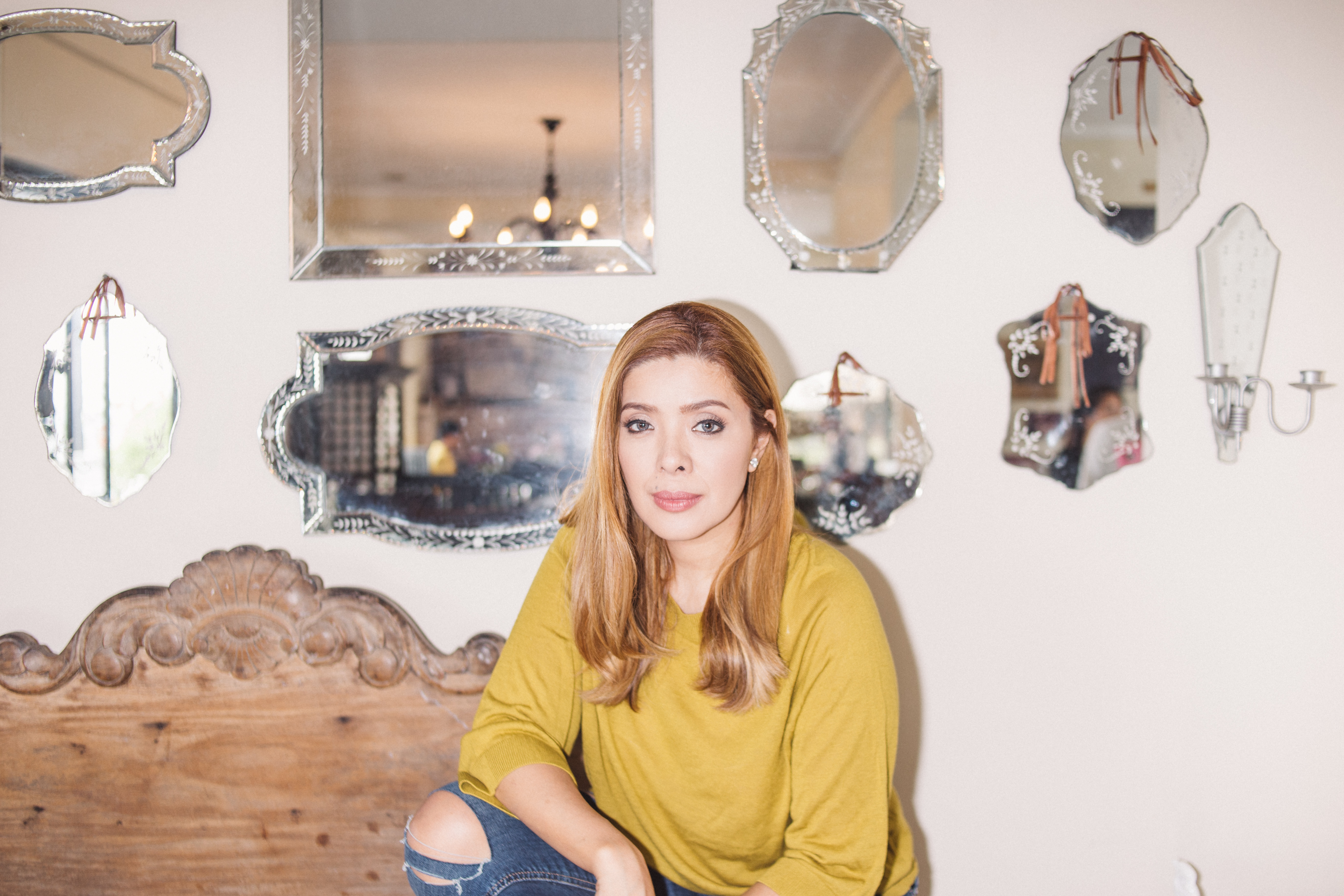 Mom Made might just be the most personal of all of chef Happy's concepts. "Mom Made was born out of my commitment to serve healthy, high-quality, and delicious meals to my family," Ongpauco-Tiu writes on Instagram.
The project has been in the works for years, the mom-chef shares, but it was only recently that she "finally got things going and was able to launch this."
"Ever since, I have been making ready-to-eat fresh frozen dishes for my family—all made of pure ingredients, no preservatives, no MSG," Ongpauco-Tiu adds. "They're my go-to stress-free meals that I cook on my busy days, or when my help is on day off, or simple because I need something quick and easy."
Like any mom, wanting to serve only the best and healthiest food was a priority for Ongpauco-Tiu. But with most ready-to-cook foods available in the market being ones laden with preservatives, MSG, and MDM (mechanically-deboned meat), she felt the need to create staple healthy dishes that could not only be prepared easily, but also stored in a way that retains the food's freshness.
Enter blast freezing. With regard to the preparation of these five-minute meals, Ongpauco-Tiu writes: "Each meal is thoughtfully prepared in small batches to promote proper food handling. Aside from that, each box contains dishes that are individually packed for convenience and better thawing process. We also practice the highest standards of hygiene in preparing our products followed by blast freezing them then delivered to you Fresh Frozen."
There are a number of dishes available, from classics like chicken nuggest, tapa, and tocino, to other Happy Concept dishes like Pamana's Cebu Lechon Roll, World Topps' Adobo Flakes, and Bento Box's Katsudon.
Check out the menu below: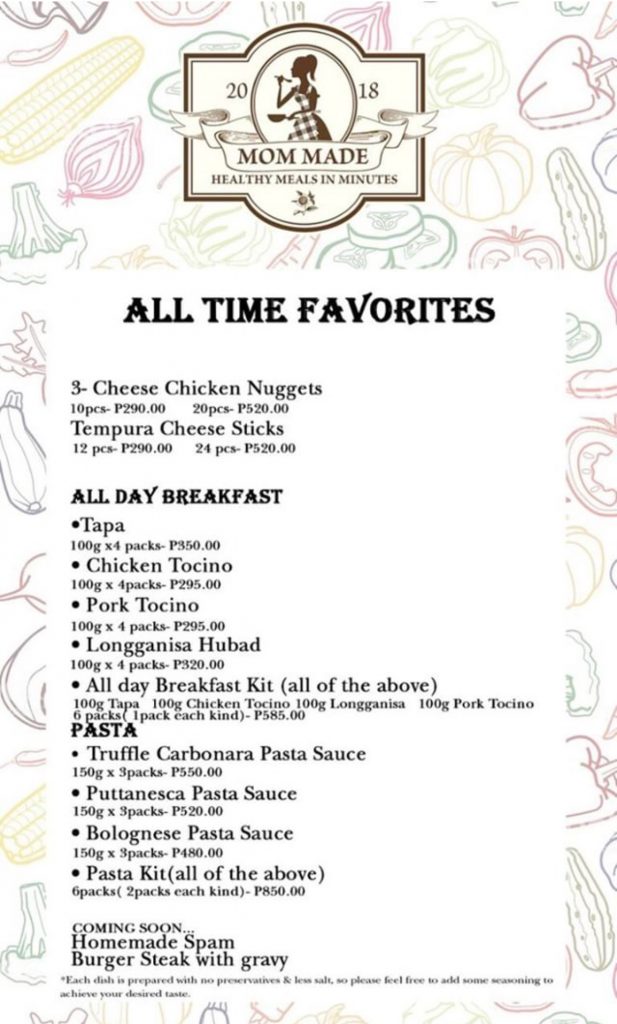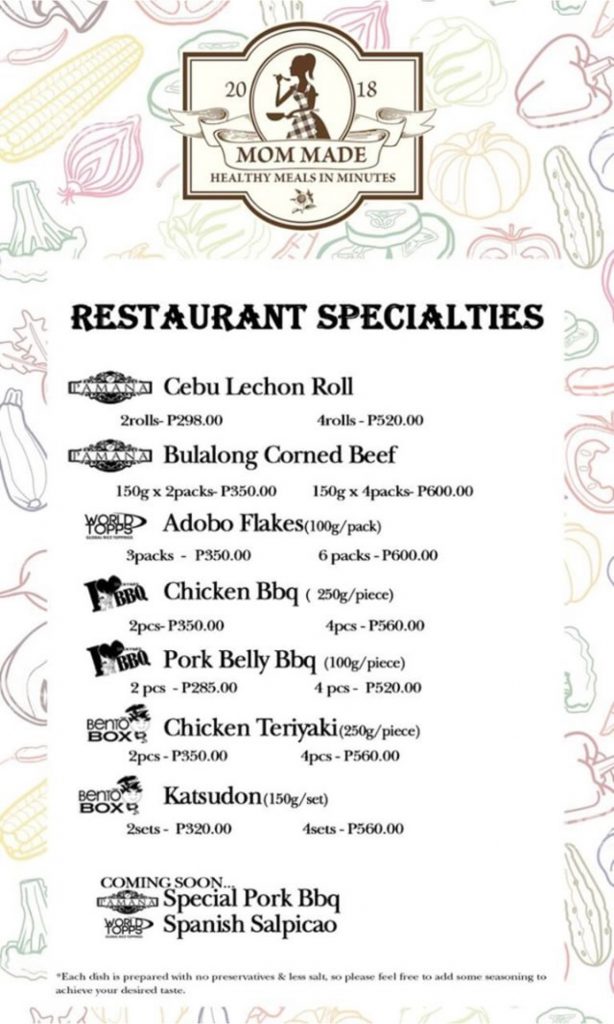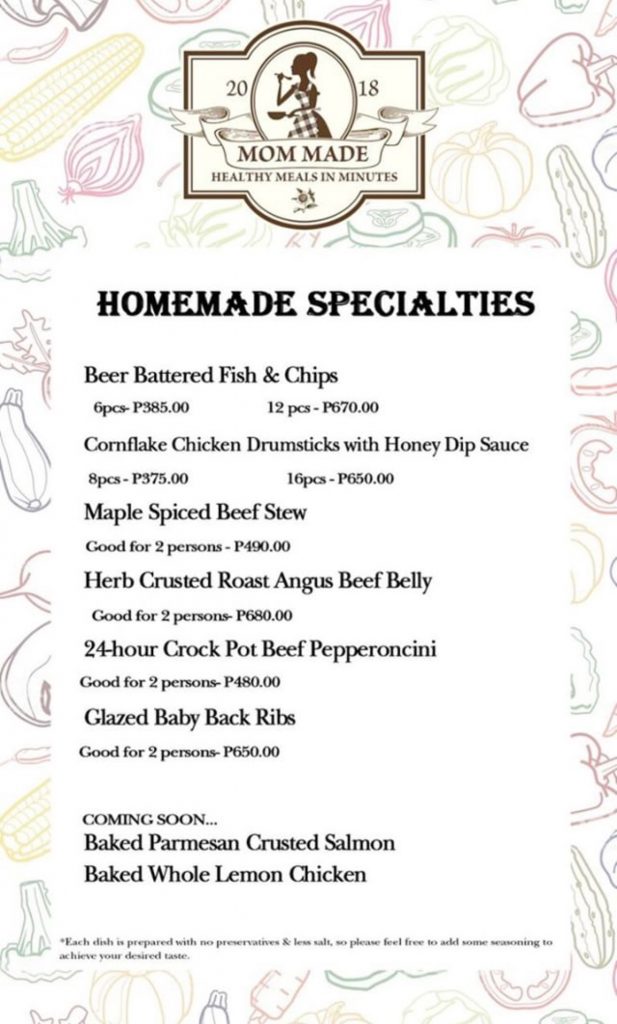 For inquiries, contact Mom Made on Viber at 0917-8990536 or 0917-8990374.
Photos courtesy of Mom Made.
Read more:
Meet the family that popularized crispy pata
Throw the best party ever with the help of these chef caterers
Inside the fridges of Manila's top chefs
Read more by Pauline Miranda:
Isdaan will be your new culinary and cultural playground
Would you try a mystery steak box?
Filipino food can be healthy, this Fil-Am chef proves
Writer: PAULINE MIRANDA