3 good reasons why you should invest in silk clothing
Time for a little wardrobe update
May 17, 2018
In the spirit of good, sustainable fashion, I think it's about time you ditch your polyester clothing for something much more timeless and luxurious. I'm talking about silk, an extremely soft and durable fabric created from natural proteins.
Contrary to popular belief, silk is surprisingly easy to care for. It has the ability to retain its beauty for years—another reason why it's often used in heirloom pieces that are passed down from one generation to the next.
Silk can be casual
You might be thinking, "Isn't silk just for fancy cocktail dresses?" This is not true because silk can definitely be casual. It regulates body temperature and has impressive moisture-wicking properties, making it a comfortable everyday wear.
It's hypoallergenic
This timeless textile is hypoallergenic, which is perfect if you have sensitive skin. Unlike cheap (and oftentimes fake) silk, it doesn't create that annoying static. And did we mention that it also repels mold and mildew?
You can easily take it from day to night
This one's out of the question. Since silk is already a luxurious material by nature, transitioning your outfit from day to night would be a breeze. Just slip on some heels after five and you're good to go.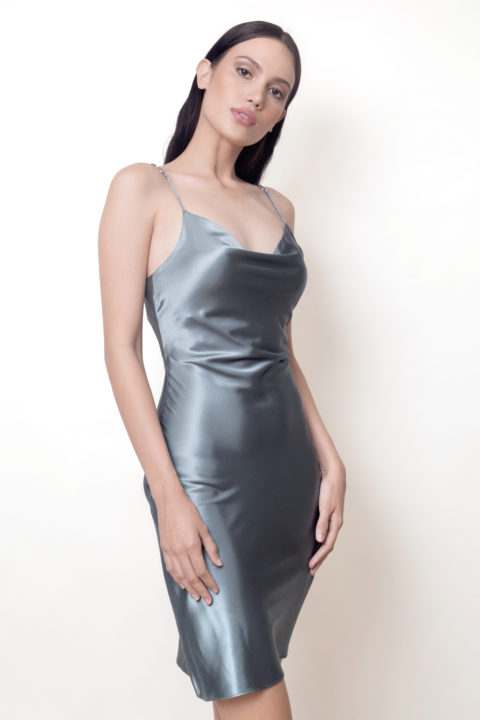 SYNE Label is a local clothing brand that specializes in bespoke silk pieces. Designer and owner Patricia Baligod launched the #SynedWithSilk campaign a while back, which featured her clients in their custom-made silk wear. "I love the process of learning and getting to know how to emphasize a customer's body shape, [including her] personal taste. There are certain silhouettes and fabric manipulation techniques that will work best only for certain types of body shapes," Baligod shares.
SYNE's RTW line is currently available in Retail Lab at Power Plant Mall. The luxury wear is available in LANAI at The Alley, Karrivin Plaza. For bespoke appointments, their atelier is located at the Morgan Residences, McKinley Hill, BGC.
Read more:
How to make neutrals work, from someone who loves color
Handwoven bags that support local craftsmanship
Personalize your jewelry with these 5 local brands
Read more from Bea Llagas:
5 local brands your tots will love
5 local furniture shops to help brighten your home
Here's a sunscreen that corals will love
TAGS: bespoke silk custom-made fashion luxury market nolisoliph silk silk wear SYNE SYNE Label