LOOK: Kalinga tattoo artist Apo Whang-od to receive NCCA award
A salute to traditional Filipino art
Jun 25, 2018
At the age of 101, Apo Whang-od Oggay from the Butbut tribe in Buscalan, Kalinga is the oldest manwhatok, a traditional Kalinga tattoo artist.
The National Commission for Culture and the Arts (NCAA) recognizes Whang-od "as a living vessel of a traditional practice, who deserves honor and acknowledgement for her contributions, particularly by bringing to greater attention the indigenous practice of tattooing and Filipino culture in general."
At 5 p.m. today, she is set to receive the 2018 Dangal ng Haraya Award for Intangible Cultural Heritage from the NCCA for making a significant contribution to Philippine culture and arts. The awarding ceremonies will be held at the Kalinga Capitol Plaza, Tabuk, Kalinga.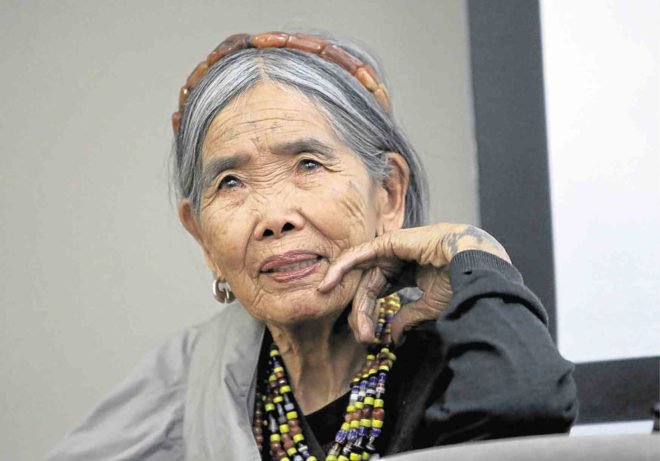 Whang-od Oggay was taught by her father and since she was 15 years old, has been tattooing elders, warriors, and women in her tribe using charcoal as ink and calamansi thorns to tap into the skin.
In the past, these tattoos had to be earned. However, the individuals that wore and earned these tattoos after protecting the tribe no longer exist. Still, Whang-od Oggay has made an effort in preserving this ethnic traditional practice by continuing to tattoo tourists that visit Buscalan. Many local and international tourists journey all the way to Kalinga to have her famous three linear dot and geometric designs printed on them.
The commission has recognized Apo Whang-od's craft and the influence and impact she has made on traditional Filipino art. She has opened the eyes of not just the nation but the world as well, and has brought awareness about the beautiful culture of Kalinga.
Header image courtesy of Inquirer.
Read more:
This commercial just revealed internalized discrimination against indigenous peoples
Before you judge, here's what really happened between Whang Od and Manila Fame
Here are all the museums in Manila you could visit any day for free
TAGS: Apo Whang Od cultural heritage dangal ng haraya filipino art kalinga kalinga tattoo art ncca Whang Od