Boracay's back: What you need to know about the island's reopening on Oct. 26
DOT chief Berna Romulo Puyat calls it a "soft opening"
Oct 1, 2018
After six months, Boracay is ready to open its shores to the public again—sort of. Department of Tourism secretary Berna Romulo Puyat said that while there will already be establishments and accommodations open, only major roads have been completed and will be ready for the Oct. 26 opening. The rehabilitation, including Boracay's roads, will be complete by Dec. 2019.
How different will the new Boracay be once it reopens in a few weeks?
No more parties
Part of the new requirements and laws to be implemented on the island includes several bans:
No alcohol and cigarettes in public
No more La Boracay parties
No more tables, chairs, and massage beds near the beach as this goes against the Water Code, which allows for a 25-meter easement
Souvenir stalls and shops are not allowed on the beachfront
Limited to total ban on fireworks
No open fires, use of kerosene gas, and gas lamps along the beach (meaning no more fire dances)
These are in hopes of protecting the white sand beach front, as well as the wildlife on the island, which includes flying foxes and endangered fruit bats.
Marking tourists
A study commissioned by the Department of Environment and Natural Resources (DENR) found that to sustain to the island's carrying capacity, there should only be 19,215 tourists at a time, with daily arrivals limited to only 6,405 tourists.
The study also notes that the total carrying capacity of the island, with tourists and residents, should amount to 54,949 (based on Presidential Proclamation No. 1064) to 55,757 (based on Comprehensive Land Use Plan).
Before the closing, the island's population was at 70,781 per day.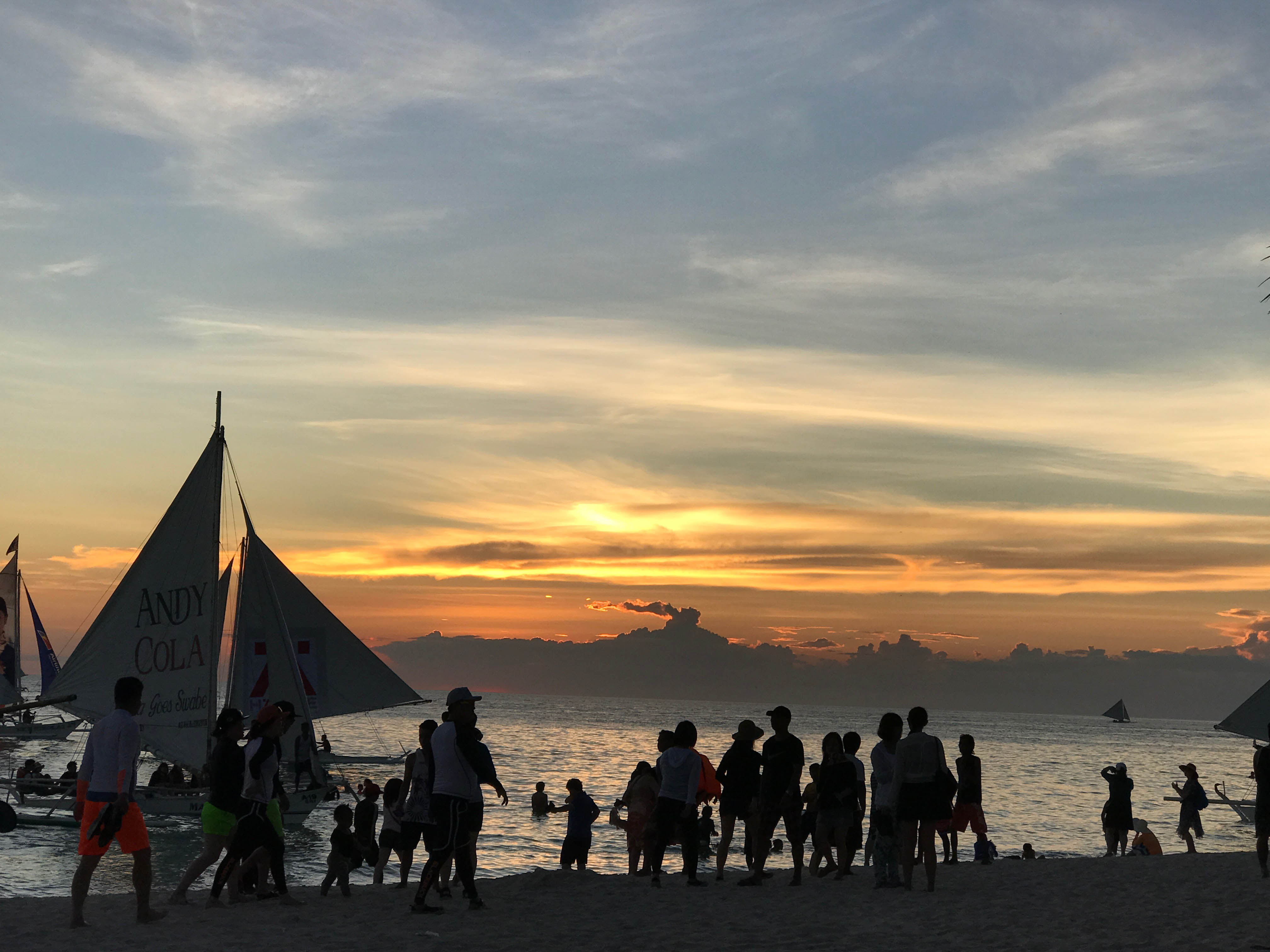 There have been several ideas floating around on how to limit and manage tourists to the island.
One is to reduce the number of flights to Boracay. To reduce congestion on Boracay's main road, DENR secretary Roy Cimatu also suggested that residents "would be allowed to enter and leave the island through three ports, instead of through the single entry point at Cagban port," the Inquirer reports. This, however, goes against a provincial ordinance.
The idea of giving tourists tap cards or bracelets to regulate tourists is also being considered. The cards or bracelets may be loaded with cash to make payments easier. It has its fair share of detractors though.
Among the complaints against the system include the fear of relegating the island to something akin to a theme park, as well as the possibility that people would use the bracelets/cards as a way to earn or extort money out of tourists.
Other measures to sustain the island
DENR undersecretary Sherwin Rigor also noted that aside from banning casinos and online gambling on the island, Boracay will also be closed for a month yearly to allow the island to recover.
Several establishments on the island have also taken matters into their own hands to help maintain the cleanliness of the island's environment. The Sunny Side Group, for example, which manages restaurants such as The Sunny Side Cafe, Spicebird, Coco Mama, Supermagic Burgers, and Popo, has been implementing the use of steel straws in all their drinks, and upon the island's reopening, will also be offering free water refills. This is to encourage people to bring their own containers or tumblers instead of constantly resorting to buying plastic bottled water.
Header image courtesy of Pixabay
Get more stories like this by subscribing to our weekly newsletter here.
Read more:
No more single-use plastic once Boracay reopens
Butanding in Boracay's not a measure for cleanup's success, Greenpeace clarifies
Mindanao beaches could be big winners in Bangsamoro autonomy, says Sen. Migz Zubiri
Read more by Pauline Miranda:
This Boracay hotel just won a sustainable design award
The coolest treats to try in Boracay today
The ultimate, curated guide to El Nido, Palawan
TAGS: