This heavy seawall construction on a La Union beach is keeping sea turtles out
Here's why this is a direct threat to our marine biodiversity
Oct 3, 2018
A heavy construction excavator is spotted on the coastline of San Juan, La Union yesterday and advocates are appalled. Why shouldn't they be? Aside from being a threat to the beach, these materials—and whatever they're building—limit biodiversity for the sea animals, especially now that the construction occurs simultaneously with the sea turtle nesting season.
The huge materials on the popular beach made rounds on social media when coffee shop El Union Coffee posted an Instagram photo of the construction site. It was accompanied by the caption: The #LaboraficationofLaUnion. "How can this be allowed? This is how to ruin a beach, and eventually a surfable wave," owners of the coffee shop wrote. "But more importantly, it is how to ruin a natural wildlife habitat for ancient sea creatures who help keep the ecosystem in balance."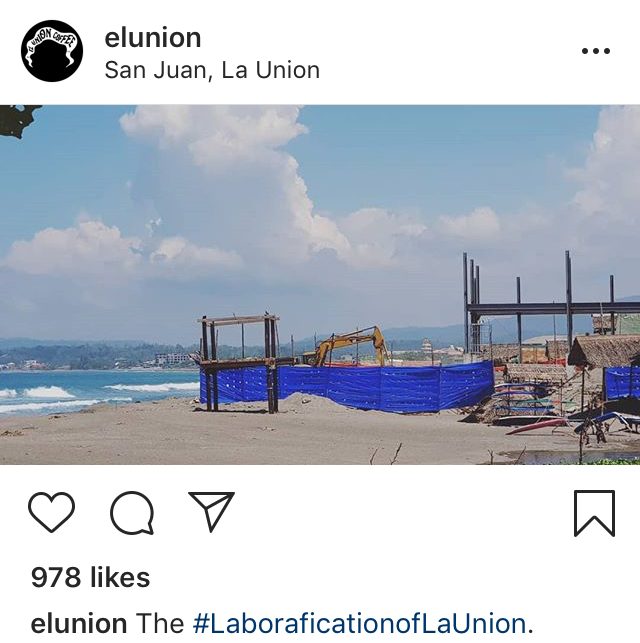 The Coastal Underwater Resource Management Actions (CURMA), a non-government organization on pawikan conservation and protection, stressed in this video that heavy equipment by the coastline (a) destabilizes banks, dunes, and landforms, (b) impacts wildlife and nesting habitat, (c) compacts sediments preventing its ability to dissipate wave energy, and (d) a safety hazard o beachgoers.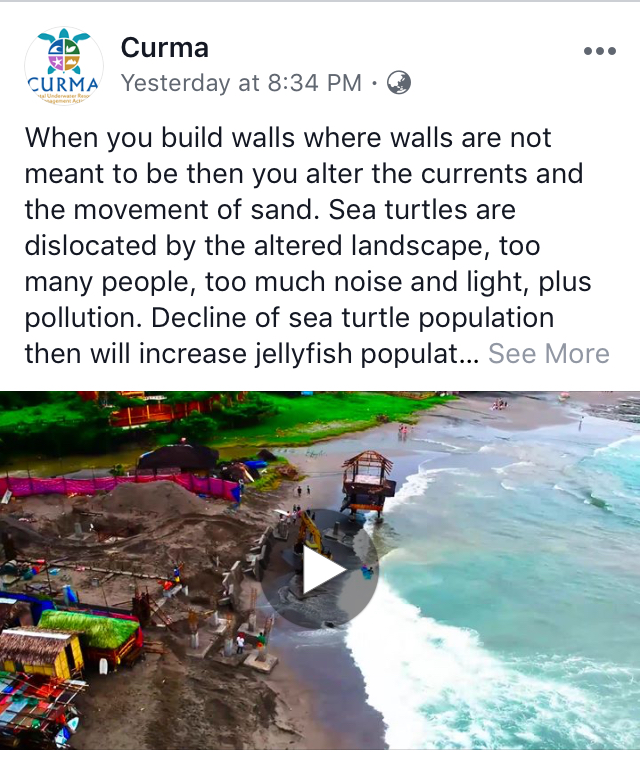 Further construction will also result in sand displacement, which would then lead to the depletion of beach stretches. This alteration of coastal landscape—without considering its effects on nature—will contribute to the destruction of our environment, CURMA stated. "Marine life such as coastal plants, trees, and animals that have kept and maintained the balance of these areas will be destroyed."
Although the type of establishment to be erected (along with the people behind it) is still unverified, the video showed that seawalls may be constructed by the coastline. "When you build walls where walls are not meant to be, then you alter the currents and the movement of sand," the La Union-based group wrote. A previous research stated that seawalls, mostly used to control and identify property on a beach, "reduces the natural delivery of sand leading to detrimental effects in the down-drift coast beaches" like erosion.
We can observe from the infographic below featured in the CURMA video, which was borrowed from Orrin Pilkey and Katharine Dixon's book The Corps and the Shore, how seawalls lead to beach erosion, waves deflection, and marine biodiversity reduction.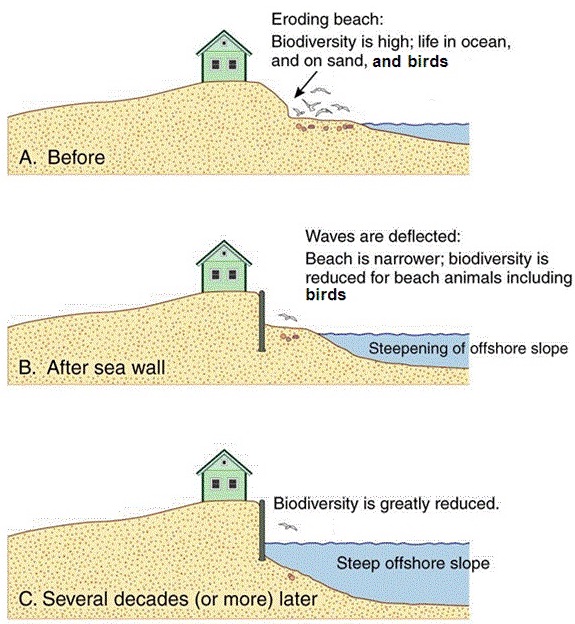 Speaking of biodiversity, La Union beaches are homes to many sea turtles. After months of exploring the wide ocean, pregnant sea turtles return to the same beach they were born at to lay their eggs. With La Union's reputation as a favorite nesting place, many sea turtles are expected to go back to its shores.
But the permanent changes on the sea turtles' habitat may place them in distress. Their longing for their preferred  location for hatching puts their health and comfort at risk. This could lead to lesser sea turtles coming. And with the decline of the pawikan, more jellyfish will infest the waters.
In short, heavy constructions on beaches will also lead to imbalance in our marine ecosystem.
This is a call to stop  the ongoing La Union seawall and building construction. Whatever they're building, it will not bring people closer to our country's rich marine biodiversity. It will not make tourists appreciate the environment more. With projects like this, they are only locking our treasures out.
Header photo courtesy of El Union Coffee
Get more stories like this by subscribing to our weekly newsletter here.
Read more:
La Union will soon host a 41-hectare coal-fired power plant
#FindingCharlie: The vandal of coral life in Batangas
World's largest floating trash zone now 3 times size of France
Read more by Amierielle Anne Bulan:
Student fare discount may soon cover all transport utilities, year-round
The government blatantly lacks cultural heritage literacy. Here's why
Sold for P63M: Here's how the Spoliarium boceto went under the gavel
TAGS: beach biodiversity CURMA El Union Coffee La Union marine north san juan Seawall