Filipinos successful in amending inaccuracy in San Francisco monument
The Dewey Monument plaque which previously left out the role of Filipinos during the Spanish occupation is due for a revision
Oct 31, 2018
History is always a battle of memory, and sometimes, as in the case of statues and monuments and the people they represent, identity. The recent development in the San Francisco's Union Square monument also known as the Dewey Monument is a good example.
A group of Filipinos in California has successfully moved to change the inscription on the foot of the 26-meter column built in 1903 to honor Admiral George Dewey's successful assault to the Spanish forces during the Battle of Manila Bay in 1898.
The monument which was unveiled by President Theodore Roosevelt has since been criticized for presenting the history of the bloody battle solely from the point of view of the Americans.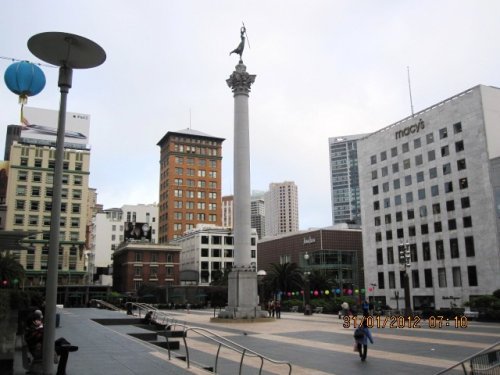 Written in its current description is an account of Dewey's attack which took place in Apr. 30, 1898, wherein his troops "attacked and destroyed the Spanish fleet of ten warships. Reduced the forts and held the city in subjection until the arrival of troops from America."
The revision proposed by a group of Filipinos led by Rudy Asercion has been approved by the San Francisco Arts Commission (SFAC) last week.
"Some people celebrate Filipino American History Month, but we are part of making history today with this unanimous approval. It was a big help that the Filipino community, not just by one person or one organization but the whole community, showed and up and spoke in behalf and in favor of the plaque," Asercion said in an interview. "We are doing this thing for our children so that they know that rich history of the Filipinos with regards to the Filipino American War."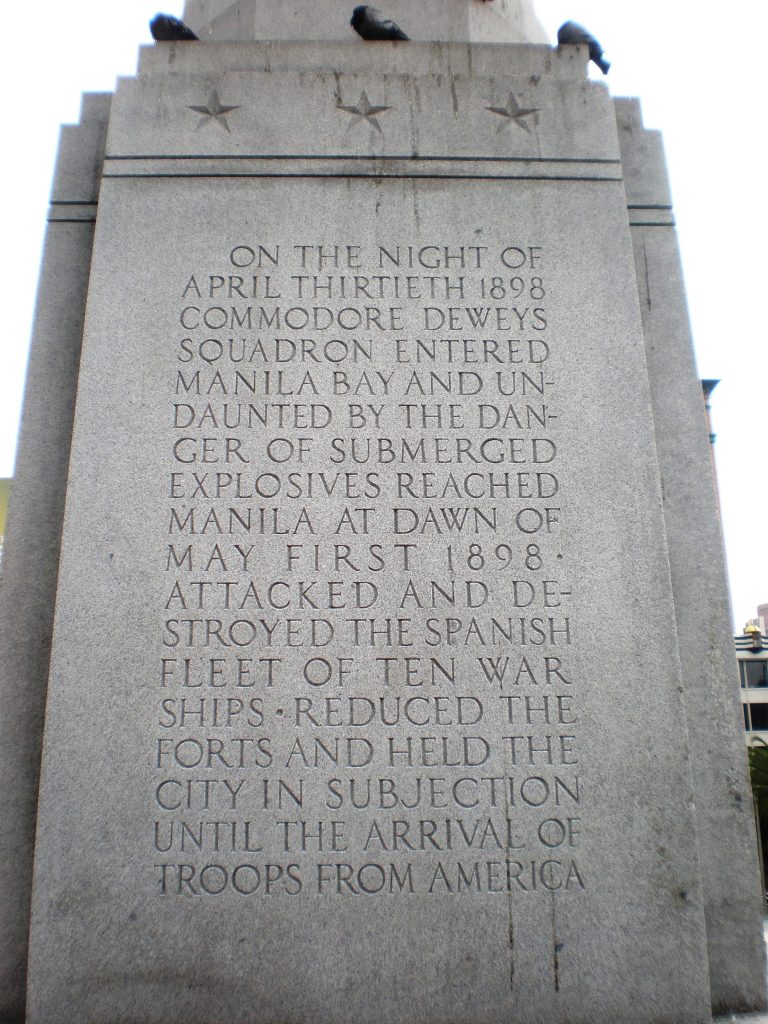 The new inscription will soon include information about the Filipinos participation in the Philippine-American War:
"The Spanish American War ended with the Treaty of Paris in December, 1898. However, the United States' continued military presence in the Philippines led to the conflict later known as the Philippine American War. In that dark period, 4,400 American soldiers died, together with 20,000 Filipino combatants. Civilian lives lost numbered in the hundreds of thousands. The Philippines remained a colony of the United States from 1899 to 1935, and granted commonwealth status thereafter."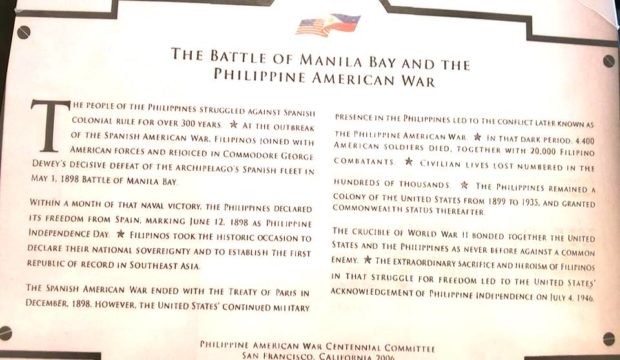 According to lawyer Rodel Rodis, there has been an appeal to change the inscription on the monument as early as 1977. Asercion got involved sometime between 2005 and 2006 when they "started drafting the text of the plaque and going through the different channels to get it to happen, and again it failed," Rodis said.
The group expressed their gratitude to San Francisco Mayor London Breed and his Filipina  senior adviser Marjan Philhour who pushed for the historical importance of the move to the SFAC.
The SFAC and the proponents of the revision will still have to talk about the plan of putting up a new plaque in place of the existing one. This is expected to happen Oct. 5 next year in line with the Filipino American History Month celebration.
Header photo courtesy of Felicia Kieselhorst for Bartable
Read more:
To stop repeating history, we have to relive it—in VR
Traitors in Philippine history who are only loyal to one thing
The government blatantly lacks cultural heritage literacy. Here's why
TAGS: dewey monument history san francisco union square