Instead of penalizing farmers, why not provide drying facilities?
DPWH wants to fine or imprison farmers for drying palay on highways, as if those farmers have a choice
Nov 12, 2018
I grew up paying occasional visits to a quaint house in Nueva Ecija, where a side of my mother's family lived. Unlike most childhood trips where I constantly ask my parents if we're near our destination, I find myself quiet for most of our Nueva Ecija drives, fascinated of the northern towns we pass by. Everything I see outside the car window is a picturesque view of the rural life; from the carabaos sleeping in ponds to the children bathing under the highway bridges.
What I always look forward to during the six-hour ride, however, is the sight of palay or unhusked rice laid out on the road.  This means we are getting closer the rice fields, where my uncle's house is located. From the bridge entering the small town to the porch of my uncle's neighborhood farm are sacks with palay on top, waiting for the crops to dry.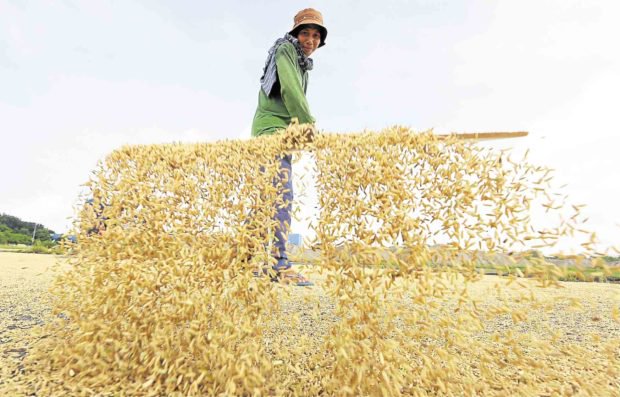 Diyan lang sila nakakapagpatuyo, eh, I remember my uncle explaining to my young self when I asked about the unhusked rice. Despite being recognized nationally as the Rice Granary of the Philippines, Nueva Ecija still does not have the land for farmers to dry their crops on. There is still a glaring lack of support given to them who have spent most of their lives producing crops for the people to eat.
This is the reason why I was taken aback by the recent department order of the Department of Public Works and Highways (DPWH), where they stressed that drying palay or any other farm produce on the road is banned. "Any person found to be in violation of this law is punishable by a fine of not more than One Thousand Pesos or by imprisonment no exceeding six months," the DPWH decree wrote.
Citing Section 23 of Presidential Decree No. 17, DPWH said the total ban is made to "safeguard the motorists from any untoward accident."
While the reason is understandable, imprisonment or fining farmers with an amount that is almost at the same level as their monthly wage is inhumane. Yes, despite my childhood fascination, I know the risks of having those unhusked rice on the national highway, where motorists and big trucks pass by. I also know that it sometimes occupies almost a whole lane, forcing vehicles to use only one part of the road thus resulting in traffic.
But that does not mean it's the farmers' will to do those things. It's not like they even have a choice.
"Sa mga lugar na nagtatanim ng palay, puro bukirin. Kung hindi bukirin, highway lang talaga. Wala namang binibigay na lugar sa kanila," my grandfather Mendring, who has also been exposed to the life of farmers up north, told me last weekend.
The DPWH order is not only anti-poor but also a threat to the agriculture livelihood in the provinces. The government is so fast in giving punishments to the poor sector that they do not even try to think things through. Don't they know that farming is the only accessible job in the area and that farmers are compelled, forced even, to use the main roads for work?
In case the government can't see from their high seats, there are no available and affordable drying facilities in the area. All the government does is give lands to business hubs. The farmers just need one space, even just a small basketball court, to let them dry their crops in.
If we are going to continue punishing farmers for opting for even the most desperate way to fulfill their duties (as if their daily sufferings of social injustice with the government's political climate is not enough), then I do not know how DPWH sees justice.
Header image courtesy of Willie Lomibao/Inquirer Northern Luzon
Get more stories like this by subscribing to our weekly newsletter here.
Read more:
Why we need to start teaching agriculture in our schools ASAP
The rejected tomatoes issue is rooted in our country's lack of local support
Planning to try urban farming? Get help from this Facebook group
Read more by Amierielle Anne Bulan:
Fashion designers parade inabel weaves in pop up exhibit
Wear gemstones while swimming with this new swimsuit line
Dear companies, recycling is not the answer to plastic pollution and you know it
TAGS: crime crops dpwh DTI dyring farm farmer highway illegal nolisoliph north nueva ecija playa produce province