Poblacion's new rooftop restaurant sets the bar high for brunch
Essential Goodness, For the Pilgrims. is the town's newest brunch hub rooted in Poblacion's culture during the Spanish era
info
Essential Goodness, For the Pilgrims.

Brunch, cocktails

6 a.m. to 3 p.m. and 6 pm to 10 pm

₱

195 to 445
Nothing screams Poblacion more than rooftop bars and hole-in-the-wall restaurants. Well, at least that's how it's known now as the town offers the hottest pubs and coolest bars in the Metro. But unbeknownst to everyone is that way before, Poblacion was actually already a hotbed. For the pilgrims, that is.
During the Spanish colonization era in 1620, Poblacion was dubbed as the "center of the Catholic faith for St. Pedro de Macati." This was because Jesuits built the San Pedro Macati Church (now known as the Saints Peter and Paul Parish Church) which became the center of devotion to the saint.
"Pilgrims used to flock to Poblacion every now and then, they said," chef Mark Sanchez told Nolisoli.ph. So to highlight this part of the town's rich history, the owners decided to name the newest brunch place they set up as Essential Goodness, For the Pilgrims.
"Even the punctuation marks play a part in the name," said Sanchez. It's a representation of the stop and go motion, referencing that the restaurant is a place you can stopover to relax before heading out again to face the bustling city.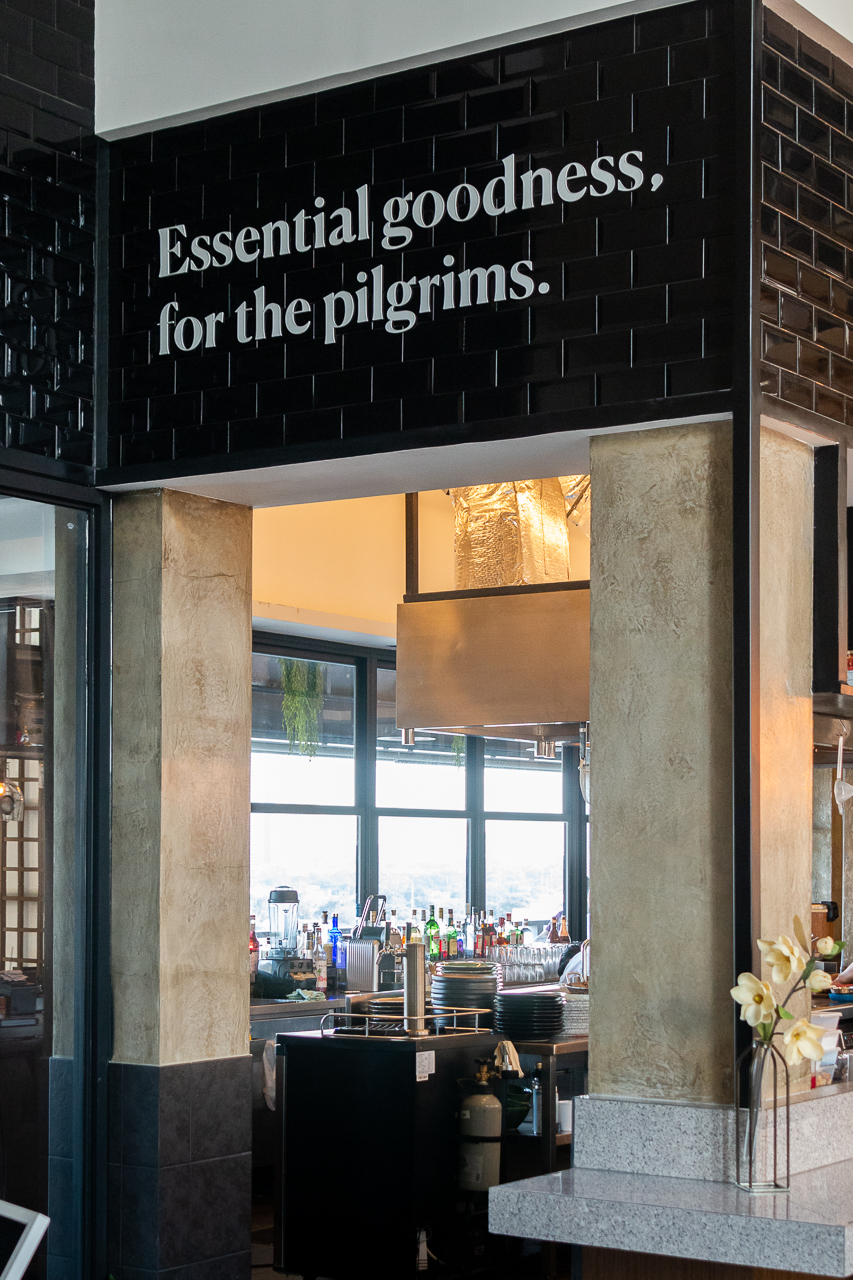 Like its name, the interiors of Essential Goodness, For the Pilgrims. elicits a breath of fresh air. Situated at the 13th floor of the Lub d Hostel along Makati Avenue, the place offers a panoramic view of the city which makes the undeniably diverse lifestyle in Makati a little too noticeable. On one side, the restaurant has an al fresco cocktail bar facing the skyscrapers of Rockwell, Makati. On the other side is an indoor dining room facing most the city's residential areas.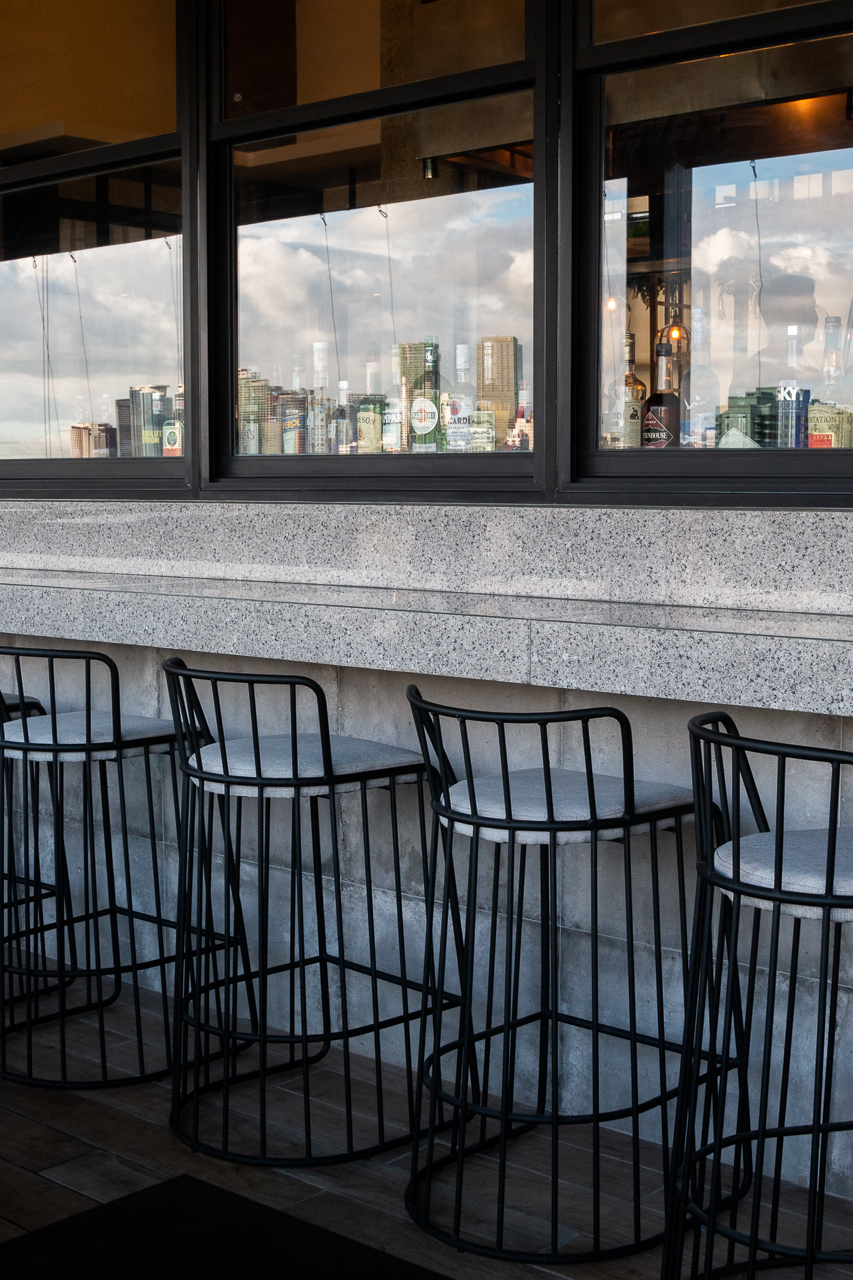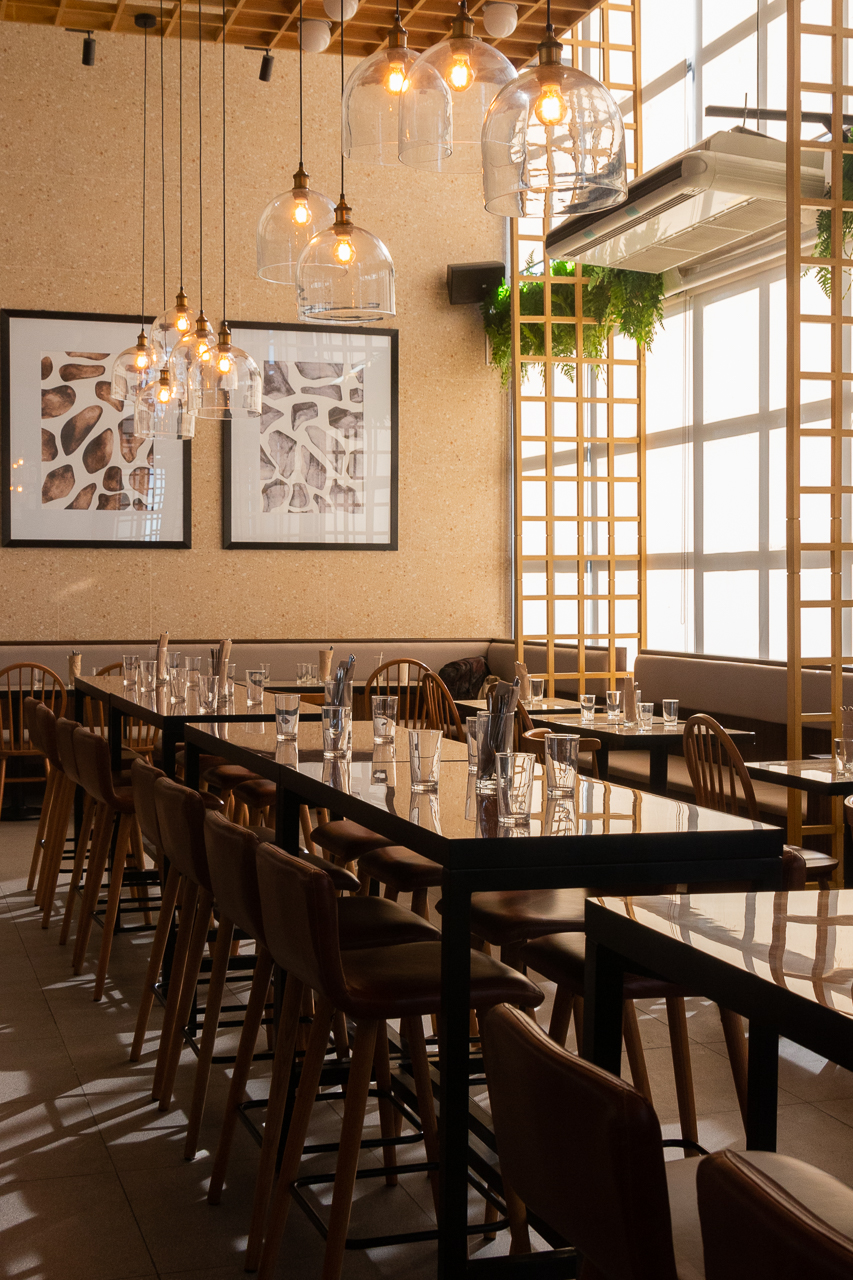 An open kitchen cuts the two in between. "We're a fan open kitchens because it's a good way to let our staff communicate and interact with the guests," Sanches said. "We believe kasi na 'yong mga gumagawa ng pagkain should be able to talk to those who will consume it para mas mapakilala sa kanila 'yong food."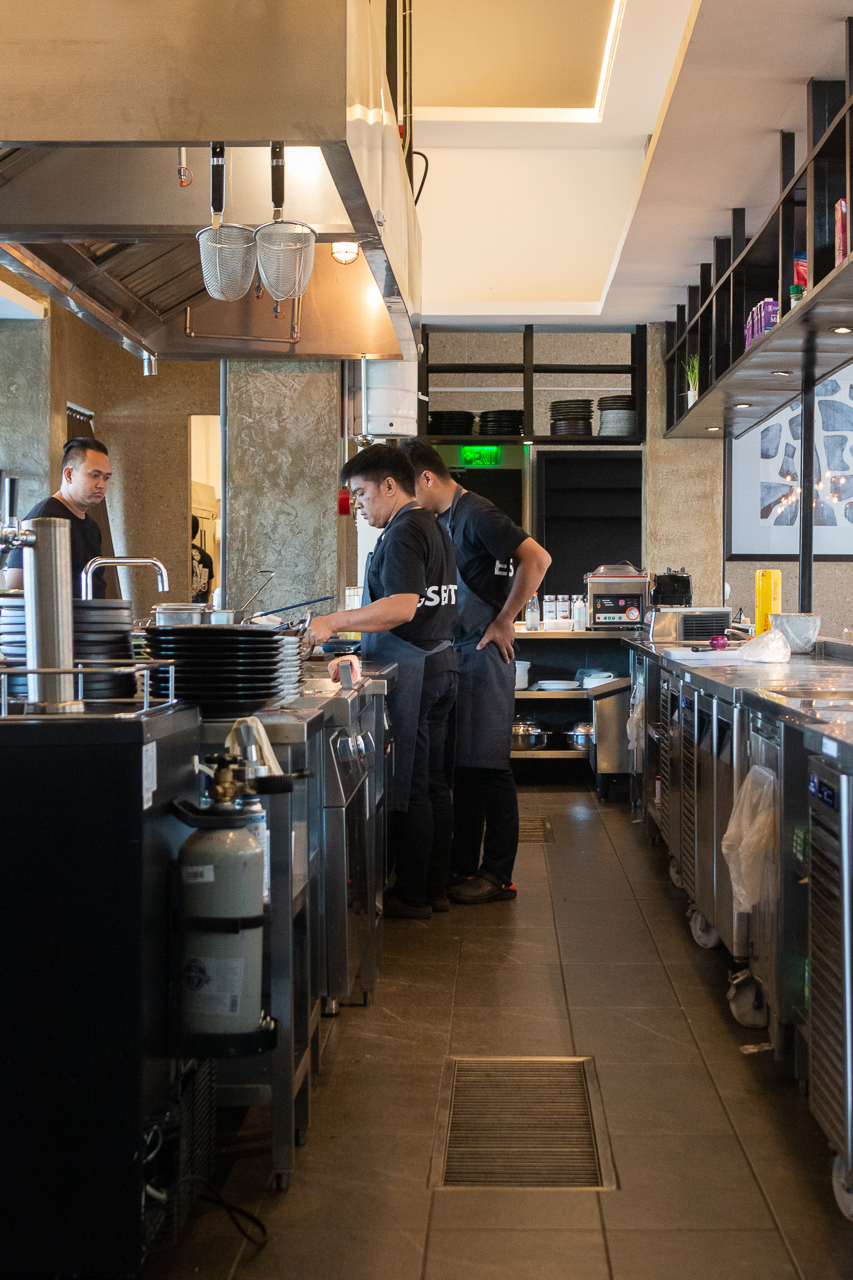 The interiors of this 90-seater restaurant was originally planned to be a pool area "pero nasayangan kami sa view," Sanchez stressed. The challenge to them was they're building it on top of a modernized hostel, which means it should give a more homely yet upscale vibe. "It's actually one of the reasons why we encourage our staff to interact with the guests. Para kahit na nasa hostel ka, 'yong experience mo naman is comfortable dining."
For starters, they serve the classic longsilog—only made better as the longganisa is not just homemade but also a combination of the hamonado and garlicky longganisa. "It's good that you don't have to choose between the two anymore, right?" Sanchez said in jest.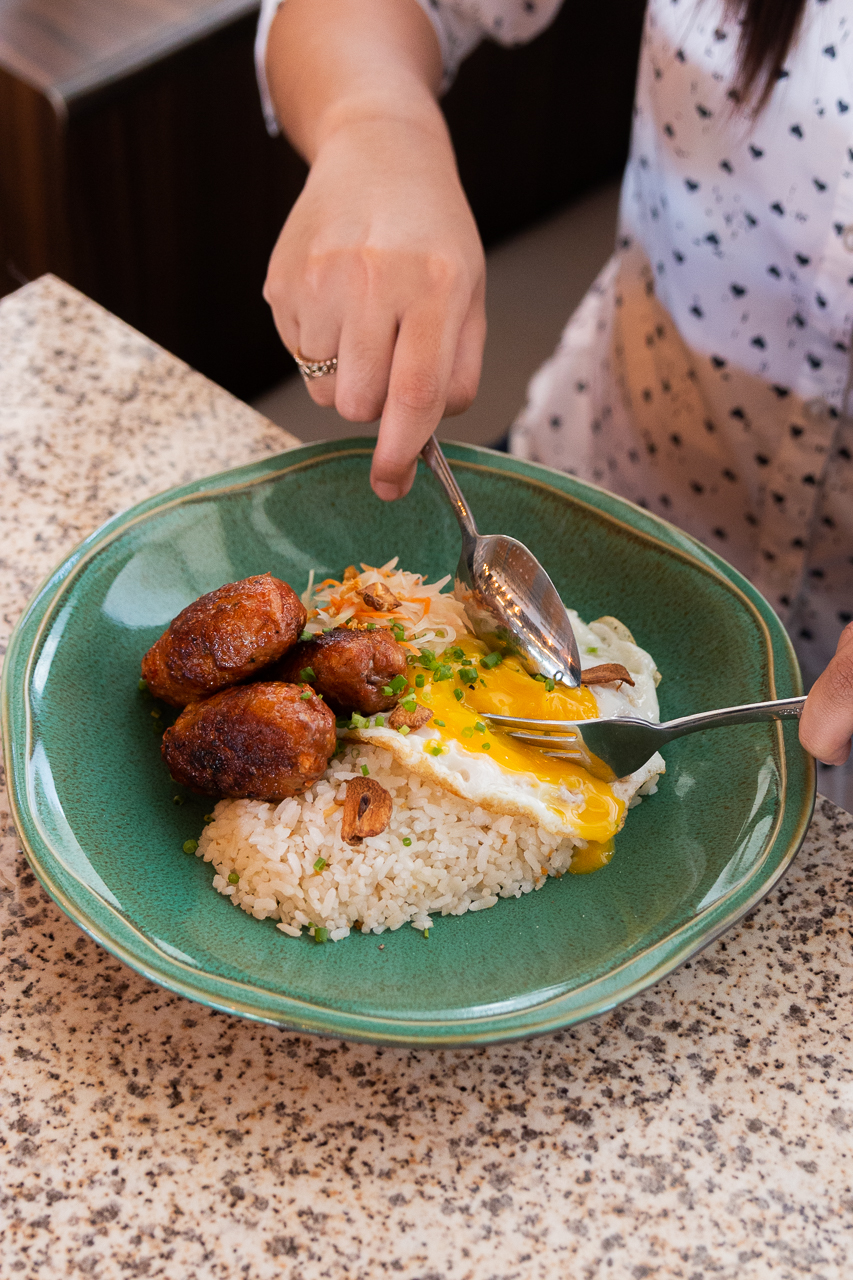 The longganisa is only one of Essential Goodness' wide selection of spiced up brunch meals. Even if you just skim through their menu, you'll already accept your fate that you not going out there without a full stomach.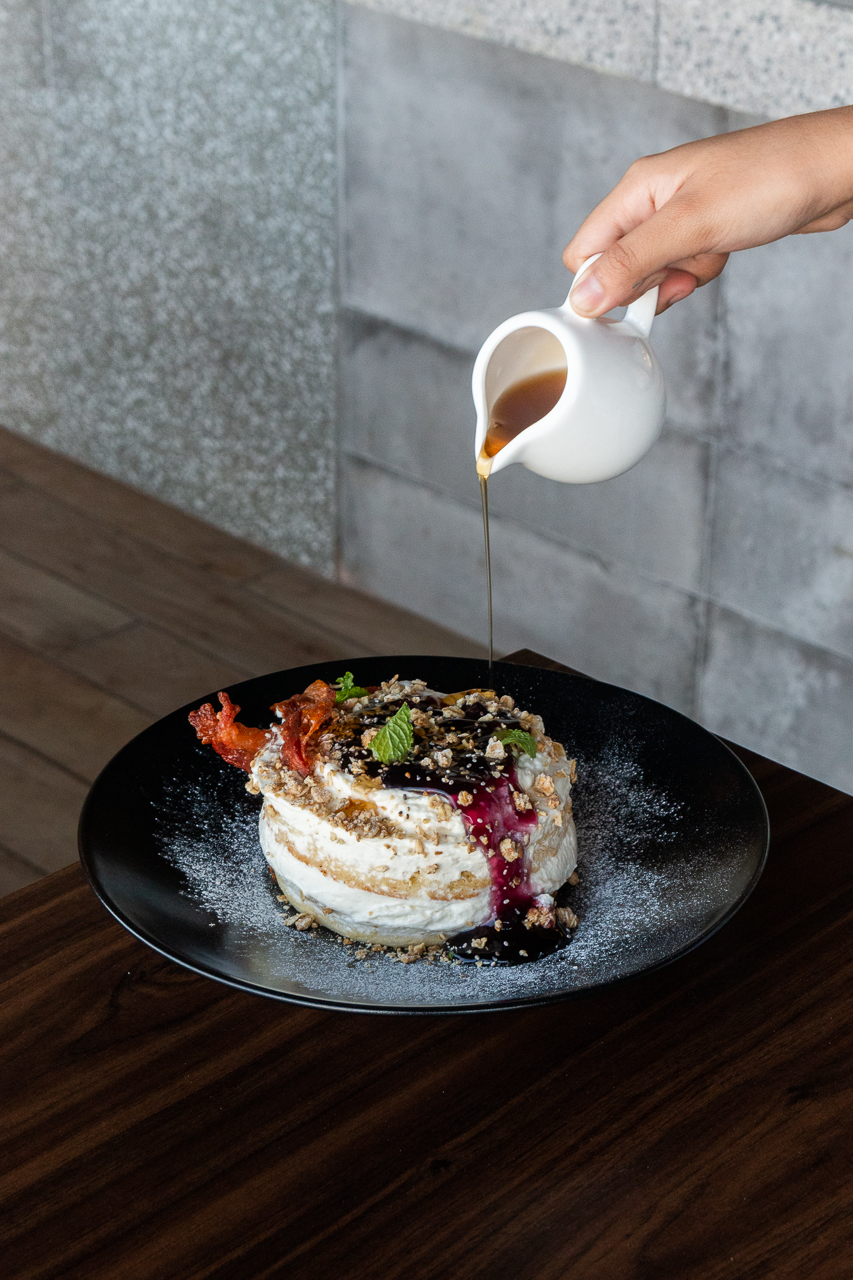 Just take a look at that stack of pancakes above. At first glance I thought it was composed of five pancakes but according to Sanchez, the dish has only two fluffy pancakes on top of each other. "It has a fluff that's close to chiffon," Sanchez shared. It's served with lavender whipped cream, adding further sweetness to the dish. To balance this out, the chef decided to add a salty and crispy bacon on the side.
While the menu boasts of brunch staples, the restaurant is also offering dishes you can enjoy if you don't like eggs and flour that much. There's a buffalo chicken burger that has been spiced up with blue cheese aioli and buffalo sauce and a wagyu beef patty that has been sauced with gruyere cheese and jalapeño.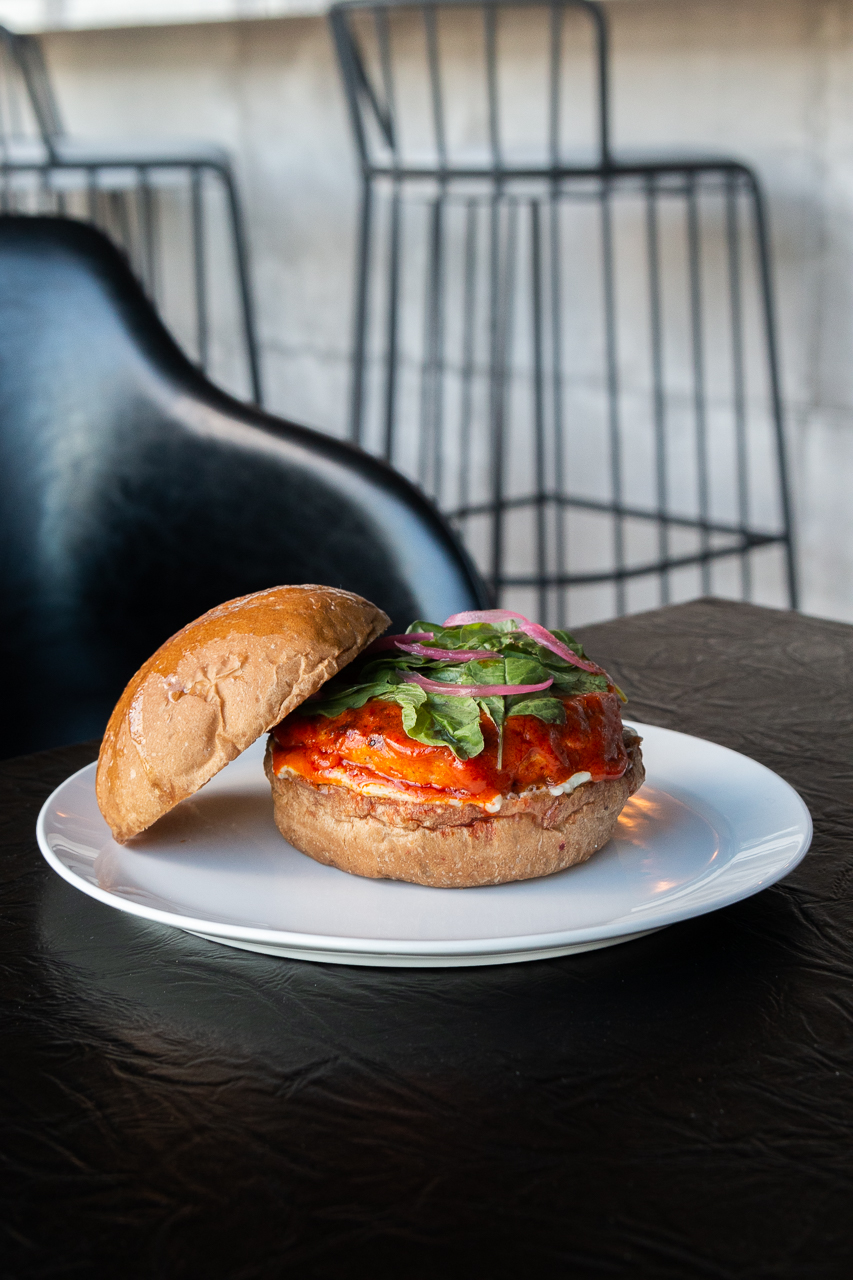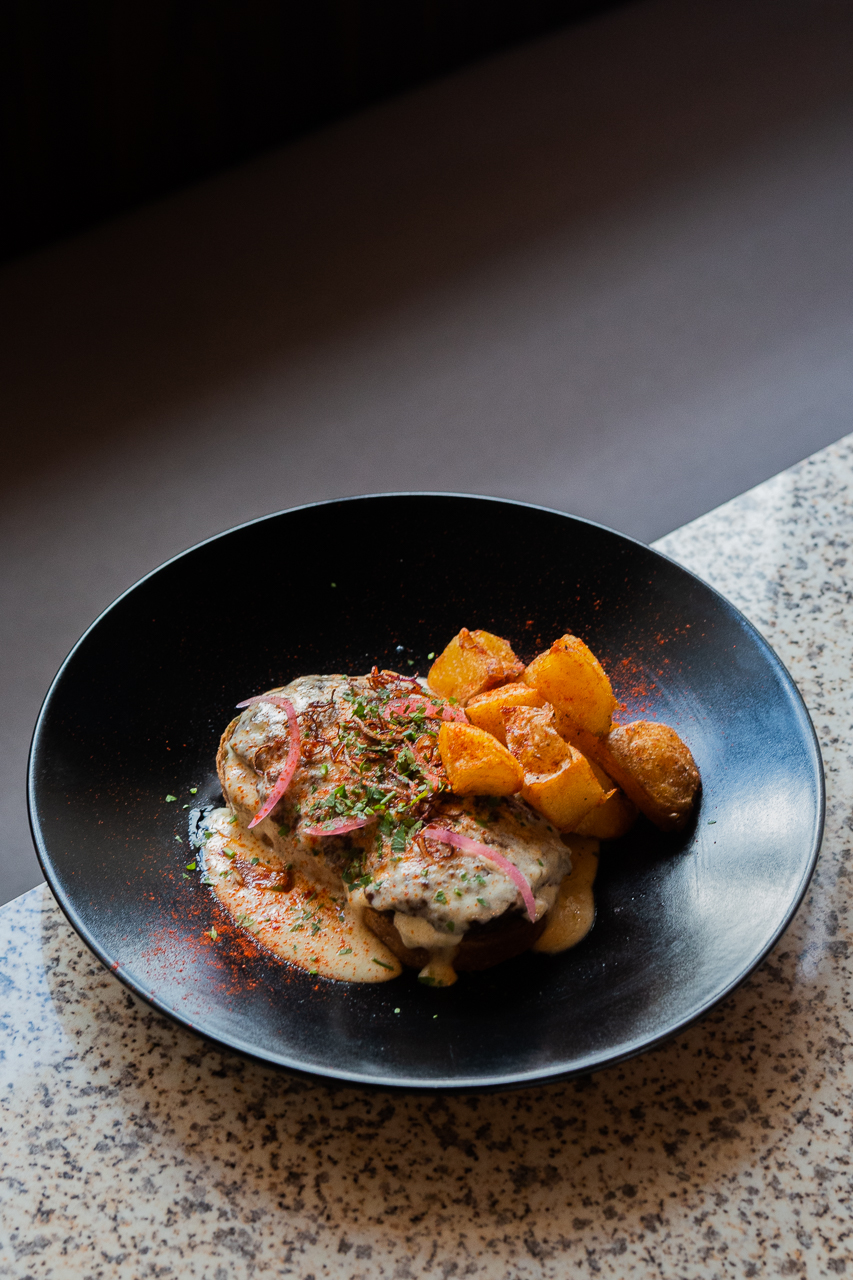 The restaurant is actually planning to launch a dinner menu soon to widen the options for those who will be drinking the cocktails, which will no doubt be able to cater to the taste of any customer.
The cocktail menu conceptualized by bartender Jomar Calangian is as welcoming as the interiors. There's the Soursop Black Tea special whisky for those who like a strong drink that will stay with them for the night. According to Calangian, who has been Sanchez' partner head bartender for the past four years, it is served with burnt rosemary herb to "give aroma to the black tea."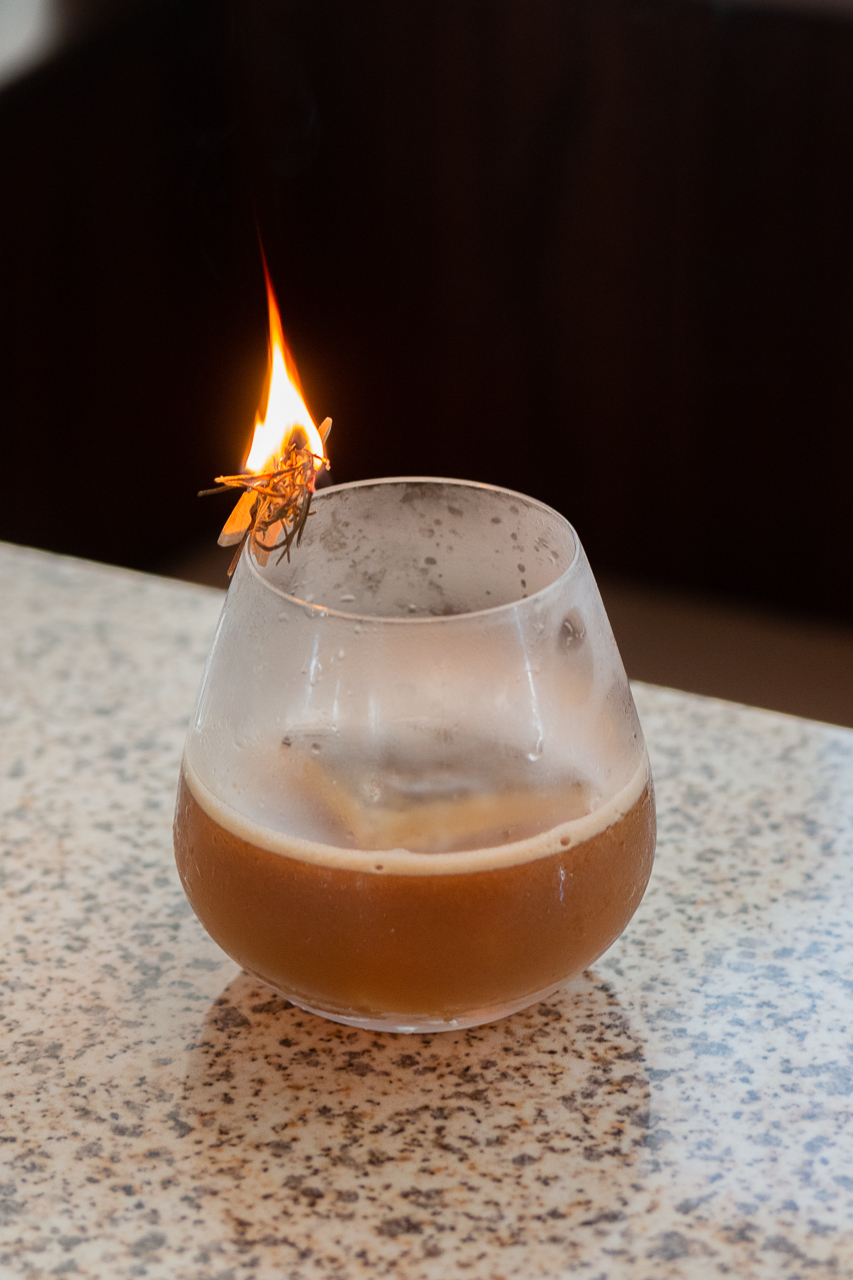 There's also the Essential Goodness signature iced tea with lemongrass, black tea, and calamansi made for those who want to sweeten their spicy brunch meals as well as the Negroni cocktail with gin and Campari, which is considered an aperitif for those who want to start their days or nights light and steady.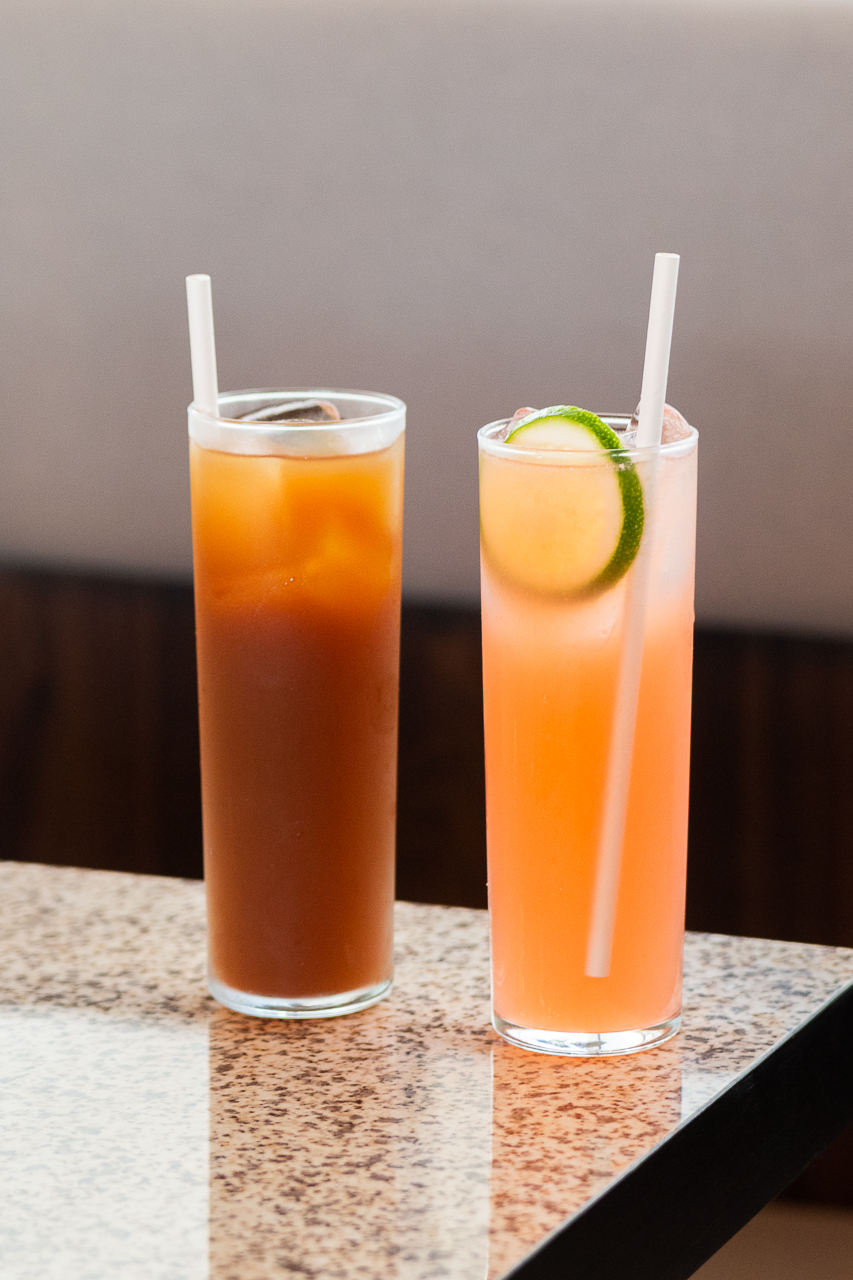 Essential Goodness, For the Pilgrims is indeed a place for those who want to take a break, whether light or heavy, amid the chaos of Makati.
Discover more up-and-coming and under the radar restaurants and food spots in our YouTube series, Nolisoli Eats. Subscribe to our channel here.
Get more stories like this by subscribing to our weekly newsletter here.
Read more:
Kare-kare and Pinakbet get a facelift at this kitchen + bar in Morato
This Poblacion pregame spot lets you make all the noise you want
Agimat makes drinks with ingredients from your lola's pantry
TAGS: Bar bars in poblacion drinks Essential Goodness For the Pilgrims Poblacion restaurant Restobar
WHY GO?
This restaurant has an almost four-inch tall half-stacked pancake with crispy bacon on the side—a good sweet and salty combination.
MENU