Friends and peers recall the happy and humble "bagets" that was Cesar Gaupo
The fashion pioneer encouraged everyone else to succeed but was oblivious to his own local and global success
Jan 21, 2019
Top model Tweetie de Leon-Gonzales was packing for an out-of-town trip last week when she chanced upon a pair of shoes created by the late fashion pioneer Cesar Gaupo in the closet.
She picked up the pair "which I haven't worn in over five years, I think. I don't know what made me decide (to bring) it" while organizing her wardrobe for a wedding set in Bacolod.
What was clear that time was that De Leon-Gonzales would miss Gaupo's 72nd birthday party Friday night.
Little did the model-turned-entrepreneur know that while she celebrated with the newly-weds several islands away, Gaupo would go to bed after a joyful night of laughter and nostalgia with close friends and never wake up again.
Gaupo died peacefully in his sleep on the morning of Jan. 19. It was a Saturday. The news rocked the country's fashion industry and sent scores of creatives that Gaupo taught or touched sobbing on their work tables after learning of his death.
Accolades poured as funeral arrangements were still being made.
Proteges recalled Gaupo's liberating lack of ego. Knitwear innovator Lulu Tan Gan, one of the departed's closest friends, noted that despite being "a great couturier," Gaupo insisted on "being a low-key designer, he doesn't think his fashion is an element of social status but more an expression of his clients' personality."
Veteran fashion designer JC Buendia started his career as Gaupo's assistant and remembers how his mentor refused to force his ward to follow his style. "Instead, he encouraged me to find my own voice."
Ivar Aseron noted how people "told us we looked alike." Aseron, out of respect, wanted to call Gaupo "Nanay but he always insisted we were sisters (instead)." Gaupo's generosity also struck Aseron who recalled receiving clients that Gaupo could no longer accommodate.
The late designer's sunny disposition would definitely be missed. Many who were struck by the loss offered a recollection of Gaupo's jolly laughter.
"The times I spent with him were 20 percent wisdom and 80 percent silliness. He just liked to laugh. And he laughed with so much gusto. He couldn't care less," designer James Reyes said.
"He was funny, silly, and a maldita and that's what made me love him even more," he added.
Tan Gan called Gaupo "my comediante… always joyful and hilarious" while Patrice Ramos Diaz remembered "a gentle, jolly spirit, always ready with a punchline… (who was) never self-absorbed, no ego."
Jewelry designer Candy Dizon's encounters with Gaupo were few but "he made sure he left a smile on my face and a deep sense of joy. His, quirky, sometimes naughty remarks always made his audience laugh out loud. I was one of those people."
Designer turned organic farmer Hindy Weber offered a similar story. Despite Gaupo's accomplishments in the fashion industry, "when you walked into a room with him, none of that mattered. He welcomed you with peals of laughter, a genuine smile that never seemed to wane and on top of it all, encouragement for your work—no matter how amateur it was next to his."
Celebrity makeup artist Patrick Rosas echoed the observation about Gaupo's inclusivity.  Despite the big name and their differing fields, Gaupo "was kind enough to give me some professional advice when it comes to fashion and its secrets.  He was my food buddy because we both like Filipino food."
His constant shower of compliments also touched peers. Rajo Laurel said that during a photo shoot for Rosas' book, he and Gaupo "were together and he told me that he loved my work and he was so proud of me. That meant the world to me. He taught me how important it was to be nice…in this crazy world of fashion, Cesar was a rare breed."
Designer James Reyes offered a similar story about Gaupo's respect for another's path, search or innovative tendency.
"When everyone was going this way, he was going the other way. He created clothes you haven't seen before…I guess that's the most important lesson I learned from him: give it your all. Always. And don't care what people say. It showed in his work. He was always a step ahead of everyone, including us young designers," he observed.
That he thought differently also called attention. Fashion show director Robby Carmona remembered a collaboration where Gaupo asked him to help launch the designer's shoe line.
"His vision was solid. No runway. No models walking. He wanted installations where models will showcase the shoes. And this was before presentations became a trend. He was truly ahead of his time," Carmona said.
Milliner and fashion designer Mich Dulce admitted being attracted to Gaupo's out-of-the-box mindset.
"We weren't close but I remember when I was young and starting as a designer, I would save up for his pieces because he was kind of the only one who worked with geometrical shapes and drapes and I really admired that," she said.
Designer Dennis Lustico described the work ethic as "a perfect example of a designer who constantly evolves. His designs travel with time, always on point and consistently relevant."
Even Henri Calayag who is a hairstyling icon watched Gaupo intently "because he never stops to amaze me every time in what he does—very young at anything he creates, very current."
Perhaps close friend Tan Gan summed it up perfectly when she said Gaupo's style "is timeless and will remain as relevant. His designs transcend trends. Cesar is also a sculptor—shaping and draping fabrics—as this is his unrivaled strength."
Tan Gan and Gaupo were among the up-and-coming designers offered to develop their own brand by SM several decades back.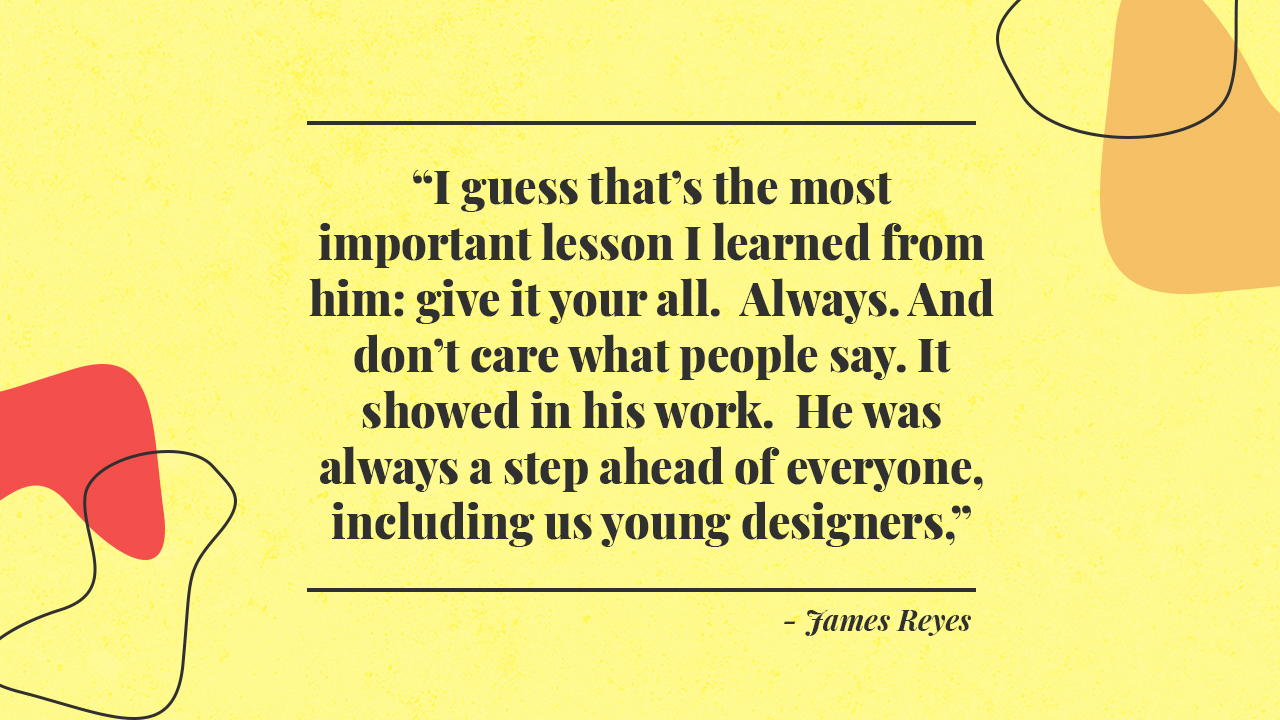 Inquirer Lifestyle editor Thelma San Juan, in a breaking news story on Gaupo's demise, noted that Gaupo was one of the local designers "who shepherded Filipino fashion design in its golden age from the '70s to the '90s."
She added Gaupo "helped pioneer Philippine ready-to-wear (RTW), particularly with SM, and also made a name in high fashion with his innovative designs and flamboyant colors."
Gaupo's success made him a "trusted" team member of the Sy family, "particularly Tessie Sy-Coson" and went on to create made-to-order cocktail wear, evening wear and wedding gowns, the Lifestyle story said.
Friends and colleagues remain in awe until now of Gaupo's stint in Shanghai Tang, the Hong Kong based fashion and lifestyle designer house, where he worked as head of the creative design team for several years beginning 2000.
Gaupo's renegade streak was apparently a major reason for attracting the global design house's attention. The years-long experience eventually inspired Gaupo to return home and explore home and lifestyle design as well.
Dubai-based Michael Cinco said Gaupo's "beautiful house in Laguna" amply reflected this career turn. That Gaupo remained "very humble and simple" was a plus for "one of the best Filipino designers who really made Filipinos proud (especially) when he became the head designer of…Shanghai Tang," Cinco maintained.
Model turned entrepreneur Rissa Mananquil-Trillo agreed saying Gaupo's role in Shanghai Tang "was a fashion milestone that made Filipinos proud. To me, he was pivotal to opening doors for other designers and paved the way for global confidence in Filipino designers."
Like other fashion insiders, Mananquil-Trillo gushed about Gaupo's seeming indifference to his status in the local fashion industry.
"He never felt more important than anyone else. He entered with presence but with warmth. He was always friendly, accommodating, and endearing. He set the standard on how successful designers should be," she said.
Gaupo's young-at-heart disposition was also a highlight among those now mourning him.
"Out of (the) work (place), he has taught me how to stay 'bagets' and have fun," designer Buendia said.
"You are the 'bagets' that is truly youthful," Tan Gan seconded in a statement addressed directly to her friend.
Event host Tim Yap recalled Gaupo's "infectious" energy despite being decades older than some peers.
"He was one of the pillars of fashion who showed the younger generation, 'This is what you can be.' Creative and happy for others, without any haughtiness or self-aggrandizement," Yap said.
Tan Gan said she has not shed tears "in plenty of years until this day" upon learning of Gaupo's unexpected passing.
The close friend recalled their last meeting on the night before he died: "I miss you, Cesar. I am broken. You are my idol, my icon, my couturier, my mentor, my comfort and 'bagets' friend, my comediante, Tita and now Lola to my kids…You are a big part of my life…Thank you for your goodbye kiss and hug that came with thoughtful words, the night before we parted at your birthday party."
De Leon-Gonzales remains "devastated" for not attending Gaupo's final fete.
Perhaps trying to make sense of the last-minute decision to bring the pair of shoes her designer-friend made to the wedding that made her miss his party, De Leon-Gonzales said: "I felt like he whispered to me that we can still be together even if I will be miles away from his celebration."
Get more stories like this by subscribing to our weekly newsletter here.
Read more:
This is how a young fashion designer is changing the runway scene in the Philippines
Fashion is political, according to the young designers of Toqa
The terno is not our national dress—but it could be
Read more by Cathy Cañares Yamsuan:
Discretion with our personal data is our strongest defense post-DFA passport debacle
When the right-of-way law violates one's right to live a life of quality
Smart holiday pampering? Why not try saving up for fine jewelry?
TAGS: cesar gaupo designer fashion filipino designer hindy weber ivar aseron jc buendia Lulu Tan-Gan Rajo Laurel tweetie de leon-gonzales