Spare trees from election campaign materials, environmental group urges COMELEC
EcoWaste Coalition calls out campaign posters nailed on trees, lamp posts, bridges, waiting sheds, and schools
May 7, 2019
We only have a week left of the 90-day campaign period for the 2019 midterm elections. Today, environmental watchdog EcoWaste Coalition had to warn candidates and party lists once again to follow the rules on election propaganda materials.
"Despite repeated Commission on Elections (COMELEC) warnings, we find lots of campaign materials nailed or stapled on trees, or hanging in lamp posts, bridges, waiting sheds and other inappropriate places," Aileen Lucero, the group's national coordinator, said in a statement.
The group also reminded the COMELEC to strictly impose the removal of campaign materials from places deemed inappropriate. "To encourage respect for the rule of law, we urge agencies authorized by the COMELEC to conduct nonstop removal operations of posters and other campaign materials that are oversized or displayed in forbidden places."
Tearing down these illegal campaign materials will promote "an even playing field for all political aspirants, as well as protect public health and the environment," Lucero added.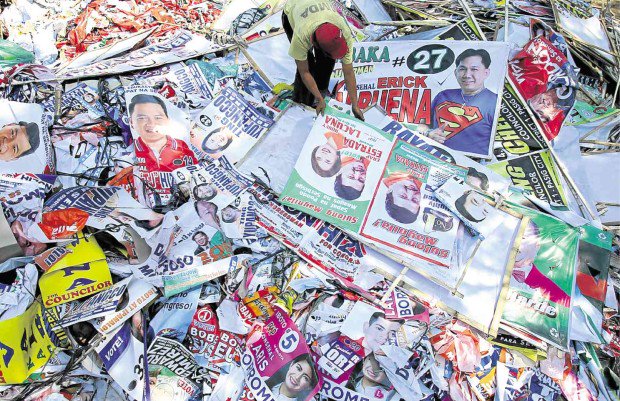 COMELEC should also be reminded of their Resolution No. 10488 which urges parties and aspirants to avoid using posters, flyers, tarpaulins, and other election propaganda that "contain hazardous chemicals and substances in the production of their campaign." They should only use "recyclable and environment-friendly materials."
This resolution also mandates campaign materials to be made of cloth, paper, cardboard, or any other material, whether framed or posted, with an area not exceeding two feet by three feet.
The agencies designated by the Comelec to be in charge in spotting and tearing down illegal campaign materials are the Department of Environment and Natural Resources, Department of Interior and Local Government, Department of Public Works and Highways, Department of Transportation, the Metro Manila Development Authority, and the Philippine National Police.
Keep schools clean
EcoWaste Coalition also appealed to schools to "ensure that the entire school premises, including the frontage, fences, walls, and sidewalks, are free of election propaganda materials."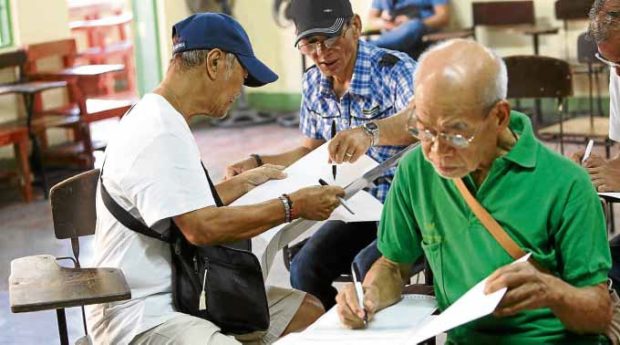 While schools are accepted as public spaces where campaign materials can be posted, as enshrined Resolution No. 10294, it seems inappropriate for a place deemed as a voting precinct on election day to be partisan.
EcoWaste also urged schools to post visible signage that will remind voters not to litter sample ballots or kodigo in the school premises […] as littering is a common environmental offense during election day."
Header image courtesy of Niño Jesus Orbeta / Philippine Daily Inquirer
Get more stories like this by subscribing to our newsletter here.
Read more:
You might be riding this Philippine-made hybrid train soon
Traveling from Manila to Pampanga in 55 minutes is possible
Grab and Uber, can we live without them?
Read more by Amierielle Anne Bulan:
IN PHOTOS: Centuries-old church artifacts fill three-story Museo de Intramuros
PSA: Grab to curb cancellations with P50 fine, account suspensions
Climate change could lead to "solastalgia," the distress caused by the loss of home
TAGS: campaign ecosystem election environment poster school sustainability system voting