5 mins from Cubao to Makati? It's possible, at least according to President Duterte
In a recent interview, the President promises that traffic will ease come December
Jun 10, 2019
It's Monday once again. And hopefully, by the time you read this you are already seated by your desk or already clocked in for the day. Otherwise, I could only wish that your commute to work today is better than most days (which is highly unlikely given that it's Monday).
Only a seasoned commuter would know the ills of Metro Manila traffic, of having to leave the house two hours in advance in anticipation of a train breakdown or a highly congested road. Which is why every time a government official says something hopeful about traffic, it is this kind of people who are all ears first.
From Cubao to Makati real quick
In a recent interview, President Duterte said, "You don't have to worry about traffic. Cubao and Makati will be about five minutes na lang."
The chief executive went on to say: "You just wait. Ayaw kong mag-ano—but things will improve. Maybe God willing, December smooth sailing na."
Commuter or not, one could recall the bid last year to grant Duterte emergency powers that would ease road congestion in Manila, especially along EDSA. Said powers will allow for funds needed to rehabilitate infrastructure, among other things. But the measure ultimately got stalled in the Senate out of fear that such would only result in corruption.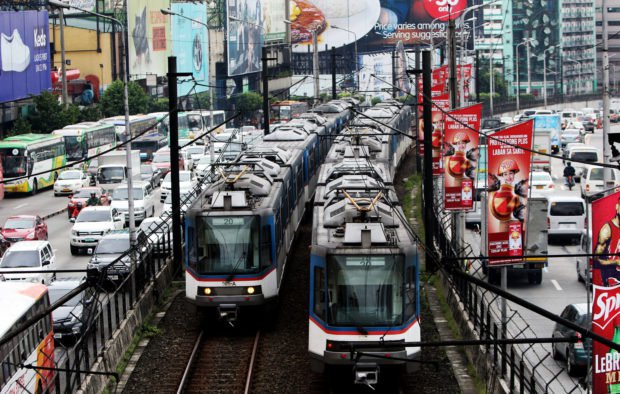 Alternatives
As of today, the 9.9 km stretch of EDSA from Cubao to Makati takes an average of 35 mins according to Google. Leaving Cubao at 9:30 a.m., according to Waze, you will arrive at 10:15 a.m. or roughly 40 mins. The best option out there right now is taking the MRT Line 3 from Araneta Cubao Station, which could take you to MRT Ayala Station in 22 mins for P20—but that's not considering the time you spend queuing up as well as the chances of delays due to mechanical difficulties.
And December, really? Right when it's probably the busiest season for people because of Christmas. We'll see what the President does in the coming months. Much like the Christmas countdown which begins for Filipinos once the -ber months kick in, the clock is ticking.
Header photo courtesy of Richard Reyes for Inquirer.net
Read more:
Want to beat Manila traffic? Take a helicopter ride. But it'll cost you
You can now file traffic complaints to DOTr's new Facebook page
Expect price surges, longer waiting time: Grab to deactivate 8,000 driver accounts
TAGS: Cubao Duterte makati traffic