Over the past few weeks, online workshops and classes on a wide variety of topics have been made available for people who are staying at home thanks to the COVID-19 pandemic. One of the topics that people can now learn more about is astronomy, thanks to the National Aeronautics and Space Administration (NASA)'s latest initiative.
We heard your requests for more things to do with #NASAatHome. You asked for activities for students, do-it-yourself projects, virtual tours of the solar system and more amazing space images. Now they're all in one place! 👇 https://t.co/YwGypKc1PM pic.twitter.com/2iVqlfRAbl

— NASA (@NASA) March 27, 2020
Their latest project, called NASA at home, is an internet and social media special that allows people to learn more and engage with the space agency's newest discoveries, research and exploration from all over the world. The program brings together resources and activities for people of all ages, as well as opportunities for people to interact with experts in astronomy.
Here are some of the ways that NASA at Home is helping people learn more about space.
Augmented reality tours
Using apps like Google Cardboard and Google Expeditions, NASA at Home offers virtual reality tours of their research and operations facilities, like the Armstrong Flight Research Center, the Space Telescope Operations Control Center and the International Space Station.
People who want to learn more about the solar system, meanwhile, can take augmented reality tours of what NASA has discovered so far and the spacecraft used to explore space. The program offers guided tours of star systems, exoplanets and visualizations of the surfaces of planets of other stars.
Reading material
Aside from immersive tours, NASA at Home also offers a diverse digital library on aeronautics and science. Some of the books on their database include photo-essays on galaxies and nebulas, environmentally friendly aircraft technology and the relationship between space exploration and society.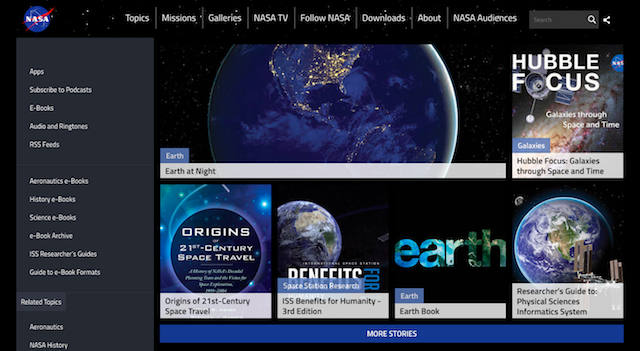 Their photo-essays, in particular, are interactive and include videos and images that allow them to watch simulations of galaxies colliding or manipulating a telescope model in order to see all of its angles.
Podcasts
NASA at Home also has a library of audio-visual materials that discuss the latest scientific news and discoveries. Their podcasts are hosted by various researchers, engineers and astronauts who talk about their experiences with space exploration and the latest discoveries related to space.
https://www.instagram.com/p/B-U-zmYDNVk/
Their roster of podcasts also includes a video podcast that advises people on where they can find the moon, stars and planets in the night sky, as well as podcasts conducted by the NASA Johnson Space Center and the International Space Station.
Header photo by NASA on Unsplash
Get more stories like this by subscribing to our weekly newsletter here.
Read more:
8 nature documentaries on Netflix you need to watch
Here's how kids, teens can stay productive amid COVID-19 class cancellations
Free online courses and workshops to keep you productive during quarantine
Writer: ANGELA PATRICIA SUACILLO