How in the world did artist Cynthia Bauzon-Arre go from designing rock albums to illustrating endemic flora? It was digitalization's fault.
"While I was in the ad industry, I designed albums for rock bands on the side then digital media happened and no one needed CD sleeves anymore so I lost work," said the graphic designer and illustrator behind one of the most intricate and anatomically-sound drawings of local plant species on the internet.
But before her Instagram feed was brimming with flowers, Bauzon-Arre worked for a wedding publication, so it was not really that far out—flowers, brides, the works. She stayed for five years until she was overcome with a creative urge to put into paper a longing for nature that dissipated further into adulthood.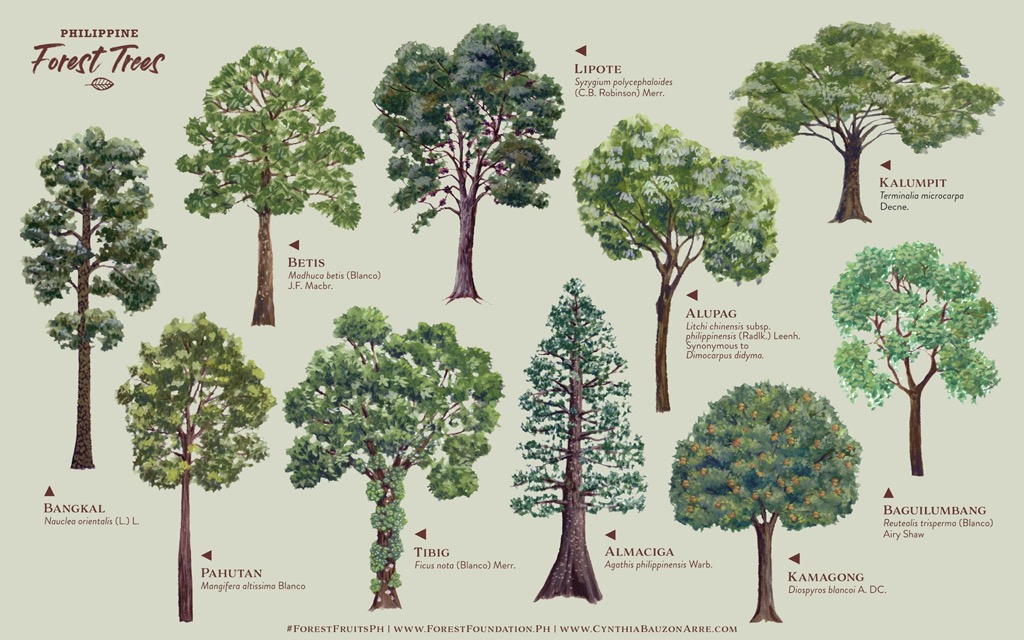 "I started becoming nostalgic for my childhood when I realized how much I wanted to preserve what was familiar. I started drawing fruits and plants that I grew up around, which led me to do research on indigenous species," she said.
"Learning about the sad state some of them were in made me want to advocate for conservation."
Enter Forest Foundation Philippines (FFP), a grantmaking, non-profit organization working with people and other organizations to protect and conserve our forests.
Pretty soon, Bauzon-Arre went from selling her illustrations online to actually advocating for the protection of these species by raising awareness through her art. 
Her latest project with FFP is an appreciation of our local flowering trees—something we have yet to learn in this cherry blossom-deluded nation—but also part art therapy in the middle of a pandemic. It's called #DrawNativeTreesPH, which started with her circle of artist friends and eventually became a contest where internet users can submit their own art featuring an indigenous tree species.
[READ:
You don't have to go abroad to see cherry blossom-like trees
]
Bauzon-Arre's creations also figure in an FFP publication/planner called "Philippine Forest Blooms" among other collaterals for the foundation and in Uniqlo UT t-shirts through a partnership early this year.
Lately, she's been teaching her Instagram followers how to draw local blooms like the deciduous flowering banaba and fruit-bearing katmon. "FFP and I decided to bring back #DrawNativeTreesPh as a creative way for us to ease our minds and connect with each other and nature during this challenging period," she wrote in an Instagram post.
We caught up with the artist to ask about her creative routine during quarantine and how she's helping focus attention on our forests through art.
Hi Cynthia! How are you? What's keeping you busy in isolation?
Working on design projects acquired pre-lockdown, reconnecting with friends, cooking dishes [which are] out of my comfort zone and binging on random Asian dramas. I've also been attending online lectures, which I never used to have time for. Thankful to be in a position to be able to do these things amid the crisis.
How and when did that transition from personal craft to advocacy happen?
The desire to do my own thing propelled me to re-learn illustration. I experimented with styles and joined craft fairs while trying to find my voice. I started designing and selling stationery featuring local flora and fauna and posted them on social media.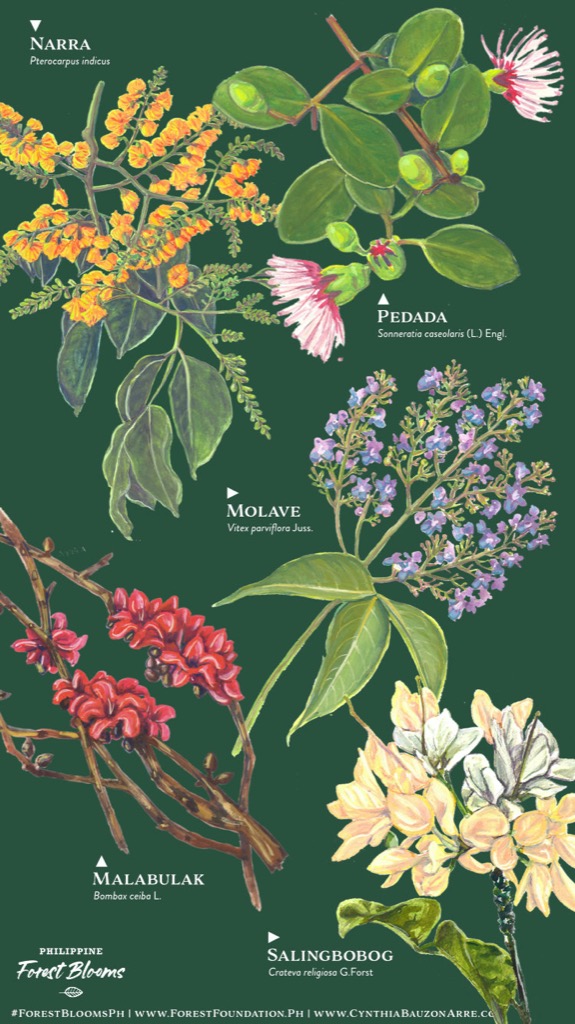 Some of the designs included the scientific names of the species at the back because I wanted the items to serve an educational function. I contemplated approaching an environmental institution to seek accurate information to include in my work, when, as if reading my mind, FFP's communications officer Schenley Belmonte reached out with an invitation to collaborate. That was over two years ago, and we've done several projects together since then.
With people in isolation, there is now a heightened appreciation of things around us, like the trees in our backyards. How has this quarantine impacted the way you do your art now?
I've always worked from home so nothing much has changed in that aspect. But I do miss being able to venture further out to visit specific trees that I know must already be in bloom and aren't in my backyard.
It's surprising how elaborate your drawings are. Are these trees within reach to you now or is it the same when you started, when you were influenced by a sort of nostalgia for trees?
I wish we had those specific native trees nearby but I have to rely on photo references—some of which I took in UP Diliman and some from the internet. When I draw from photos, I look for a variety of references taken from different angles in order to clearly see their form and structure: the shapes of the petals from base to tip and how they are attached to the receptacle and the stalk, even if they are not visible in the final drawing. 
Through all my projects with FFP and with the guidance of forester Diane Bagui, I've been able to sharpen my observation skills and form a deeper appreciation for flora and how each species has unique characteristics that can help with its identification.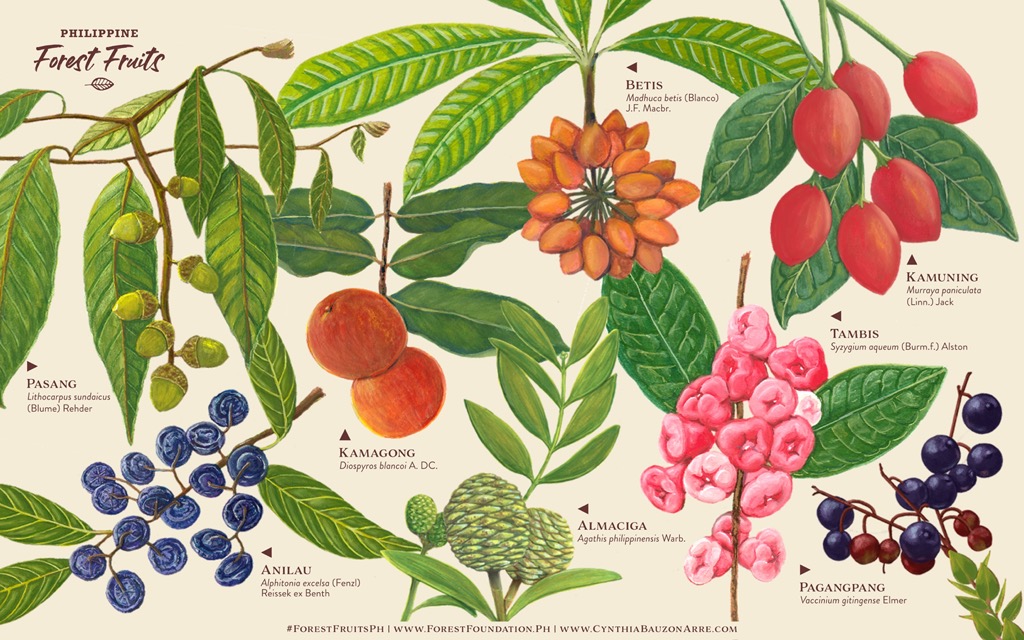 In your flower drawing tutorials, how do you choose which flowers to do? So far you have two and we have so many interesting species and it's usually at this time of the year when they bloom. 
We take into consideration which blooms may look complicated but are actually quite simple to draw, knowing that some of the audience could be jumping in without drawing experience. It seems to be paying off because we have received feedback saying they didn't think they could draw the flowers at first glance but were successfully able to.
The hashtag #DrawNativeTreesPH goes way back, over two years ago. How did that come about? What was the original goal and how is it faring now? 
Our main goal then, until now, is to help raise awareness for Philippine native species and their importance in forest conservation. I've been sharing art on IG for about five to six years so there are quite a few budding artists in my circle. We thought it would be nice to get them excited about spreading the love for our own trees and seeing the outputs through the hashtag. 
We held a drawing competition and managed to receive a number of entries also on Facebook. Happy to see that even after the contest ended, people were still sharing drawings using the tag. FFP and I decided to revive the campaign recently through the tutorials as a creative and relaxing way to connect with each other and nature during these troubling times.
Follow Cynthia Bauzon-Arre on Instagram at @arncyn and the Forest Foundation Philippines at @forestfoundationph. Their collaboration #DrawNativeTreesPH is still ongoing together with the drawing tutorials.
Illustrations courtesy of Cynthia Bauzon-Arre and the Forest Foundation Philippines
Get more stories like this by subscribing to our weekly newsletter here.
Read more:
LOOK: 5 endangered trees in the Philippines
You don't have to go abroad to see cherry blossom-like trees
A forest park dedicated to growing indigenous tree species will be hosted in Antipolo
Writer: CHRISTIAN SAN JOSE