So you want to try niacinamide? Here's what to know before you do
Vitamin B3 may be the missing ingredient to your get-that-glow quarantine skin routine
Jul 10, 2020
Is it just us or are people suddenly hoarding skincare products in quarantine? One ingredient, in particular, seems to be highly in-demand these days: niacinamide, specifically from The Ordinary.
It is an active form of vitamin B3 also called nicotinamide, an essential water-soluble vitamin that we need but our bodies can't produce hence we get it only through supplements or topical products.
Considered a brightener, niacinamide prevents dark spots and redness (through its anti-inflammatory properties). It is also a potent cure for acne, rosacea and other inflammatory skin conditions.
According to Deciem, the manufacturer of The Ordinary skincare line, niacinamide is "a high-strength vitamin and mineral formula that helps to support barrier function, while reducing the appearance of visible shine and signs of congestion."
The company also confirms that it is one of their best-selling products to date. Earlier this year, they released a bigger 60 ml bottle for die-hard fans.
How to use it
Suitable for all skin types—even sensitive ones, yes—this serum can be applied both in the morning and night after cleansing and before heavier creams. Deciem suggests using two to three drops of this serum on the face but cautions against using it in the same routine as pure vitamin C as "niacinamide has the capacity to affect the integrity of vitamin C, potentially reducing its efficacy." It is best to use them in alternate times, ideally vitamin C in the evening and this formula during daytime.
Dr. Kevin Mun, co-founder and chief scientific officer of skincare brand Venn recommends combining it with other products with powerful antioxidants like green tea or other ingredients like kojic acid and arbutin.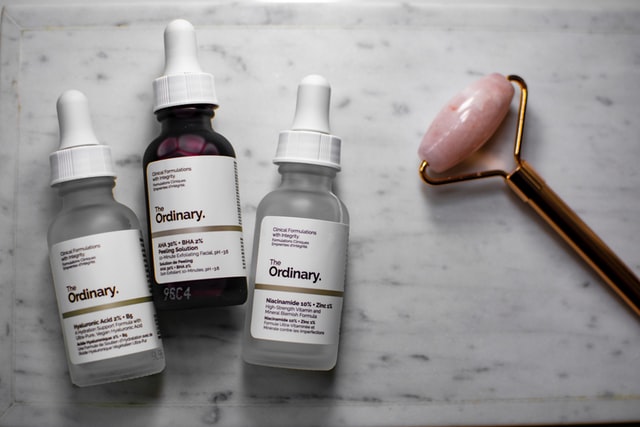 What to look for when finding the right niacinamide product
The Ordinary's 10 percent niacinamide formula comes with one percent zinc concentrate, which works to "support the skin's function as a protective barrier."
Another locally available vitamin B3 product from Inkey List contains 10 percent of this formula as well but with one percent hyaluronic acid, which is among the recommended moisturizing pairings for niacinamide.
JL Crespo, a stylist and skincare enthusiast who runs beauty product review page @guy.skin on Instagram, also swears by Korean brand Axis-Y's dark spot correcting glow serum, locally available through resellers.
"This helped with evening out my dark spots, which is my main concern," Crespo says referring to this formula, which also boasts squalene, another hydrating ingredient.
You might also want to be on the lookout for lower concentrations of anything between one to 10 percent if you're only starting out on this as immediately going to a 10 may cause skin irritation.
If you can't find it, eat it
If for one reason or another, you find yourself at a  dead-end trying to get a hold of this wonderful product, it is not the end for your get-that-glow skincare routine.
Apart from exploring other equally-promising brightening ingredients (at your own risk), skincare brand Paula's Choice's founder Paula Begoun says you can still get vitamin B3 through having a diverse diet.
"Niacin is found in foods such as grains, fish, meat and beans and converts to niacinamide when eaten," Begoun says. More reasons to watch what you eat.
Get more stories like this by subscribing to our weekly newsletter here.
Read more:
Skincare products aren't forever. Here's a guide to their expiry dates
A handy guide to practical skincare during quarantine
Famous skincare hacks online you should avoid
TAGS: acne beauty niacinamide serum skin skincare skincare routine The Ordinary vitamin b3