A handy guide to practical skincare during quarantine
Here's a masterlist of our summer skincare advice, timeless home remedies and debunked myths for your skin concerns during quarantine
May 11, 2020
Our website is pretty all-around, don't you think? We do a lot of recipes, food trends and feature many noteworthy establishments and events; we also don't shy away from weighing in on social issues. But a section which I think deserves more attention is our beauty category, which has a number of timeless tips.
Our take on skincare focuses on debunking myths, providing home remedies and special summer skincare tips and even suggesting fool-proof websites for beginners. All of these are worthy of being revisited during these stressful times which is why we made you a masterlist of our most practical and timely skincare advice:
First thing's first 
With all the available online content on skincare by specialists and gurus, it can be quite overwhelming once you actually try to come up with your own skincare routine. 
It's best to first read up on the basics and get to know not only your skin, but also the products and regimens you'll be adopting and of course, how they may impact our environment. These articles feature platforms about safe skincare products, a handy Instagram account for beginners, and ways you can care for your skin and the environment. 
Debunking myths and misconceptions
Then again, unhealthy and even damaging practices have also been perpetuated within the deluge of unsolicited advice which is why we have constantly taken up the task of debunking skincare myths and misconceptions.
Here you will find articles that set the record straight about certain mainstream hacks, habits and products. These are also reminders of what to avoid, what not to mix together and when you should change things up.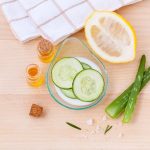 Cleansing 
Cleansing is really the baseline of any routine because it eliminates dirt, oil and bacteria on your face; it sets the tone for whatever you're going to do or add to your face next. But there really isn't a one-size-fits-all product or cleanser out there as we all have different skin types and problem areas. We instead provide you with two ways you can efficiently cleanse your face: pre-cleansing and dry cleansing. 
Acne 
Acne is one of the most common skin issues we face, which is exactly why we've come up with some standalone sources to address it. Learn how you can deal with them properly and what may have caused them through a mapping technique. You can also find out if it's just because of your toothpaste.
New recommendations
Just as we consistently want to tell you about the most innovative food trends and events, throughout the years, we have also provided ways you could elevate your skincare routine using unconventional products and ingredients. These articles might just convince you to incorporate matcha, sake and facial oil to your regimen.
Home remedies
With limited access to products or treatments, we now have to improvise and make use of what we already have. Here are some quick-fixes consisting of ingredients that might just be in your pantry or garden.
Summer skincare
As one of the listed articles puts forward, our routines should also adapt to the seasons we're currently in. Right now we are in the hottest time of the year and so you might want to take it easy on some products which may be making it difficult for your skin to breathe. But you might want to check out our team's recommendations for light summer essentials and even a versatile fruit your skin could use to combat the heat. 
Header photo by Photo by Amanda Dalbjörn on Unsplash
Get more stories like this by subscribing to our weekly newsletter here.
These department stores are open for delivery on disinfectants, skincare products and more
I tried to get my boyfriend into skincare. Here's what happened
TAGS: apple cider vinegar cruelty-free skincare dry cleansing face masks matcha practical skincare pre-cleanisng quarantine skincare sheet masks skincare skincare routine summer skincare watermelons